Among all of Norway's regions, brimming with surprising and magnificent nature, perhaps Lofoten archipelago provides the richest supply of panoramic views, so abundant they seem inexhaustible: the orography, the intricate maze of lakes and fiords, islands and channels, the overwhelming variety of landscapes, the villages, life, different climates… everything. No wonder this country is so extremely touristic despite its exorbitant prices, since whomever comes here for the first time will feel called to come back: for more narrowly exploring this fertile paradise of beauty o for longer enjoying the lovely places already visited.
True: though you can see travelers from many origins, such as Spain, Italy, Asia or the Americas, most of the tourists to Norway come from the rich and nearby countries: Sweden, Finland and Germany.
So, well: from the charismatic city of Tromso, where I've spent the past three days waiting for a tyre replacement for Rosaura, there are basically two alternative ways for going to Lofoten: either you travel south along the main E6 route (or any of its byroads) and thus reach the region from the east, or you turn west towards the island of Senja, then catch a ferry to that of Androya, northernmost in the archipelago. I didn't need to think it twice: my obsession for keeping away from busy routes and my liking for ferry boats didn't leave room for hesitation.
Despite this route being presumedly shorter (not taking into account the ferry stretch), distances in Norway are very tricky, and after two hundred kilometres on the odometer –delicious road, through a series of stunning landscapes– I was barely seventy away from Tromso, as the crow flies.
On the other hand, as the visit to the workshop this morning has delayed my departure, the evening starts waning while I'm yet one hour away from the ferry terminal over at Gryllefjord; so, upon spotting a road sign on a branch off, I take the turning towards a campsite suitably located: it's called Tranoybotn, right across the gate to Anderdalen National Park. A paradise-like place.
Therefore, I've scarcely ridden two hundred kilometres this day in longer than four hours. That's an average 50 km/h. But well worth it. I've stopped very often for enjoying myself in the wonderful nature around me –new and changing behind every corner of the road– or for taking lots of pictures. And that's the way I like it when traveling: don't ever let haste become variable in my trip's equation.
By the way, as I was coming from Tromso and thinking about all the solitary–when not desolate–places I've gone by this trip, or visited, I was reflecting thus: what a lot of hairdressers there are everywhere! A superabundance that calls my attention particularly here in the north, where villages or small towns lack virtually any other commerce. Places as small as Vadso, Mehamn, Kjollefjord or Storslett weren't short of hairdressers; and as to Tromso, all over the place, by the dozens. Not that my dad was ever a man of sensible judgements, but how right was he about this! when he used to say: hairdressing will never undergo unemployment because vanity is stronger than hunger; women would rather deprive herselves of food than stop going for a hairdo.
By the by, a digression came to my mind: I'm quite surprised by the odd phonetic analogies I'm finding between Norwegian and other languages–or between languages in general, as I'm extremely fond of etymology. For instance, hairdresser translates to frisøren in Norway, quite similar to Polish fryzjer, whereas for beer or street Norwegians use øl and gaten respectively, which are connected to Finnish olut and katu. It's easy to understand why, being neighbours, Norwegian and Finnish share some common words despite being descendants of different linguistic families, but the coincidences with Polish (or the Slavic branch, for that matter) aren't that obvious. Or, for instance, and coming back to beer, it's also bizarre that all Scandinavian languages adopted the ol root except precisely the oldest one, Icelandic, which took the common root in Europe for beer: bjór.
Whatever. Ravings from an idle rider after too much loneliness.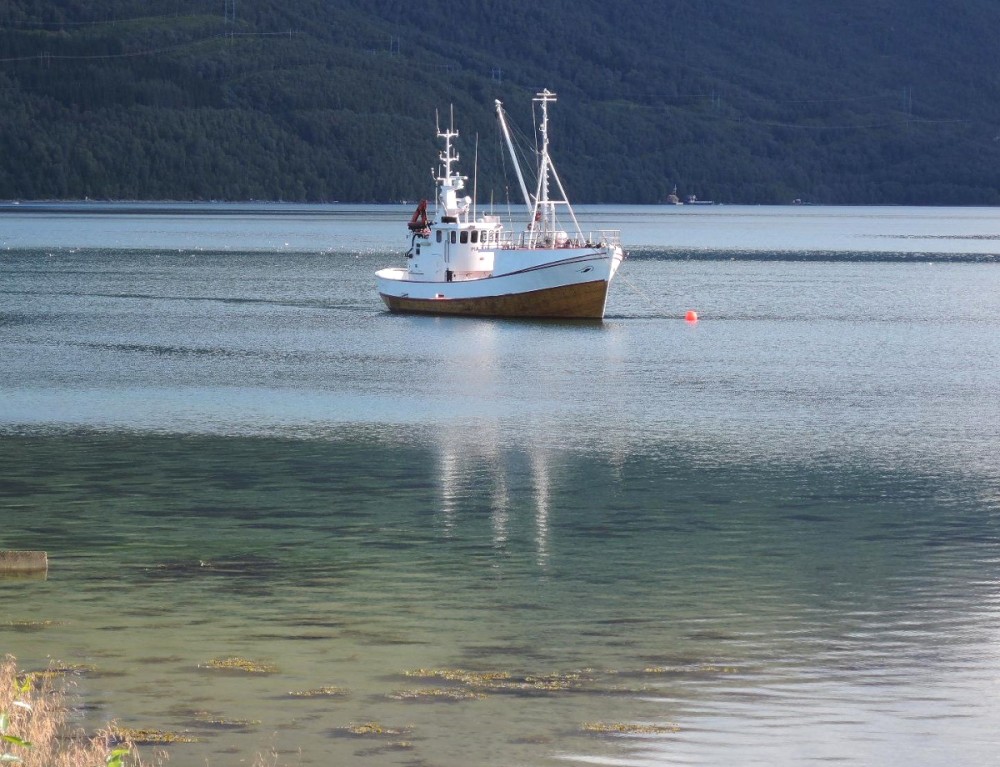 Tranoybotn campsite suits me to a T. Not that there is any shortage of such facilities in Norway, but this came in at the right place and time. Besides, the manager –an enthusiastic girl, pleasant and serviceable– has cheered up my evening when cooking for me, off-hours, some random dish and then entertaining me with her conversation while I ate. Maybe it was a symbiosis, there being no other customers but myself. Anyway, I love these small places with their cozy atmosphere, where people engage in some kind of closer relationship than just the bare formalities.
She's given me a fairly fine cabin, near the restaurant yet not away from the showers, and located on top of a bank over the sea, featuring an amazing, inspiring and relaxing view. Now, after a day's journey rich in landscapes and thoughts, there's only for me to take a stroll along the shore, to hunt a last nice shot and burn some fat. Then it'll be time for bed and welcoming the faint darkness I'm having for the past few days, as I travel south. The night sky is not so light as is used to be only one week ago; though precisely today we've got a beautiful moon shimmering on the gulf waters…