After ten days riding along Norway and writing this log, I've already exhausted my limited vocabulary of adjectives, having though barely conveyed an approximate idea of how irresistible, how majestically beautiful this country is, also despite so many pictures uploaded (only one third of those I took); but they're all so pretty, so spectacular many, that selecting them takes me longer than writing the text; in which, by the way, I don't know what other words to use for expressing my amazement without repeating myself. So, today I'm not even going to try; I won't make fruitless literary efforts, but let the photos talk for themselves. And this short video, too.
On my way to the archipelago of Lofoten, I stayed last night in the idyllic Tranoybotn campsite (Senja island), which turned out to be one of the nicest so far: a very neat cabin, beautiful views and the Chinese-born, Norwegian-grown friendly host. And this morning I have to keep going southwest for reaching Skrolsvik, from where –according to the information in the brochure I got in Tromso– a ferry goes to Harstad, on Hinnoya island, the biggest one in Lofoten. It dawns a windy and a bit rainy day, the sky garbled with shifting and assorted clouds as if brushstrokes on the blue by a whimsical painter.
The dining room is closed with a back in a while notice hanging on the door, which means I can't even get a morning coffee. Not that it matters a lot, since I seldom do. I pack my few things, fix the cases on the bike and hit the road. But when, three quarters of an hour later, I arrive to Skrolsvik, it turns out there are no ferries. I can't but undo the way, go back to the main road and take it northeastwards towards Gryllefjord, where two daily ferries (hopefully) depart for another spot in the Lofoten called Andenes. I'd say this is going to mean 100 km done for nothing, but it wouldn't be true, as there seems to be not a single kilometre in Norway which isn't worth being ridden.
On going past the campsite I stop for a lunch. The restaurant is already opened, though this time my friend the Chinese-Norwegian doesn't talk to me a lot, since she's busy. I study my travel plan to Lofoten. There is a third alternative I didn't consider before: to take the long run by land; but that's precisely the long run I wanted to shortcut coming through here, so I disregard the option. After all, it's all about traveling, isn't it? I'll go to Gryllefjord and see if I can take the ferry there.
On the way, my attention is called by the small Bergsoyan archipelago, formed by diminutive nearby islands which, from the shore, seem to imitate a scale-model; or as if seen from an airplane. I fancy a snack when I come to Hamn, one of whose tiny islands sports a charming hotel with a restaurant looking over an idyllic little beach of chrystaline waters. But on glancing at the menu I dismiss the idea: the prices are ridiculously expensive; it's is not the place for me.
Before jumping again on the motorcycle and riding on, I take a walk around the place. Almost at an arm's reach there's another small island, barely a rock, called Skjaholmen, with a cove whose shallow and sandy bottom invites to take a bath. What a place for cooling down on a warm summer day! Not today, though, which is windy, cloudy and even a bit rainy.
Gryllefjord is a small harbour village, well sheltered from all hostile winds and seas, and living on the maritime connection between Senja and Andoya, a link that can save a driver up to two hundred kilometres of bendy coastal road.
There are two daily ferries, one at eleven a.m. and the other one at seven p.m. I've already missed the first, and the second arrives to destination at nine, which is a bit late. I wonder if it's worth staying here overnight and take the ship tomorrow morning. There is a hotel by the terminal: a pure middle-of-nowhere style business which also features a convenience store, bar, restaurant and a gas pump, but I'm not too convinced by the look of the room. I then call a nearby campsite, but here the prices are once again absurdly high. So, it's settled: I book a hotel room in Andenes (actually cheaper than the campsite) and I'm taking the ferry now.
Meanwhile, I take a stroll around the village (three long streets parallel to the fiord) and wander round the boats floating still on the quiet harbour waters. As the afternoon goes by, the sky clears up a bit and the sun, walking west, slips in under the high clouds, brightly shining on the whites of houses and crafts. Though still the sun sets rather late, this time of the year days shorten the fastest, about ten minutes less per day; which means that every week we get one hour less daylight. That's a lot.
Eventually, new vehicles gather up on the parking lot: cars, campers and some trucks. The only motorcycle is Rosaura. A guy addresses me who's around there walking his dog. I've seen him a while ago and took him for a local, but no: he's awaiting, like me, the ship's arrival for boarding her. His is an interesting, clever conversation, and alas, he's the rare type who can listen! Name is Frode. On a good company, time goes faster, therefore the ferry is here sooner than we can feel. Everybody goes to their wheels for getting the automobiles up the ramp into the hold. Frode drives a camper along with his partner, another nice guy.
Twice today the touristic brochure has fooled me, though this time it was good news: the ticket is half as cheap as there stated. Had I known all this (real ticket prices and ferry lines) I'd have chosen a rather different route for going from Tromso to Lofoten: I'd have come to Senja crossing Kvaloya island and across the sea to Botnhamn. I hope some other traveler can profit this information, at least.
Soon after weighing anchor, on the port side we go past an enormous cliff at whose foot the calm Gryllefjord sleeps. We're sailing the Norwegian Sea, crossing the twenty nautical miles wide opening of Andfjorden. Water is a deep blue colour, the like of which I haven't seen for quite a long time. To our wake lies the mountainous and uneven island of Senja, Norway's second largest.
To the south, in the distance, there come into sight over the sea the peaks of Lofoten. The few passengers on board the ferry move about the aft deck like ants in search of food, from board to board and to the stern, excited by the majestic combination of sea, land and sky, hunting for some good shots.
Once I'm done, I go inside and bump again into the twosome, sit at a table with them and retake our conversation. We take to each other, partly owing to the fact that I can relax, knowing I won't be harassed. Eventually, we agree in meeting whenever I go past their town, near the border with Sweden, on my return to Earth — I mean, since for so many reasons Norway doesn't seem to belong to this planet. It's easy now to understand, knowing the country a bit, why is it so famous, and specially why people like the fiords so much: they're excellent from beginning to end; the gorges, the mountains, all kinds of vegetation, all shades of water, tundra, marshes, and an endless variety of landscapes.
We're reaching our destination and, again, everybody goes down to the hold. After bidding farewell to my friends I get ready to disembark. I set foot on Andoya under a rosy twilight sky. The weather has changed considerably this side of the sea; even though only thirty five kilometres west of Senja, this coast feels more unsheltered and exposed, balder, colder and windier. It's barely half past eight and there is not a soul on the windswept, unpleasant streets of Andenes, important fishing harbour of yore that, by the late XXth century, still kept its population thanks to an air base; but in the past two decades it has very much declined, and if there is some activity left it is only owing to the several whale safari businesses based here.
As Frode and his boyfriend tell me, only older people live in these places; and I, on going past the few, solitary streets, on watching the neat, scattered houses, I can't but wonder: how does life look like in such a place as this?, what kind of existence these folks lead? Nothing attracts the younger ones nor the new families, and those very few how are born here won't stay after finishing school; they'll migrate to the cities, the universities, the Stressful World Where Things Happen. What a desolate place Andenes looks!, on this remote island only reachable by ferry or across its only bridge at the other end. The west-facing window panes, when they get the last sunbeams of twilight, shine to the sunset as if longing for the fishing splendour that passed away.
The Viking, a hostel where I've online-booked a room, has the reception at a neighbouring hotel, Norlandia Andrikken. I guess they're both the same business. Seeing that I'm traveling solo, on his own accord the kind receptionist makes me a good discount on the price. I'm delighted with these Norwegians: a few times already I've been offered–without even asking–better prices than those booked.
There is a small toy-looking church in Andenes, like a little house painted white with a black gabled roof and a thin pointed tower, with no superfluous adornment or flourish; it's the typical, simple and austere protestant style–rather ugly for my taste, to tell the truth–very much alike most other churches in these regions; it is as if they had only one design and mass-produced it for every village and town. Certainly quite practical, most of all considering how little parishioners there must be here.
I make the most of the remaining daylight by taking a lovely stroll along the beach, which is at places so flat that, as the tide flows in, the water stretches on the sand and draws in like a puddle spilled onto the floor from an overfilled bathtub. Further on, to the northwest, a sharply jagged rocky mass towering above the sea silhouettes against the sky.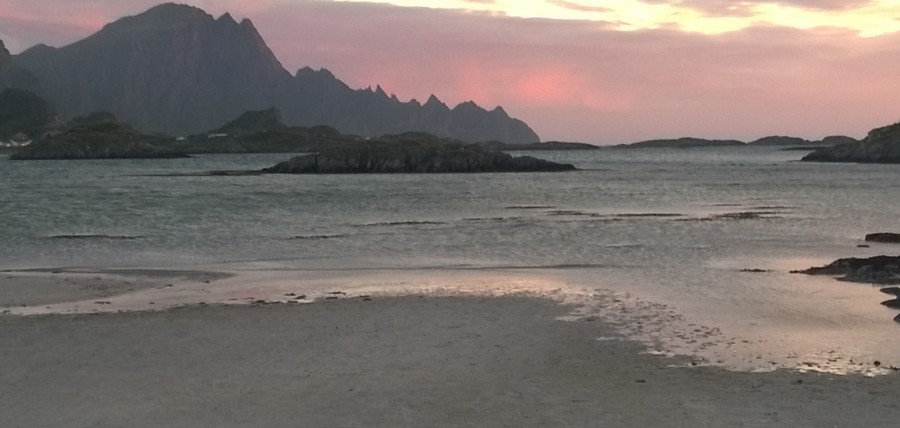 I don't know why, this is how I imagined, when reading Tolkien's books, the place where the elves weighed anchor on their ships when they departed forever from the Middle Earth, as the beautiful legend goes: …and the remaining Eldar set sail from the Gray Havens on board the last white ships built by Cirdan, the shipwright, to follow the Straight Path. And so this Folk of the Stars forever left, out to the West and the Blessed Realm beyond the reach of Mortal Men, who only know it through the legends, or perhaps through their dreams…