[:es]Atrás quedan Peñafiel, su castillo y sus afamadas bodegas; por delante la meseta, que va dulcificándose a medida que asciende hacia tierras más lueñes y hermosas. El cielo está poblado de cumulus humilis, el viento racheado acaricia las mieses, llenando de matices el verde y oro de los trigales; entre nube y nube, el sol brilla con suave dulzura y arranca a las flores, a los árboles, a las piedras, a los sembrados, al campo todo sus mejores colores. Ha quedado una tarde soberbia, gloriosa, capaz de contagiar al más desdichado alegría de vivir.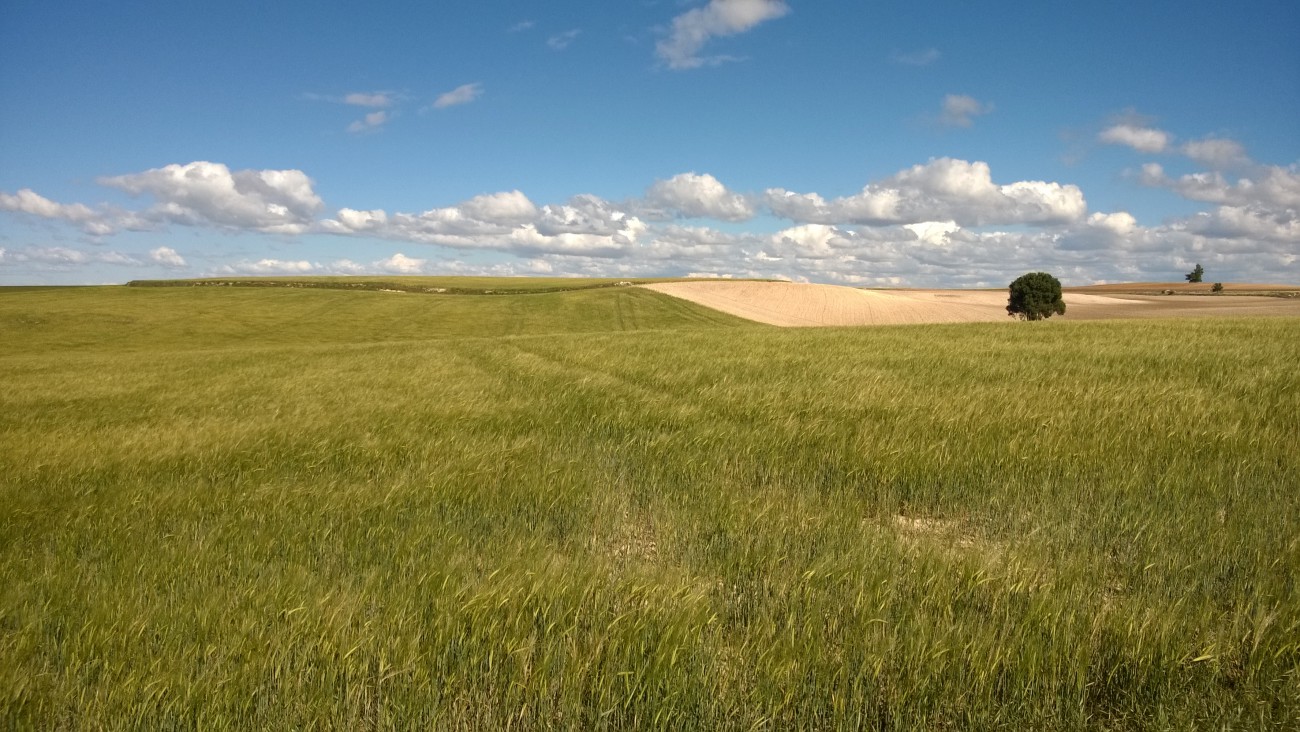 No sé si a estas alturas habrá algún lector que no esté al tanto de mi preferencia por lugares apartados y poco poblados, o por entornos naturales y rurales, así que nadie se sorprenderá al saber que, pasado el "bullicioso" Peñafiel, abandoné la carretera general (que se decía en mis tiempos) N-122 y cogí una local según mi rumbo nordeste, en dirección a Roa. No me detuve aquí, sin embargo: ya tenía bastante, por el momento, en cuanto a pueblos viticultores, así que continué hacia donde mi instinto me dirigía: camino de La Horra, Sotillo de la Ribera, Cabañes de Esgueva… Lo mejor -paísajísticamente hablando- de la jornada acababa de empezar, y en esos tramos del altiplano, sembrados de inacabables trigales, tuve la suerte de fotografiar algunos panoramas que -lástima- habrían merecido un mejor cámara que yo.



Entre uno y otro de estos pueblos el paisaje comienza poco a poco a cambiar: la árida llanura va quedando abajo, atrás, y, entre valles y lomas, la carretera asciende de manera casi imperceptible, pero cierta, hacia mayores alturas. A medida que me aproximo a las primeras estribaciones que rematarán en la sierra de la Demanda, empiezo a encontrarme con más zonas de arboleda. La carretera, casi desierta, me permite parar en cualquier momento y ensayar, por ejemplo, una fotografía de mí mismo, tal que esta: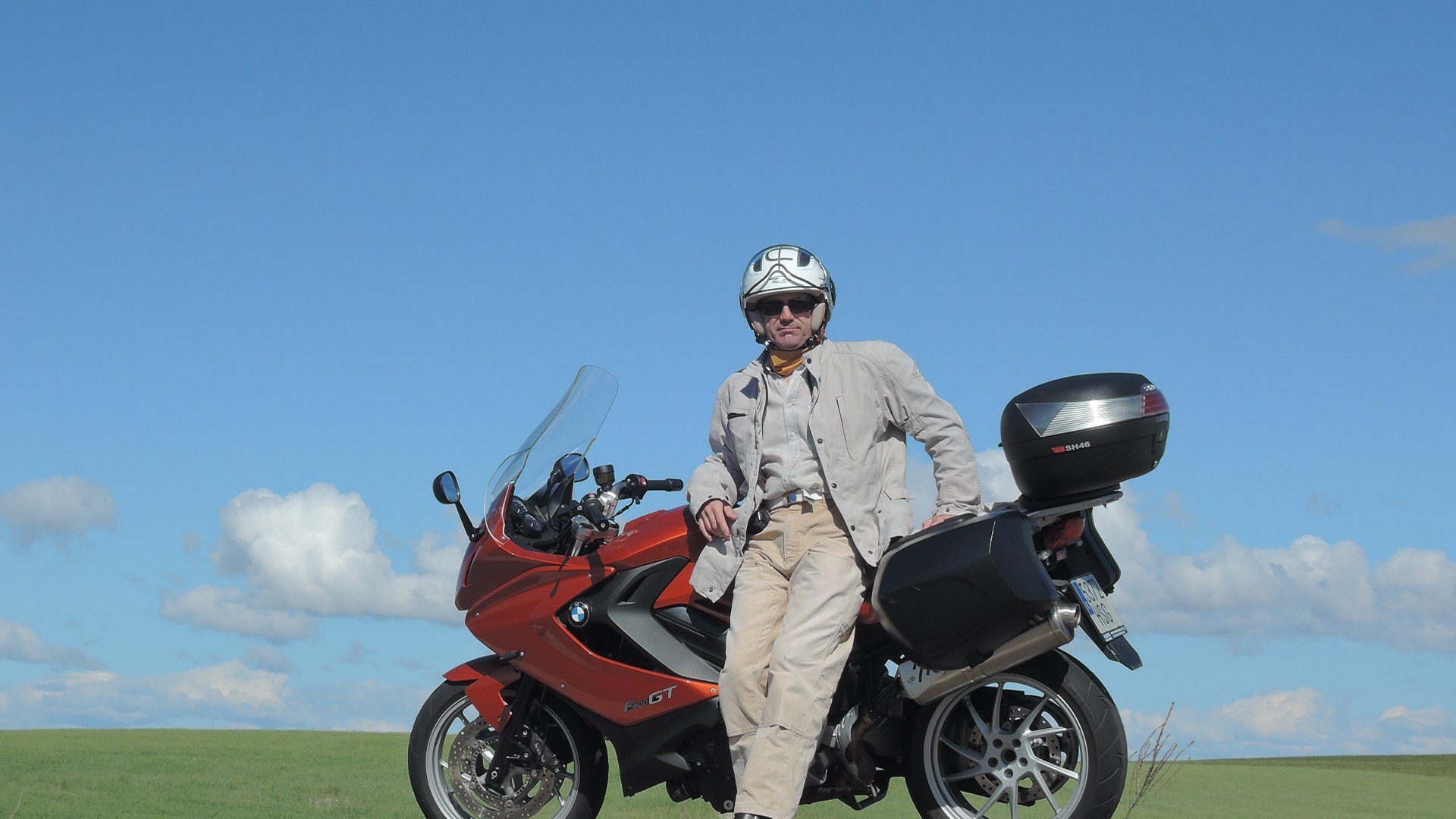 Estoy disfrutando tanto que, antes de darme cuenta, he llegado ya a la radial Asepsia-1 y, cruzando al otro lado, me veo consultando el mapa para saber a dónde quiero ir. Mientras estoy detenido al borde de la calzada un paisano se para y me pregunta: "¿todo bien, necesitas ayuda?". Le agradezco, me sonríe y se marcha. Estoy en el buen camino -me digo. Hace muchos, muchos años, cuando yo era tan joven que el mundo no tenía límites ni espaciales ni temporales, tuve una novia con la que hice algunos de mis primeros viajes; en uno de ellos habíamos pasado por Santo Domingo de Silos; y de aquella visita, aparte una buena impresión general, me había quedado sólo una imagen en el recuerdo: un monasterio con un enorme abeto en el recinto frente a su entrada. De ese monasterio y de ese abeto, de ese lugar en mi pasado, quise hacer mi meta para hoy.
Y acerté. Pero, antes, ¿qué hermosos pueblos no habré cruzado? ¿Qué paisajes no me habrán regalado los dioses? A lo largo de una carretera de tercer orden, sin prisa sobre mi cabalgadura, ataviado con armadura blanca, voy admirando el campo a mi alrededor y pienso que me han hecho falta treinta años de viajar para venir a aprender ahora que la mejor manera de hacerlo -quizá la única auténtica- es despacio.
Me detengo en un lugar llamado Pinilla Trasmonte y aparco junto a la iglesia. Ya he expresado en algún otro lugar de este blog la admiración que no deja de causarme el frenesí constructor que ha mostrado la Iglesia Católica durante dos mil años. Aunque sólo sea por esto merece ya mi respeto. No hay aldea ni pueblo apartado, barrio ni pedanía, en región alguna española (de la España con mayúscula) donde la Iglesia no haya erigido una parroquia, una basílica, un monasterio, una catedral, una seo, una humilde ermita, una capilla. No puedo ocultar mi admiración e incluso mi envidia: ¿qué fe no habrá alimentado a ese ímpetu! Y es igual que se trate de una fe absurda y sin fundamento (¿acaso toda fe no lo es?) porque, quienes la hayan tenido, nunca pueden haberse sentido vacíos, como a menudo me siento yo. El párroco local, el obispo de turno, el cura, el prior, el abad, el simple monje… ninguno de ellos sintió -quiero pensar- la loca necesidad que a mí me empuja de viajar hacia Ninguna Parte: todos ellos supueron quiénes eran, todos creyeron -equivocados o no- en su labor, rara vez los inmovilizó la duda; vivieron y murieron donde pensaron que Dios los había puesto, y sus vidas significaron algo para ellos mismos.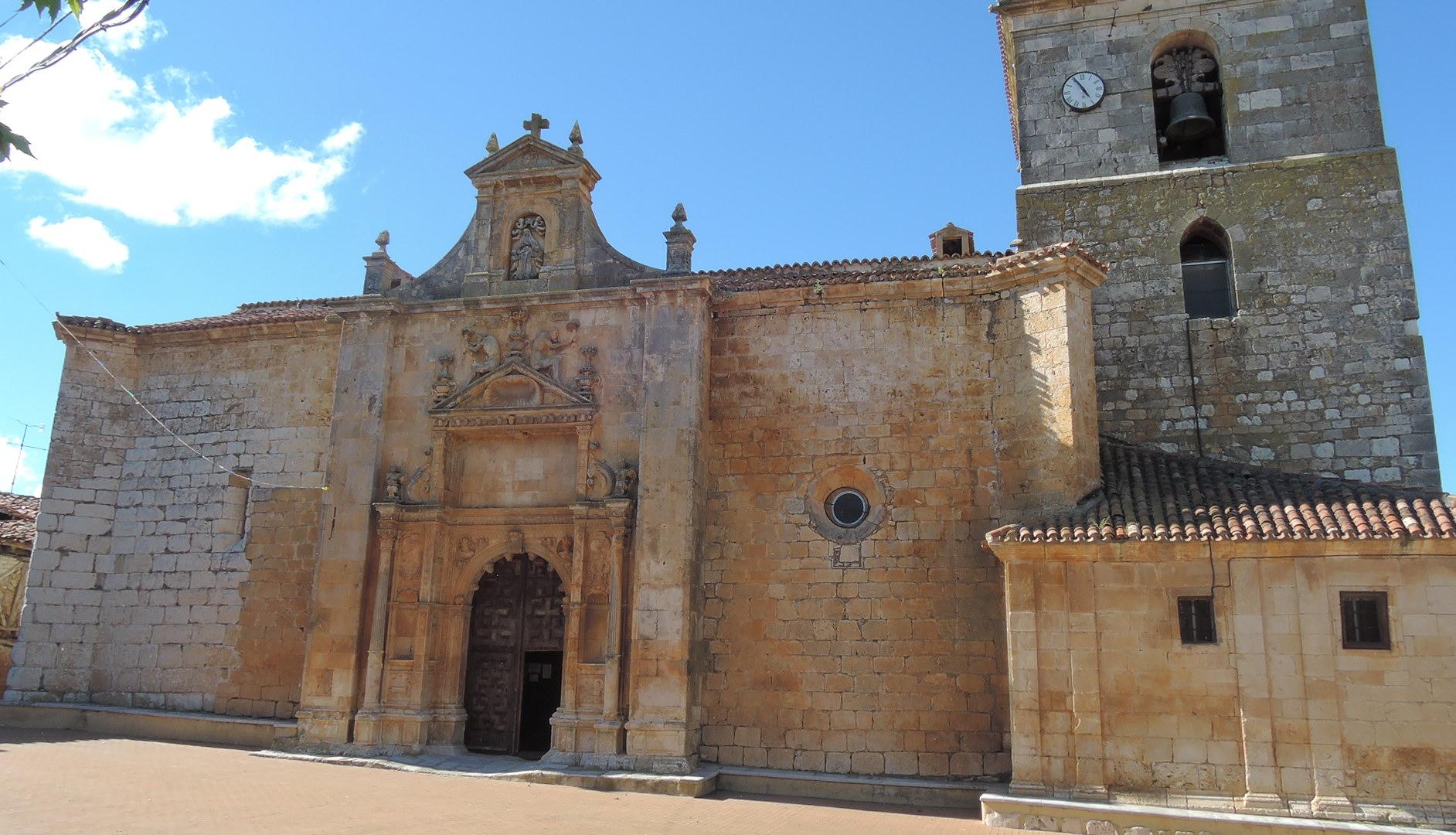 Los rincones de los pueblos ejercen sobre mí un magnetismo con frecuencia irresistible, y allá donde atisbo una casa antigua, un techo de teja árabe, una pared de adobe, una puerta de madera, allá me encamino como hipnotizado. Tras la iglesia de Pinilla hay este romántico rincón, dos o tres casas que quizá no ha más de tres décadas estaban aún habitadas por viejos matrimonios que también supieron quienes eran, cuyos huesos reposan ya -sin duda- en algún descuidado cementerio rural invadido por las ortigas.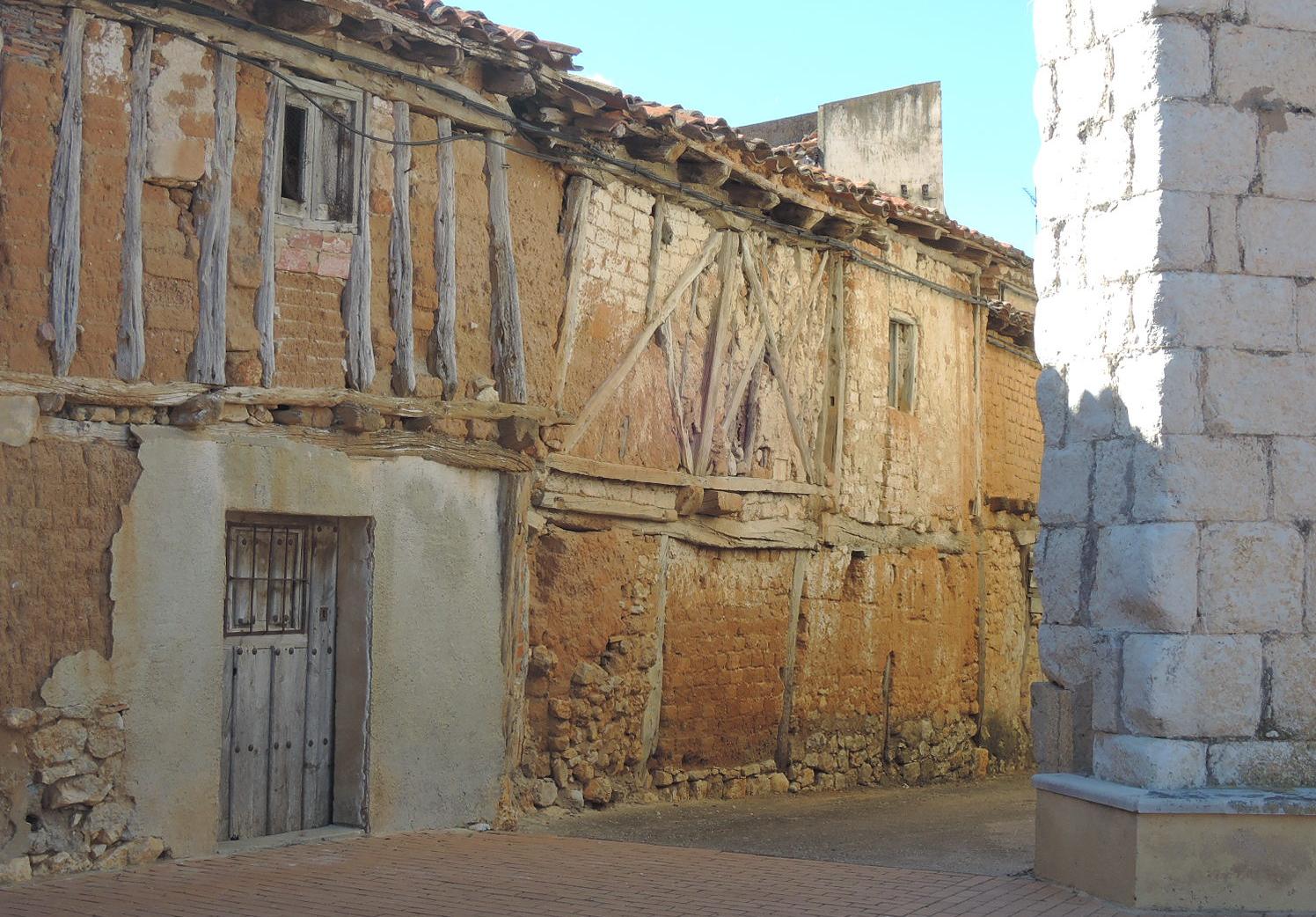 Y ahí está ella, mi "fiel" Rosaura, cual montura embridada que espera con paciencia a que su jinete acabe la breve visita al pueblo.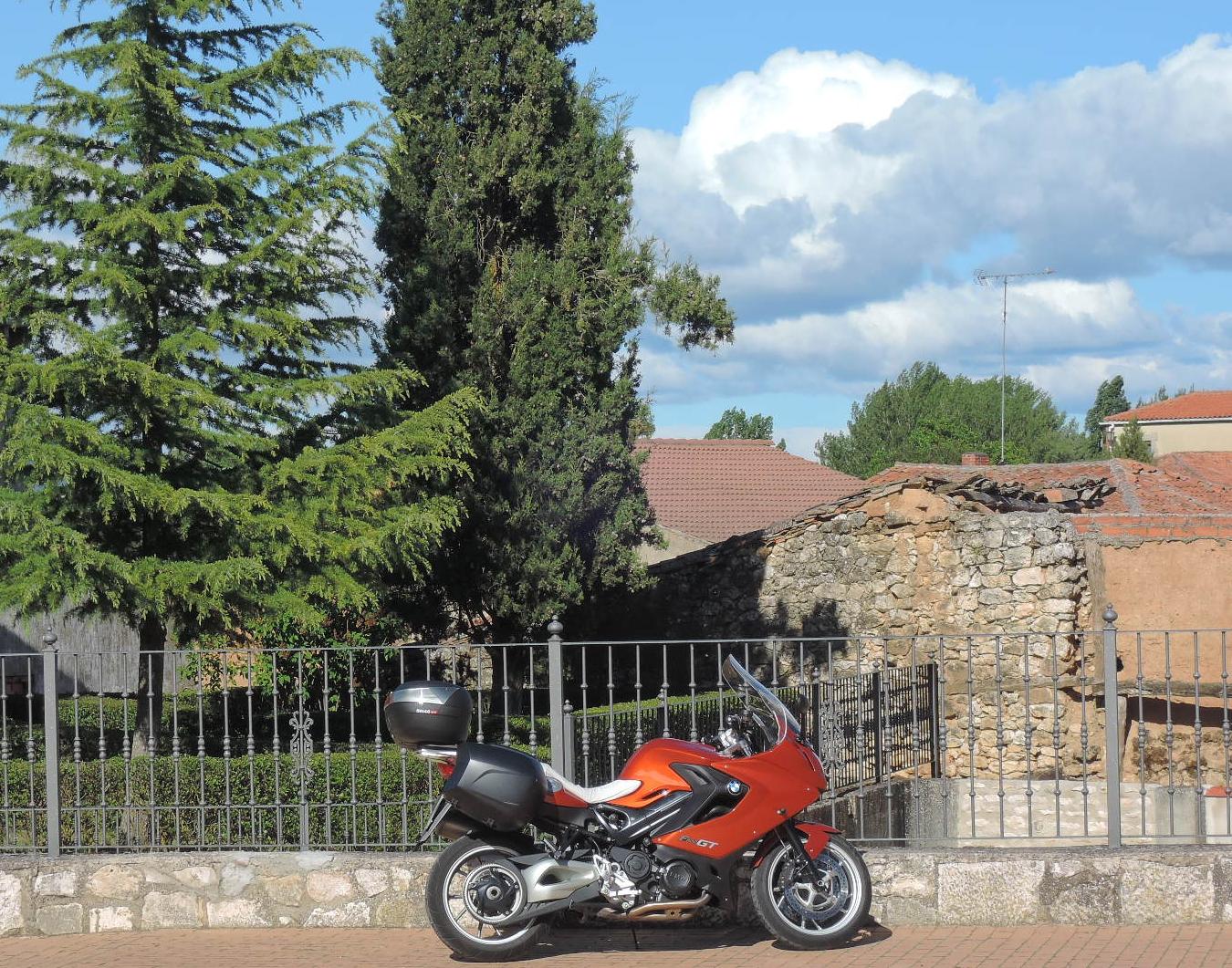 Pero Pinilla no será más que una -y no la más bonita- de las varias aldehuelas que jalonan mi camino hasta Silos. Una legua hacia el este llego a Santa María del mercadillo, donde soy bien acogido: los paisanos son amables, serviciales, y se sienten honrados por la visita; hablan conmigo, me preguntan, me indican, me sugieren. Hay en una loma detrás del pueblo un antiguo cementerio, muy antiguo y pequeño, circundado por recio murete de piedra, en cuyo interior la hierba, muy crecida, cubre casi por completo la única cruz, herrumbrosa, que ha pervivido al paso de los siglos. Subo y allí me detengo un momento a meditar. Es una melancólica imagen la de esa cruz, olvidada y solitaria en su recinto sagrado, medio caída sobre la mies que el viento arremolina, aguardando aún el día del juicio final.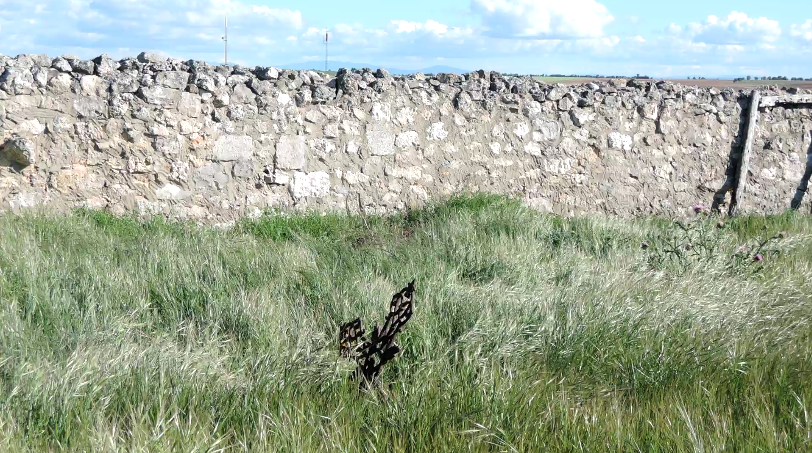 Encuentro, además, otros pequeños detalles en este pueblo que me emocionan, que me transportan a mi más tierna infancia, vivida en una España profundamente -casi primitivamente- rural y sin complejos, cuando las escuelas no necesitaban instalaciones especiales, cuando los profesores se llamaban maestros y no precisaban, para enseñar, más que un encerado, un puñado de tizas y una recia regla de madera, y cuando a las calles podía aún ponerse el nombre de José Antonio sin que viniera ningún gilipollas a llamarte nazi.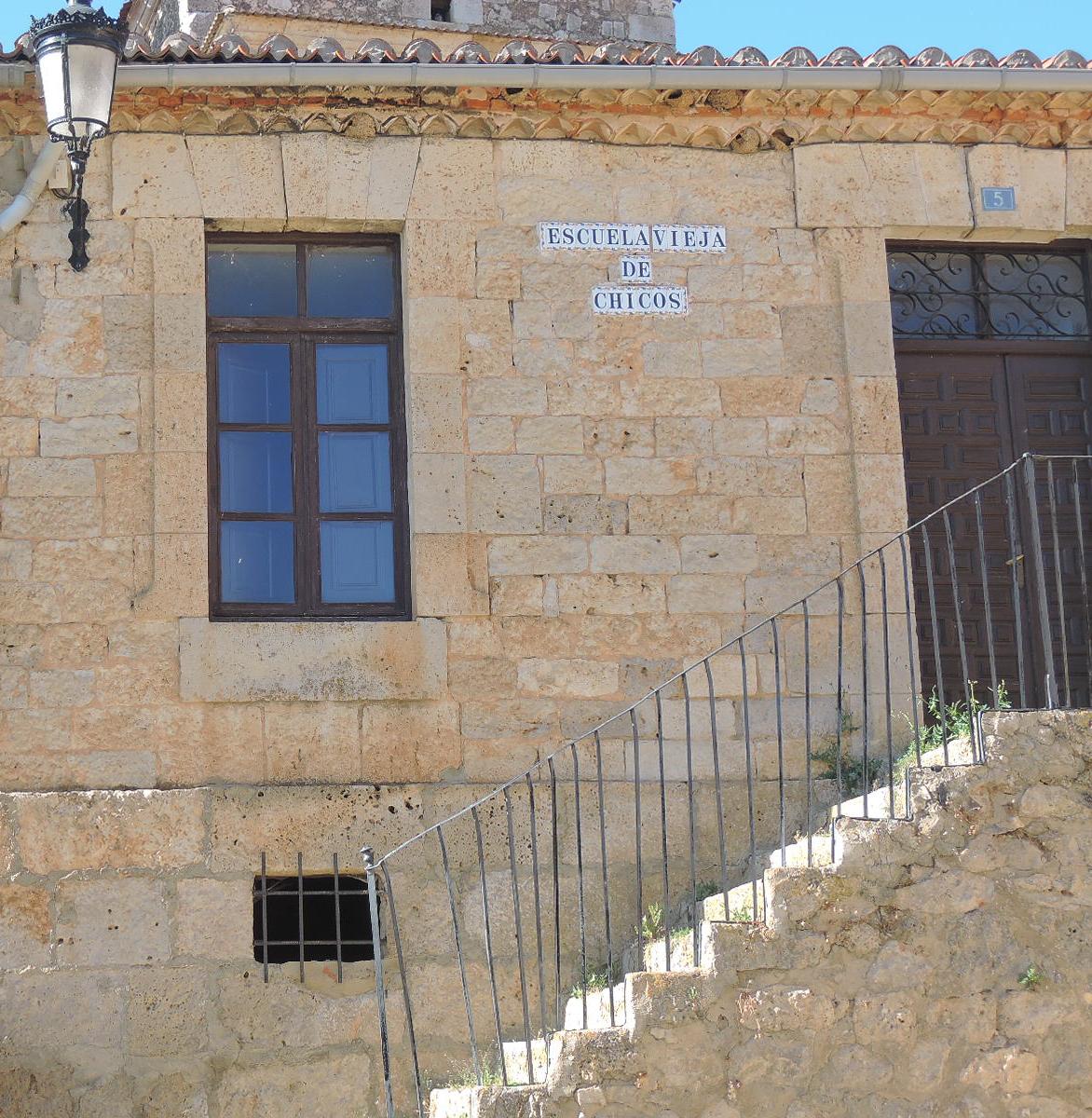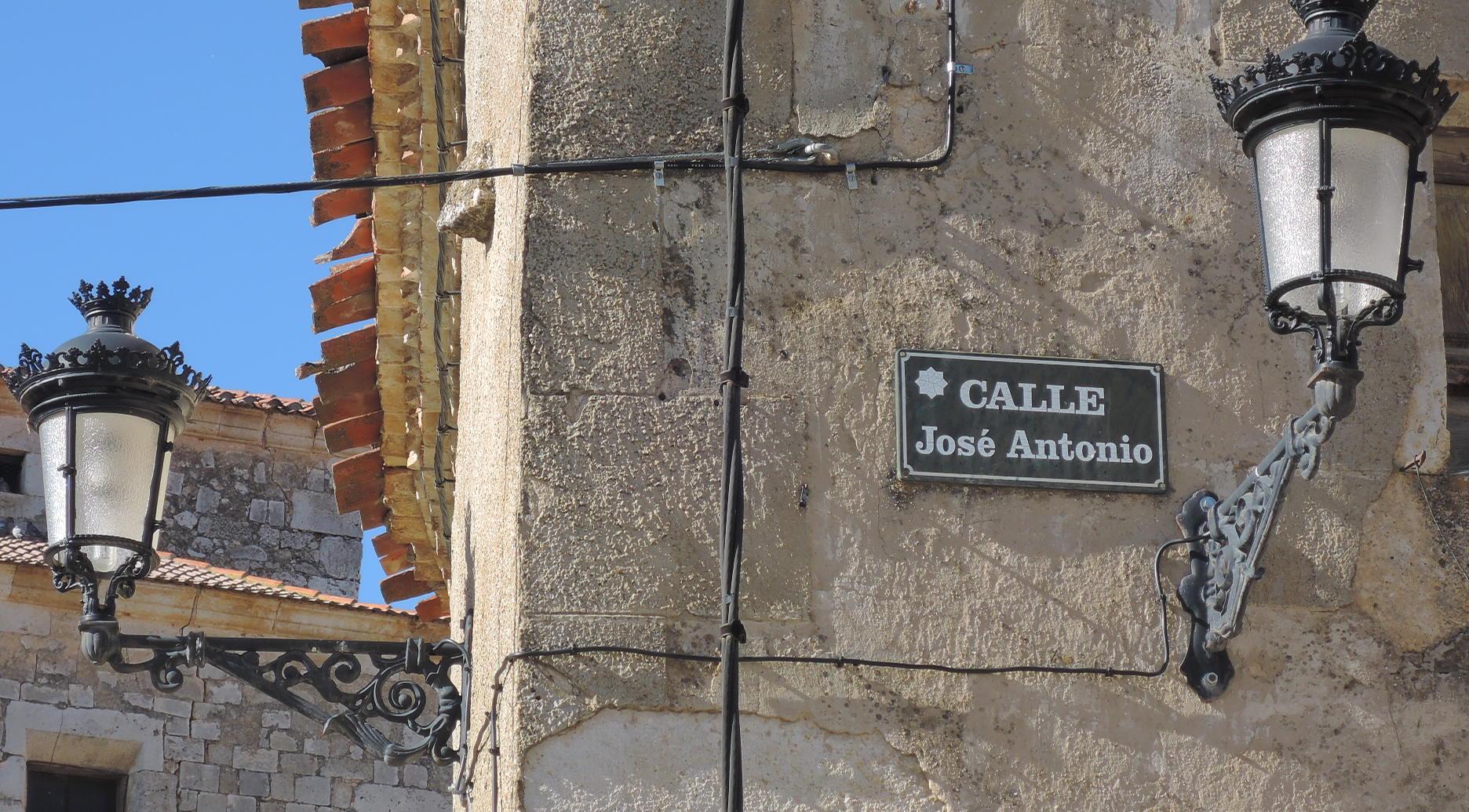 Acabada mi visita (me habría quedado a pernoctar si hubiese habido hospedería) me despido de los hombres –vayan ustedes con Dios, les digo al estilo antiguo, y me miran algo extrañados-y, subiendo a la moto, arranco y continúo camino.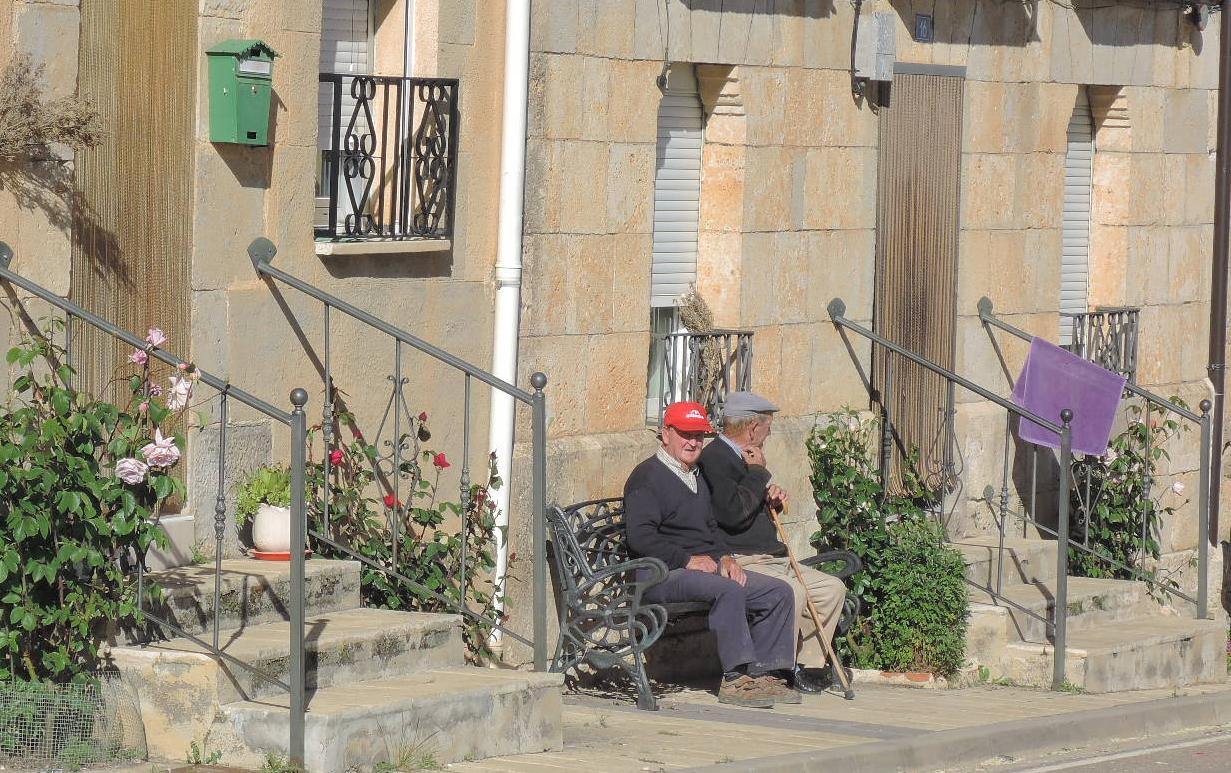 Los neumáticos de Rosaura han de cruzar aún las breves calles de Cieruelos y Brihongos (de Cervera); el aire refresca, las zonas de arboleda menudean, el paisaje se hace soberbio ya cuando enlazo con la panorámica ruta que lleva desde Aranda hasta Silos: doquiera que dirijo la mirada es un regalo para la vista; y, por fin, casi en llegando a mi destino, como un heraldo del recinto natural al que precede, se abre la puerta gigante y magnífica de La Yecla, el desfiladero que sirve de entrada meridional al valle del Mataviejas.



El paso entre ambas crestas rocosas es tan angosto que no da para el ancho de la carretera, que ha tenido que ser excavada en la piedra.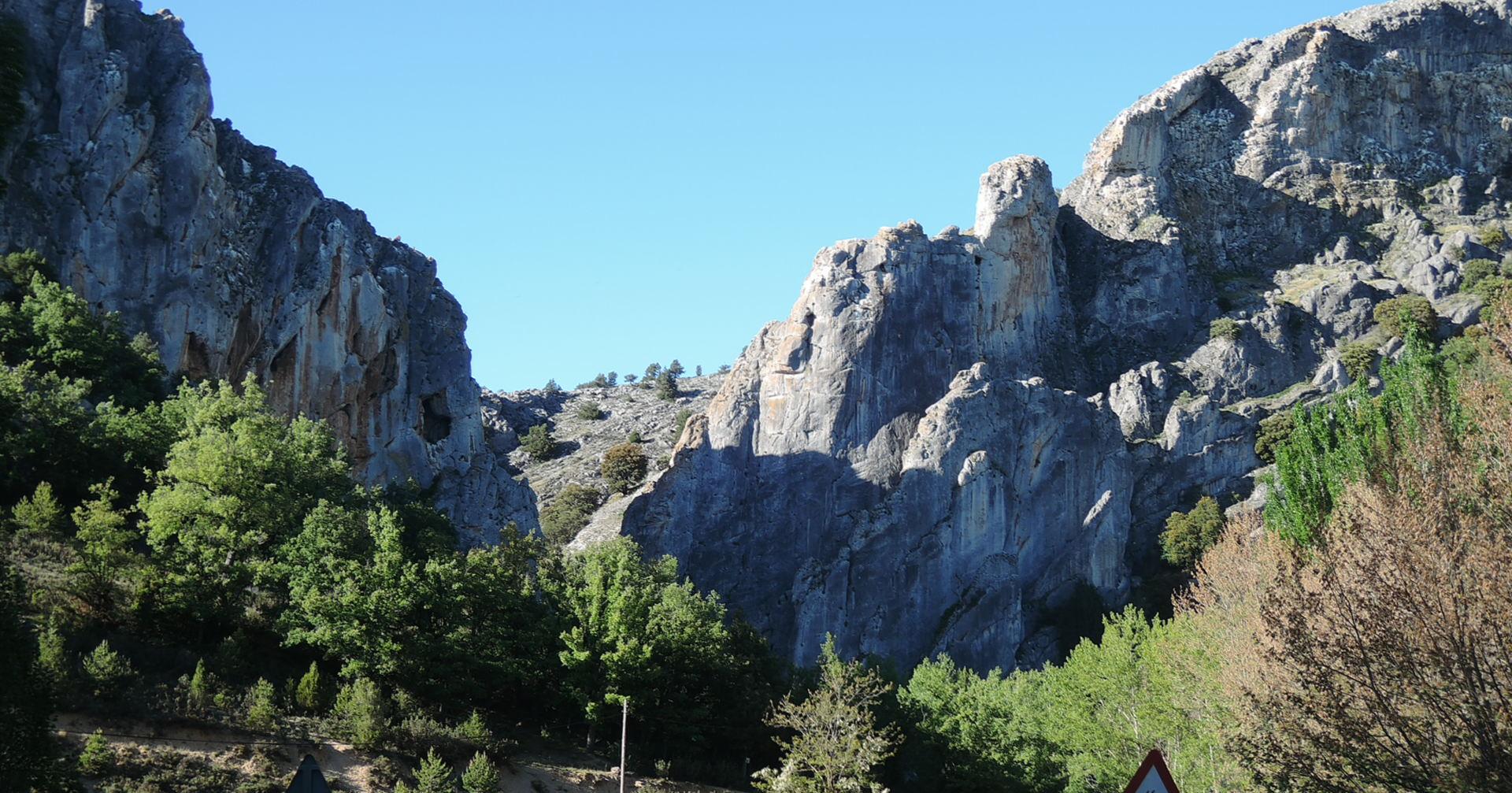 De hecho, el paso natural es en algunos puntos tan estrecho que puede tocarse cada lado con una mano sin apenas estirar los brazos. Sólo el agua, con su fuerza erosiva y por disolución, a lo largo de millones de años se ha abierto camino aprovechando una fractura en la piedra; pero un camino estrecho por donde no puede discurrir más que ella.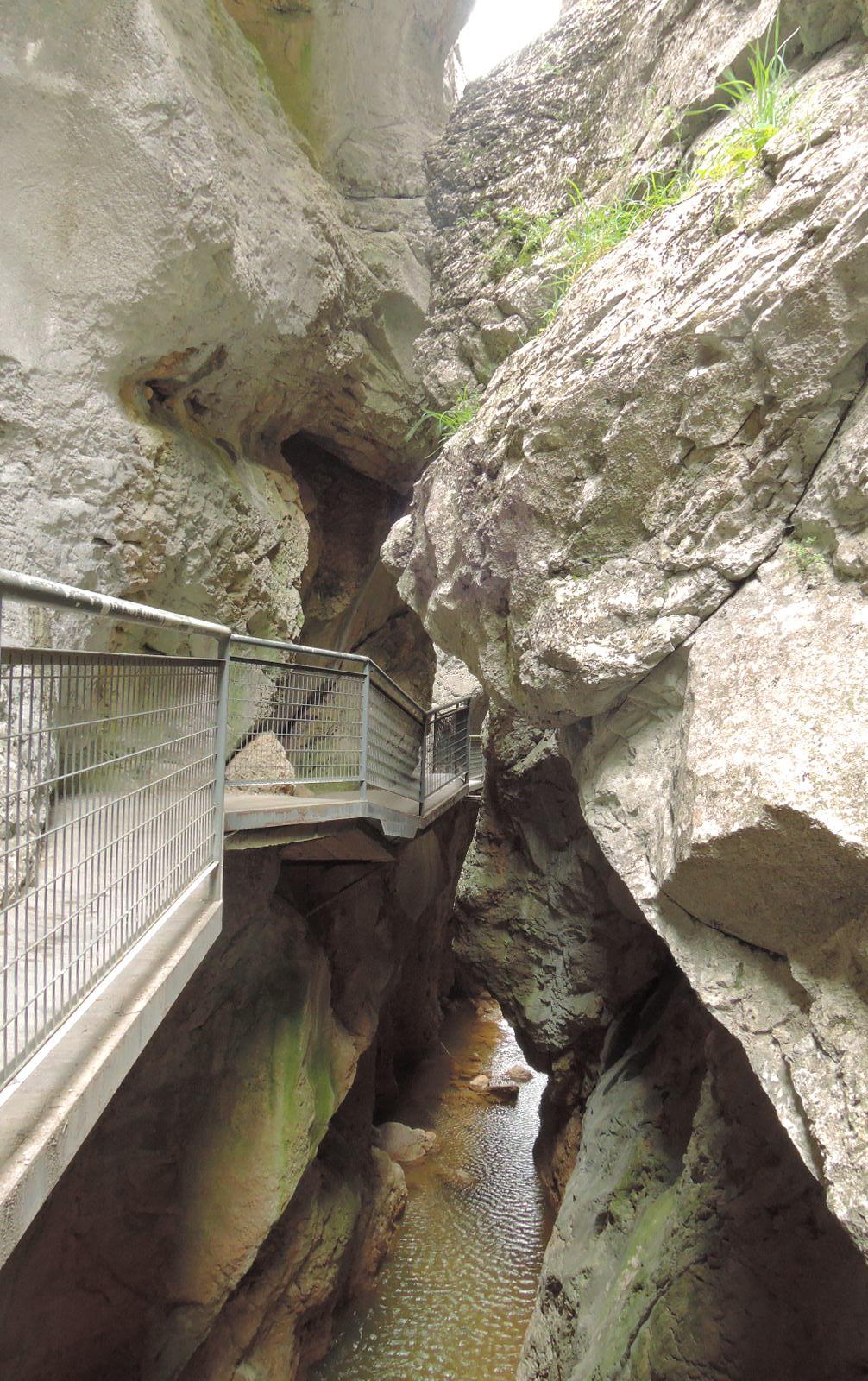 Una vez contemplada y recorrida -a pie- la pequeña maravilla de la naturaleza que es Yecla, sólo una legua me resta por hacer en esta completa jornada antes de llegar, por fin, a Santo Domingo de Silos.
Nada más entrar, a la derecha, está la valla del monasterio y, pasando su cancilla, me veo -treinta años más tarde- en el patio con el recordado abeto centenario.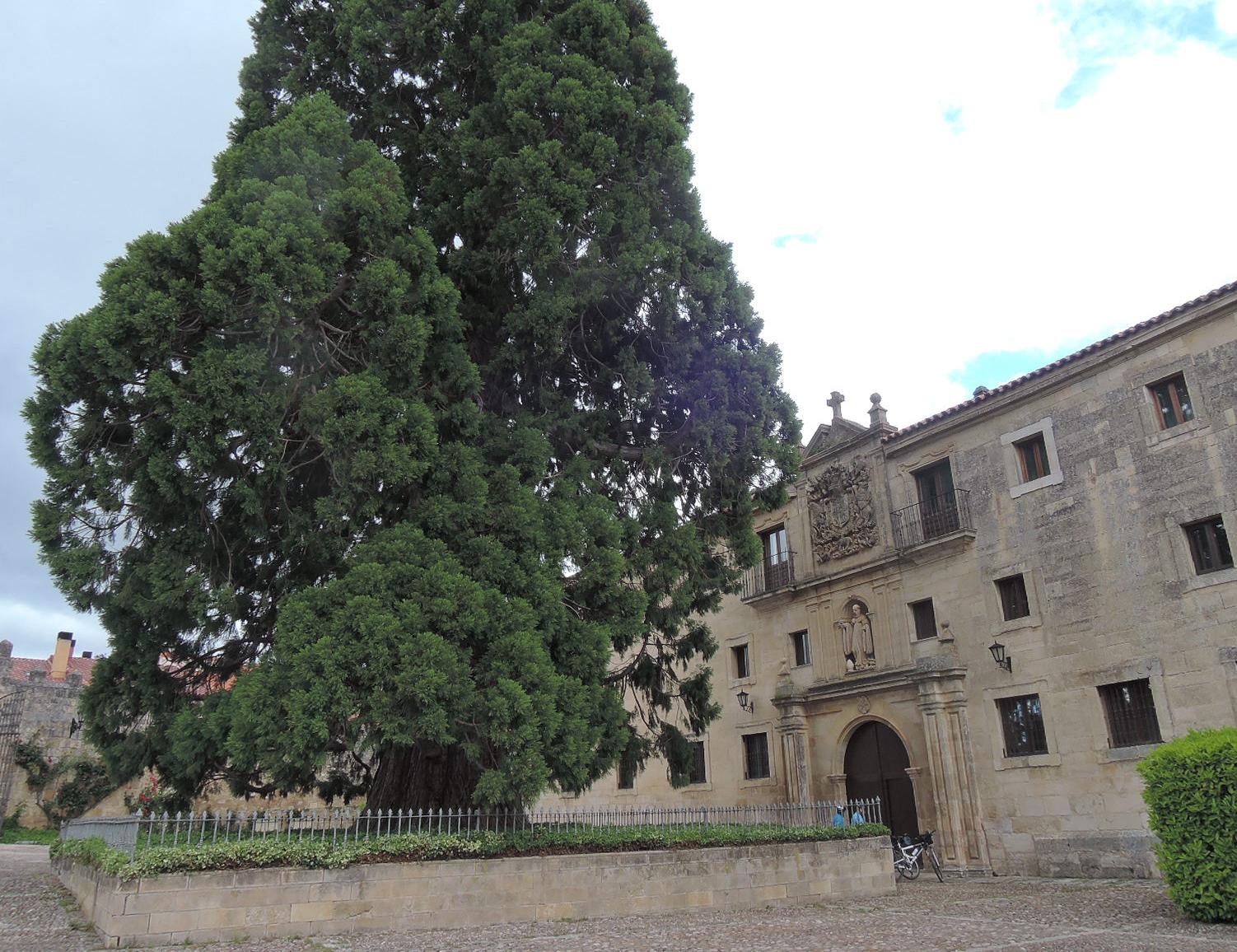 Mi intuición, de la mano de mi instinto viajero, me hacen descartar los tres primeros hoteles de sugerente aspecto que, al borde de la carretera, abren sus puertas al turista. Sigo apenas cien metros y, doblando la esquina de la iglesia aneja al monasterio, a mi derecha, desciende una calle adoquinada que remata en un pequeño arco, al otro lado del cual y pasando el río se ve un hotel, al pie mismo de una verde loma a la que el sol de la tarde enciende con los colores más hermosos y relucientes que puedan desearse. El conjunto me enamora con un flechazo de amor verdadero: la calle empedrada, el pequeño hotel algo apartado, el arco de piedra, una acequia que vierte sus impacientes aguas al Mataviejas, la colina verdecida, la ermita de piedra ocre que se yergue en su ladera… todo, cada uno de esos elementos, parece haber sido puesto allí por encargo expreso de mi gusto.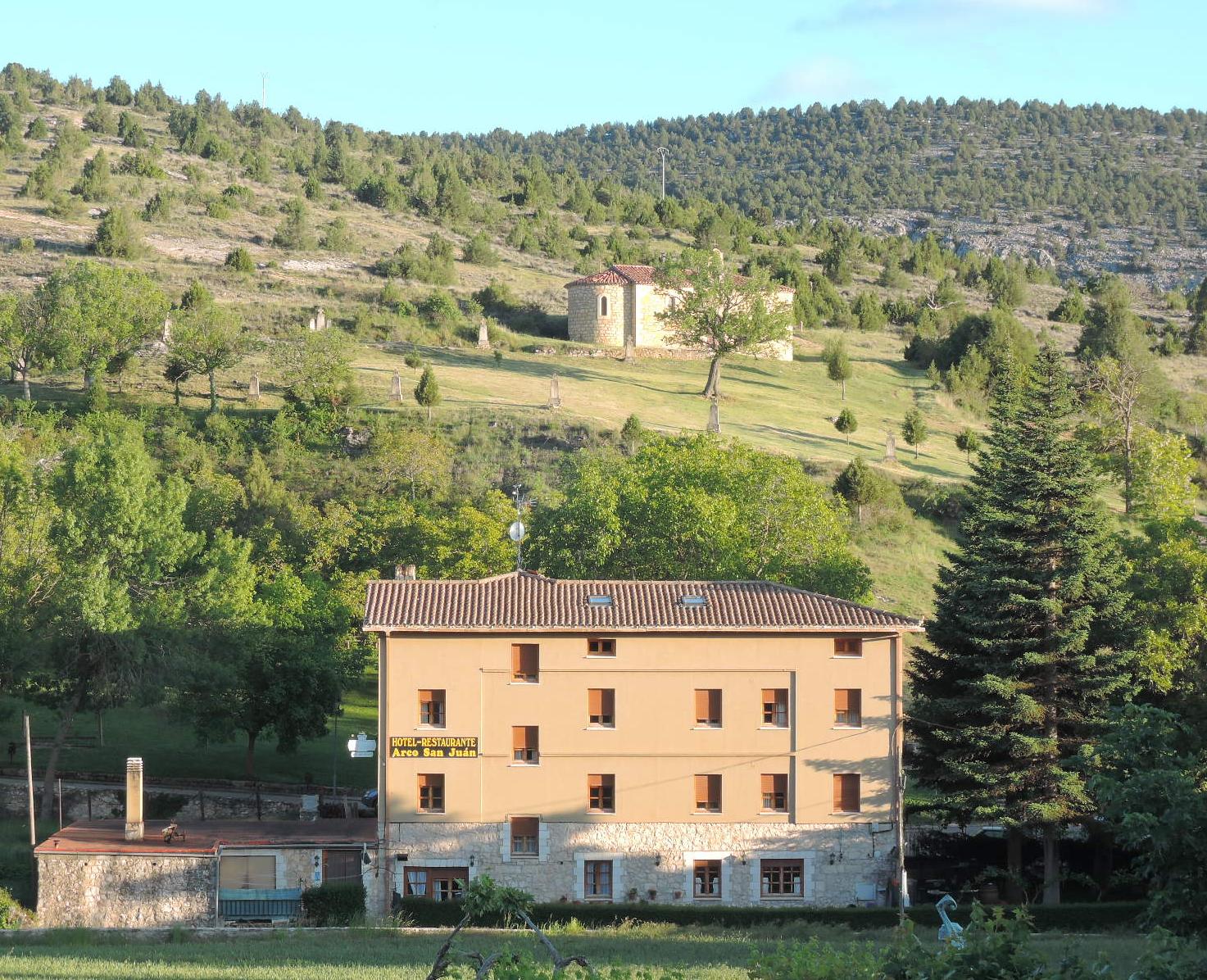 En el hotel me atiende un hombre sencillo, que se conduce con naturalidad, tan sin pretensiones como el hotel que regenta. El precio de las habitaciones me cae bien al presupuesto. Le pido que me enseñe una de ellas y, al subir y mirar por la ventana, esto es lo que veo: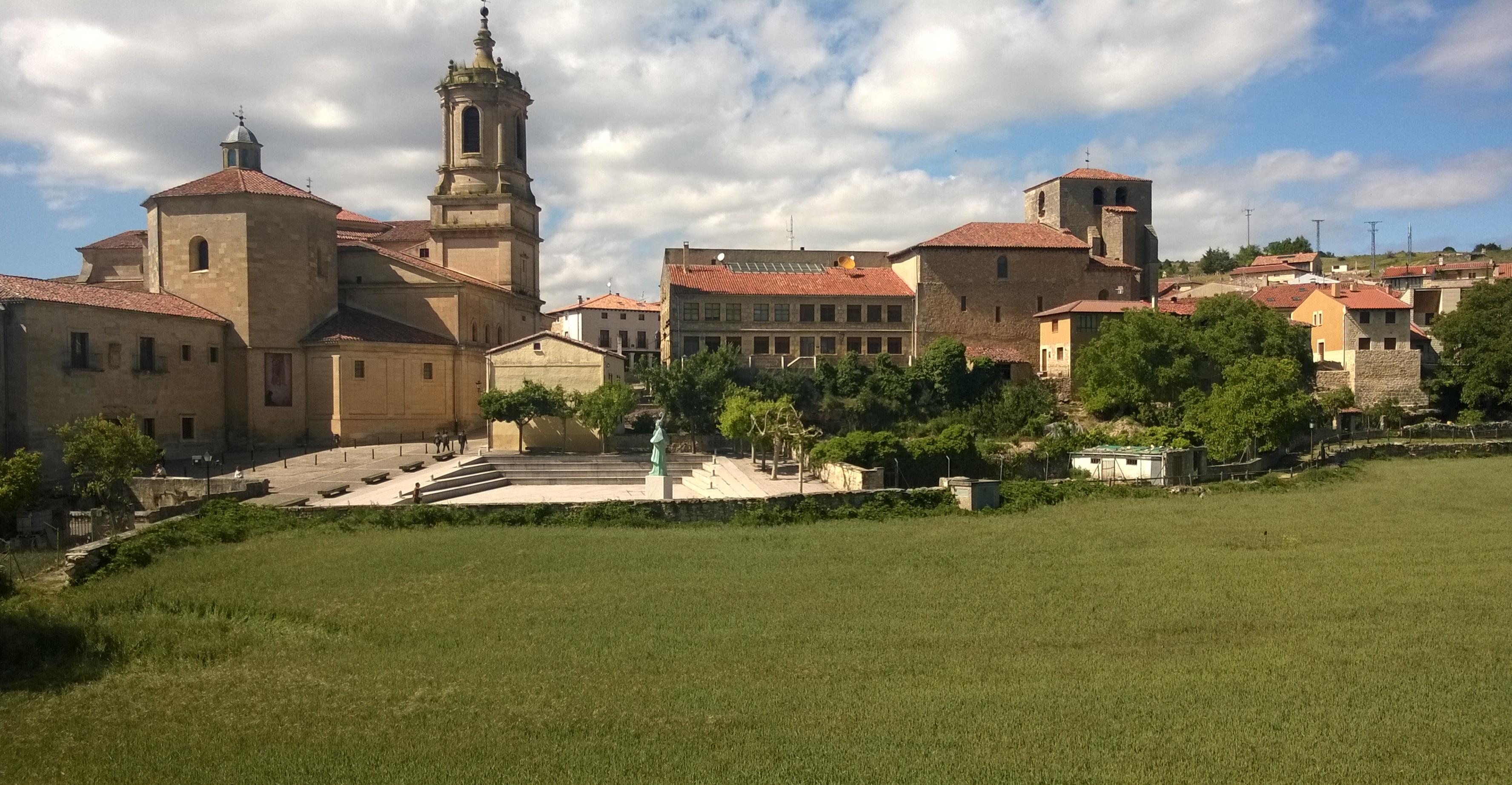 Pedir más sería un delito. Allí me quedo. Estoy feliz: he acertado en todo durante este día, que remato de manera intachable. Aparco la moto junto al hotel, subo las maletas, me cambio de calzado y lo primero que hago, libre ya de impedimenta, es subir por esa ladera con su ermita que están llamándome a gritos desde que les he echado el ojo. ¡Dios mío, qué bien se está! ¡Qué delicia de temperatura, qué silencio! Tan sólo se escuchan unas esquilas en la lejanía, las voces distantes de unos niños y, a ratos, una campana dando los cuartos sin alboroto.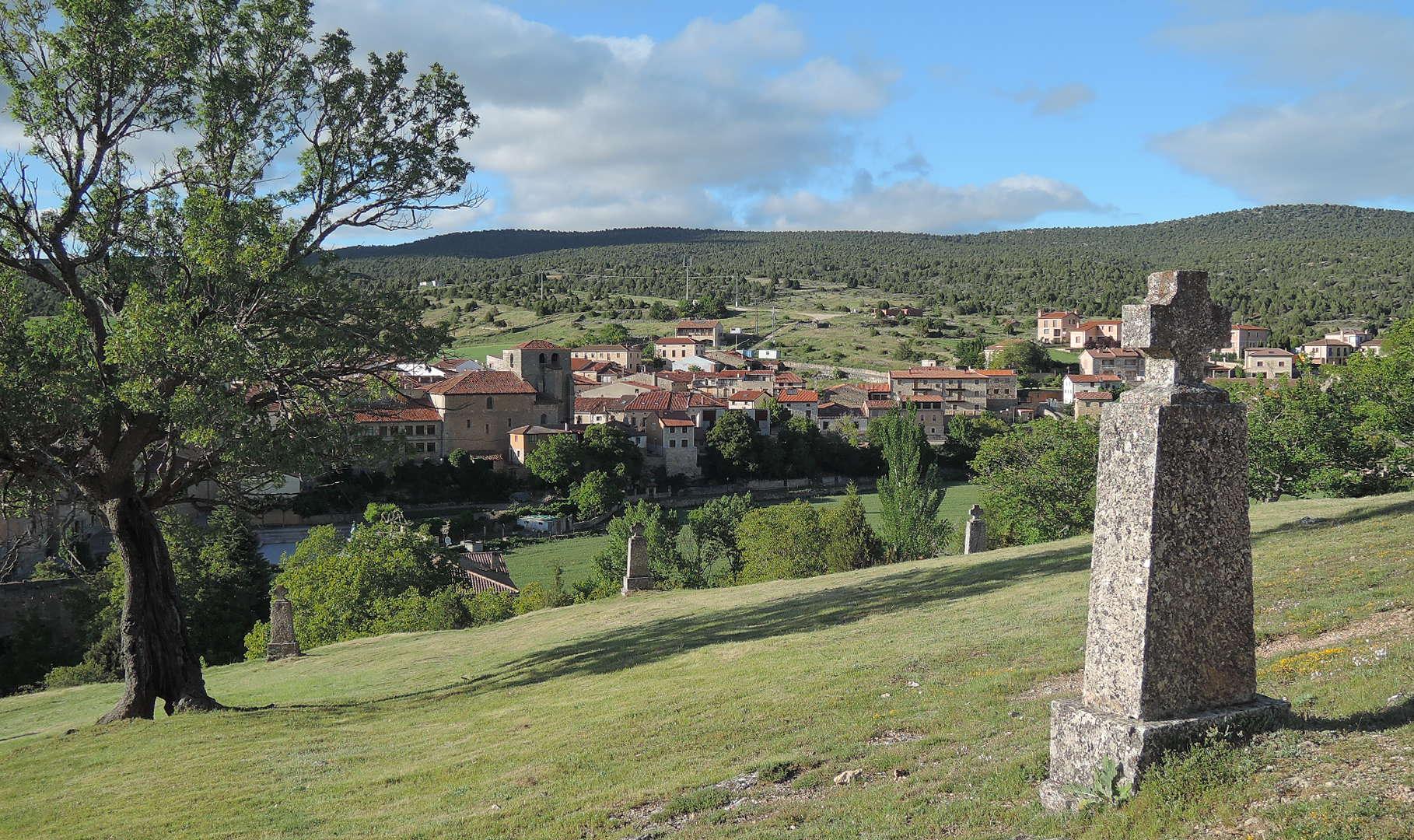 Sobre la hierba de la ladera, al pie de la ermita, hay un via crucis de piedra que parece quiere decirme algo. Al mirar hacia atrás, el monasterio, el pueblo, el valle entero me sonríen, reflejando el sol en los tejados, en la piedra, en los árboles y en las mieses.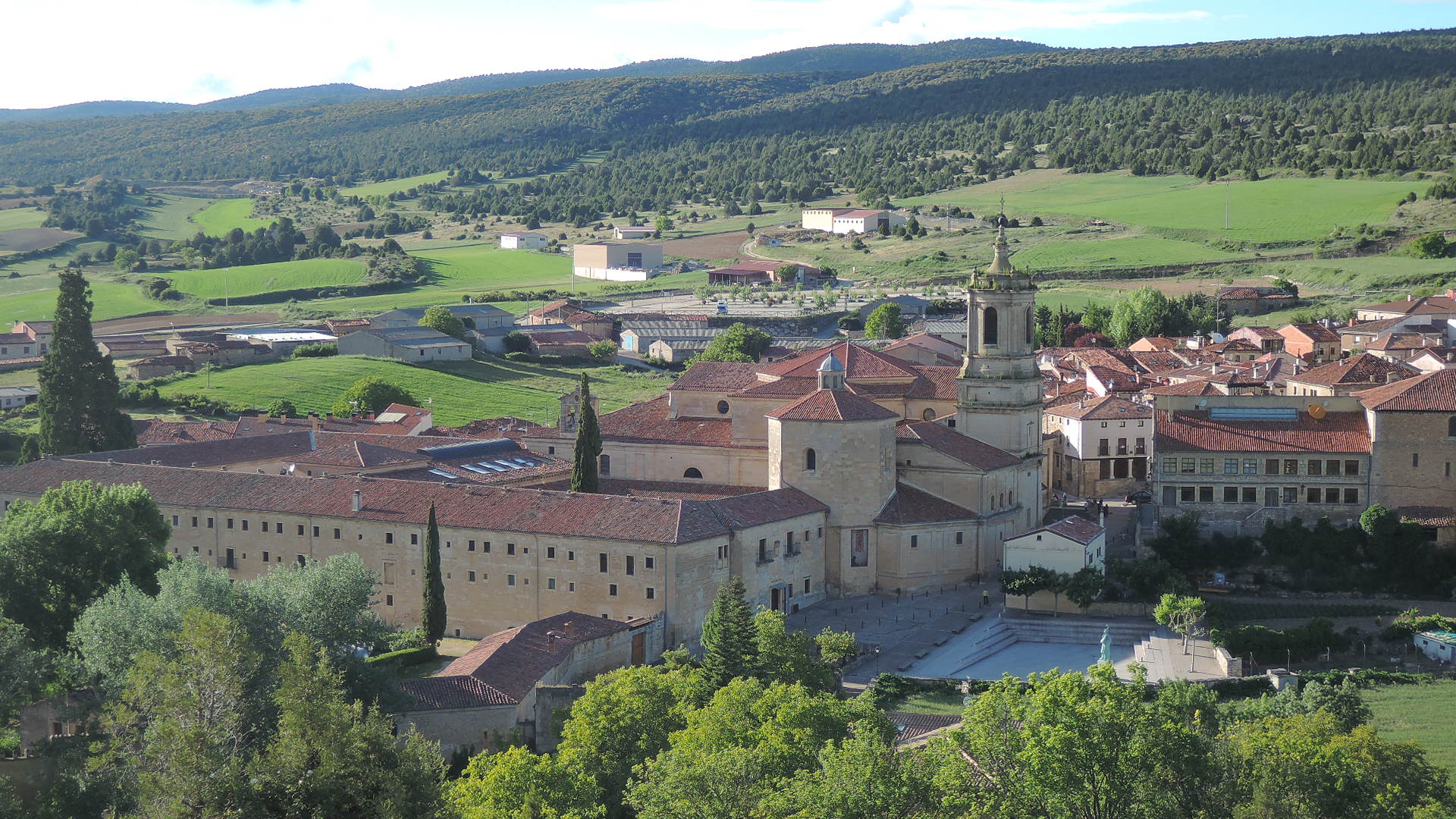 Me llego hasta la ermita, dedicada a la virgen del Camino; nombre muy adecuado, pues -casualidad o no- se sitúa junto al camino por donde pasó, yendo hacia su destierro, don Rodrigo Díaz de Vivar. Sólo contemplarla allí, en su ladera, con los ojos de sus ventanas mirando hacia el sol poniente, como llamando a la esperanza, es una vista que alegra el corazón.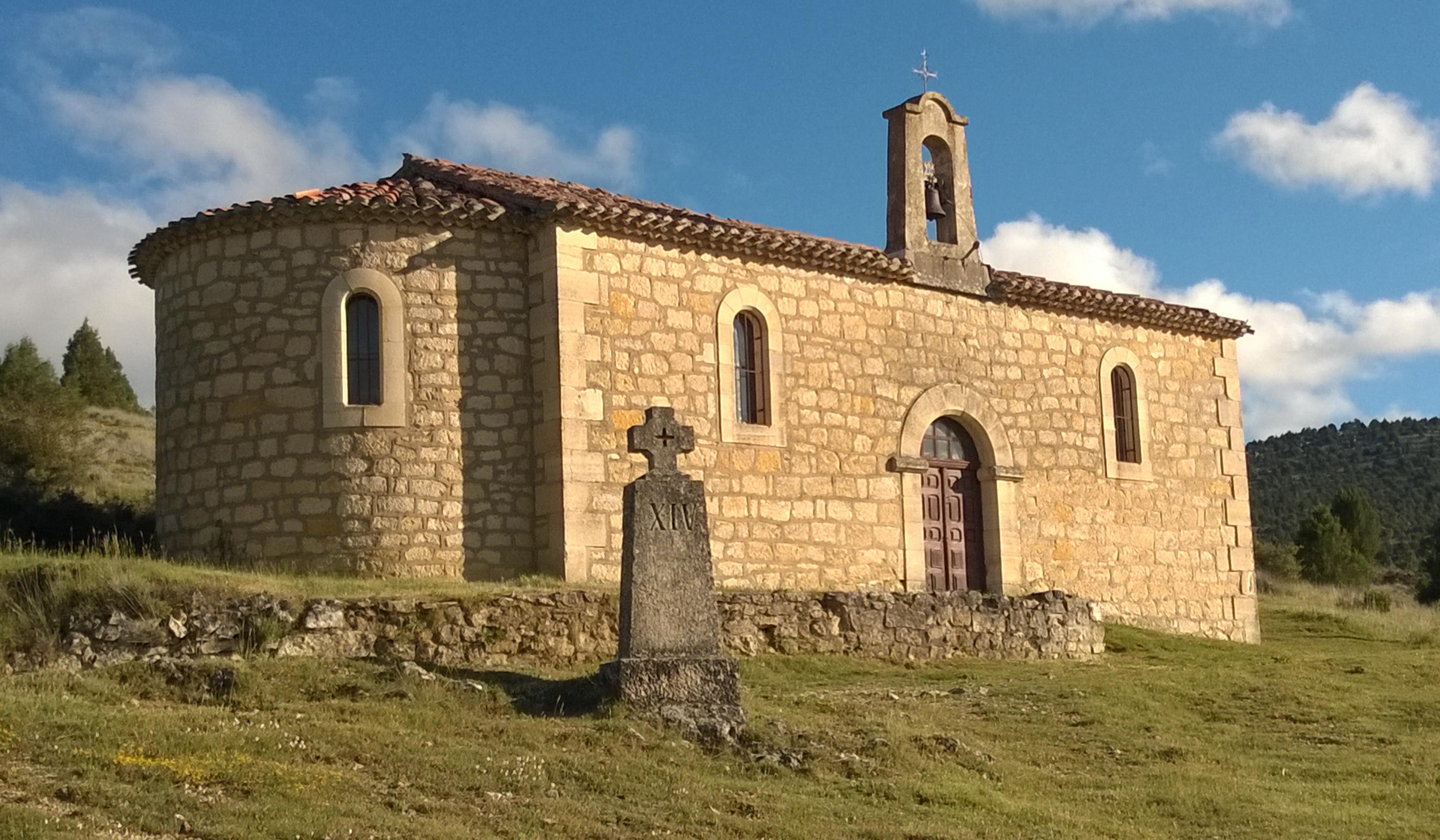 En su flanco sur, a resguardo del vientecillo norte que sopla fresco, y asoleada por este día radiante, hay una piedra de tamaño regular, con la superficie algo cóncava de tantos miles de posaderas que allí han descansado. Ahí me acomodo, cierro los ojos y me dejo llevar un largo rato por el sueño y el ensueño, reposando la nutrida jornada…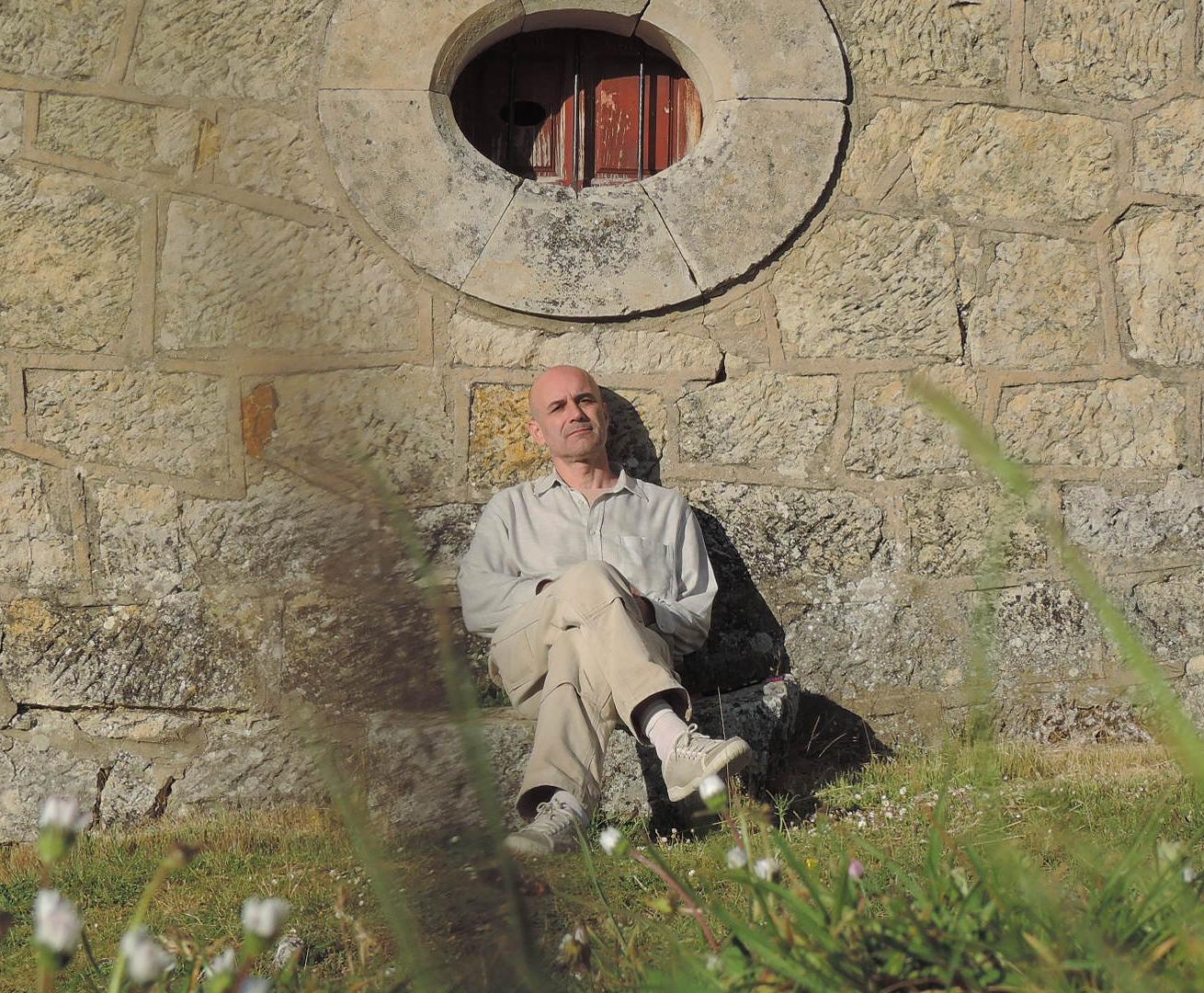 A medida que va el sol acercándose al horizonte la tarde refresca y, aunque estoy a sotavento, empiezo a sentir frío. Es hora de bajar y buscar algún sitio donde pueda cenar algo. Paso primero por la habitación para echarme una cazadora por los hombros y luego me encamino al "centro" del pueblo. Según voy llegando al flanco de la iglesia, mi vista se posa sobre un enorme mural que no advertí al llegar. Un mural devoto que, teniendo en cuenta mis pensamientos desde que di comienzo este viaje, entre todos los visitantes del pueblo parece estar hablándome exclusivamente a mí: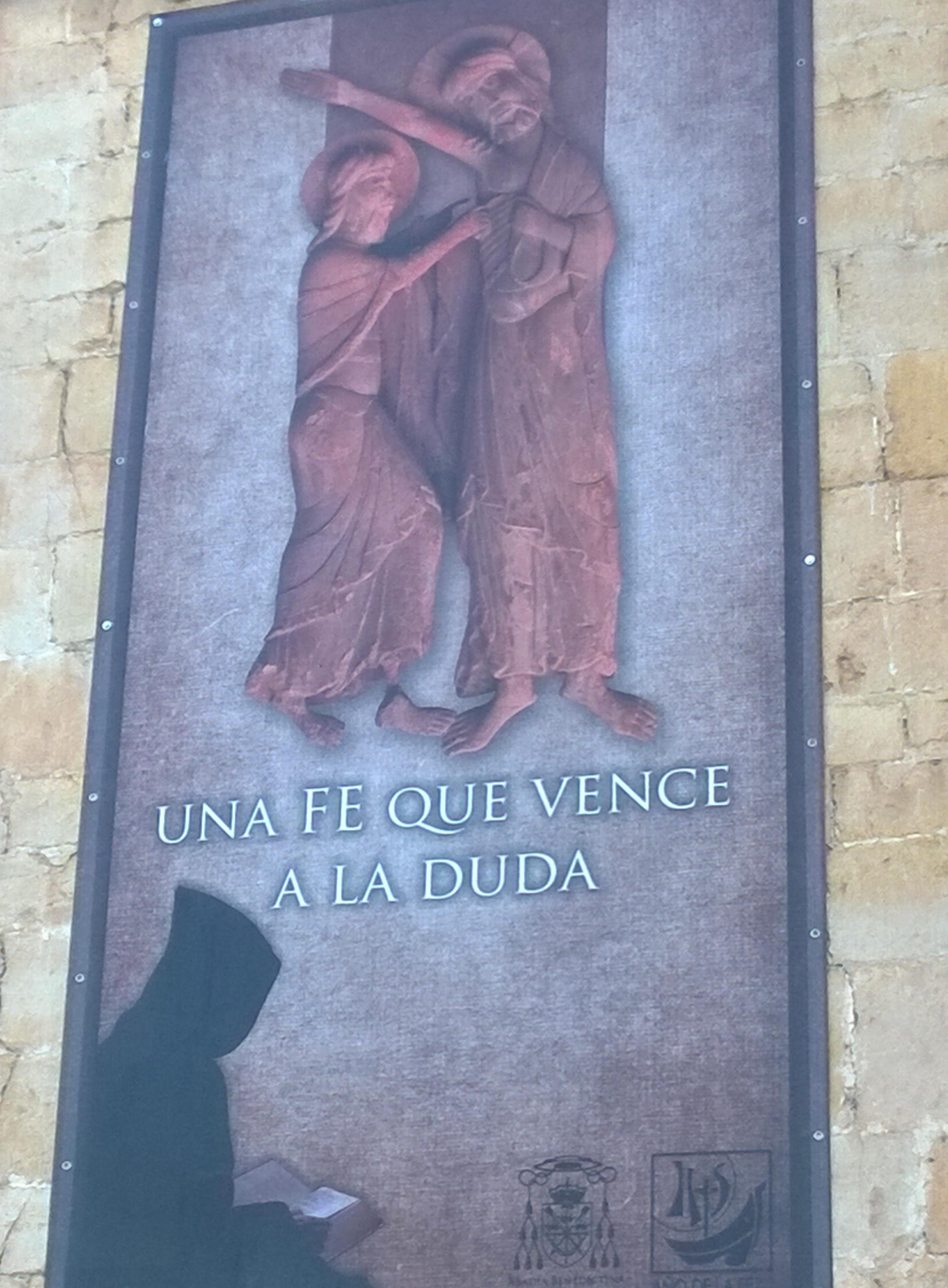 Sí, esa fe… ¡ah, quién la tuviera?
capítulo anterior | capítulo siguiente
[:en]I leave behind Peñafiel, its castle and famous wineries; ahead is the plain, losing its harshness as it slowly gets higher, towards more beautiful and faraway regions. The blue sky is partly cloudy with cumulus humilis, the wind caresses the wheat fields, putting a dozen shades on the green and gold; the sun shines behind the clouds every now and then with sweet tenderness and gets the best colours from the flowers, the trees, the stones, the fields, the whole countryside. It's a superb afternoon, full of glory, able to bestow onto the most wretched one some joy of life.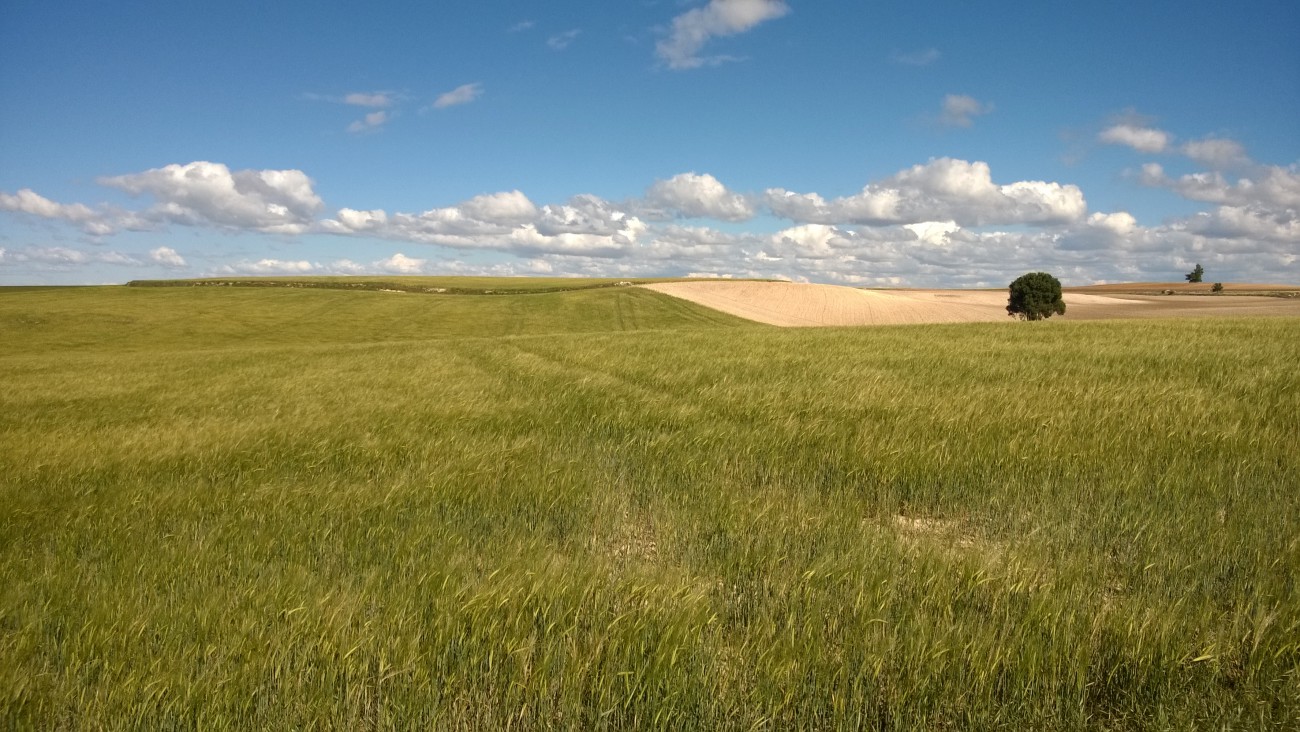 I guess that, by now, every of my readers has been acquainted with my preference for natural and off route places; so, noone will be surprised to learn that, once I left the "busy" Peñafiel, I moved away from the highway N-122 and, pulling to the left, I took a secondary road going Northeast, towards Roa, which is also a wine-centered town. I didn't stop here, though: for the moment being I had enough of wine making and vineyard cultives. So, I headed where my instinct took me, on the way to La Horra, Sotillo de la Ribera, Cabañes de Esgueva… Landscape-wise, the best of this day's journey had but started, and along these stretches in the flat highlands, sown with wheat, oats and barley, I was lucky enough to take some splendid shots.



Along these villages the landscape starts changing little by little, leaving behind and below the arid plains; the road climbs slowly among valleys and ridges towards higher lands. As I approach the first foothills of the Sierra de la Demanda, I start coming across some forest patches. The road, almost empty, allows for a sudden stop anywhere, and I can try some selfies like this (which you've already seen):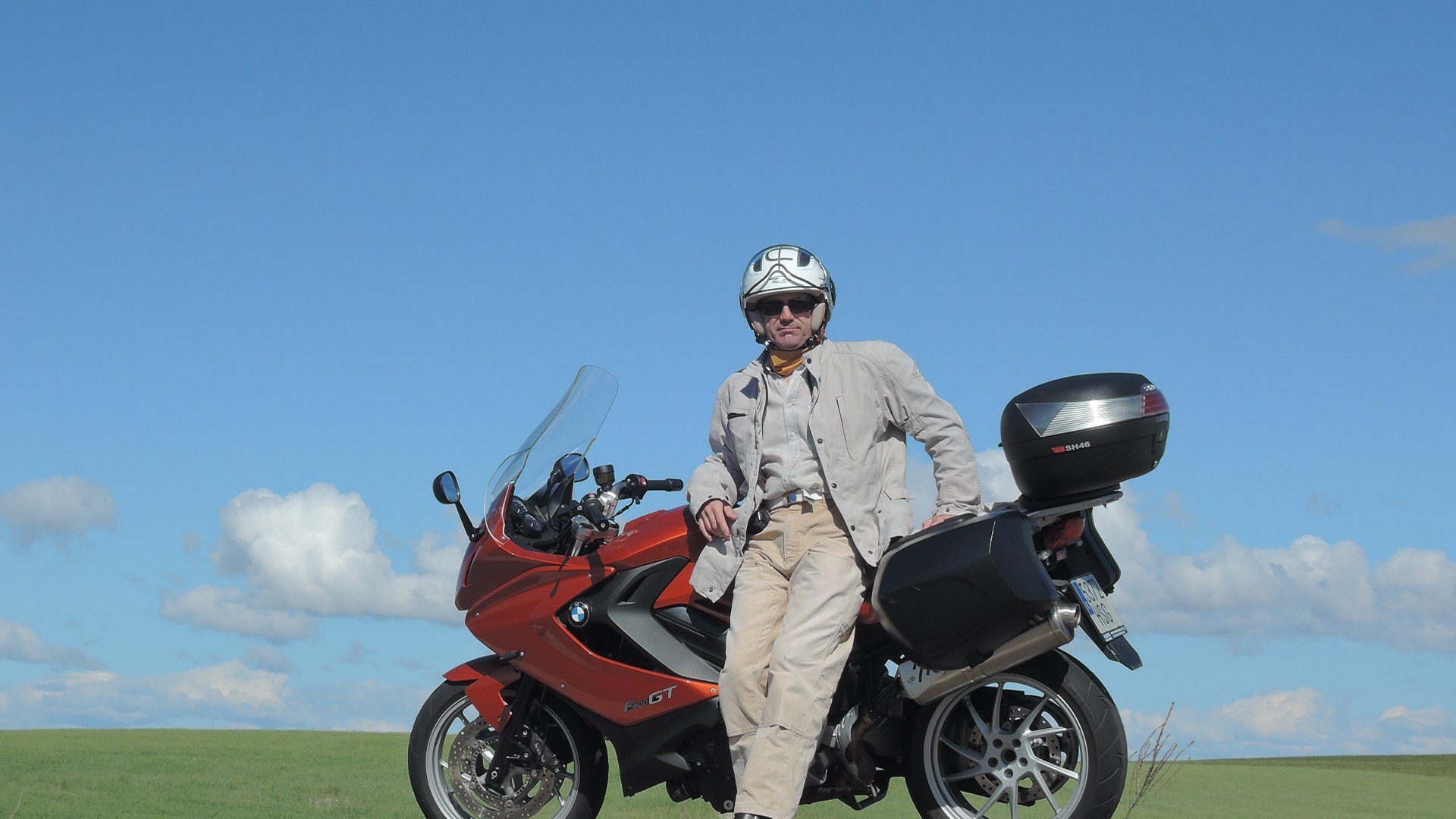 I'm enjoying so much that, before I realize, I've already crossed the route A(septic)-1, and I need to check the map to know where I want to go. As I'm standing by Rosaura on the road shoulder, a man stops by and asks me: "everything ok, do you need some help?" I thank him, he smiles back and leaves. I'm on the right way, I say to myself.
Many years ago, when I was so young that the world had no limits, spatial nor temporal, I had a girlfriend with whom I took some of my first trips; during one of these, we passed a village called Santo Domingo de Silos; from that visit, besides a good imprint, I keep only an image in my memory: a monastery with a huge fir tree in its entrance's courtyard. I wanted now to make a destination out of that monastery and that fir tree, that place in my past.
And I hit it. But, before that, I've ridden through lovely villages, and I've been gifted with gorgeous landscapes. Along this minor route, slowly riding my bike, wrapped in my white armour, I contemplate the landscape around me and I think: thirty years of coming and going have been needed for me to learn that the best way of traveling is… just slowly.
I halt at a village called Pinilla Trasmonte and park by the church. I've already said in this blog that I never stop being amazed by the Catholic Church constructing zeal along one the past fifteen hundred years. Even if only for this, it deserves my respect. There is no hamlet nor small village, district nor county, quarter nor town in Spain where the Church has not erected a church, a parish, a sanctuary, a chapel, a cathedral, a monastery or a shrine. I can't conceal my admiration nor -I admit- my envy: what kind of faith is needed for such energy, for such momentum? And I don't care if it's an absurd and baseless faith! All faith is; so, what? The main thing is: whomever has such faith, has never felt empty as I often feel. The local priest, the bishop, the prior, the abbot, the monk… probably none of them ever felt this fool urge, this yearning to journeying to nowhere: all of them knew who they were, all believed -mistaken or not, who cares?- in what they were doing; they lived and died where they thought God had placed them, and their lives meant something for themselves.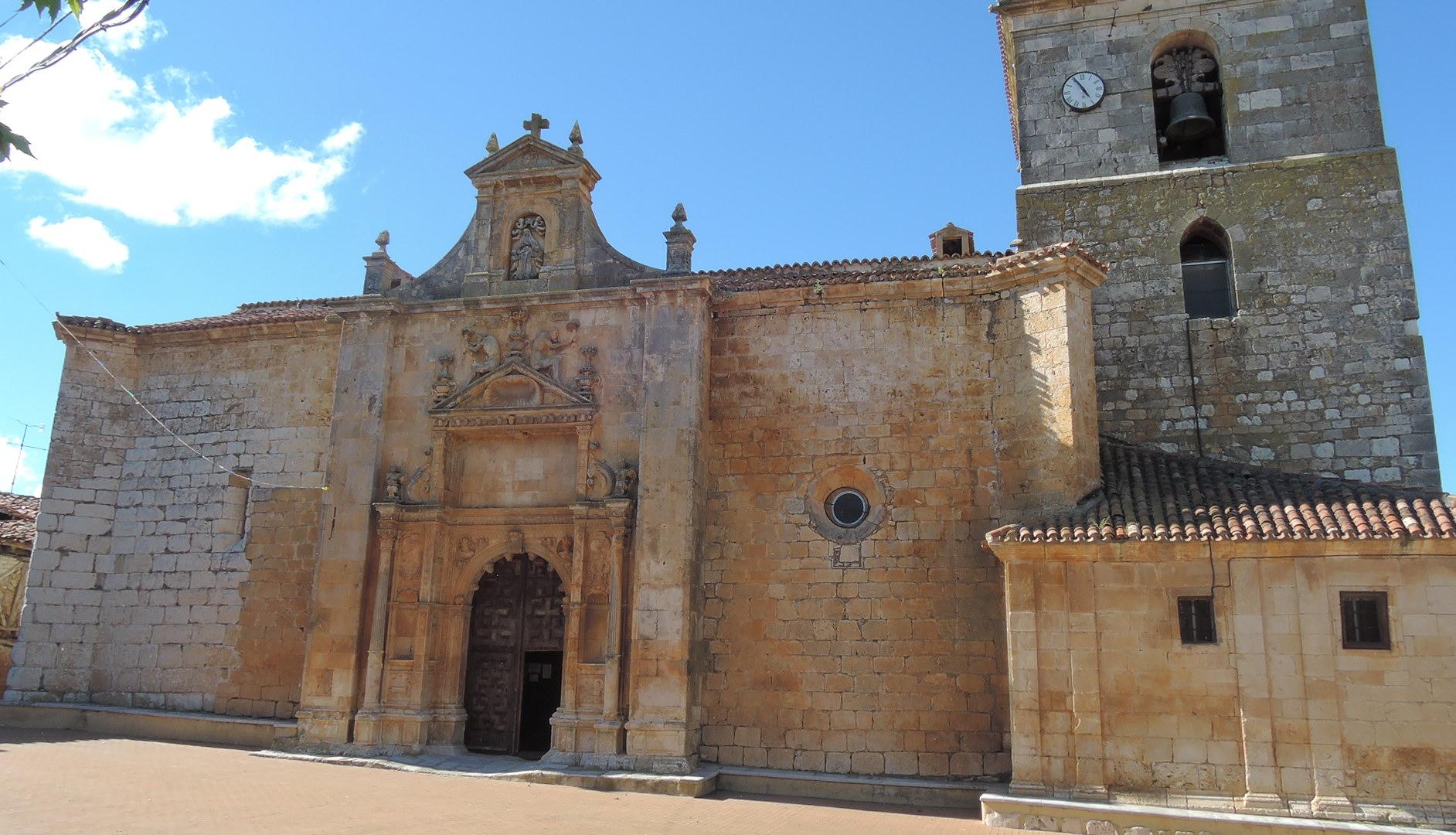 Every cozy corner in a villages attracts me as a magnet, sometimes irresistibly: wherever I glimpse an old house, a tiled roof, an adobe wall, a wooden old door, I walk there like hypnotized. Now, right behind the church of Pinilla there is one of those romantic corners: two or three empty houses in a row that, probably, no more than three dacades ago were inhabited by old couples who also knew who they were, and whose remains rest now -no doubt- in some neglected graveyard invaded by nettles.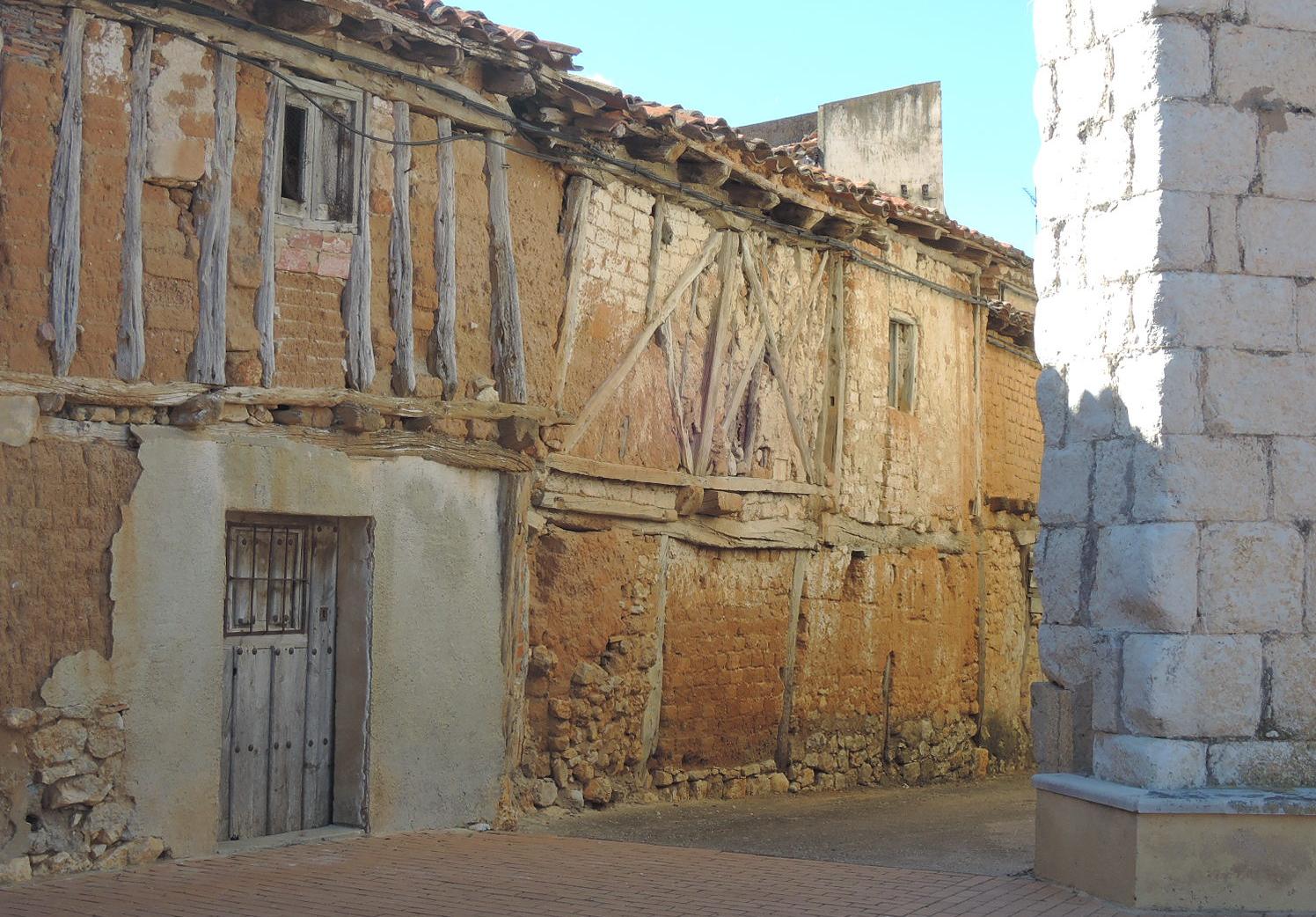 And there she is, my "faithful" Rosaura, as a bridled mount waiting for the rider to finish visiting the village.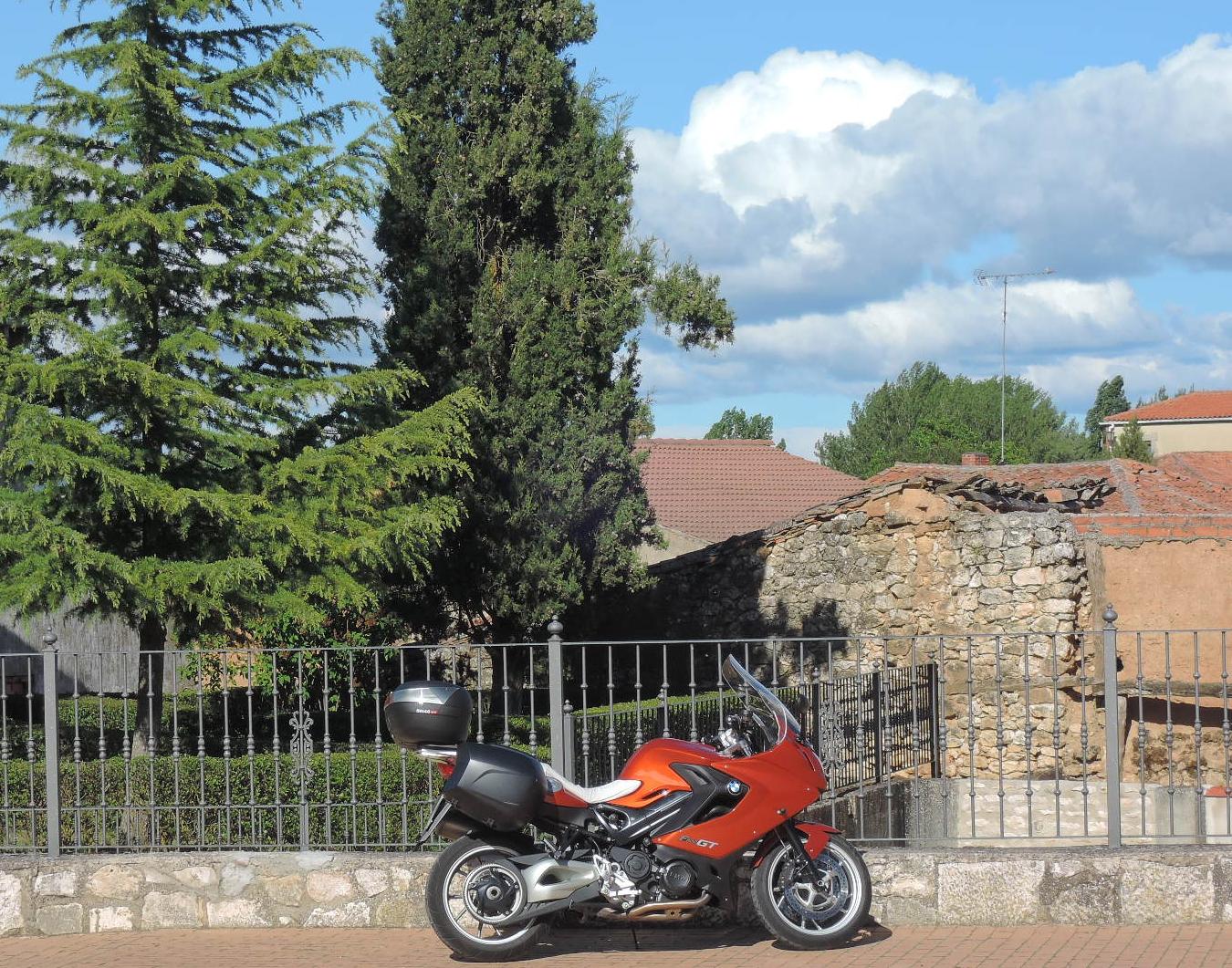 But Pinilla is just one among the many small villages along my way to Silos. One league eastwards I arrive to Santa María del Mercadillo, where I'm quite welcome: the locals are kind, serviceable, and they feel honoured by my visit; they talk to me, ask me, direct me, suggest me. On top of a ridge behind the village there is an old graveyard, very old and very small, surrounded by a sturdy stone wall; inside, the grass is so overgrown that it almost hides the only cross, rusty, enduring the pass of centuries. I climb the ridge and stop there for a moment. It's a melancholy view: the forgotten cross, lonely inside its sacred enclosure, leaning on the grass whirled by the wind, still waiting for the Judgement day.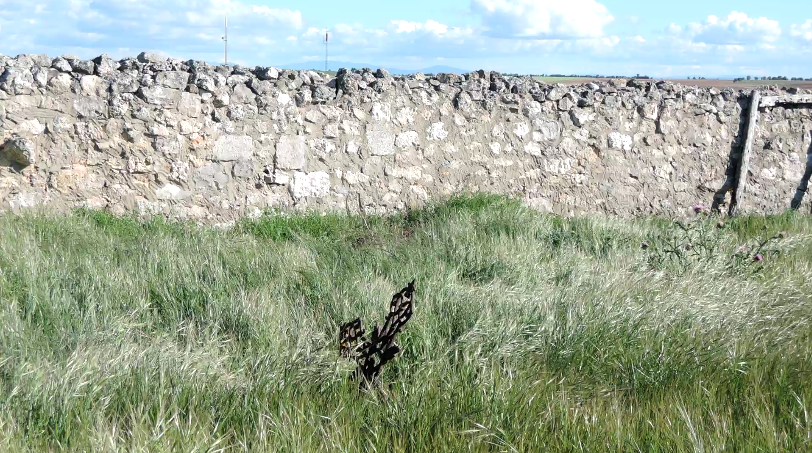 Besides, I find some other little gifts in this village that move me, bringing me back to the days of my childhood, when Spain was as deeply -almost primitively- rural as deprived of any complexes:mschools didn't need special facilities, teachers were called maestros (an old fashion way of saying teacher in Spanish) and, for doing their job, they only needed a blackboard, a piece of chalk and a stout wooden ruler; in those times, streets could be called after José Antonio (a Spanish politician prior to Franco seized the power) without some asshole calling you nazi.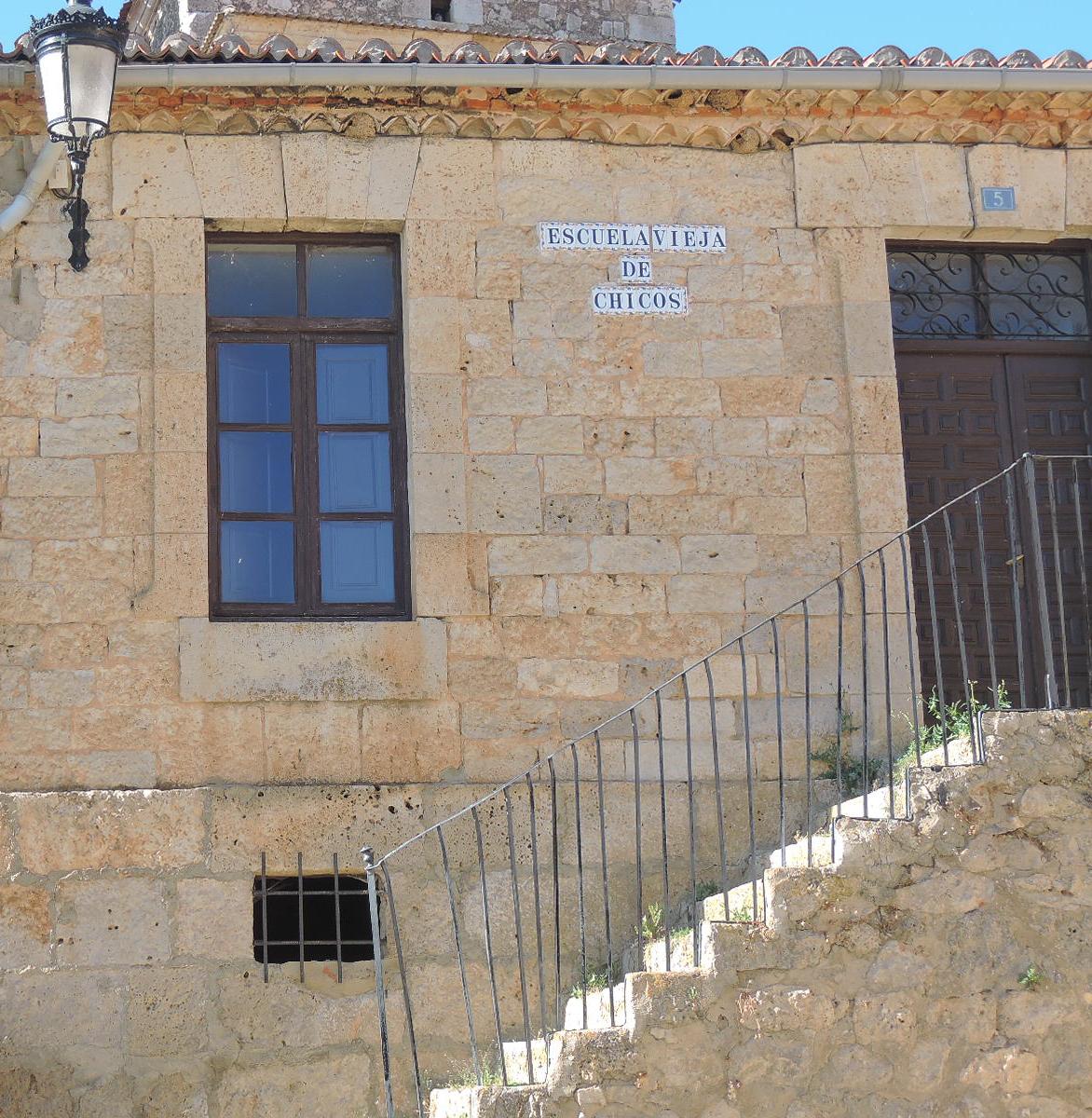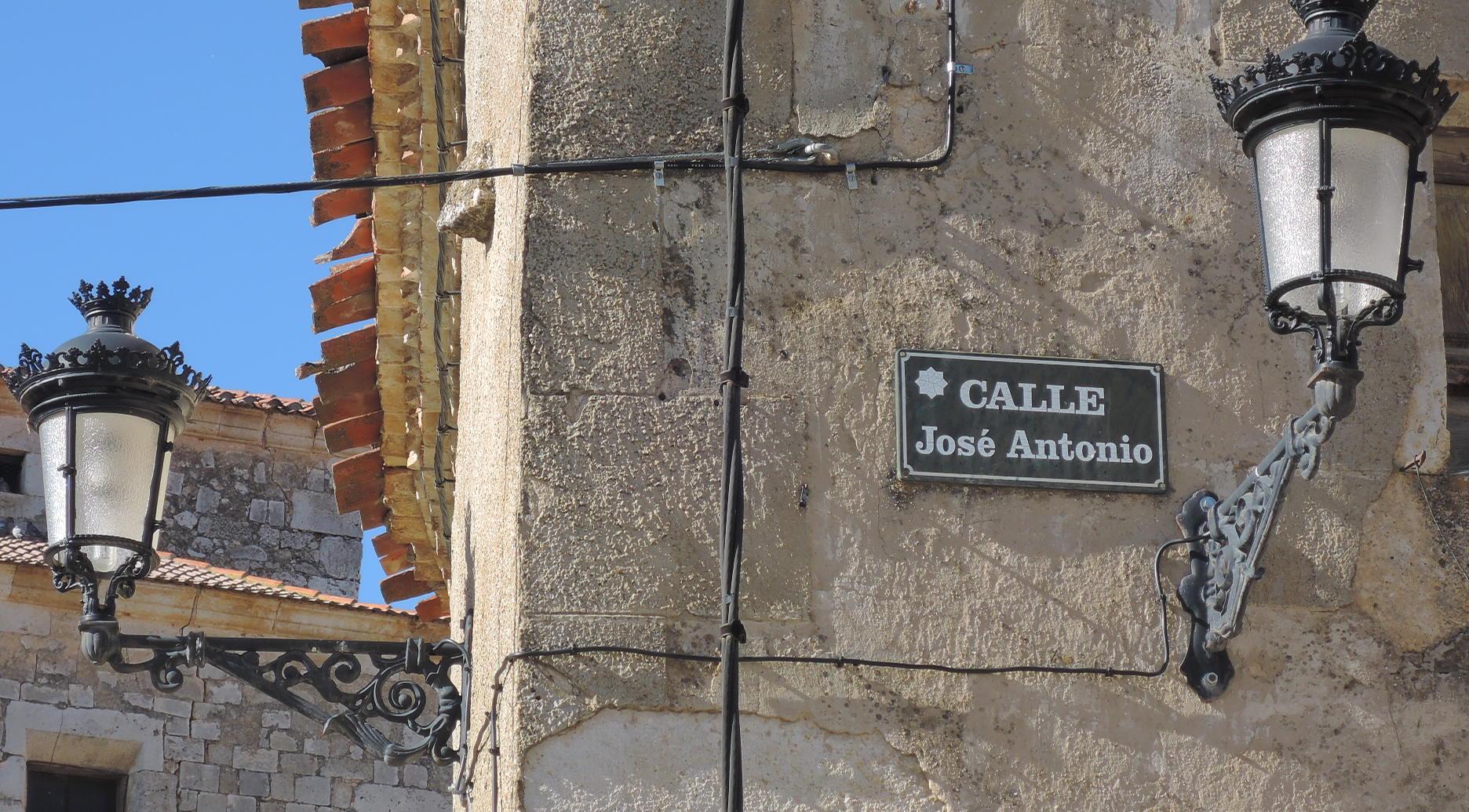 Once I finish my visit to this hamlet (I'd have stayed overnight had there been a hostage) I say farewell to the old men –may God be with you, I say, old style, and they stare at me a bit amazed- and, getting on the bike, I start and keep going.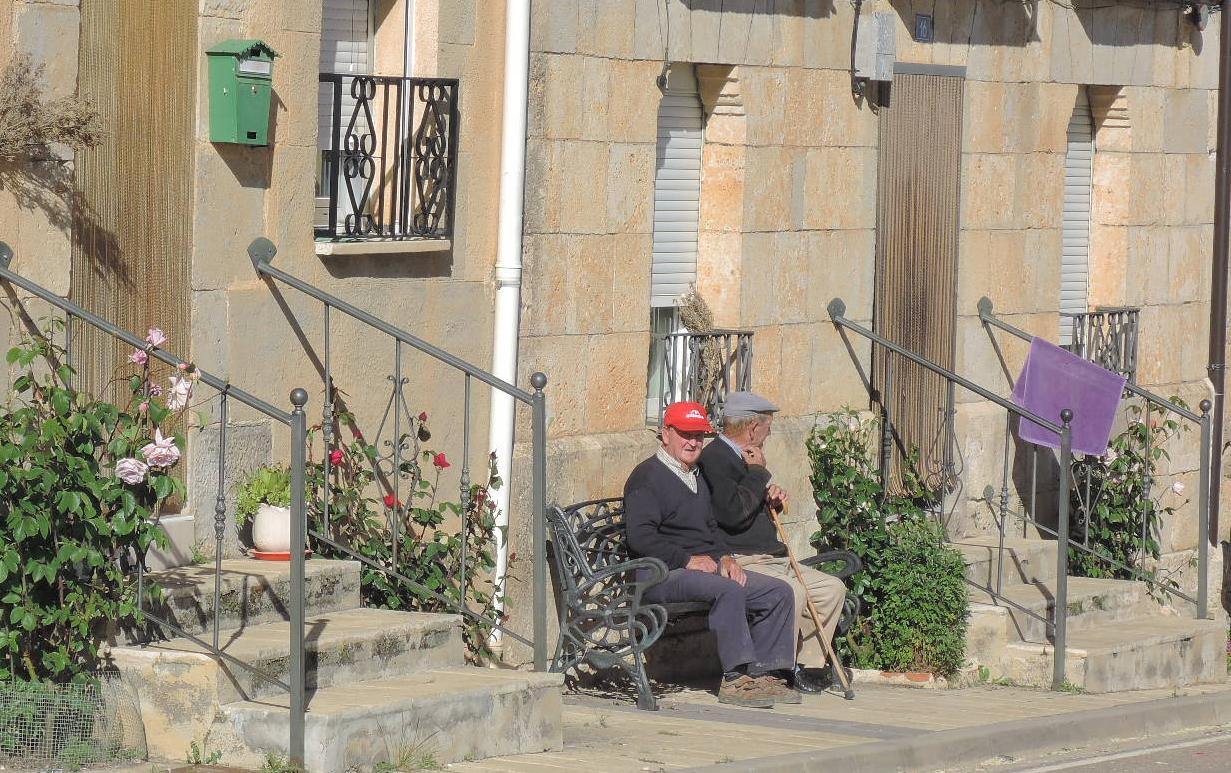 Rosaura's tyres shall yet roll over the streets of Cieruelos and Brihongos (de Cervera); the air is getting cooler, the forest patches happen more frequently, the landscape becomes magnificent, superb when I join the panoramic route from Aranda to Silos: wherever you look at, it's a gift for the senses. Finally, shortly before arriving to my destination, there opens the giant and gorgeous Yecla, the defile that makes for the southern gate to the Mataviejas' valley; Yecla is like a herald to the region whereof it is the natural entrance.



The defile is so narrow that there was no room for the road, and a tunnel had to be carved in the rock.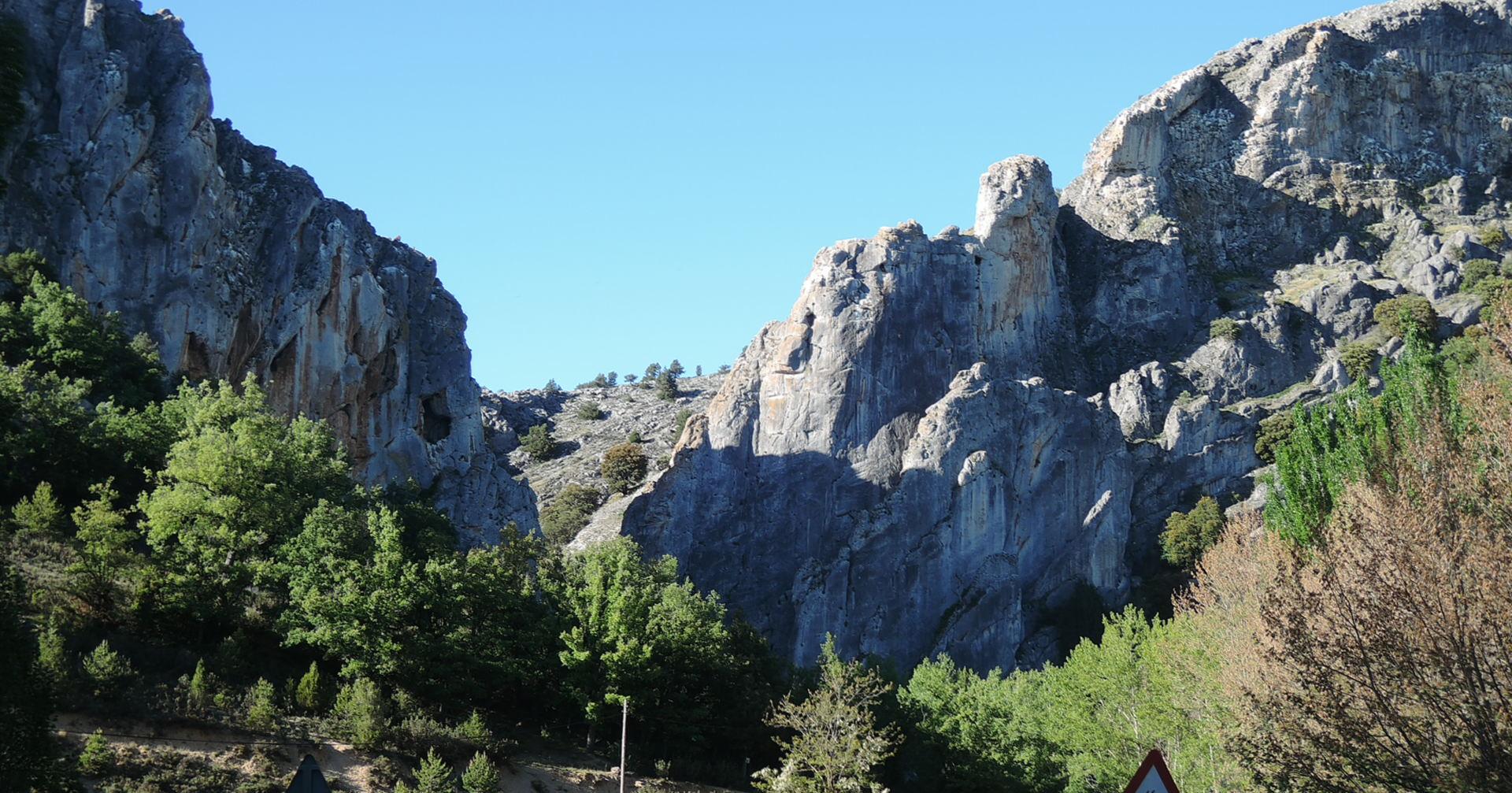 As a matter of fact, the natural pass is so narrow in some spots that you can touch both sides with each hand without stretching your arms. Only the water, with its erosive force, has been able to make its way through this crack in the rock wall, along millions of years; but a narrow way, where only the water can go.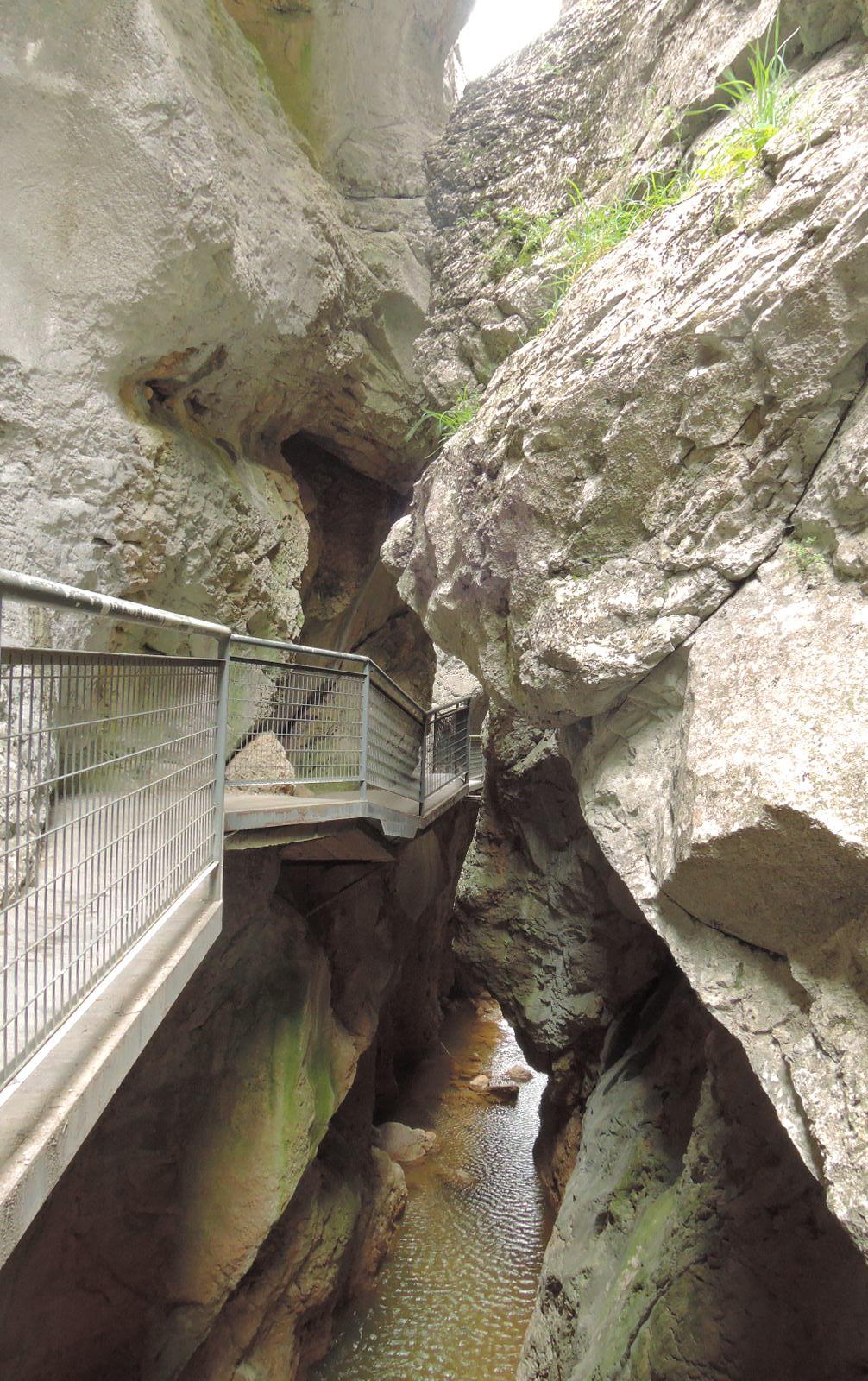 After beholding this wonder of Nature and walking the short sightseeing route, it's only one league left to finally get to Santo Domingo de Silos.
Silos is famous for its monastery, Santo Domingo, and there's actually not much more to it. Everything here spins around the church, the cloister, the monks. But for a few old neighbours, all the rest is hotels, gift shops, restaurants, bars. But, at this time of the year, it's not yet too busy. Not at all, I'd say.
Upon arriving, to my right, I find the monastery's wall, then the gate, and in the middle of the courtyard across this gate… there it is, the giant centennial fir tree I recalled from my youth, only thirty years older, both the tree and me.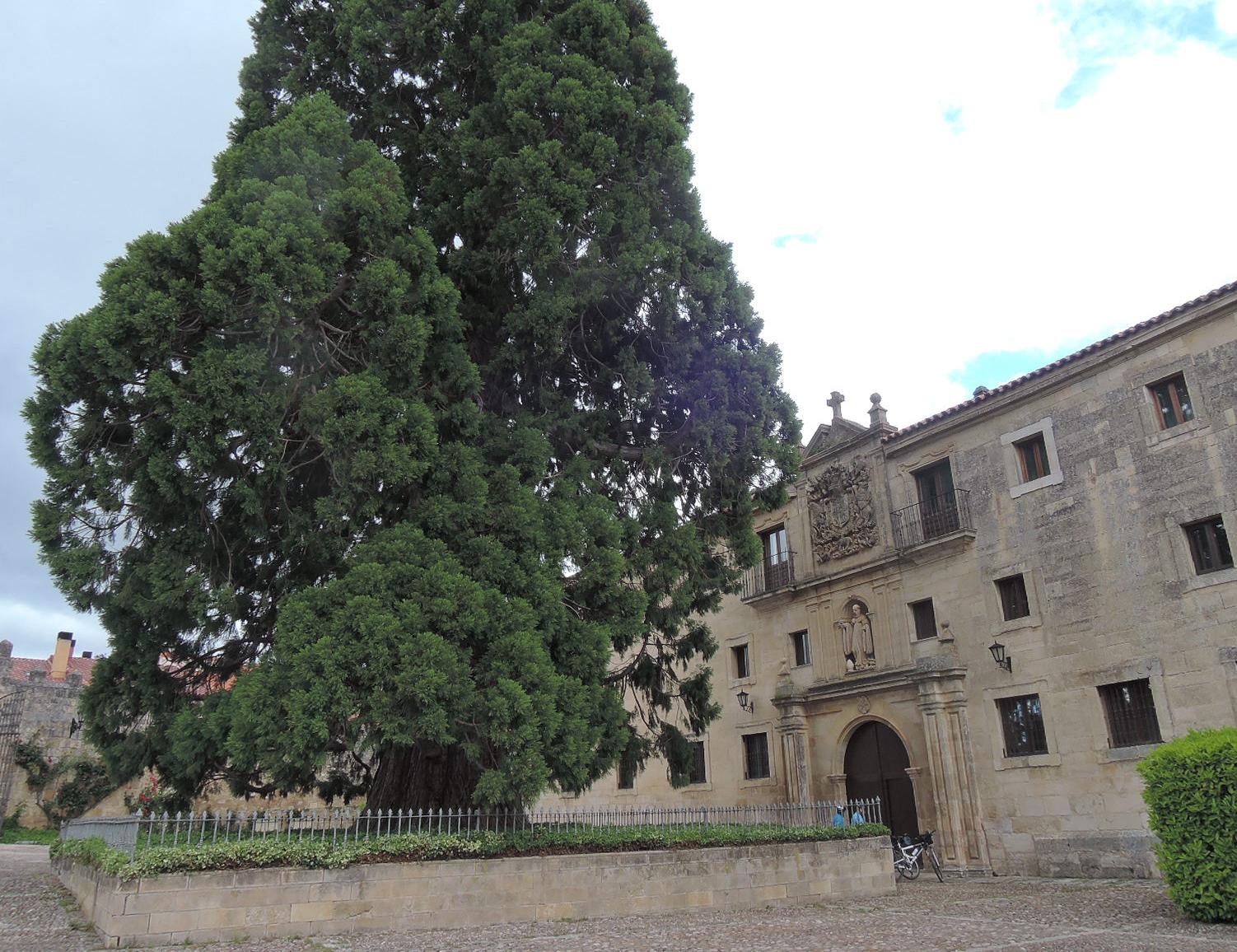 My intuition, hand in hand with my traveler's instinct, advise me to disregard the first three suggestive hotels offering accomodation to the tourists, alongside the road. I ride barely one hundred metres further and, around the monastery's church corner, a cobbled street to my right goes down to the riverside and underneath a stone archway, at the other side of which there's another, more hidden hotel, at the very foot of a green hill onto where the reddish sun is shining beautifully, getting from the land and vegetation the most beautiful colours you can asl for. I instantly fall in love with the whole, a true love at first sight: the cobblestones, the small hotel, the arch, a dyke along the street, pouring its water to the Mataviejas river, the bright green hillside with a stone hermitage in the middle… everything, everyone of these elements seems to have been placed there for suiting my tastes.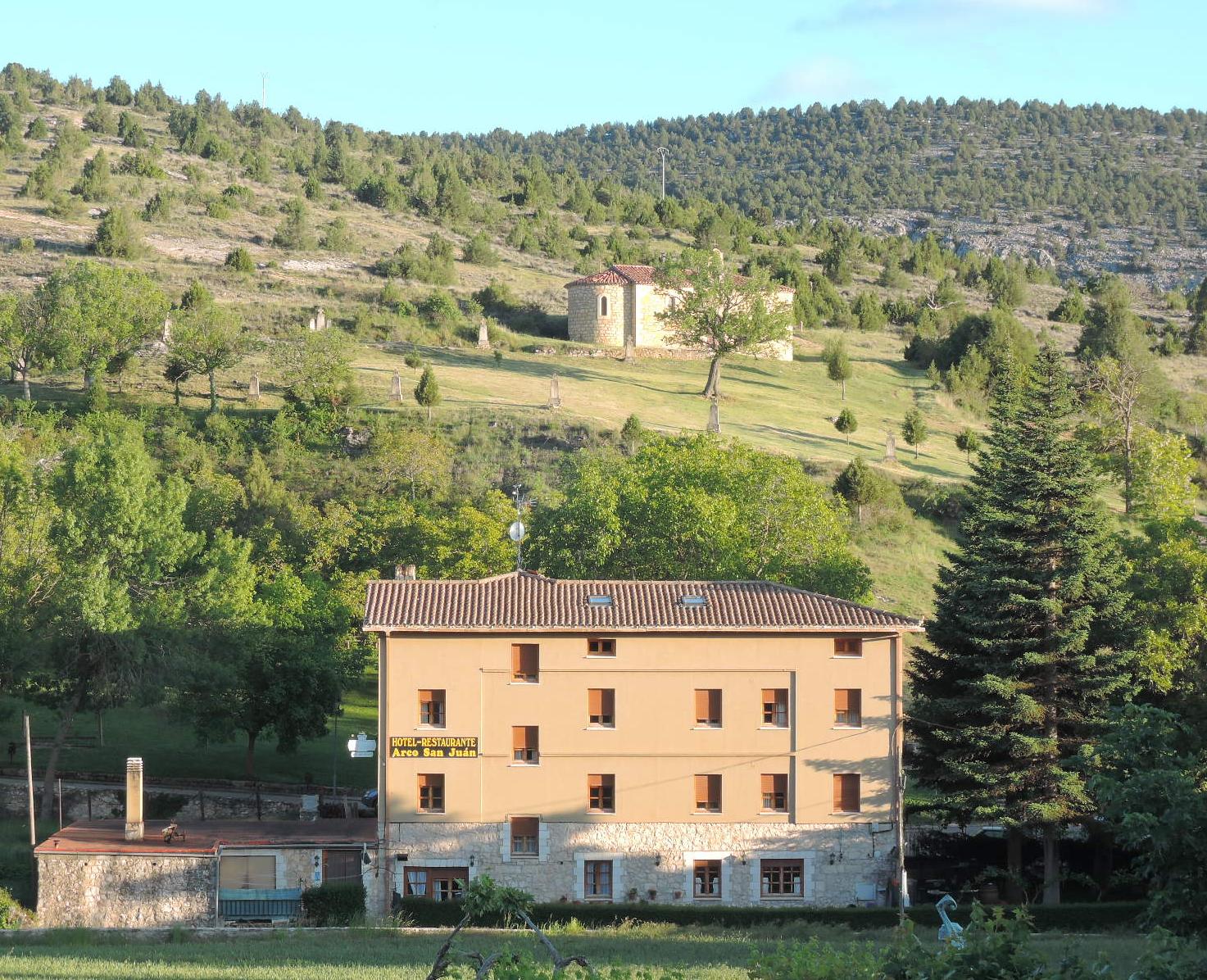 The owner is a simple man, as non-pretentious as the hotel he manages. The room price suits well my budget. I ask him to show me around and, when checking the room, this is what I see: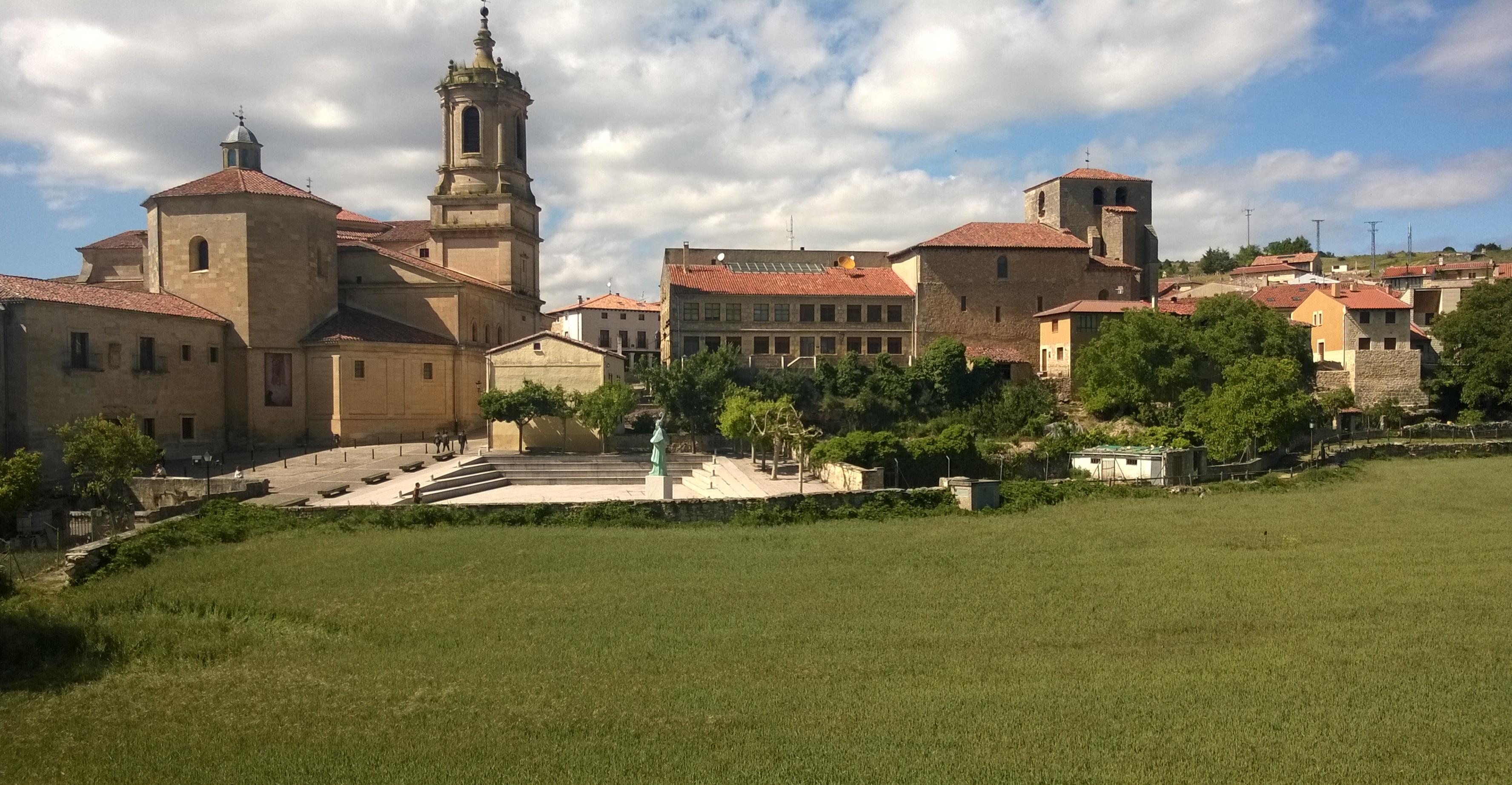 Asking for more would be a sin. I'm staying here. I feel happy: my instinct and my intuition have served me quite well all along this day. I park Rosaura by the hotel, take the suitcases to the room, change shoes and then the first thing I do is climb the slope to the hermitage, which is calling me since I set my eyes on it. What a pleasant feeling! What a lovely weather!, what a silence! You can only hear the cowbells in the distance, some infants' voices far away, and, every now and then, a bell telling the quarters.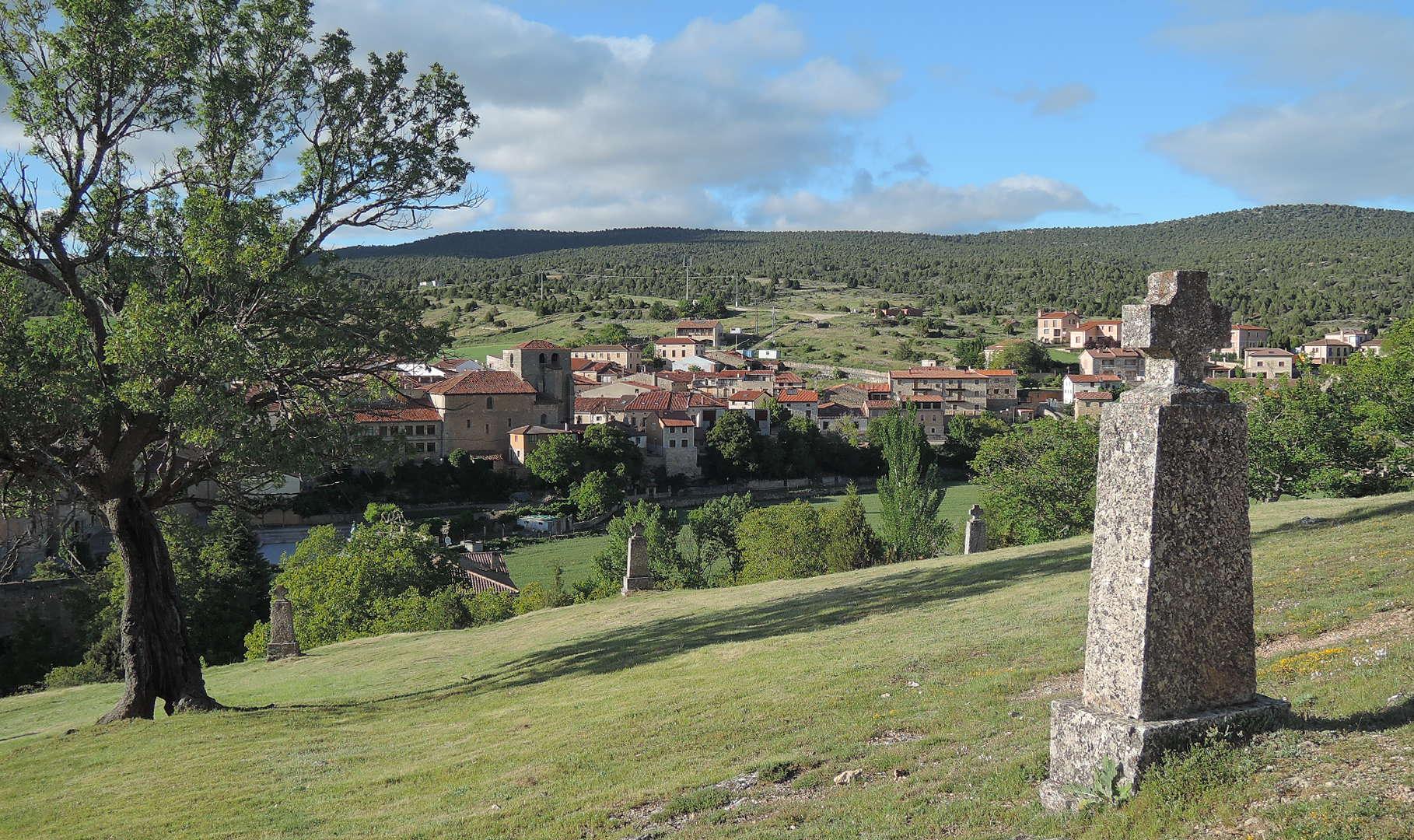 On the slope, below the hermitage, there is a Way of the Cross, built on stone, and I feel as if it wanted to tell me something. When I turn my head back, the monastery, the village, the whole valley are smiling to me with the sun shining on the roofs, on the stone, the trees and the fields.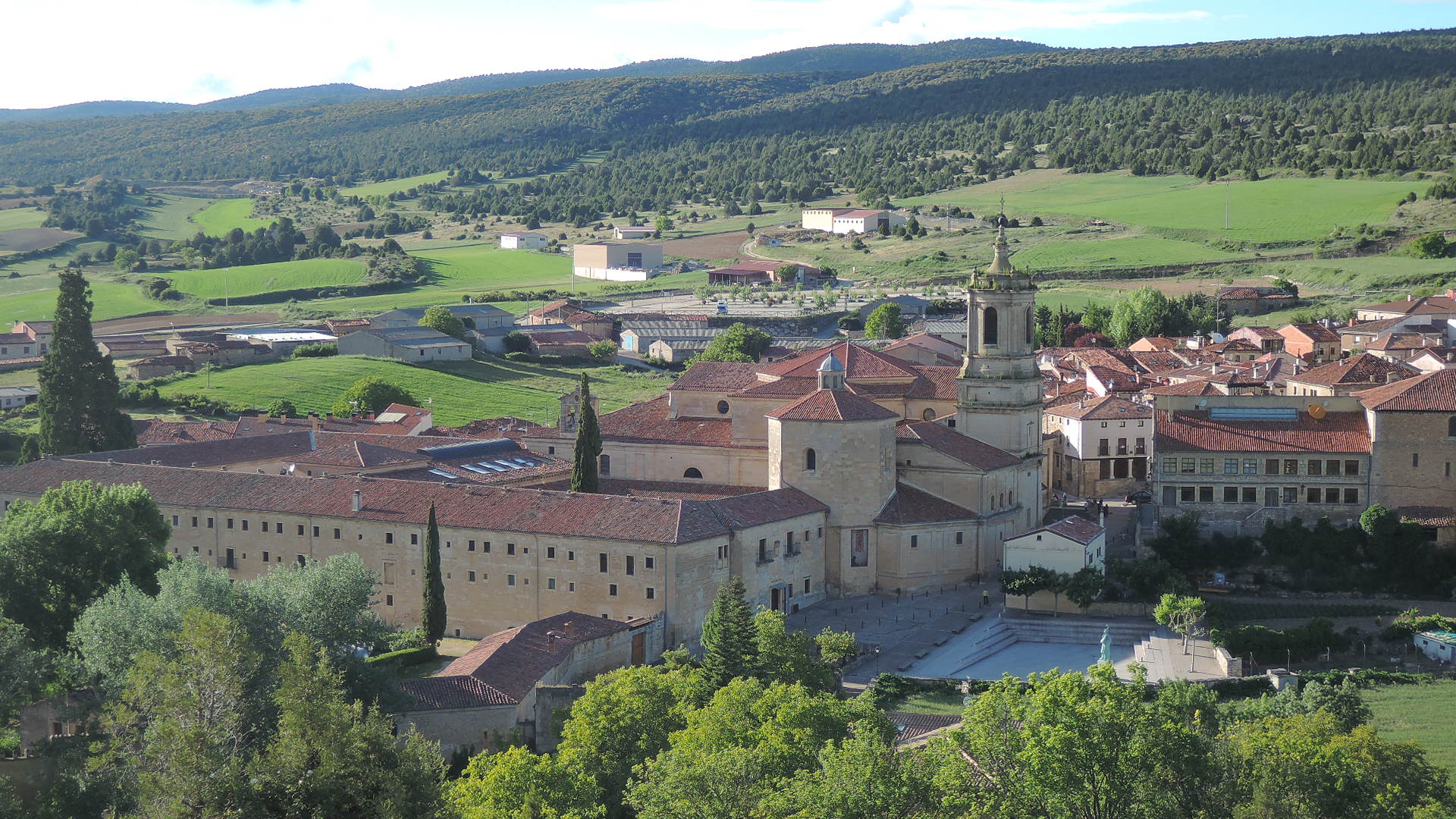 I get to the hermitage, called Virgen del Camino; a very suitable name, because (coincidence or not) here goes the way (camino, in Spanish) that Rodrigo Díaz de Vivar (the moor-killer medieval hero), nicknamed Cid Campeador, took when he was banished from Castile. And it's a sight that lightens my heart, this hermitage looking towards the setting sun with its window-eyes, surrounded by greeenery, there on the hill slope.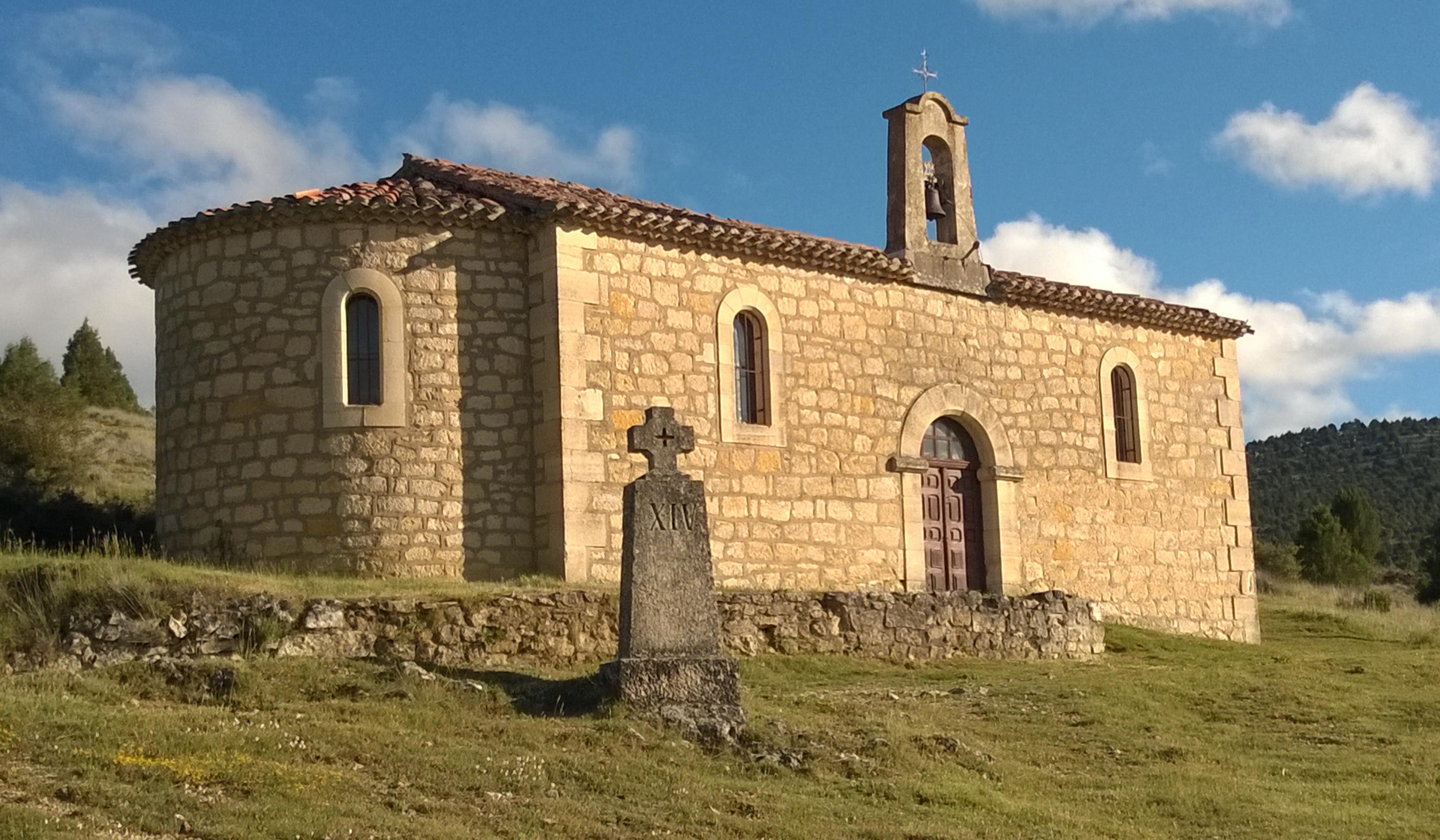 On its southern side, shielded from the cool breeze, sunbathed, there is a stone whose surface is polished and worn by thousands of people who sat on it. And there I sit myself, closing my eyes, letting the slumber get hold of me, resting from this long and eventful day…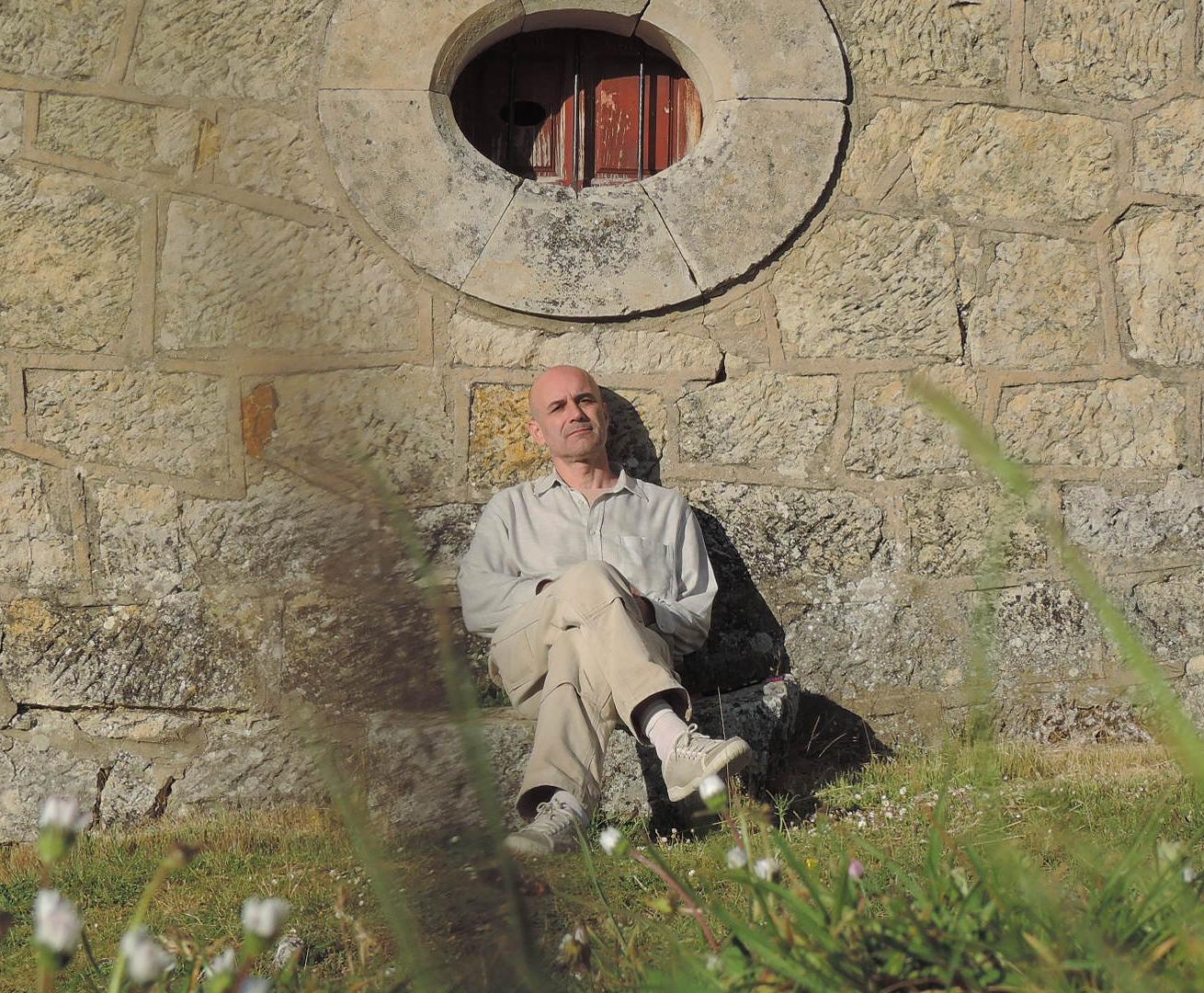 As the sun sets and dusk comes, the evening gets a bit cooler and, though I'm sheltered from the breeze, and sunbathing, I start feeling cold. It's about time for going down to the village and looking for somewhere to have dinner. As I pass by the basilica's side, I notice a huge mural that passed unnoticed when I arrived. It's a pious mural that, considering my last days' thoughts, among all the village's visitors seems to be addressed only to me: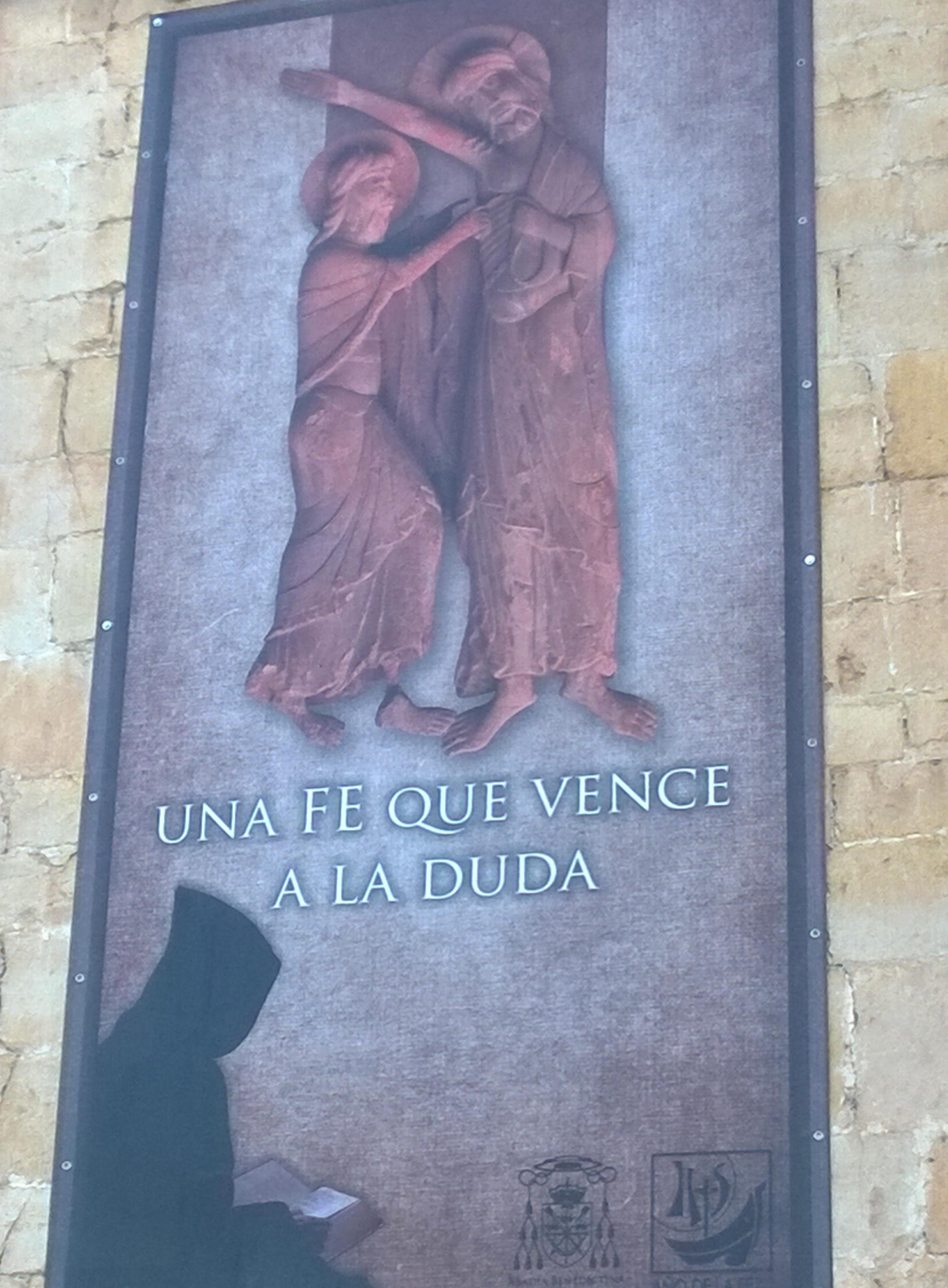 "A faith that defeats doubt" it says. Oh, yes, that faith..! If only I could feel it!
previous chapter | next chapter
[:]