The second day of my journey to nowhere starts with a little start: right before getting on the motorcycle, I panic because I can't find my cellular on me. I go back to the hotel and set everyone on alert to look for it, which is when, despite having often suspected it, I fully realize to what point we rely on those little devilish thingies; so, I promise to be more careful in the future and to carry out a daily backup plan… which I'll procrastinate, no doubt, unforgivable me. I search the room, the massage cabin, the restaurant, but to no avail. Finally -and not surprisingly- I find it was inside my own backpack. I apologize to the receptionists and, quite relieved, I ride on Rosaura, where I start feeling like at home.
Funny how me, so often critical with those investing their feelings and fondness onto animals -I can't understand how they're able to satisfy their affective needs in such a cheap way, with animals that can't know about their favours, leave aside returning them!-, suddenly I find myself experiencing a fellow feeling with the bike, which is not even a being, but an object. Truth is, though, that my feelings can as well be understood and rewarded by a machine as by an animal; that is: zero; so, in this regard, I'm not much worse than others. "Humanizing" objects is only one step closer to foolery than humanizing animals (some humans included). But, after further pondering the issue, I understand that, in the bottom, when I empathize with the motorcycle I'm actually blending with those who designed it and built it; and if I address to her, I'm indirectly trying to talk with all who partook in her productive process. When I rely on Rosaura, I'm in fact relying on them, and when I feel satisfied with the bike, that's because I'm satisfied with her creators. However -I admit- I can't help feeling a bit silly when thinking: "there we are, she and me in mutual company, ready to cross the lands of Castile".
As I was saying, Rosaura and me made for the boring planes of Castile with a light heart, heading Northeast, towards Burgos and the mountains called Sierra de la Demanda. Ahead lies a day's journey across the legendary lands of the Cid, that Spanish medieval hero, the moor slaughter; and these lands are specked with sonorously named villages with a touch of history: Pedrajas, Íscar, Mata de Cuéllar, Vallelado, Torregutiérrez… Dusty towns, distasteful, built with ugly brick, lifeless, seemingly dozing an everlasting nap.
Eventually, we… I mean I arrive to Cuéllar, town of the inhabited castle; a village with one hundred emblazoned houses, centuries ago trodden by Almanzor (the moor), José de Espronceda (the poet), a village that craddled discoverers like Diego Velázquez or Juan de Grijalba, where the king Pedro I got married and where the queen Leonor passed away. There are no shortage of landmarks in Cuéllar, fit for those interested in History; and for a plain traveler like me, Cuéllar means a break in the humdrum Castile: the flat lands come here to an end, as the town settles -full of steep streets and stepped passageways- on a sharp hillside between the plain and the valley; geologically, tenths of millions years ago, this was an ocean's bed.
Cuéllar seems to stem from the underlying limestone, dusty and whitish, upon which it is erected, serving as its foundation. In this environment, the verses of the poet take on strength: el ciego sol se estrella sobre las duras aristas de las armas (The bright sun crashes onto the harsh edges of the weapons.) Strolling along Cuéllar and visiting its castle it's easy to picture the Cid (who was never here, I believe) as he's described in the famous poem, on his way to banishment, along with twelfe of his men, sweating under the helmets and breastplates, the sun fiercly shining on the swords and spears' steel.
I get into the village through one of the wall's gates and I feel for a moment like a knight on horseback. I park my mount (how would it be like to travel around Spain on horseback?) by the castle and I walk to its gate; but nobody answers. The local civil servants zealously keep the very Spanish tradition of sloping off. I get a glimpse of a side door, ajar, and I slip through it (quite another Spanish habit, gate-crashing).
I peep inside, despising the excommunication and bonfire threats written on signs for those who enter the premises without the staff's blessings, and I find myself in the wide inner courtyard, well preserved, that sports a fine colonnade. A few cleaning ladies are on the run, ignoring my presence.
When I acknowledge that there's nothing for me to do there, I go back, get out of the castle and cross the wide and empty esplanade across the moat, which is waterless for centuries. The long wall, restored, can theoretically be visited, but it's entrance is locked and the unlocking tokens are only sold in the closed down offices; so, I turn my back to this failure and head to the town centre.
Cuéllar is like an amusement park for a childlish imagination like mine — despite my age: I enjoy walking the streets and passageways' labirynth, passing underneath archways that evoque mysteries which perhaps never existed, climbing the steps up the steep streets, stepping on the narrow alleys; and -yet like a child, but ah! without the innocence- I get surprised with the view I behold around every bend.
Suddenly, after climbing an alley and turning a corner, I find this solitary pond onto which a dyke pours its babbling waters; the place is all silent, by a garden; only a few birds trill in the neighbouring trees, and the soft sound of the flowing water is an invitation to slumber and forgetfulness.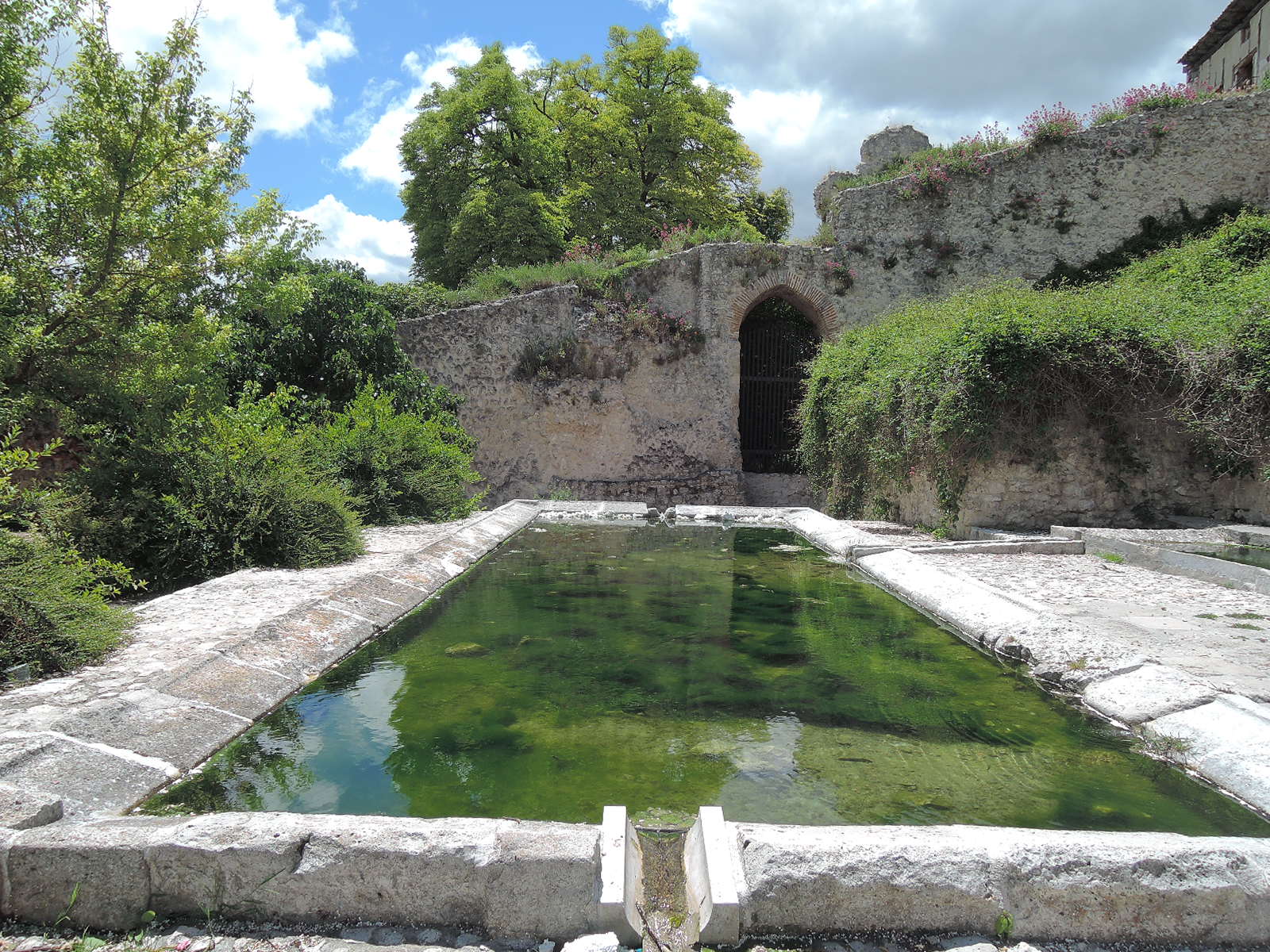 I remain there for a few moments, absorbed in my thoughts, fantasies and recollections. Then I continue my visit. As I go down, there is more life in the town, more people on the streets, some open shops, a few bars… Nearby the city hall I see something I'd hever seen before, and the view gives me a hint about how wise these people are, who have given the Church's property the best and most practical possible use:
I like this town; but time passes fast and lunch time is well over, so I look for some bar where to eat something, lest they all close on me before I can say amen. I first get into one whose waiter, sharing merrily out pinchos among his acquaintances, doesn't however offer me a fucking olive with my wine; so, I drink it quick and look for another. This time I'm luckier, the barman tends to me decently, knowing his office, and I order a white wine, a local variety which makes for a safe bet. I numb my hunger with a pincho de tortilla and a few homemade croquetas, and when I'm done I head back for the castle, where I left Rosaura. We still have a lot of way ahead of us, many villages to discover, many landscapes to behold.
I take a look at the map and decide on keeping the same course I took in the morning: towards the Northeast. Along the way, again I pass through villages whose names sound rich and full (though of course you won't notice this in English): Campaspero, Fompedraza, Peñafiel, borough of the thousand wineries.
The castle of Peñafiel outstands the surrounding plain from many leagues in the distance, serving as a perfect decoy for tourists. (Leagues! Did I need to tour Castile on a motorbie for understanding, and even missing, such a distance unit? Maybe; no other Spanish region like this for realizing how useful the league was.) It's a castle with a character of its own, inspiring strength and impregnability: once you arrive to town it attracts you like a magnet, despite being on top of a hill at a considerable height above the urban centre. Before undertaking the ascent, though, I take a break under the shade of some trees by the church, close to the river whose waters used to move the old mill; church, brook and mill make a harmonious, balanced set, romantic and dreamy; one of those combinations that -I don't know why- always remind me of Tess of the d'Urberville, by Thomas Hardy; the wretched, unhappy Tess.
I lay on the grass under the trees, listening to the babbling water, and I fall asleep for a moment. What a peacefulness! It's such an idyllic spot, so miraculously respected by the modern maddening mob, that seems fairy tale-ish. But, despite having been up the whole morning now, I've barely ridden a few kilometres since Olmedo, and I want to get a bit further today -or otherwise I'll never get Anywhere, which is not where I'm going: I'm going Nowhere, if you remember-. So I wake up from the grass and, after taking a look at the church and behind, I start climbing to the castle.
I walk up the road. Could have taken Rosaura, but I'd rather not let myself spoiled by lazyness; it's good to move my legs and muscles. I stare upwards and I feel tired when realizing how high I need to go yet, on a warm afternoon like this. The ascent is tiresome and not geared for pedestrians: they haven't yet built any steps nor a path, so you need to walk along the road's asphalt. But I get my energy by anticipating the magnificent views I'll see from above.
Unfortunately I forgot to change shoes: I'm on my riding boots, which, being new, are causing me abrasions; but after half an hour I see my sacrifice rewarded -just as I expected- with the awesome landscape from the top: the sun's slant rays backlight the trees with bright greens, emphasizes the tiled roofs, and the clouds draw fine patches of shade on the valley's sown fields.
Pity that I'm not as talented a photographer as the occasion demands.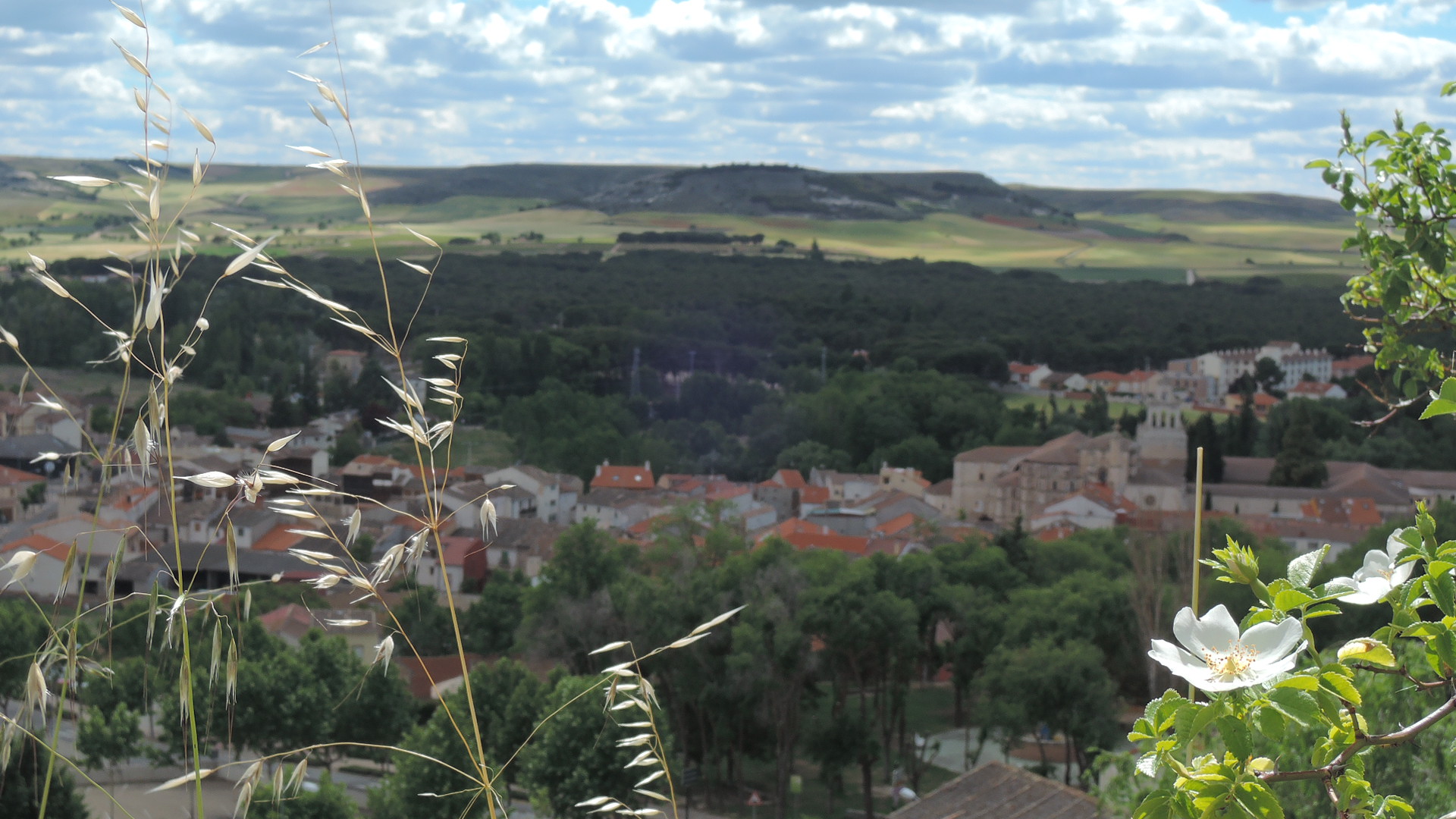 When I finally surmount the ridge, I see a bunch of tourists waiting for the guided tour to the castle; but I'm not interested: such visits are usually much shorter and less interesting than they should, and I've already fulfilled what I came to do here, which was to win the challenge of climbing to the castle and the pleasure of behiolding leagues and leagues of land around, full of planted vineyards. I must now go back down, as other places are waiting for me, before the day expires, which will make Peñafiel look dull in comparison: breathtaking villages and lands.