.
En el último capítulo de la serie Vasconia en dos ruedas castigué al lector con una soporífera ración de historia, y hoy quiero regalarlo con un episodio más pictórico y digerible: vamos a viajar en moto por una de las rutas paisajísticamente más hermosas y variadas de Vascongadas hasta el mismísimo confín de Álava, a su rincón más escondido, olvidado y remoto. Buscando el ocaso, pasaremos por la singular Añana y el plácido Espejo, llegaremos hasta Bóveda, allende las tierras de Burgos, y aún recorreremos unos quilómetros más para pisar el límite provincial, "donde da la vuelta el aire".
¿Preparados?
El día está medio nublado, pero no lluvioso, y la temperatura es agradable. Salgo con Rosaura del centro de Vitoria en dirección Madrid y a los pocos quilómetros, en Nanclares, me aparto de la autovía por una carretera que esconde sorprendentes parajes y hermosos pueblos, de los cuales el menos desconocido es quizá Añana, por su peculiar (y casi único en España) valle salado, de cuyos acuíferos subterráneos, que atraviesan sedimentos salinos, afloran a la superficie salmueras (¡de 240 gramos por litro!) que durante más de mil años, y hasta época muy reciente, se han explotado para extraer su "oro blanco" por evaporación. Junto al pueblo, miles de plataformas o eras, canales, pozos y almacenes conforman el singular paisaje de este valle, si bien el cese de toda explotación a mediados del siglo pasado ha supuesto el rápido deterioro de las maderas y estructuras.

Añana,
topónimo de puro origen romano
 (que ahora quieren euskaldunizar por decreto anteponiéndole la palabra
gesaltza
, salina en vascuence), es una de las poblaciones más antiguas de Álava, que floreció gracias al mercadeo de la sal, un condimento de gran valor durante toda la edad media; y fue localidad castellana desde sus orígenes hasta el s. XVII, en que se incorporó administrativamente a la provincia de Álava; dato que tal vez deberían tener presente quienes reclaman independencia para el País Vasco por razones históricas (con frecuencia, como es el caso, más imaginarias que reales).
Pero no han sido las salinas –por elevado que sea su valor etnográfico– lo que más me ha cautivado de este bonito pueblo, sino su entorno de pastos y arboledas, el caprichoso trazado de sus estrellas y pinas calles y, sobre todo, el romántico abandono de uno de sus más notables edificios,
el palacio de los Zambrana-Herrán
.
Son estas viejas construcciones de la añosa geografía rural española las que me invitan a la ensoñación y alimentan mi espíritu nostálgico, mi fantasía romántica, siempre mirando hacia atrás, hacia lo antiguo y pretérito. Tiene para mí el pasado un atractivo irresistible. El pasado digo, que no la historia.
En cuanto al entorno del pueblo, si bien se mira, lo menos bonito son precisamente las salinas. Lo mejor es el campo, las peñas, la arboleda.
Y por esa carretera que se pierde en el paisaje voy a seguir.
Tras explorar a fondo Añana y sus alrededoes, continúo con la moto hasta
Espejo
, otro pueblo entrañable y encantador por su pequeñez, por el aire tradicional y el genuino sabor a viejo de sus casas, por la
pequeña y anacrónica taberna
, increíblemente estancada en el tiempo, que hay junto a la carretera, donde resulta imposible no detenerse a beber un chato de vino junto a los vecinos, ya entrados en años. En las paredes lucen antiguas fotografías y letreros enmarcados dignos de un museo.
Not many things I enjoy so much as these outings back in time, that make me revive the days of my childhood, those bars in my home village with their wooden counters, the damp-dented walls, the old men playing cards on some wine-stained, vintaged table cloth…
But the best of this day is yet to come, when the road goes deeper into a
groves landscape
that brings forward to the eye
the whole palette of autumn colours
.
We're here between Castile and Basque country, the latter shaping a kind of peninsula inside the former, whose limits we cross two times. Formally, the last villages along this valley are Basque, but this is no Basque at all.
But before the hillock that makes the last geographical boundary, where Álava finally ends, we still find
Bóveda
, a village almost impeccable in its harmony with the country if it weren't spoiled by some nonsensical, whimsical modern constructions.
Only five kilometres further, after crossing some quite peculiar rocky moorlands, the Basque country officially ends; from there on it's Castile. This is the true outermost Álava, its remotest and most forgotten part. This is
puerto de La Horca (Gallows pass)
,
where the wind turns round
.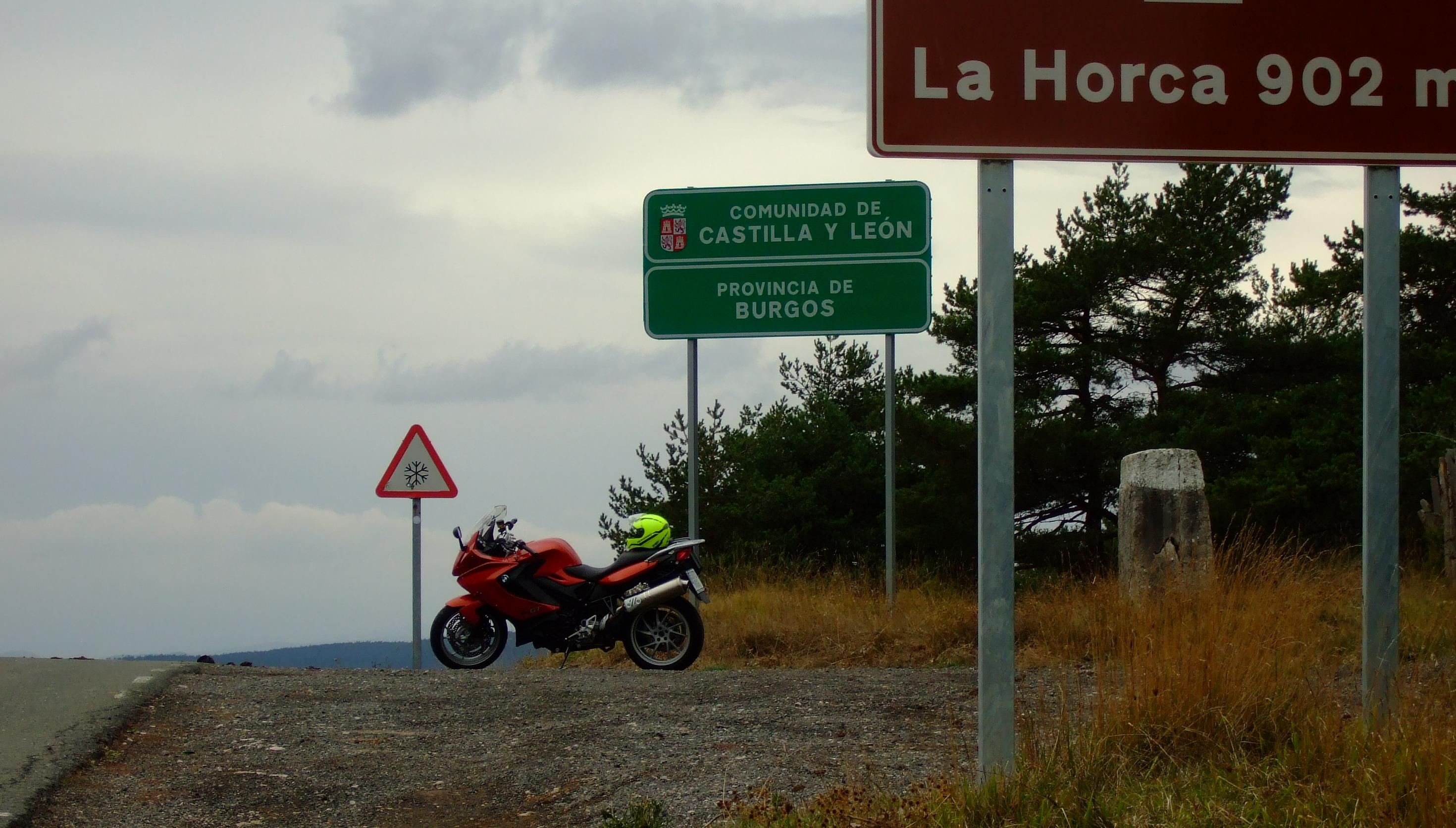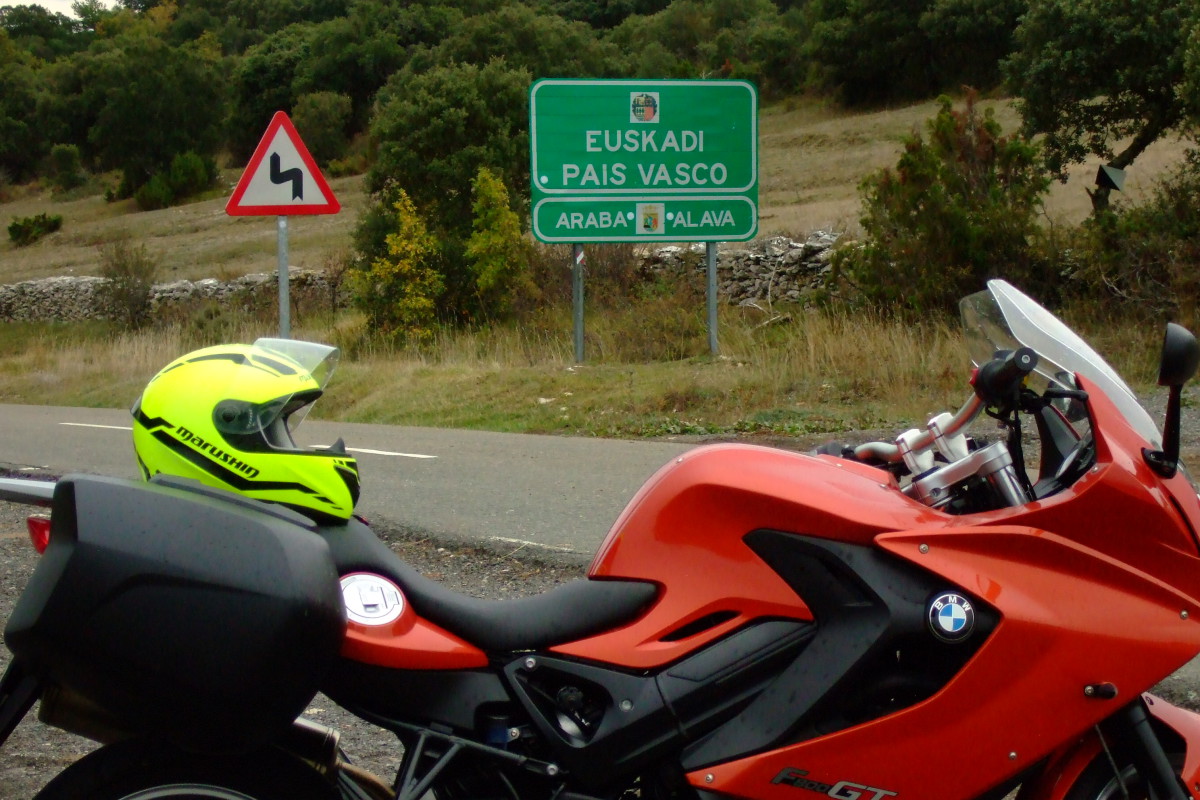 .
In the last chapter of my series
The Basque trail
I punished the readers with a dull share of History, and today I want to reward them with something more "pictorial and digestible":
let's do one of the most beautiful and scenic bike routes in the Basque Country, to the very boundary of Álava
, its most hidden, remote and forlorn corner. Heading the twilight, we'll pass through singular Añana and tranquil Espejo, reach Bóveda, beyond Burgos province, and yet ride a few more kilometres until the boundary, "where the wind turns round".
Ready?
It's a cloudy, yet not rainy day, and temperature is fine. I take Rosaura, my bike, from downtown Vitoria direction to madrid for a few kilometres, then turn off by Nanclares, along a road that will take me through surprising settings and lovely villages, of which the less unknown is perhaps
Añana
, because of its peculiar (and almost unique in Spain)
salt valley
, whose subterranean aquifers, passing through salty sediments, well up brines (240 grams per litre!) that have been exploited during longer than one millennium, until quite recently, for extracting the "white gold" by evaporation. Right by the village, thousands of platforms or farms, channels, wells and stores shape this valley's
singular landscape
, though the end of all activity by mid XXth century has meant a severe deterioration of the woodworks and structures.
Añana,
a pure Roman place name
(now artificially changed into a Basque-friendly one by preceding it with
gesaltza
, meaning salt mine in Basque language), is one of the oldest settlements in Álava, and flourished thanks to the salt trade, a very valuable good along the whole middle ages; and it was a Castilian town since its very origin until XVIIth c., when it was assigned to Álava province; a piece of information that those who claim independence for the Basque country for "historical reasons" (more imaginary than real) should perhaps take into account.
Despite its ethnographic merit, though, it wasn't the salt mines what most called my attention about this pretty village, but its milieu of sown fields and groves, the strange layout of its narrow and steep streets, and most of all the romantic neglect about one of its most fine buildings,
the Zambrana-Herrán palace
.
These old buildings of aged rural Spain inspire my daydreaming and fuel my nostalgic spirit, my romantic fantasy, always looking back, towards former times. There's something of irresistible in the pass, to me. And I mean
the past
, not the history.
As to the environment, from an aesthetical point of view, it's not the salt mines what I like the best, certainly, but the countryside, the hills, the groves…
And that's the road I'm going to follow, diving into the wild.
After fully exploring Añana and its surroundings on foot, I carry on with the bike towards
Espejo
, another endearing and snug village, with its traditional look and the genuine flavour of its houses, with that
little and outdated tavern
by the road, unbelievably stuck in time, where it's almost impossible not to stop for a wine in the company of the locals, quite aged as well. On the bar walls, old photographs hung worthy of a spot in a museum.
Pocas cosas disfruto tanto como estas incursiones hacia atrás en el tiempo que me hacen revivir los días de mi niñez, aquellos bares de mi pueblo, los mostradores de madera, las paredes desconchadas por la humedad, los viejos jugando al tute sobre algún tapete manchado de vino, en las mesas de formica…
Mas aún queda lo mejor de esta ruta, cuando la carretera se adentra en un
paisaje de arboleda
que ofrece, a cada golpe de vista,
toda la extensa paleta de colores otoñales
.
Estamos a caballo entre Castilla y País Vasco, pues aquí Álava hace un istmo para engolfar por último a un puñado de minúsculas localidades. Administrativamente es Euskadi, pero esto no tiene ya nada de vascuence.
Y antes del collado que hace de frontera geográfica, donde muere por fin Álava, nos encontramos con
Bóveda
, un pueblo que sería impecable en su armonía si no la hubiese estropeado cierta majadería arquitectónica de antojos modernistas.
Y cinco quilómetros más allá, atravesando unos páramos pedregosos de peculiar geología, acaba oficialmente Vascongadas y comienza Castilla. Este es el verdadero confín de Álava, el rincón más remoto y quizá olvidado de la provincia. Estamos en el
puerto de La Horca
. Con un poco de imaginación, aquí parece, glosando a Torrente Ballester,
que da la vuelta el aire
.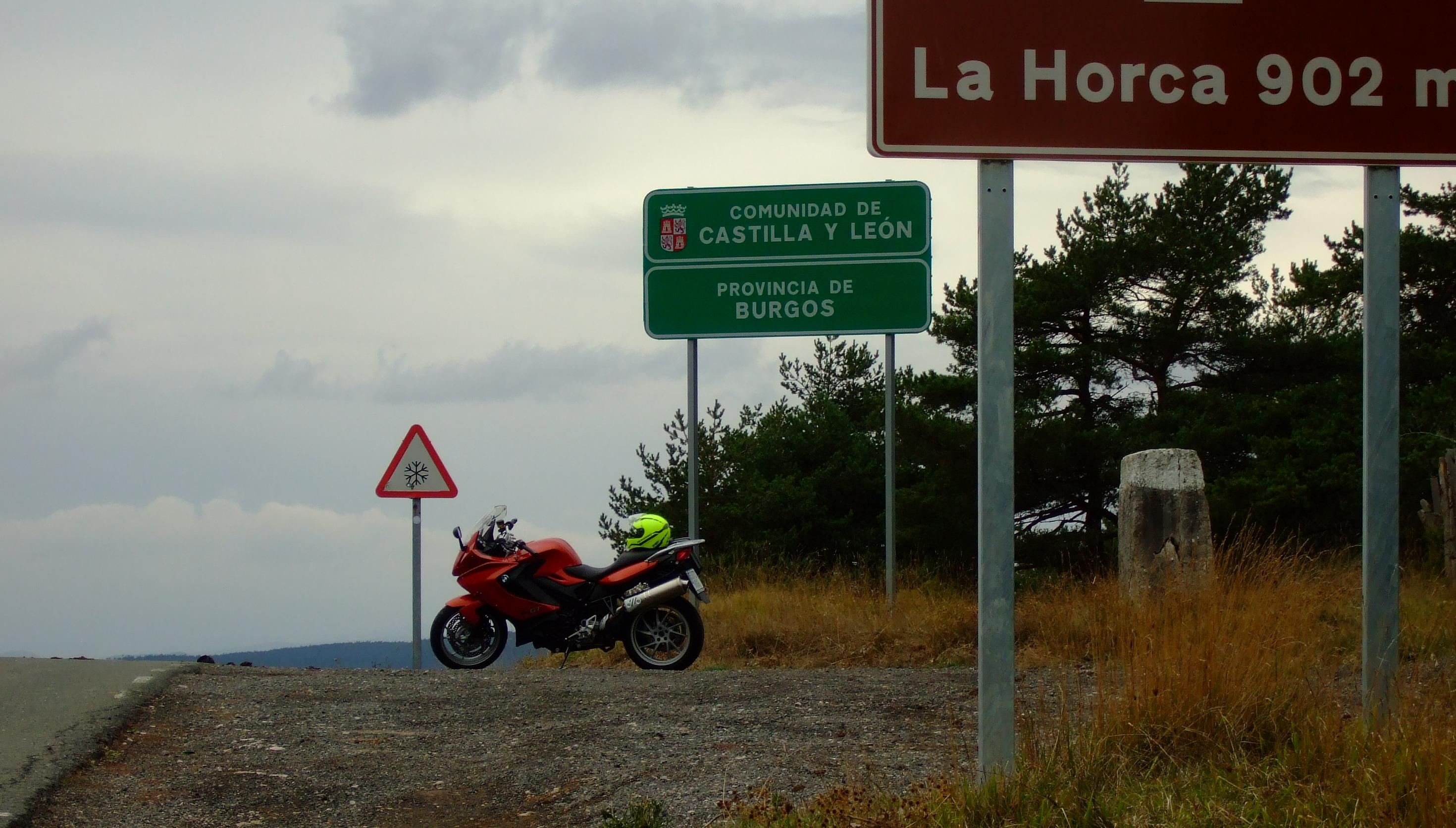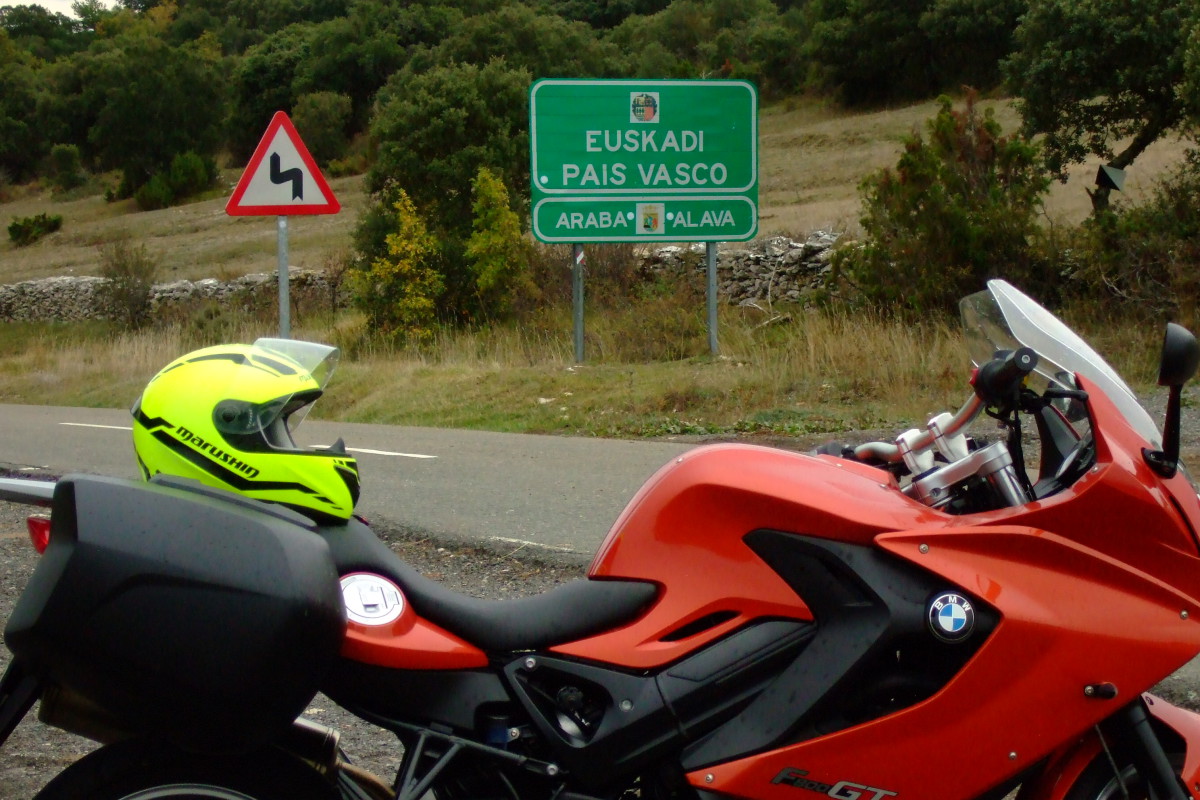 .