Despite the rain shower that got me soaked in Lake Como and the intermittent drizzle this morning, every day I'm more satisfied with having brought the jet helmet this journey, as it gives me a visibility without boundaries and a feeling of freedom without hindrances. It's been a great decision.
Since last night's storm the sky hasn't cleared up, and it's cloudy this morning; so, I'm putting on my -supposedly- waterproof pants, just in case. As my next destination is Vienna, where I'll meet a friend and also change the rear tyre, from Breitenberg I choose a route bordering Czech Republic and passing through nice mountain villages and towns. By Ulrichsberg I overtake a peculiar group of nostalgia bikers: a bunch of (to be) retired doing a route on their funny mopeds, most of which are barely a bicycle with a little engine in mesh with the chain. I stop a bit further to take some shoots of them, which they thank me enthusiastically waving their hands. How often the most modest bikers are the most passionate as well!, which is something that we, big bike riders, tend to forget.
In Freistadt I make a long stop, take a stroll, drink a beer at a nice terrace in the main square and, ultimately captivated by the quite and cozy appearance of its old town, I decide to look for accomodation for the night, despite having ridden scarcely above one hundred kilometres this day; but the town is almost fully booked and I don't find anything that suits me, so I carry on along route 38 until I arrive to a village called Langschlag, where there is a hotel that fits both my taste and budget. It calls my attention that in this region of Austria it's common for the hotels to have a sauna, so I seize the opportunity and indulge myself into a session of such activity, one of my favourites. I learnt to enjoy sauna with all its secrets when I was living in Finland, and since then I don't lose a chance.
As I'm having dinner at the restaurant's glazed terrace -crammed full of flies to an almost insufferable point- I realize a small bar just opposite, with a bicycle on top of the roof and a sign: Villa Kunterbunt, the German version of Villa Villekulla, Pippi Laungstrump's home in the original Swedish. A trifle which brings me memories -not necessarily pleasant- of that disquieting girl who always inspired me a mixture of attraction (my libido was awakening by then) and revulsion, or rather mistrust, because of how much the freckly brat misfit those patterns of behaviour I was taught as acceptable, leaving out the desirable ones.
By the way, I've been no little surprised by the fact that, in the heart of this standardized Europe, Austria is so forbearing with smoking: it's legal to smoke in every bar or restaurant, and only some of them have a non-smoking area. I would have never guessed, considering it's such an advanced nation; though… is it really, so much? First, when entering Austria from Italy ten days ago, I had the impression of it being ahead of Germany; and perhaps that's true for west Austria, the Alps region; but here, by Czech Republic and Slovakia, the moment you scratch a little, the enamel gives and you can see the East-European country underneath. At least so it looks in Vienna. It's not impossible that these differences I see between east and west are the inheritance of its Russian occupation after WWII or -who knows?- of the greater influence, in the east, of the Austrian-Hungarian Empire (as opposed to the previous Holy Roman Empire, more to the west). Was after all Hitler right, or did he at least have a point, when claiming that west Austria should be a part of Germany? But of course it's also possible, and even likely, that such differences only exist in my perception.
After staying overnight in Langschlag, Vienna has been my next stage. The city of dreams and of music, or of the four powers, as it was also called, background to the unforgettable and unrepeatable film The third man. And though all the way to here I couldn't stop humming the excelent song by Falco, Rock me Amadeus, treasure of the eighties, the truth is that Mozart wasn't an Austrian (he couldn't have been, as Austria didn't even exist by then), but from the Holy Roman Empire (of which is often said that was neither holy, nor empire, and least of all Roman); and his father (Mozart's, you know) was from Augsburg, which I've visited a few days back. So, a German.
Whatever. I'm not becoming a historian now. As a matter of fact, specially in Vienna — such a monumental, artistic and historic city — I realize how much I miss and how big the setbacks of my ignorance for enjoying this visit are. But if you didn't do it in due time, when at university, or maybe a bit later, you can't now at my age start studying history, such a demanding discipline, often requiring a whole lifetime of studies. Therefore, I ramble the streets of the old town somewhat blindly, watching without seeing, seeing without understanding; and, provided the cognitive part is lost, only the emotional side is left; but here Vienna loses, because no matter how creditable and meaningful its buildings and monuments, they can't surprise too much any Spaniard who has been around his own country. That's the problem with much traveling: you lose the ability to be surprised by new places.
Consequently, I'm also not uploading here a gallery of images about Vienna, but just the one that I found most noteworthy because of its strength: the fountain Die macht zur See ("Power at sea"), apparently sculpted to symbolize Austria's naval power. It represents a young woman (Austria) on a vessel and in command of the sea masters.
Mark Neptune's extraordinary wrathful expression, or the fearful one on the face of the amphibian he's subjugating.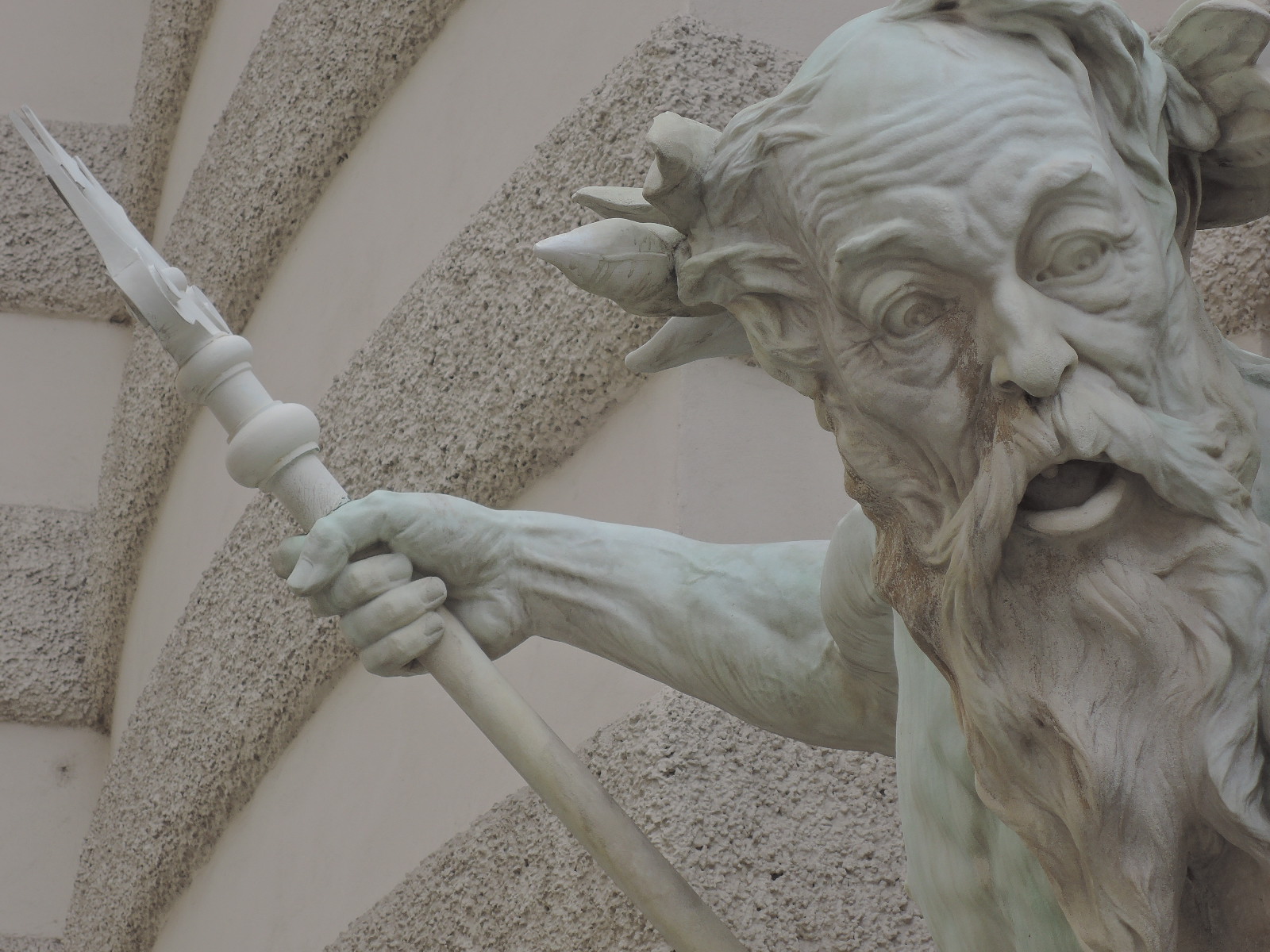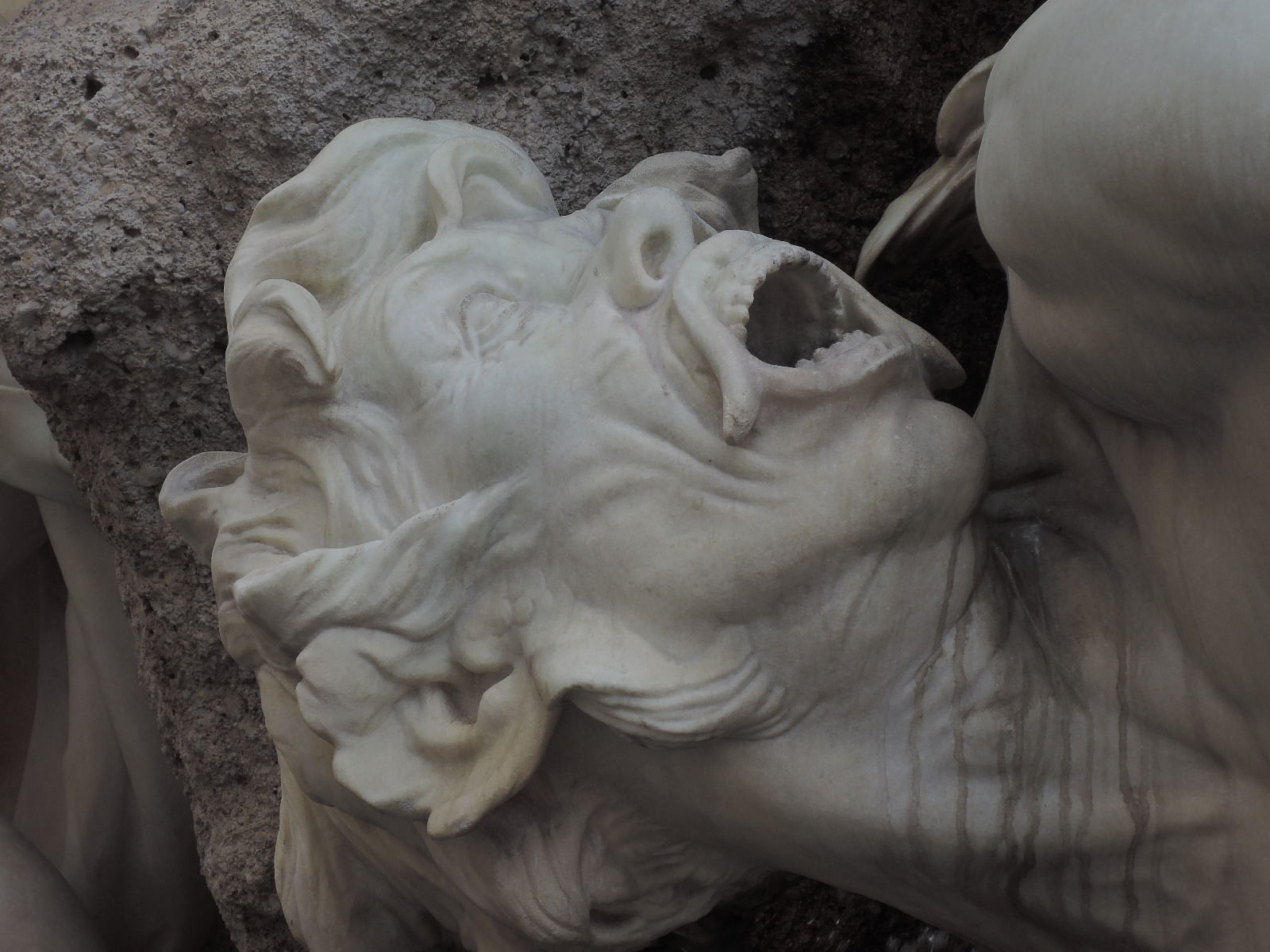 But not all is glory and splendour in Vienna, as it also has its Eastern European side: the old tramways, often worn and dilapidated; the outlying districts of wide avenues lined with ugly and unvarying concrete buildings; the badly paved streets, full of bumps and puddles, the police all over, and a few other more subtle details hard to notice for those who have never lived in this part of Europe, like the driving habits or the quarrelsome temperament of a certain social class, to name just two.
On a lighter note, and to bring some joy to the senses, here's a van you can see around in Vienna, suggesting a promissory cargo. If one of my friends tells me he's never dreamt with this, I'd find it hard to believe.
Not a bad ending for this chapter, I hope. All in all, three days in Vienna. My bike's rear tyre was too worn (14000 km) and I had to replace it here, despite the high prices. By the way, there's a big difference with the original one: this Michelin Pilot has a lot more adherence to the pavement than the Continental. As a matter of fact, what I thought was a flaw in the F800GT (it slipped in the bends) has turned out to be only a tyre issue; which is always good news.