Slow but steady, my boreal route goes on; but for the past few days, despite being so close in time, I'm mixing up in my head some towns and landscapes, some places and shops, as nothing special seems to be taking place; and only with some effort and the help of the map I can undo the mess and sort out the threads: one from Ristijärvi to Taivalkoski, another one from here to Salla, yet another from Salla to Sodankyla…
Taking the Suomussalmi route I arrive to Taivalkoski after one hundred miles of same thing as the previous days, though not exactly: of late I'm running across more and more reindeer on the roads, traffic being so little–despite being high season–that the animals graze fearless on the very ditches; they're totally at ease in this fenceless country, where no artificial obstacles impede anybody's way, and quite often you find them right in the middle of the highway, ruminating, not caring a bit about human presence. However, they're not wild: though they grow free, all are collared and have an owner. If some chance reader has qualms about eating meat because of barned livestok, Finland might make him–more likely her–have second thoughts… supposing vegetariamism were not just a social pose. These animals live free most of their life, until they're slaughtered, and they eat nothing but what Nature provides. Thus, no wonder that, being one of the most tender and tasteful meats ever, reindeer is one of Finland's most delightful dishes.
Same as Ristijärvi, Taivalkoski is one of those towns with zero atmosphere, or zero point little. The only places where to have something are placed by a large esplanade working as town square and bus station: a Turkish restaurant serving kebabs and pizzas, and a closed down pub; end of the count. Luckily there's also a bed & breakfast called Ruska, which is where I've spent the night: a modest place run by a charming family. Well, actually a lady, who is the one living here, though she's being visited these days by two sisters, only one of which speaks English, the other two having learned only Russian as foreign language. You needn't be too clever for quickly realizing that here, same as in the Baltic states, Poland, Ukraine and the whole ex-Soviet zone, Russian is the most useful foreign tongue, even more than English. Anyways, we didn't have any problem for a mutual understanding. They've taken me in with considerable niceness, put me in a very decent room and showed great politeness.
Besides, for the first time this trip I've been to sauna; partly because, with so much going north, the sticky weather is receding a bit, but mostly because Ruska's sauna is placed in the cool basement, and tap water comes very cold, so that, lacking a frozen lake, it's possible to cool down under the shower after coming half boiled out of the steaming room. Also my host invited me to their table for dinner, ans put me a lot of questions about my trip; and to finish off, she's massaged my shoulders with some relaxing balm, which felt great, as the back gets quite stiff after so many hours and days steering the handlebar. And all of this for free, out of sheer kindness. Gratitude for Ruska B&B's landlady and her sisters.
Out of the several possible routes towards Lapland and these desolate boreal regions, I've picked the less frequented, the loneliest and quietest, running along the border; and that's how–via Kuusamo–I've arrived to Salla, 25 km north of the arctic circle. And I thank the fact that–besides a sculpture reading Napapiiri (arctic circle)–there is no tourist trap of any kind in that spot, no shopping center or any other commercial rubbish for making the most of such a mundane fact as passing parallell sixty seven with all its unjustified adventure charm; as if there was more credit in crossing this latitude than any other out of the infinite possible ones. What is, after all, the arctic circle? It should perhaps be demitified, as it only means the latitude from which, at least once a year, midnight sun can be seen; or in other words, above this parallel there's at least one day in the year when the sun does not set; and the more north, the more days this happens. But that's all the mistery to it, that's all the adventure.
Now, I don't know if because of napapiiri or something else, Salla is not an average Finnish town. Way less known than Rovaniemi (Lapland's capital city) or even Kemijärvi, Salla has something. Its slogan is: In the middle of nowhere, and indeed it is, right there in the middle of nowhere. Even if for this sole reason, it must mean something to me: is this not a journey to Nowhere? So, Salla might well be my unknown destination. But of course not; this is obviously just poetry; not that I dislike the place, not at all, but my heart isn't telling me I've reached my goal–supposing I have one.
Anyhow, as I said, with its little charm and atmosphere, this town breaks the social fasting of the last four days and six hundred kilometres, through which, without even being aware, I've crossed the gap–if there is one–between the inhabited lacustrine Finland, with its standard European life, and this other somewhat magical and certainly mythical Finland of auroras and sami legends, where time goes its own pace and where sun plays hide an seek with shadows, moon plays the same with nights, and nights with sun, closing a circle we might as well call arctic.
There are a few vacancies in the only hotel in town, Takka Valkea; actually there are many vacancies. It's an ugly building which wanted to look modern in the seventies, placed in the crossroads where route 950–throughout I've come–meets route 82, a cross axis linking Rovaniemi with Russia. There is no other reception than the restaurant desk, which is closed; yet there's a lady–somewhat surly–and she books me in. Maybe she's only shy because of her bad English? Maybe, but in any case she's not a merry person; and the same goes with a man who's loitering around, perhaps her husband. But the hotel is decent, quiet and comfortable. the doors' keys calls my attention a lot, of a kind I've never seen before, very likely preceding the modern integrated-chip key cards: theypre rigid punchcards, which is a robust and enduring system, quite practical and reliable.
Once stripped of my bike wear, I put on my sneakers and go out for a walk to explore what Salla can offer. Luckily, I come across the tourist office a few minutes before closing time. A very nice and cute clerk hands me some brochures and a useful local newspaper, and she tells me of the many trekking routes around plus a sky resort some ten kilometres away; so, I take Rosaura and ride there to take a look. In this resort there are a couple of restaurant-pubs, a kahvila (Finnish for coffee shop), a campground with huts for rent, plus a hotel and spa; the atmosphere isn't too thrilling, rather the holidaying-family type. So, I take one of the recommended trekking routes one hour long, very pleasant, that runs across forests, marshes and bogs mostly on top of boardwalks cut out of tree trunks. When I come back to the resort I pop into one of the restaurants, where there are a group of people seated at a long table, but the rest are empty and I don't make up my mind, so I take the bike and go back to town.
Once in Salla I sit at a terrace in a pizza place for having a couple of slices plus a beer. It feels great. As it's always sunset here, the sun rays dribble the awning and hit my face and warm up my beer, dammit. There are some people at the other tables around, their indiscernible talk isolates me and tucks me in. Meanwhile, reading the brochures I get a little bit acquainted with Salla's history: because of its proximity to the Russian border, it was the scene for some military struggles during WWII: previously occupied by the Red Army, Finns fought along with Germans for kicking the Russians out, then against Germans for–successfully–kicking them out.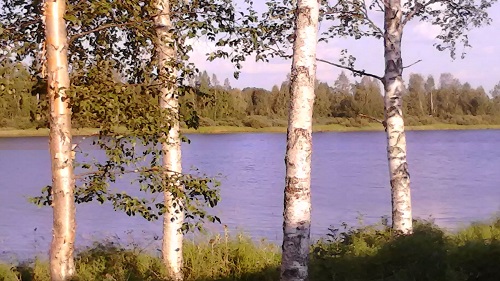 Back in the hotel, when at my room, someone knocks the door. It's a man around my age, perhaps a bit older, on a gray-haired ponytail and beard, who asks me if I own the bike on the parking lot. I say yes and then, uninvited, he comes in and starts talking about motorcycles and a vintage bikes meeting taking now place in Murmansk, Russia, where he's heading with his wife riding on a beautiful sidecar-bike. He's a likeable Finnish chatterbox despite his poor English, a true weird-bikes fanboy, customized or even DIY'd. His tablet stores hundreds of funny pictures he shows me while chatting, seemingly not minding that I barely understand what he says. He's an eccentric, a veteran on two wheels, happy to share with me his enthusiasm and excitement about the meeting he's going to. Among other interesting things, he tells me that here in East Finland many people buy a multiple-entry, one-year-round visa to Russia, so as to profit from cheaper prices for alcohol, cigarettes and–mainly–fuel; even though the visa costs beyond one hundred euros, it neatly pays off.
But the guy really runs his mouth, and if it weren't because his wife comes to pick him up, I believe he'd have stayed in my room overnight. Before leaving he gives me a sticker of his bike club: a gem with the name of a famous Russian motorcycle brand dubbing the German boxer engines: Ural Roikka. As his breath stinked with tobacco, when he leaves there remains in my room a smell like from an ashtry full of fag-ends; but somehow he's managed to cheer me up with his contagious optimism. It's easy to come across bizarre people when visiting these odd places.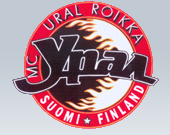 As I'm incapable of waking up early unless absolutely necessary, when I come out of my room the next morning he's already gone; probably hours ago. I wouldn't have minded to ride with them to Murmansk, but, as usual with this kind of chance meeting with another bikers, each of us has his own course and we're not likely to modify it spontaneously. Besides, one can't get a Russian visa just like that. So, with a movement of my head I shake off these thoughts and, harnessing Rosaura, I set a course for Savukoski and Sodankyla, which is the gate to the great North…