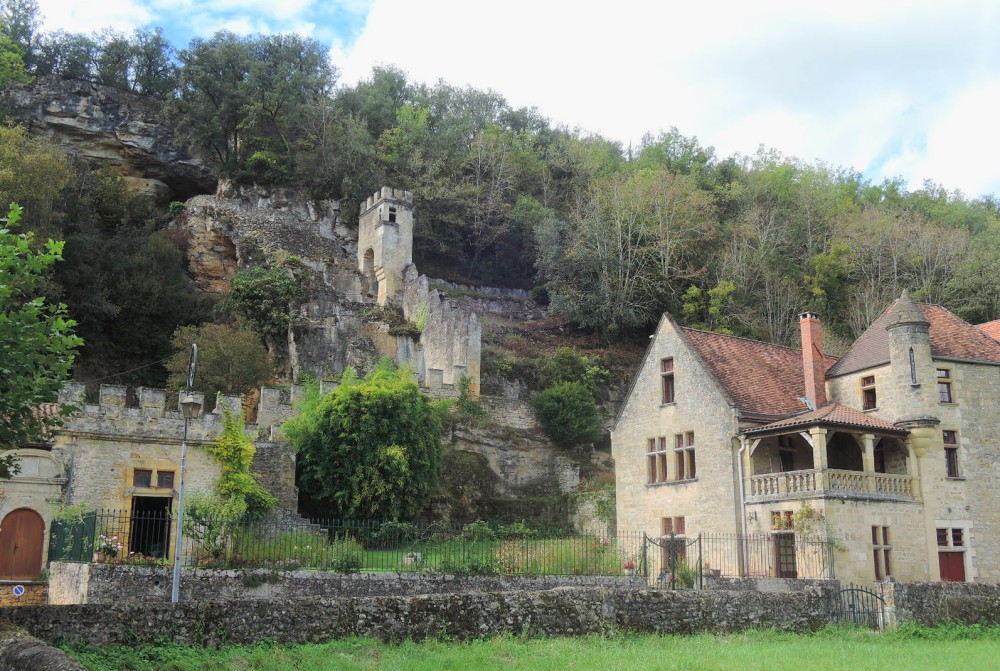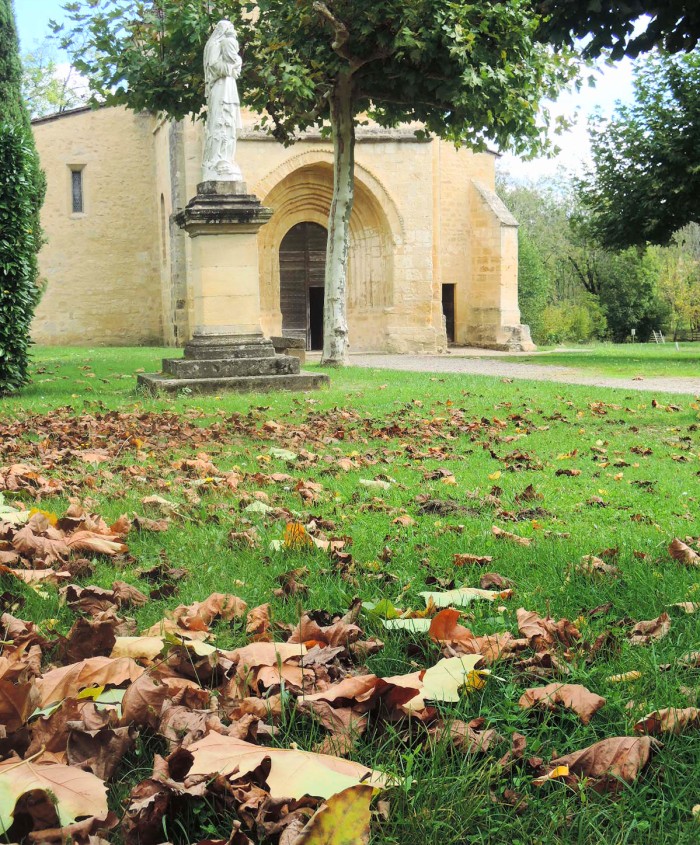 France is getting better and leaving me openmouthed. If I liked it before, now I'm fascinated. Who would tell? All my life disliking it and it turns out to be – arguably – Europe's most beautiful country. To think that, after Norway, I thought I had seen everything!
This morning I've set off earlier than usual because of the guesthouse's crazy breakfast time (ten in the morning!). Since, heading south-southwest, I approach the vast fields of Aquitaine, I thought I'd come into an uglier region than that behind me, but fortunately I'm still crossing a lot of lovely places. For instance the hills of Dordogne, where every landscape is prettier than the previous one and every valley's charm is surpassed by the next.
Limousin region and Vézière and Dore valleys, how impressive they are! Fields and hills dressed up in fall colours, full of contrasts, meadows grown green, yellowish leaves, dark pine woods, fairy-tale hamlets in stone and wood, gardens behind the iron railings on masonry walls, dashing buildings with arches and colonnades, turreted palazzos with terraces and balustrades… a superb carousel of landscapes.
But in the last minute I overplay my hand and, in just ten miles, suddenly I descend to the vast and unappealing countryside of Lot-et-Garonne department. One of those warm valleys (temperature has rised six degrees), busy and not too pleasant.
By mid afternoon I was already done with my daily mileage, so I could have stayed at any of the nice lodgings I went past; but because I wanted to stretch out the stage, when I realize where I've got into, it is too late to break. My fault. To think that I've left behind a handful of alluring, peaceful and delightful places! I should have guessed, though, when checking the map before and seeing that these roads are not winding. But what's done is done, and I don't mean to go back.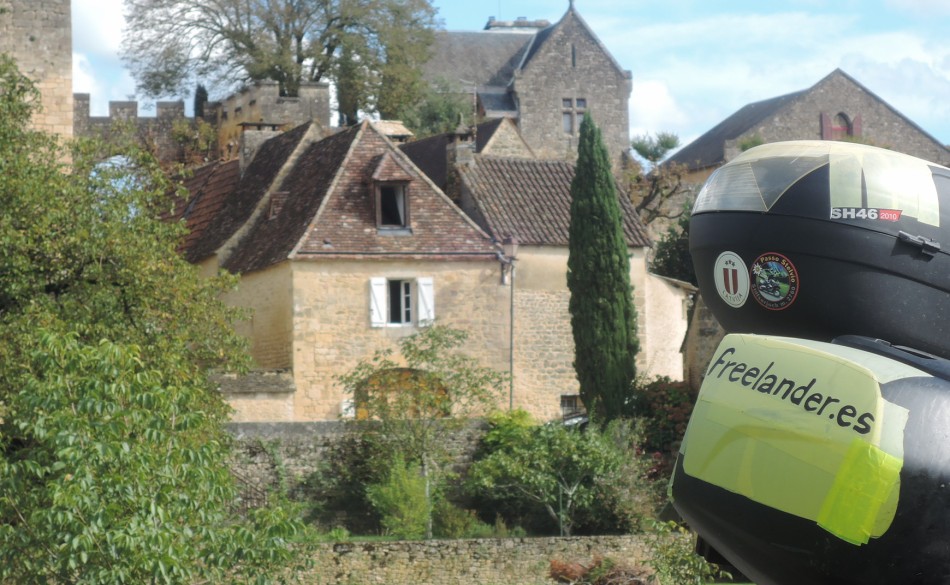 And since most hotels around here are closed, finding accommodation has not been easy, either. I've spent one hour only just checking. Crisis must have stricken hard this area. The first town I tried in – an ugly and smelly one – had no lodgings whatsoever (which was in fact a relief). In the next one, where my smartphone and road signs said there are five hotels, it turns out they're all all shut down. Finally I've come to Villeneuve-sur-Lot, not too bad a town after all, but no match for the ones I left behind earlier. I'm staying at a little hotel in a quiet neighbourhood, by a square with almost no traffic; but as the guests in the upper room are noisy and the floor is wooden, let's see how I sleep. Reception is a tiny cubicle hardly deserving that name, and rather looks like a wardrobe. The receptionist is also short, merry, tipsy, smelling of alcohol.
I'm now taking a stroll, and I'm not surprised to realize that many French live in this region of Morocco. I also see quite a few houses for sale – another effect of the crisis, I reckon – some of which look quite neat and are beautifully located on the riverbanks, which are by far the best areas in town.
Sitting at a bench in a small poplar park I contemplate the houses looking over the river, merrily lit by a sun that wants to set; and for a while now, a sound is bringing to me nostalgic, unexpected memories: the three tolls that – at fifteen minutes intervals – summon the parishoners to mass; a custom also existing in my homeland. It's many years since I last heard them. Funny that I had to come to Aquitaine for reviving such a remembrance.
And it's another new day. I've barely been granted four hours of sleep because hideous Miss Anxiety, decided as she is to sour the last stages of my journey, with her cold hands snatched my stomach all night long, and it's still clutching there even now, while riding, despite the soothing effect it normally has on me.
Fourty five miles later I stop in Condom – disgraceful name for a town – for my last-but-one breakfast à la française. At the cafeteria they've run out of croissants, but the nice, young and pretty waitress tells me to go get one at the boulangerie around the corner while she serves my coffee. It's quite normal in France to fetch your croissant from somewhere else if they don't have; bar tenders never take it badly and you can have a proper breakfast as the canons require. These people are serviceable and not fond of raising silly objections. They've well deserved the name for a good tourism.
In front of the terrace I'm sitting at, by the church wall, there is a statue of d'Artagnan and the three mousketeers. This is Gers, the heart of Gascony, home to Alexandre Dumas' immortal character. Then I meander around for a while this typical French neat and balanced town, quite alluring, all masonry and woodwork, free from loud modernities. And I've got out of Morocco, too: not that there aren't Muslims here, but a lot less than in Villeneuve-sur-Lot. What I do see around is some tourists: I've overheard some Spanish, and two Northamericans speaking English with their unmistakable accent and nasal sonorities.
Then I carry on my journey, southward and homeward bound. Despite my day has begun not so good – downcast by anxiety and by lack of rest – it's getting better little by little. I'm crossing a series of beautyful landscapes, a land of woods and vineyards, fields and soft hills, dotted with farms, castles, towers, churches and abbeys that awake the traveller's interest. Lastly, by mid afternoon, I end up in Navarrenx, a pretty pictoresque village (considered one of France's most beautiful) not far from the Pyrenees, where at the first try I find a nice hotel, facing the main square. For the rest, it clearly shows we're in Basqueland: the architecture, the style, the place names – as Navarrenx itself, are unmistakably Basque.
Drinking a well deserved glass of white wine at the hotel terrace, on the rather empty square, I enjoy the lovely, late afternoon sun while watching a few children play under the arcades. There is in front of me a building with a Spanish flag on it, a very rare thing to see in France. To the east, a group of rain clouds, cumulus castellatus, stretch their darkening towers to the sky. We may get a rainshower.
Before it gets any worse I go for a stroll, as I've tried to do every single day along this journey. Navarrenx lies on the Camino de Santiago; and beyond its southern gate, towards Spain where Rosaura and me will take tomorrow, close to the bridge over Gave d'Oloron the gendarmes (French rural policemen) are positioned. It's the first time I see them around. I can't help a negative thought towards Spain's twin force, the Guardia Civil: I wish they were as discreet! Spain is still a police estate, where the real spirit of democracy is unknown to most of us.