Despite its unjustified prestige (or did I just imagined it?), derived mainly–rather solely–from the country whose flagship airline they are–or were, Finnair actually belongs in the bottom grop of low-cost, cheap-it & cheat-it airlines that we find all over out there. It ain't a tiny bit better than other much more discredited ones like Wizz, Ryan or Vueling, just to name a few. I'm now alluding to their illegal and abusive "50 € refund handling fee" applied to their customers whenever there is a refund to be made–if the ever make it.
In the first place, it's not possible to contact Finnair's Customer Service (CS) by e-mail. Their CS staff's e-mail addresses are among the best kept secrets on the Internet. It took me a long while of web search to find this one: info@finnair.com, but it turns out it's not working. Therefore, the customer who wants to claim a refund needs to either fill in and submit a web form (which will be answered from a no-reply address that doesn't allow for any kind of follow-up discussion), or try to place place costly, ineffective and time-consuming phonecalls to Finnair's CS phone numbers.
Thus, by not publishing their CS's e-mail addresses, if not plain breaking the regulations Finnair is at least dribbling them in order to dodge the law, since that information is mandatory. Any passenger willing to claim any money from Finnair will need to overpass or work-around this obstacle in the first place.
But the worst thing is: even if you succeed in contacting them, in your most favourable claim scenario Finnair will refuse to make you any refund of an amount lesser than their unorthodox "50 € refund handling fee" (as of today). But such a fee seems to be an illegal practice in Europe nowadays.
A few years ago, in the European Consumer Protection Authorities (CPC) report on airlines' taxes, fees, charges and surcharges, Conclussions and Recommendations chapter, item 7.3.4, the study group stated the following:
[Taxes and charges imposed by airports and governments] are collected by the airlines on behalf of the authorities and are not due unless the passenger actually travels. Not refunding them to the passenger who does not travel gives airlines an unjustified income. And then underlined: [We] consequently recommend that passengers travelling in Europe should have a clear legal right to be refunded all airport fees and government charges which are not due. If the ticket […] is not used we believe that passengers should be entitled to repayment of all prepaid taxes and chaerges imposed […] by airports and governments and collected by airlines. Any expenses the air carrier may have in returning taxes and charges can be covered by an administration fee [which] should not exceed reasonable costs.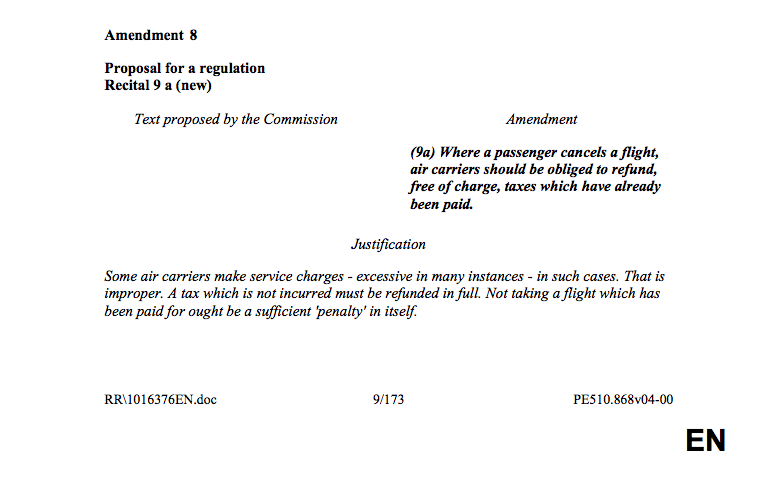 A piece of good news that seems to have been adopted by the European Parliament, which on February 5th 2014, the European Parliament (EP) approved several ammendment proposals to cosumer protection regulation, among others the following ban on admin fees for refunds of airport taxes:
"(9a) Where a passenger cancels a flight, air carriers should be obliged to refund, FREE OF CHARGE, taxes which have already been paid." (The full text can be accessed here.)
The part that says free of charge is the most important one, and seems to be ignored by Finnair and many other carriers.
In line with this regulations, there is a very recent case, relating to a complaint from the Federation of German Consumer Organizations about Air Berlin's policy of charging a 25 € cancellation fee on the amount to be reimbursed if a traveler does not take the flight: the European Court of Justice (EJC), said that airlines cannot levy additional charges if a consumer cancels a flight. The EJC also ruled that carriers can no longer hide those additional charges in the airfare or cancellation fees. Consequently, Air Berlin's 25 € fee, allegedly charged to offset costs that the airline incurs, has been esteemed unlawful.
Finnair's fee is twice that much, twice as illegaitimate. Leaving aside other important considerations, like failing to inform the customers, at the time of purchase, about an existing 50 € "refund handling fee", one would say that, with this levy, Finnair is clearly breaking the rules.