[:es]Por mucho que sea patrimonio de la humanidad -y muy merecido que se lo tenga-, mi interés en Bamberg esta vez se centraba en encontrarme con un viejo amigo. Ya hice la visita turística en su día, años atrás, y saqué del centro histórico las típicas fotos, siempre mucho peores que las que pueda encontrar uno por internet o en las postales, de modo que no voy a subirlas aquí. Si acaso, una, para ilustrar el capítulo.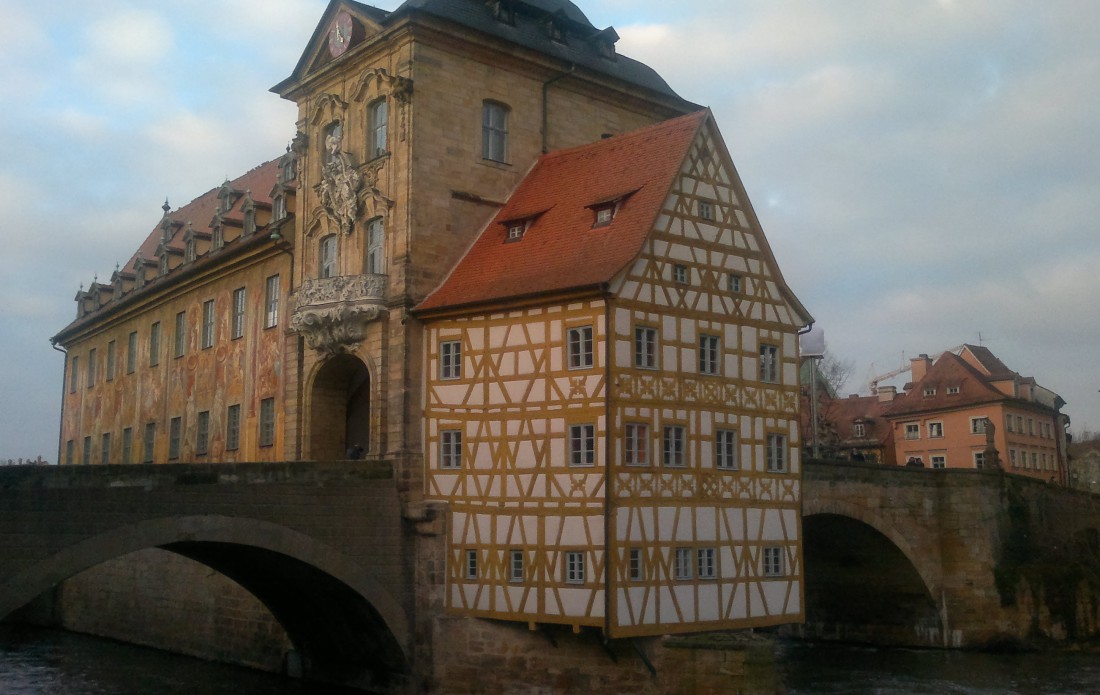 Pero, como digo, he venido para reencontrar ni más ni menos que a Phil Marty, from Escalon, California, como a él le gusta decir; y este capítulo se lo dedico. La historia de cómo nos conocimos, que a Phil le encanta relatar en su estilo combativo (obsesionado como está con una imaginaria rivalidad USA vs Europa), daría para muchas páginas y no es cosa de contarla aquí. Baste decir que fue con ocasión del viaje quizá más épico de mi vida, cuando recorrí durante cinco meses, a dedo, las cuatro esquinas del continente norteamericano; viaje que, si Dios me da vida y ganas, espero escribir algún día.
En esta ocasión, después de varias semanas en la moto, me apetecía ya hacer una parada larga, tomarme unas pequeñas vacaciones en este duro oficio que es andar errante, dar un respiro a mi soledad y hablar con alguien hasta cansarme. Contar mis peripecias y escuchar las ajenas, intercambiar opiniones y emociones, olvidarme de la carretera, salir a comer y a beber en compañía, dejarme llevar, no tomar decisiones y, sobre todo, sentir el afecto de alguien y poder entregar el mío. Sin que esto suponga -extremo importantísimo para Phil- mariconadas de ningún tipo; ni siquiera unas pajillas, que habría propuesto Torrente.
Y aquí va esta foto de uno de esos momentos, compartiendo buenas y típicas viandas alemanas: bratwurst, kartofelsalad y kellerbier. Aunque no imagino qué interés puede tener para el ocasional lector de estos capítulos, Phil me ha asegurado que, con sólo poner una foto suya, las lecturas a mi blog se extenderán y multiplicarán como un virus. Si él lo dice, ha de ser cierto.


He aprovechado, de paso, para llevar mi moto a la casa BMW en Bamberg, porque un ruido raro en el tren trasero está dándome la lata desde hace dos mil quilómetros, pero, como es natural, el ruido no ha dado la cara cuando ha estado en manos del mecánico.(Puedes leer aquí mi opinión y crítica a fondo sobre la F800GT.)
De este modo, entre charlas, breves excursiones, cervezas y comidas, lo que iban a ser tres o cuatro días de descanso se convirtieron en una semana larga. Mucho me ha ayudado la buena compañía y, si no para encontrar respuesta a las difíciles preguntas existenciales de un giróvago sin destino, siempre se saca algo en claro, y positivo, de observar las pautas de conducta y conversar con quien tiene firmes -aunque erróneas- convicciones. Ha sido una buena terapia, mi particular descanso del guerrero, que me ha dejado en forma para afrontar las próximas semanas. El ser humano, salvo casos patológicos, necesita compañía. De aquí talvez el principal dilema del trotamundos: sin soledad no hay verdadero viaje, pero sin compartir no hay verdadero disfrute.
capítulo anterior | capítulo siguiente
[:en]Regardless of being a UNESCO world heritage site -and regardless of its deserving it-, my interest in Bamberg this time was to reencounter an old friend. I already did the tourist thing in Bamberg years ago and took the typical photos, much worse than any of those you can find online or in a postcard, therefore I'm not uploading them here. Maybe just one, to illustrate the chapter.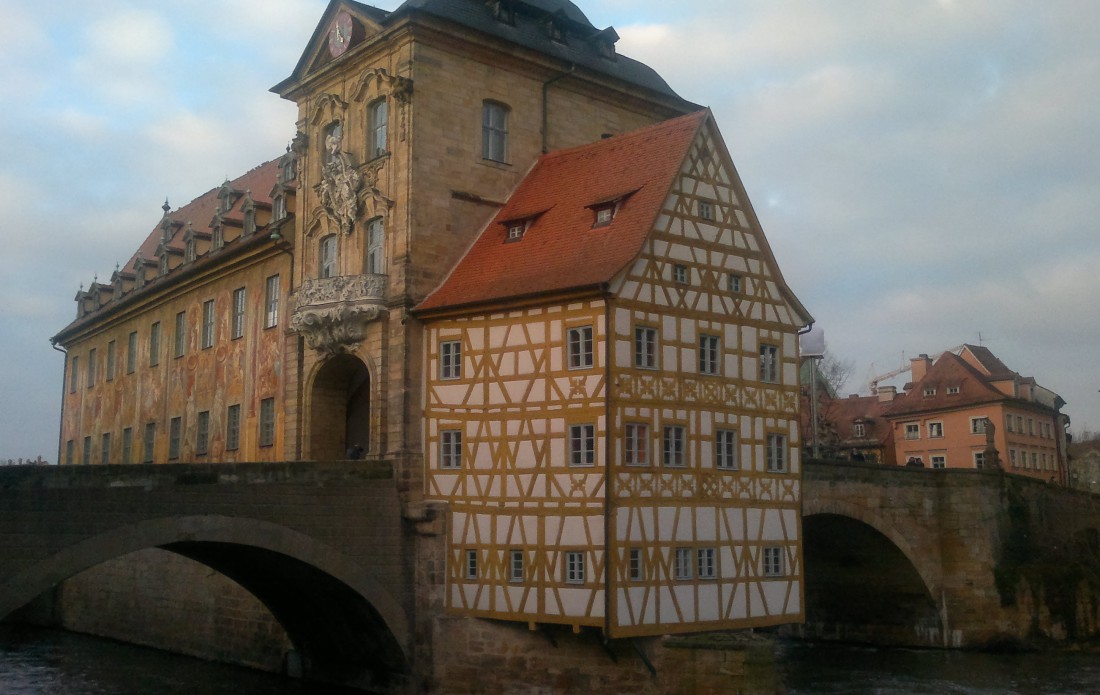 But, as I say, I've come here to reencounter no other than the very same Phil Marty in person, from Escalon, California; and I dedicate this chapter to him. The story of how we first met -which he loves to tell and repeat in his pugnacious style (always brooding over an imaginary USA vs Europe rivalry)- would need pages of text, and I'm not writing it here. Suffice to say that it happened during the most epic trip in my life, when I hitchhiked for five months the four corners of the North American continent; trip which, if God gives me life and mood, I'll write down someday.
This time, after several weeks on the motorcycle, I was feeling like a long stop, taking a little holiday in this hard job such as traipsing is, give a break to my lonesomeness and talk to somebody until late hours. Tell my adventures and listen to others', interchange opinions and emotions, forget about the road, go out in company for a meal or a drink, take no decisions and, most of all, feel someone's affection and be able to bestow mine. Not implying -this is extremely important for him to be stated- any queerish thingy whatsoever. We're all straight here, real machos.
And now this is a photo of any such moment, sharing good and typical German food: bratwurst, kartofelsalad and kellerbier. Not that I can imagine how this can be of any interest to the chance reader of these chapters, but Phil claims that my blog reads will go viral with even a single picture of him. And if he says so, it's got to be true. So, here it is.


I've seized the chance for taking my bike to the BMW workshop in Bamberg, as I'm hearing a strange noise in the rear wheel for the past two thousand kilometres, but, naturally, it didn't show up when at the garage.
Thus, entertained by these chats, outings, beers and meals, my planned three or four days' break in Bamberg turned out to be longer than a week. And indeed it has been helpful, a good company. If not for finding answers to the difficult existential questions of a nomad, yet you always learn something positive by watching and talking with whom has solid -however wrong- convictions and beliefs. It's been a good therapy, a kind of warrior's rest, leaving me in a good shape for facing the upcoming weeks. Except for pathological cases, humans need company. Hence the biggest dilemma of the wayfarer: without solitude there's no real travel, but without sharing there's no real enjoyment.
previous chapter | next chapter
[:]