One hundred and seventy years after Nietzsche was born, Rosaura and me arrive to Naumburg (in the German state of Saxony-Anhalt), hometown to the student who would later become the most important philosopher of 19th century. In those times, Naumburg was a small town of 13.000 inhabitants. Today it's a cute city of 33.000 people that -thanks to luck- welcomes me with a nice hotel and a cozy restaurant in a small square, whose waitress, pretty and kind, despite not speaking any English does her best to make my dinner quite plesant.
I order a typical dish, very tasty (resembling an oval pizza on a very thin dough), and a pitchel of white wine, so easy to drink that, by the end of my dinner, I've gone tipsy. Back to my lodging, I realize that it's the first hotel (for the past two months) that has blinds on the windows; which I appreciate a lot, because I can't get used to sleeping with light, no matter how long I live in the north.
More than in any other country along this trip, in Germany I'm missing some knowledge of the language, mostly for being able to understand the restaurants' menus. Of course I can ask the waiters, but it's not the same; besides, not so many people can speak English here, most of all in smaller towns, which are my favourite. Understanding and enjoying the cuisine, a fundamental aspect in any culture, is to me a basic requirement for knowing its folk. I believe that language and gastronomy are the windows through which the soul of a people can be seen.
As a side track, a note on this people's idiosincrasy: despite being the Poles who have the name for niggardly in Europe, I'm afraid that Germans don't lag behind: I see little signs of largesse in this country, and this shows – I believe – in the nonacceptance of bank cards: since commerce is charged a small fee for every transaction, they're not willing to facilitate card payment to their customers. Except for petrol stations, I barely find a chance of using my plastic money here.
Sometimes I've been asked why I find Germany boring. It's because of its predictability. There are many instances, but – linking with the above – I'm now thinking of the typical cash-purse they use in the restaurants. When you're going to pay, here comes the waiter with always the same type of big wallet, format 20×10, zip and double pocket, packed with banknotes and coins. I wouldn't be surprised to learn that there is a DIN standard regulating the size and technical specifications for this "restaurant" purse model.
Reluctance to take credit cards aside, one of the week points in this country (to my taste) is their mobile networks, whose coverage is weak and the speed is low. As of today, 3G and LTE is almost wishful thinking here. German developement seems to rely solely in its industry, whereas computing and communications are apparently neglected; as though they were esteemed "lesser sectors" a country this category shouldn't 'lower' to invest in.
From Naumburg to Bamberg I take such a complicated route, changing roads every so often, that I wouldn't be able to exactly trace it on a map; least of all considering the thick grid of busy roads and towns conforming this populous industrial and wine-growing region. But there is one particular stretch (between Kirchhasel and Gondorf, right east of Oberpreilipp) I've marked quite well, where time seems to be stalled as if by magic: just pulling over to the right detour and taking a few bends, voilá: there you are in this tiny, idyllic valley – barely ten kilometres wide – where several God-forsaken ancient hamlets, aged barns, red-brick old style schools and small churches immerse the traveller in an unrivalled atmosphere of genuine local flavour; as if its its existence had been forgotten by the world.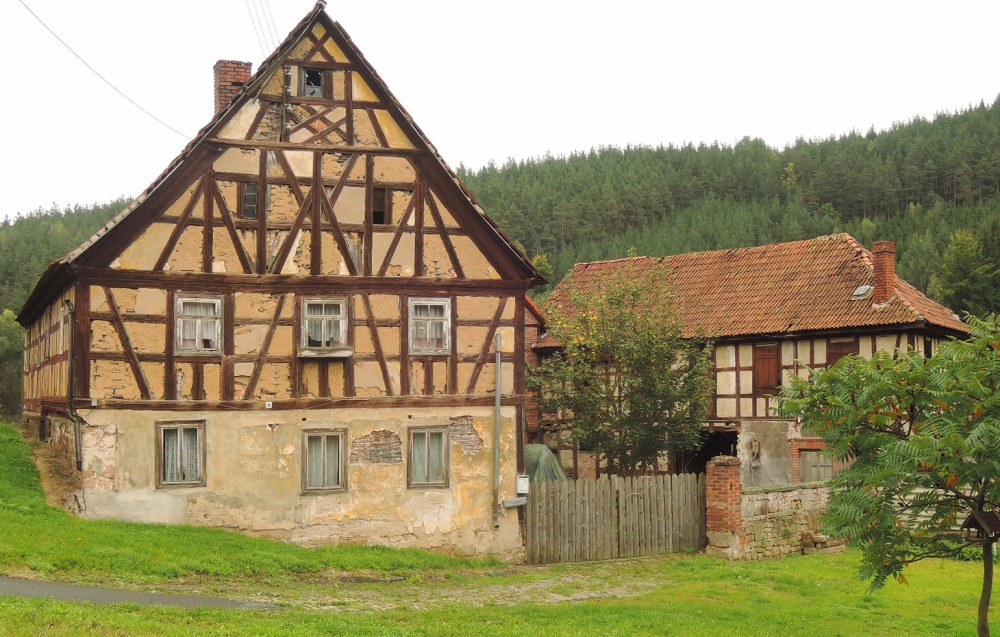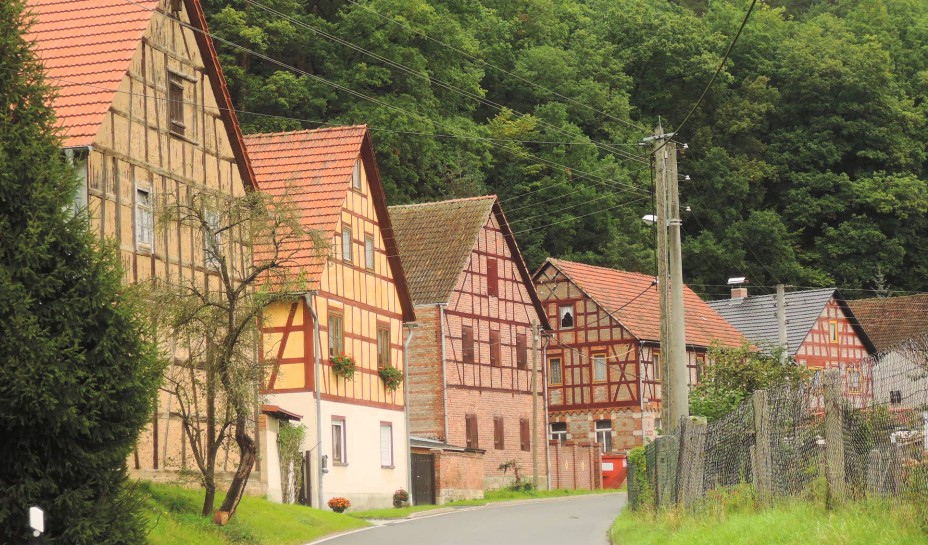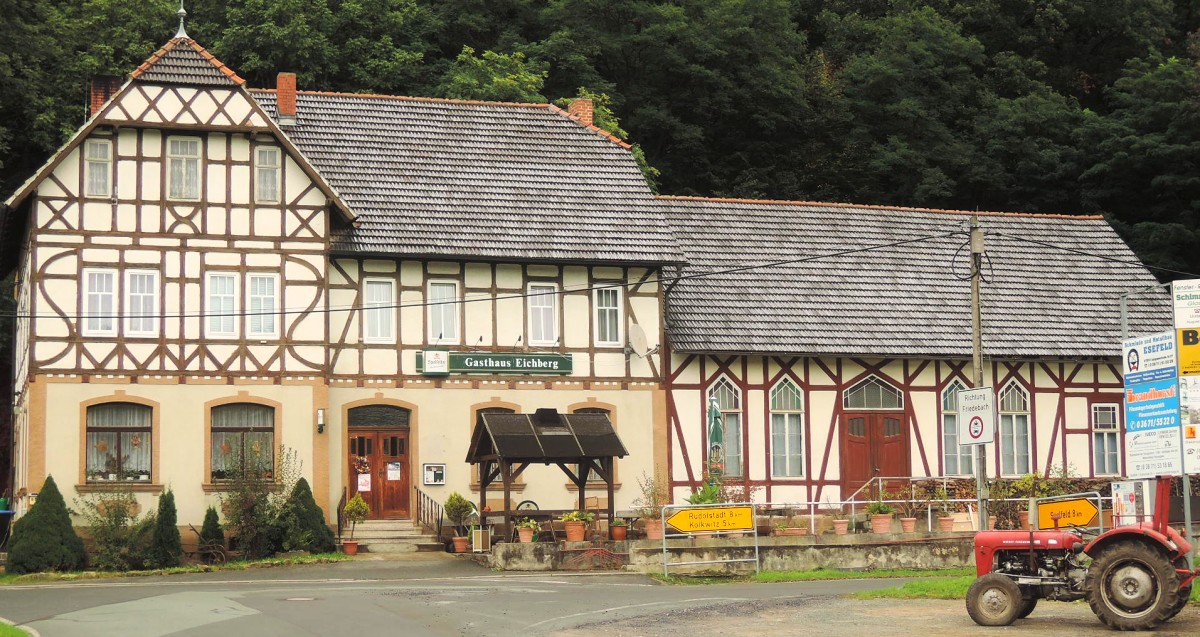 September is ending when I arrive to Bamberg. Along the way, some or other interesting small city, as this one (whose name I haven't taken down, sorry) where they cover the houses' walls with slate tiles, the same way we're used to see on the roofs.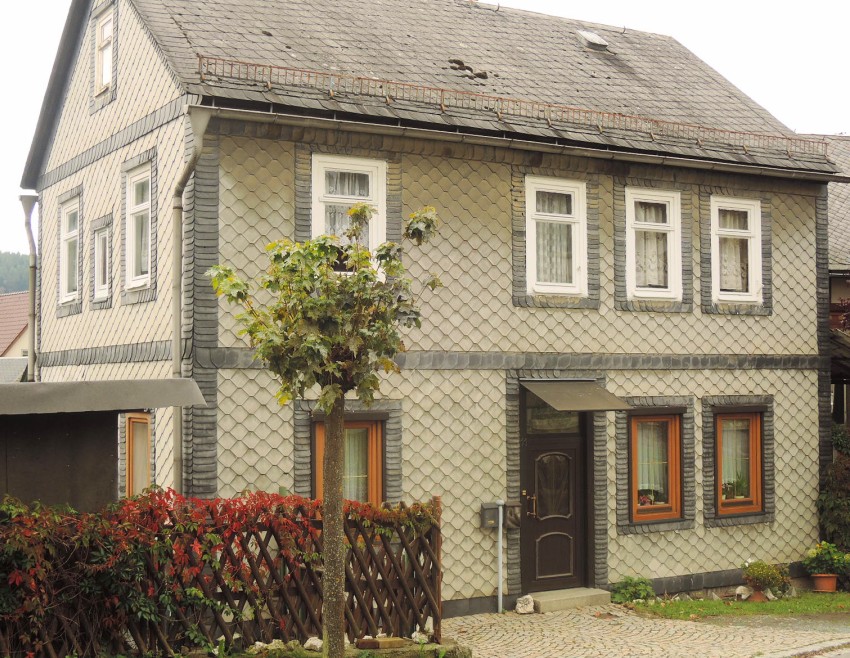 Now, a short "holiday" to recharge my batteries before carrying on the last stage of this journey to Nowhere; thinking of which, I wonder: what prompted me to undertake it? It would be impossible for me to trace the whole chain of chance, causes and effects, that have brought me here; but one thing is for certain: the course of my life for the last seven or eight years originates in a happenstance of no apparent relevance, a single chance event that, notwithstanding, became a singular point where my life's path bent and diverted, resulting in this particular reality instead of any likely other (probably more mundane, but certainly not worse) to which my existence might be heading.
The trivial incident I'm alluding to, was to meet Katarzyna at a bus stop in Warsaw. Hadn't been for that (I mean for Katia, not the bus stop), my touristic one-week visit to Poland wouldn't have turned into a three-year stay, along which I therefore would have never known neither Joanna nor the black abyss of dispair in which our relationship ended for me; whose effects still last one lustrum later, which in turn gave birth to the idea of this absurd trip of mine…