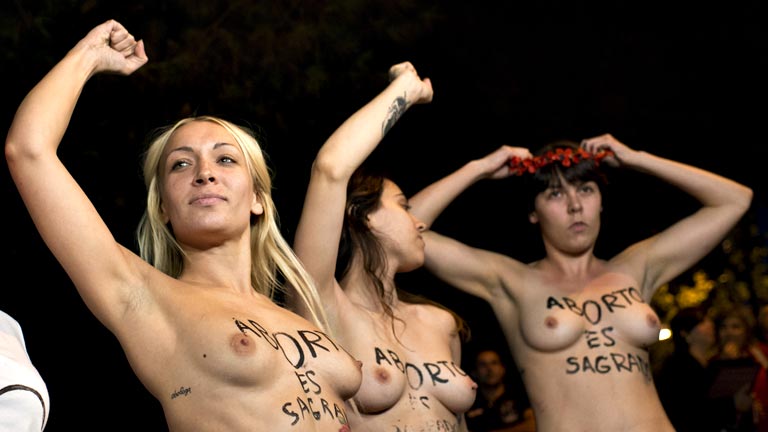 Nothing greater than the Femenomenon has arrived to the European "political life" since Cicciolina; and even better, since Ilona Staller was a professional actress, which only hampers the arousal, whereas these glowing youngsters of glorious traits are true impromptu performers full of inspiring freshness. They claim fighting the sex industry and, by my faith!, sex industry has come across hard contenders, because there are no professionals apt enough to compete with the natural, willing and fervent strip from convinced exhibitionists. Besides, not without reason has always been told that those coming from nuns' schools are the best, the most prurient and daring. Never, oh!, pleased the gods to give me such a lover. I wish the FEMENist movement big success and prosperity, and may the recruit many new members, to bestow their triumphant youth onto papers' front pages and to news' backgrounds, thus ousting the boredom of porn magazines and movies. If Femen does us this mercy, I laugh at the sanctimonious scenes of prudish Hollywood, and at the cheap strippers of Spanish cinema.
Besides, these women have operated big changes in me. While feminism was a matter of fat, ugly women, I confess that it never got a hold on me; but this new Femenism won my support for their cause in thirty seconds since their first performance, months ago. Now they make their premier in Spain and the totally win my will. Now I'm an enthusiastic and convinced Femenist. Not any longer I see, like before, objects of desire in these angels' bodies, but desirable tools or weapons for protest; and I subscribe any motto as long as it comes written in their divine skin-banners. Their twin arguments, merrily looking to heaven, thanksgiving for all that wonder with their big blind eyes, have an overwhelming strength. I collect their swollen sentences, steady like faith, and I set them as my desktop background to show the north of my dreams, and to season my dawns.
Divine Femenists, sweetest Lara, I call on you! Pack out the media, the whole country, with your combat weapons, and keep scandalizing the religious moral of this inveterate sinner.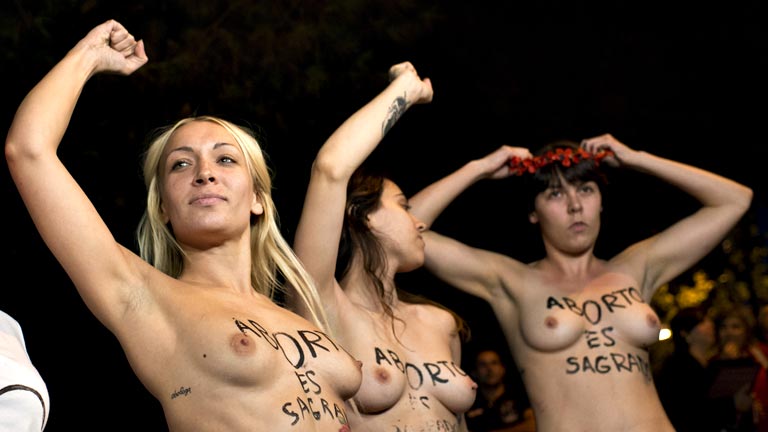 El Femenómeno es lo más grande que ha llegado a la "vida política" europea desde Cicciolina; aunque mejor, porque Ilona Staller era una actriz profesional, y eso siempre le quita morbo a la cosa, mientras que estas lozanas jovencitas de gloriosos atributos son verdaderas espontáneas de inspiradora frescura. Dicen combatir la industria del sexo y yo digo: ¡por Satanás que la industria del sexo ha encontrado unas duras combatientes!, pues no hay profesionales que puedan competir con el destape natural, voluntario y ardiente de un exhibicionismo convencido. Además, no sin razón se ha dicho siempre que las de colegios de monjas son las mejores, las más salaces y osadas. Nunca, ¡ah!, plugo a los dioses regalarme con una amante así. Grande éxito y prospeeriad le deseo al movimiento Femenista, y que recluten muchas adeptas para que le pongan su juventud triunfante a las portadas de los periódicos, a las noticias de los telediarios, desbancando así las aburridísimas revistas y películas pornográficas. Ríome yo, si Femen nos hace tal merced, de las timoratas escenas del puritanismo hollywoodiano y de los baratos desnudos del cine español.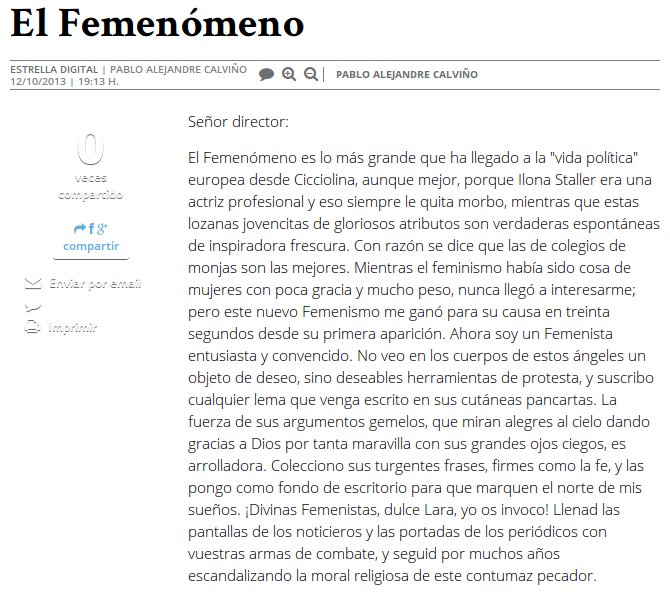 Grandes cambios han operado estas mujeres en mí, además. Mientras el feminismo había sido cosa de gordas y feas, a lo Almeida, confieso que nunca llegó a interesarme gran cosa; pero este nuevo Femenismo me ganó para su causa en treinta segundos desde su primera aparición, hace ya meses. Y hoy, con su entrada en España, termina de ganar mi voluntad. Ahora soy un Femenista entusiasta y convencido. Ya no veo, como antes, en los cuerpos de estos ángeles un objeto de deseo, sino tan sólo deseables herramientas o armas de protesta, y suscribo cualquier lema que venga escrito en sus divinas, cutáneas pancartas. La fuerza de sus argumentos siempre gemelos, que miran alegres al cielo dando gracias al Olimpo por tanta maravilla con sus grandes ojos ciegos, es arrolladora. Colecciono sus turgentes frases, firmes como la fe, y las pongo como fondo de mi escritorio para que marquen el norte de mis sueños y aderecen mis amaneceres.
¡Divinas Femenistas, dulcísima Lara, yo os invoco! Llenad los medios de comunicación, el país entero, con vuestras armas de combate, y seguid por muchos años escandalizando la moral religiosa de este contumaz pecador.