[:es],
Decía un par de capítulos atrás que Alemania era un país aburrido, pero qué duda cabe de que no necesariamente ha de serlo. De hecho, una vez recargadas las pilas gracias a mi larga estancia en Bamberg, el día que finalmente continúo viaje me ha salido una de las rutas más amenas que haya podido hacer por este país: primero hacia el sudeste por la 470, una carretera encantadora, llena de curvas (sobre todo a partir de Wiesenttal) y de armoniosos y geológicamente peculiares paisajes.
Tuchersfeld ha sido, tal vez, el pueblo de entorno más singular que he encontrado por el camino, con sus hermosas y tradicionales casas embutidas entre unas peculiares formaciones rocosas que le dan una personalidad característica.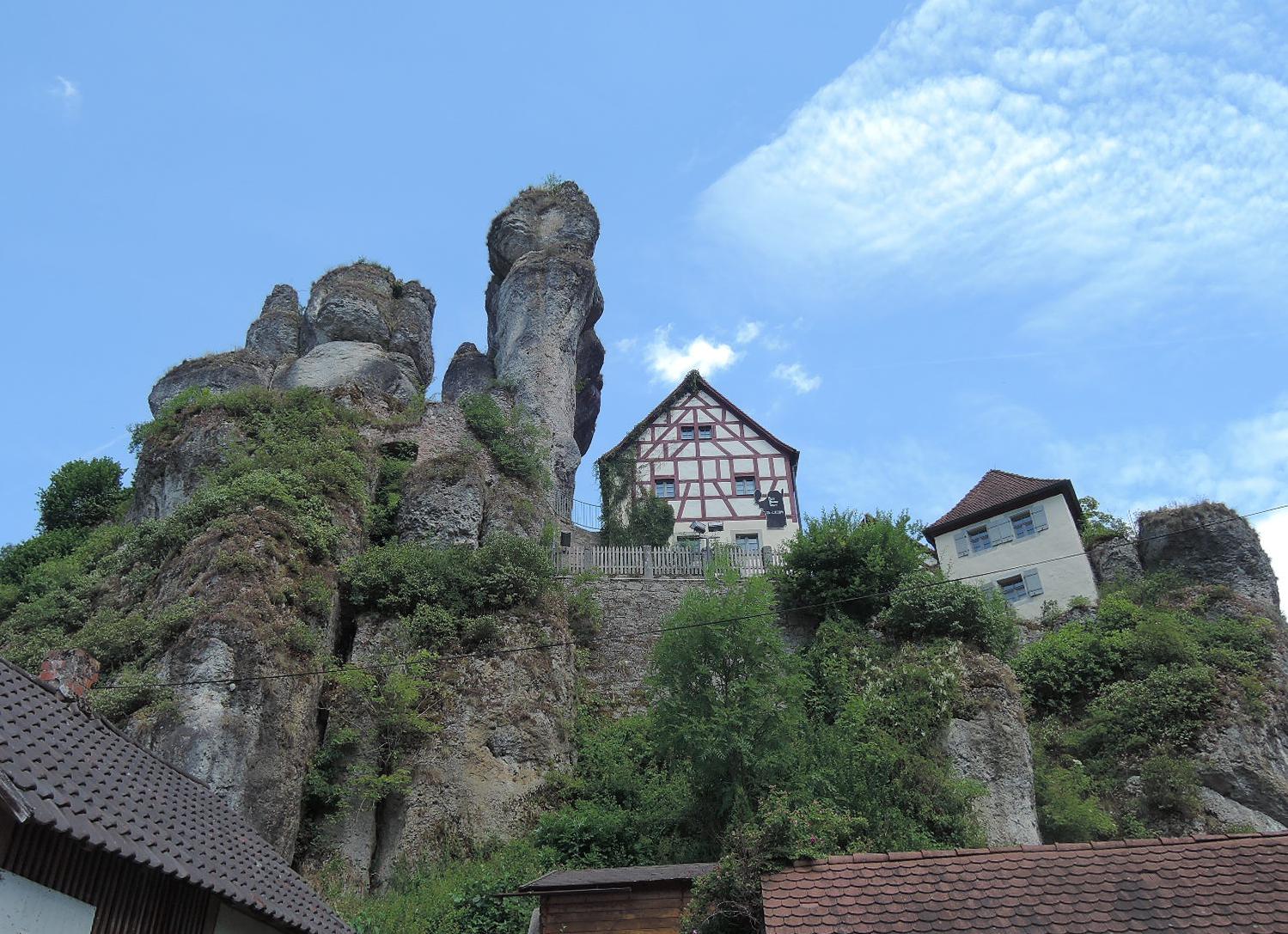 Ahí, y tras subir a lo alto de la roca que se ve en la foto por un sendero más difícil y largo de lo que parece, he aprovechado la parada para tomarme una cerveza y pedir algo de almuerzo.
Después, con el mismo rumbo SE y siempre por carreteras secundarias (bastante aceptables para la moto), he continuado hasta que, con el sol empezando ya un poco a declinar, un pequeño letrero junto al arcén me ha guiado hasta un acogedor hotel (Panorama am See) en el pequeño pueblo de Gütenland, que supongo significa buena tierra.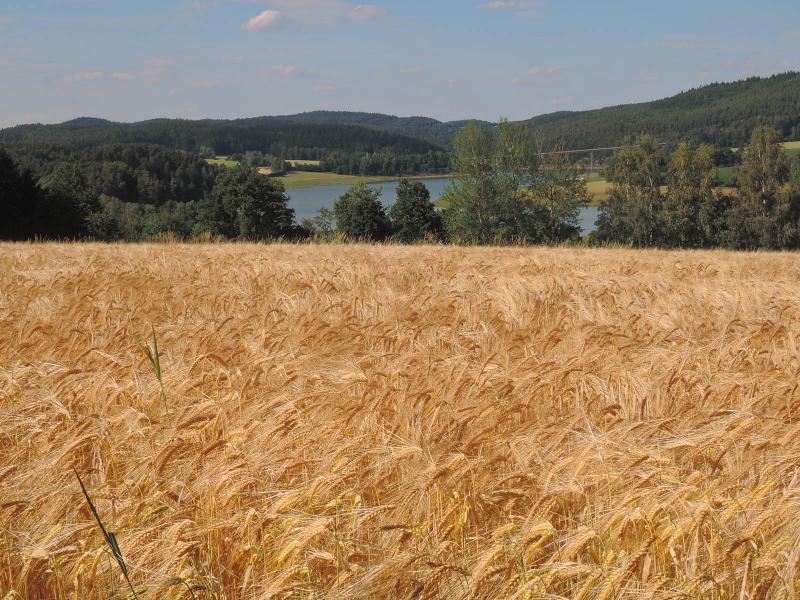 Y en verdad que lo es, sobre todo a la luz de este maravilloso y templado atardecer, con sus graneros y cuidadas casas sobre una colina junto al embalse de Eixendorfer, el trigo resplandeciente bajo los rayos del sol, ciervos y gansos en una granja vecina…


Pese a lo pequeño y escondido del lugar hay bastantes clientes en la terraza, muy bien ubicada, del restaurante. Pido una ensalada con trozos de carne de ciervo y media botella de vino del país, blanco. Regalándome con la vista del embalse saboreo cada bocado del plato, muy bien cocinado, y cada sorbo del vino.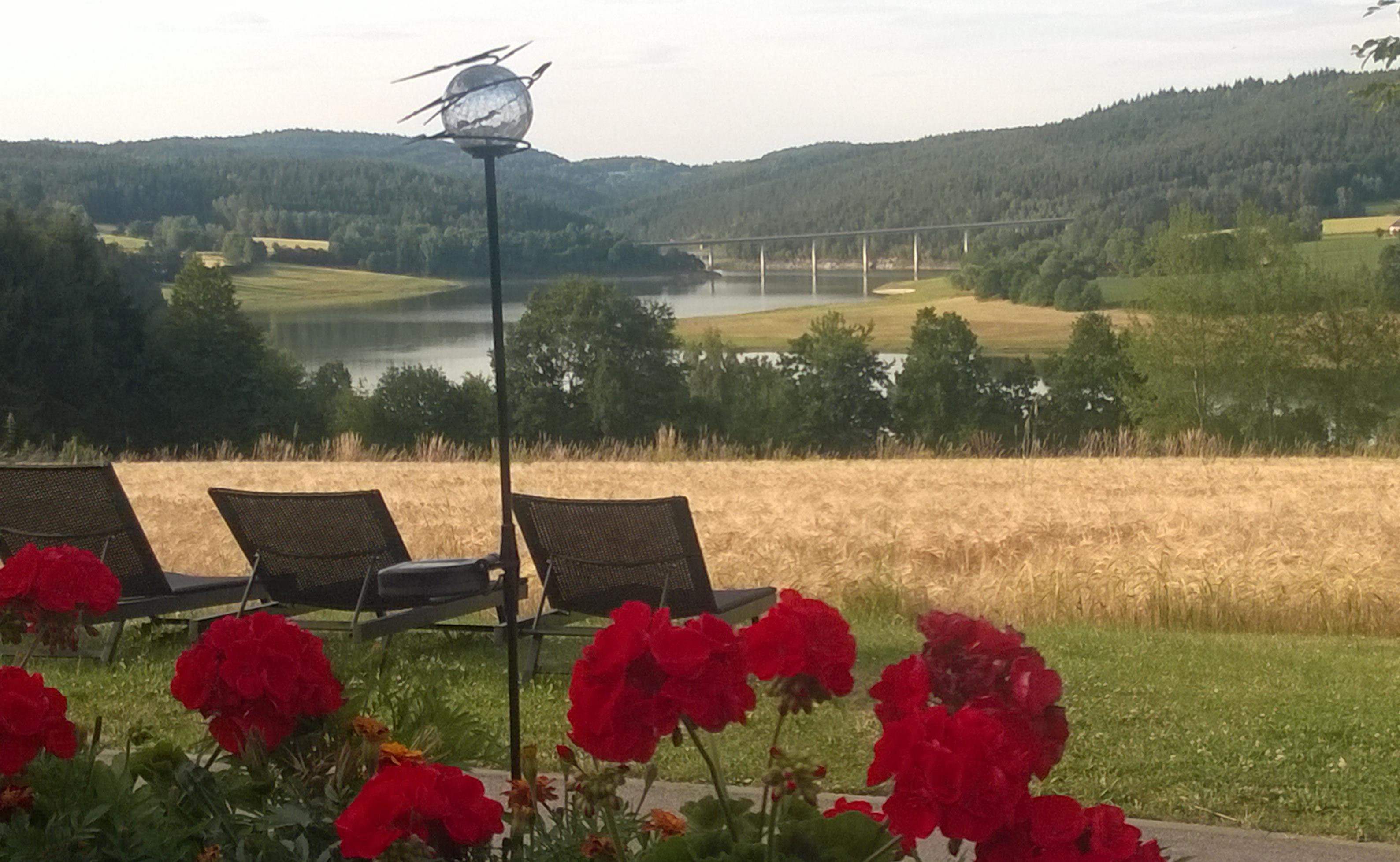 Por último, bien satisfecho el apetito, y por considerar que el caminar es un complemento casi obligatorio para el viajero motorizado, me he dado un largo paseo por las aldeas vecinas: Seebarn, Haslarn y Stetten. Y este paseo me inspira unos pensamientos del mismo género, tal vez, que los que exponía hace dos capítulos: siendo las casas de los pueblos alemanes todas preciosas, rodeadas por su linda parcela de césped y arbolitos, impecablemente limpias, con su jardín bien cuidado, sus bonitos quitaluces de madera, sus ventanas con visillos de encaje, sus arriates florecidos, sus cercados de tablas bien pintadas y una humeante chimenea, como esas casitas con las que jugábamos en nuestra infancia o las que recortábamos y pegábamos en manualidades, casas de ensueño, de fábula; siendo, por otra parte, toscas y pobres las de los pueblos mediterráneos, irregulares y dispares, con sus pequeños ventanucos abriéndose sobre las paredes medio desconchadas, sin jardín, carcomida la carpintería de sus fachadas, con piedras sujetando las tejas del alero o uralitas haciendo parche, sin árboles y con veinte otros defectos, tienen en cambio estos pueblos de España, Italia o Francia, de calles estrechas, arcos, pasadizos y misteriosos rincones, tienen un encanto y un duende que a los germánicos les falta. Quizá cada casa, considerada por separado, sea por término medio más bonita aquí que allí, pero el conjunto de allá resulta bastante más atractivo que este. O, al menos, así me lo parece. ¿Estamos de nuevo ante una paradoja, en este caso estética, de la perfección?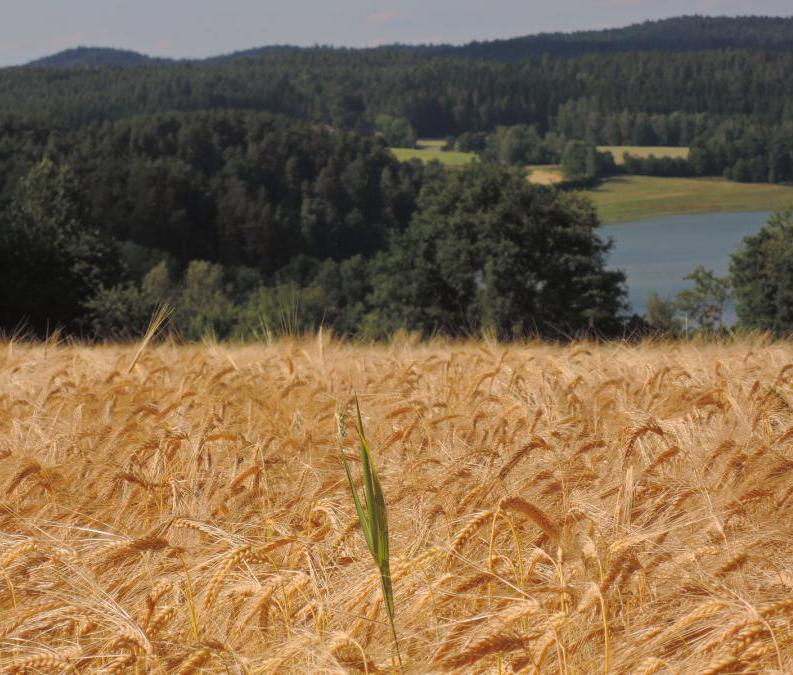 * * *
Y ya es otro día. Como estoy dirigiéndome de nuevo hacia Austria, continúo el mismo rumbo sureste de ayer, escogiendo las carreteras más alejadas del mundanal ruido, que son las más cercanas a la frontera checa y que pasan por pueblos perdidos como Waldmunchen, Lohberghunte, Frauenau, Freyung y, por último, Breitenberg, casi en la misma frontera. Todo son bosques aquí, en esta región de Alemania; enormes extensiones de floresta frondosa y umbría. Algún ignorante conozco yo que desprecia los bosques europeos porque son -según él- replantados. La ignorancia es atrevida, decía con frecuencia mi abuela.
La tormenta se ha venido de repente, casi con susto de sí misma. Cierto es que la tarde ha ido poblando de nubes el cielo hasta dejarlo por último cubierto, pero no oscuro ni amenazador. La cena en el gaststätte Pension Jagdhof (muy rica; ¿quién dice que los alemanes no tienen cocina?; de nuevo esa ignorancia) ha sido en el patio trasero, al aire libre, y aún he tenido tiempo para darme un atrevido paseo cruzando por medio de un pequeño bosquecillo, silencioso, húmedo y oscuro (tanto que, al salir, la luz de la tarde me ciega la vista) que iba a parar cerca del caserío de Ungarsteig.
Regreso, ya por la carretera, a la habitación del gaststätte. Empieza a hacerse de noche mientras preparo algunas cosas y, de pronto, oigo un rumor de algo intangible que se acerca. Salgo al balcón justo a tiempo para ver cómo el repentino golpe de viento, como el soplido de un dios, barre la calle y abate con fuerza árboles y arbustos. Ha pasado como en las películas nos cuentan que pasan los fantasmas: invisible, mas dejando tras sí un vacío que hiela las entrañas. Inmediatamente después, apenas a unos segundos, llega la tromba de agua, avanzando cuesta abajo como una cortina, y ya todo es diluvio. Llueve con fuerza, con rabia, a cántaros, en intensas rachas que dibujan latigazos de agua sobre el pavimento; espectacular. ¡Y casi no se ha escuchado ni un trueno! Yo miro embobado tras los cristales. Al fin amaina y queda una llovizna intermitente que aún persiste cuando, ya en la cama, el sueño me lleva consigo.
capítulo anterior | capítulo siguiente
[:en]Only two chapters back I said that Germany is a boring country, but obviously that is not necessarily true. Actually, once I recharged batteries thanks to my long stay in Bamberg, the day I finally carry on the journey turns out to be one of the most amusing I've ever had in this country: first SE along route 470, a charming road, full of corners (most of all from Wiesenttal on) and of hamonious landscapes, geologically peculiar.
Tuchersfeld has been, perhaps, the village with most singular surroundings I've crossed so far, with its cute traditional houses among bizarre rocky sculptures carved by nature, bestowing it a special character.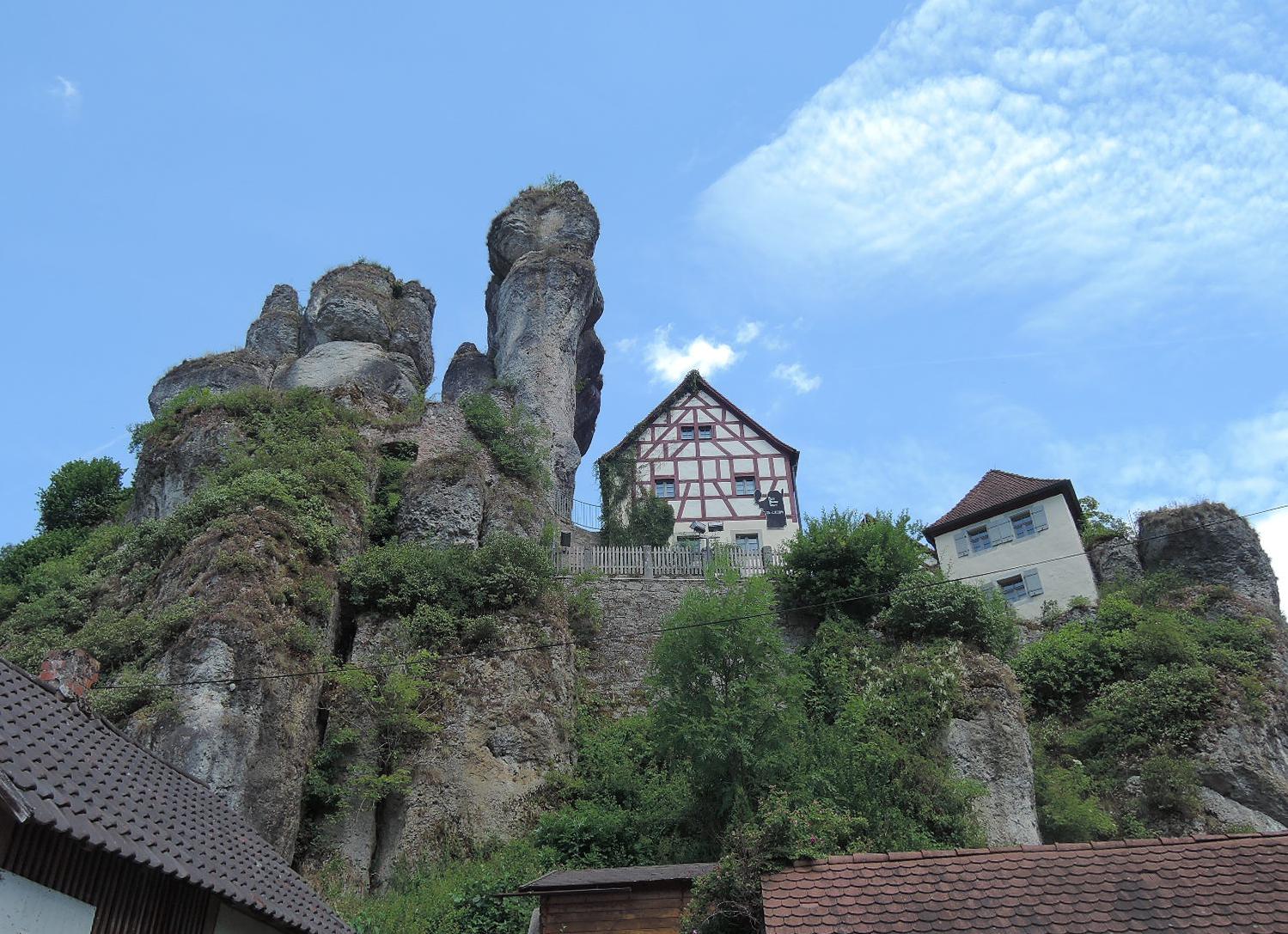 After climbing to the rock in the photograph, along a track longer and harder than it seems, I've made the most of the stop by drinking a beer and having some lunch at a local gasthof.
Then, still going SE, always along secondary roads (quite acceptable for a biker), I've keep going until, by the early evening, a small sign on the shoulder has lured me into a cozy hotel (Panorama am See) in the little village of Gütenland, which I guess must mean good land.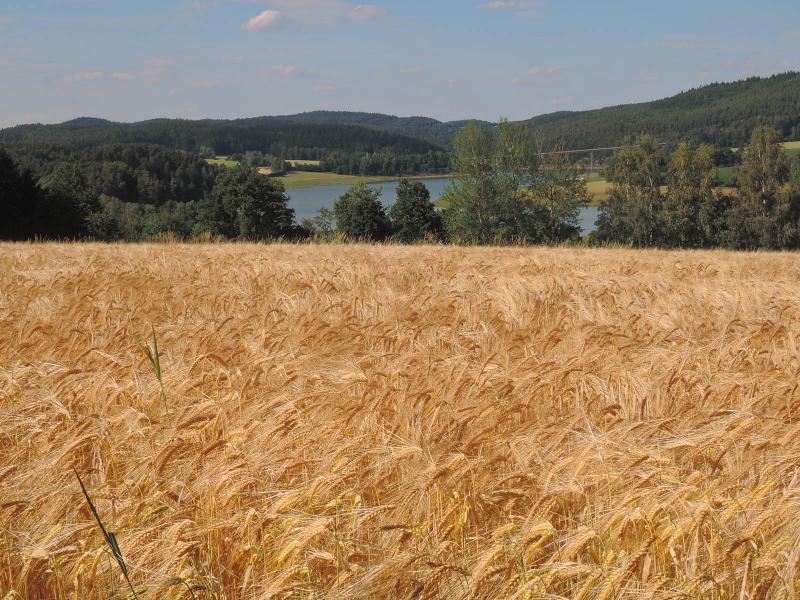 And indeed it is good!, most of all under this wonderful and warm sunset light: with its barns and tidy houses on a hill overlooking the Eixendorfer reservoir, the wheat burning under the sun rays, deer and gueese lazying around at a neighbouring farm…


Despite how small and out-of-the-way this place is, there are several customers at the restaurant's terraze, which is perfectly situated on top of the hill. I order a salad with deer meat chops and half a bottle of country wine, white. Indulging myself in contemplating the reservoir, I relish on every bite of my dish (excellent cook!) and every zip of my drink.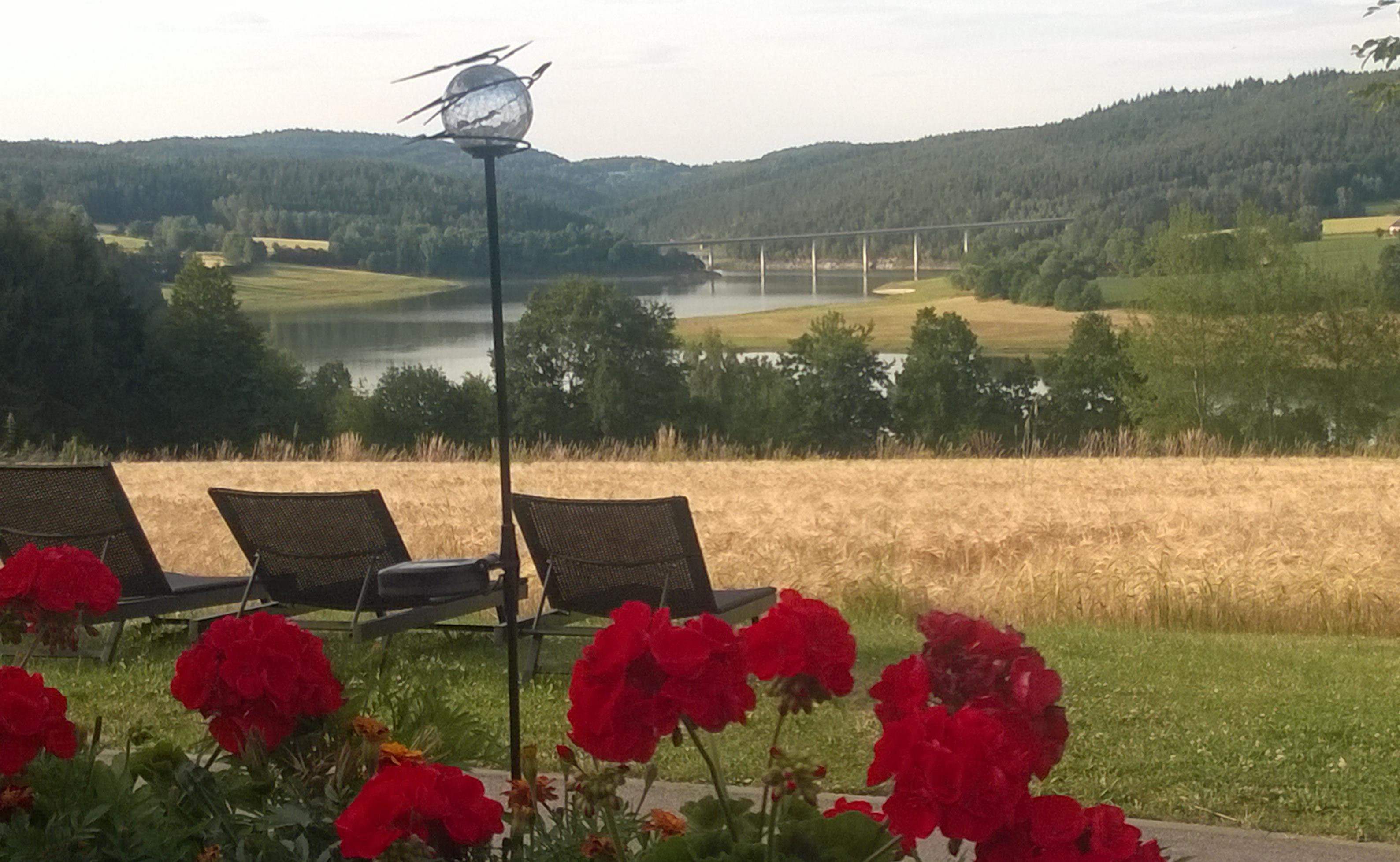 Finally, once satisfied my appetite, and considering that walking is the must-do complement for a motorized traveler, I've taken a long stroll along the neighbouring hamlets: Seebarn, Haslarn and Stetten. As I was promenading, the environment inspired me with similar thoughts as those of two chapters ago: despite the houses in German villages being all very fine in their perfect grass plots, surrounded by trees, all neat and dandy, well taken care of gardens with flowers and vegetables, lace curtained windows with cute wooden blinds, their board fences all well painted, and an idyllic smoking chimney, like those little houses we used to play with in our childhood or the ones we cut out and glued together in manual arts classes, daydream houses, fairy tale houses; despite -on the other hand- being uncouth and poor those along the Mediterranean countries, irregular and dissimilar, with small window openings onto their dented walls, without gardens or trees, decayed the woodwork, stones keeping the tiles in place, asbestos patches on the roofs and twenty other flaws, yet those villages in France, Spain or Italy, with their narrow streets, archways and passageways, and their mysterious corners, those have a charm and a magic whereof these in Germany lack. May every house, on its own, be nicer here in the North than there in the South, but as a whole, the overall impression is quite more appealing there than here. That's for me, at least. Is this again a paradox of perfection?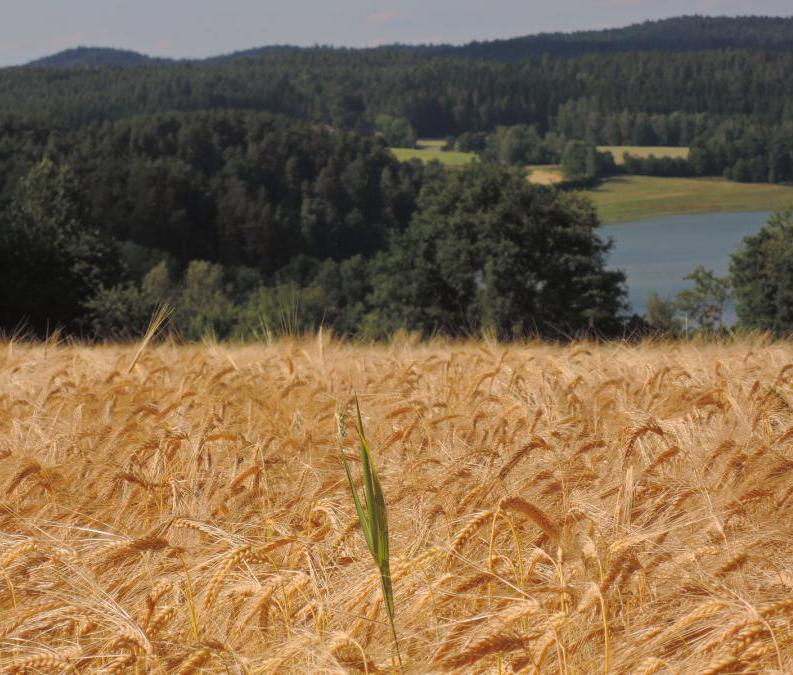 * * *

And now it's another day. As I'm heading Austria for a second time, I keep the same SE course as yesterday, picking those roads further from the maddening crowd, which are those closest to the Czech border, passing along forsaken villages like Waldmunchen, Lohberghunte, Frauenau, Freyung or, lastly, Breitenberg, right by the border. It's all forests around here, in this German region; vast expanses of lush, shady woodlands. I know some ignorant who despises German woods because -says he- they're replanted. Ignorance is sassy, my grandma used to say.
The storm has come out of a sudden, almost with fright of itself. True, the evening has been gathering clouds in the sky until having it overcast, but not dark nor menacing. My dinner at gaststätte Pension Jagdhof (very tasty; who says Germans can't cook? Once again ignorance) has taken place outdoors, and I still had time for a daring walk across a little grove behind the village, silent, dark and humid, which lead to the hamlet of Ungarsteig.
Then I've come back, now aong the road, to my hotel room. As I arrange some things it gets dark, and suddenly I hear a buzz as of something intangible approaching. I step on the balcony just in time to see how the swift wind gust, like the puff of a god, sweeps the street away and bends down trees and bush. It passes the way ghosts pass as we're told in the movies: silent, yet leaving an empitiness behind which freezes our blood. Inmediately afterwards, barely a few seconds, the downpour arrives, advancing down the street like a courtain, and all is deluge now. It rains with force, with rage, with strong gusts drawing whip-like water patterns on the pavement; spectacular. And no thunder! Spellbound, I watch behind the window. Finally it easies off and there remains an intermittent spit, which still lingers on by the time when, already in bed, the sleep takes me away.
previous chapter | next chapter
[:]