[:es].
Por pura casualidad, sin conocer nada de esta zona ni haber oído hablar nunca antes del Stelvio, va a salirme una de las etapas más moteras del viaje, a lo largo de una ruta (de Cernobbio a Bormio), frecuentada por miles de motociclistas cada día; al menos en verano.
Estas carreteras alpinas se prestan, desde luego, a la conducción en moto; invitan a la diversión total y a sacarles el máximo partido a nuestras máquinas; de modo que a nadie puede extrañar que el tráfico en dos ruedas sea incesante, apabullante, casi excesivo. Moteros del más variado pelaje (sport, touring, off-road, custom, naked, scooters e incluso ciclomoteros) convergen en los Alpes, desde los cuatro rumbos de Europa, para darse cita final -entre otros- en el concurridísimo puerto del Stelvio.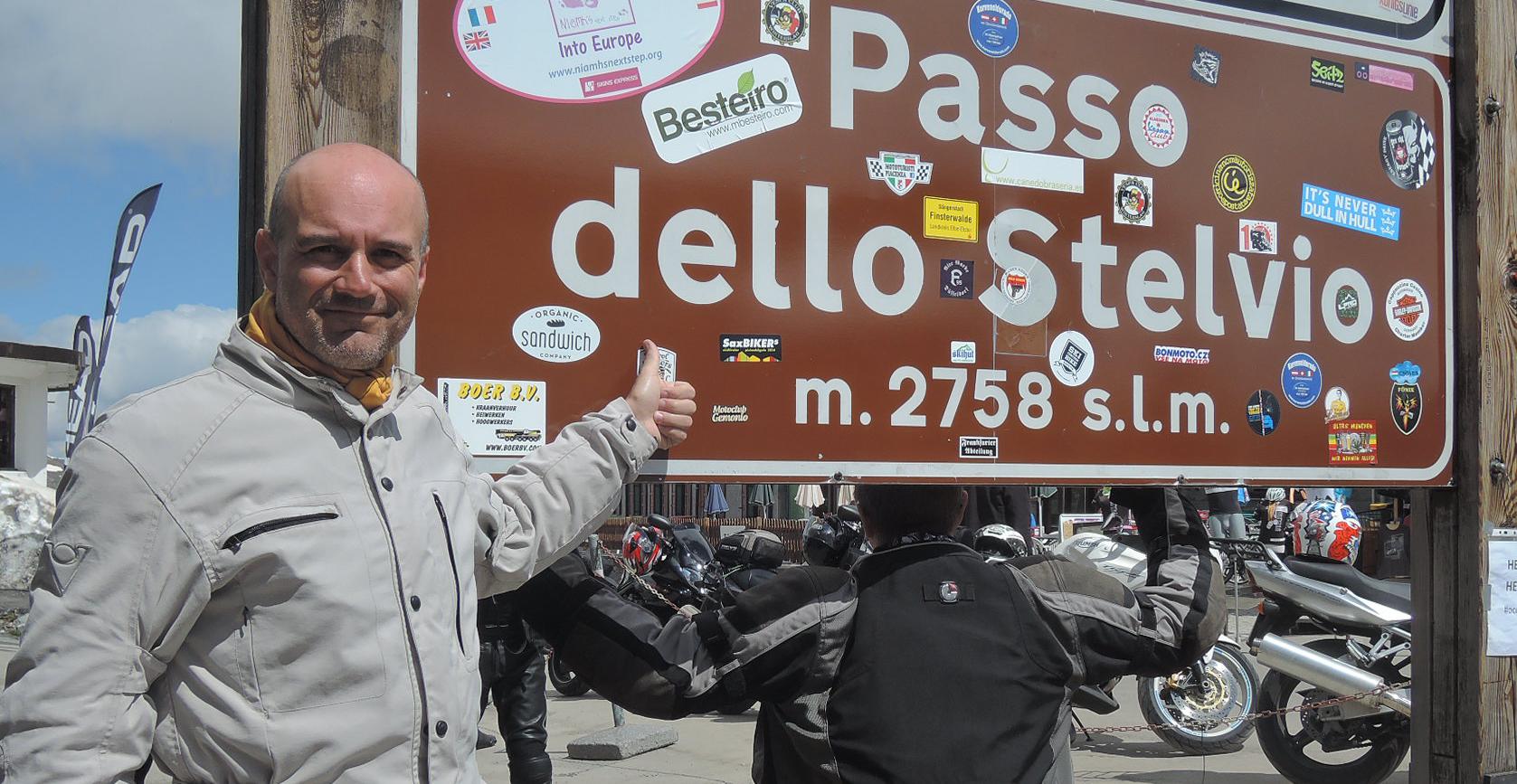 Pero no sólo ellos vienen aquí, sino también otros caprichosos conductores al volante, por ejemplo, de viejos coches de coleccionista, de deportivos diseño exclusivo e incluso de fórmula dos. Toda una fauna del caucho y el motor se junta en estas alpinas alturas, cercanas a los 3000 m, para hacer las ochenta y seis curvas de horquilla de este -ahora lo sé- famoso paso y merecer así la correspondiente pegatina; además, claro está, para echar el día, hacerse la foto, almorzar en alguno de los restaurantes o tomarse un hot dog en el popular stand junto al arcén.
En lo que a mí respecta, llego -como siempre- sin saber de rutas moteras ni sitios conocidos, decidiendo casi en cada cruce qué dirección tomar. No me trae aquí la popularidad del Passo, que antes ignoraba, sino la búsqueda de un itinerario que me lleve hacia el sur de Alemania sin tener que pasar por Suiza, porque no me apetece cambiar francos ni pagar peajes. Y es que en este rodar mío sin sentido, en esta romería hacia ninguna parte, hay no obstante un cierto rumbo incierto y algunos -muy pocos- lugares donde quiero recalar. Uno de ellos es Bamberg, en Babaria, donde un amigo me espera con los brazos abiertos.
Desde Cernobbio, he bordeado el lago Como por su orilla oeste y, girando luego hacia oriente, he venido por Sondrio y Tirano hasta Bormio, a donde llego a primera hora de la tarde. Y, como me gusta el pueblo, decido pasar aquí la noche. Hallo, con sorpresa, que algunos de los albergos y hospedajes, aunque abiertos, tienen sus puertas cerradas. ¿Se toman los italianos la siesta tan en serio como los españoles? En los hoteles más caros hay, por supuesto, alguien en recepción las 24 h del día, pero prefiero mantenerme en un presupuesto moderado; así que tras dar algunas vueltas encuentro un alojamiento a mi entera satisfacción (Meublè Dante): la señora es amable, el precio asequible y la habitación, cómoda y coqueta, tiene una vista magnífica a la plaza y a las montañas.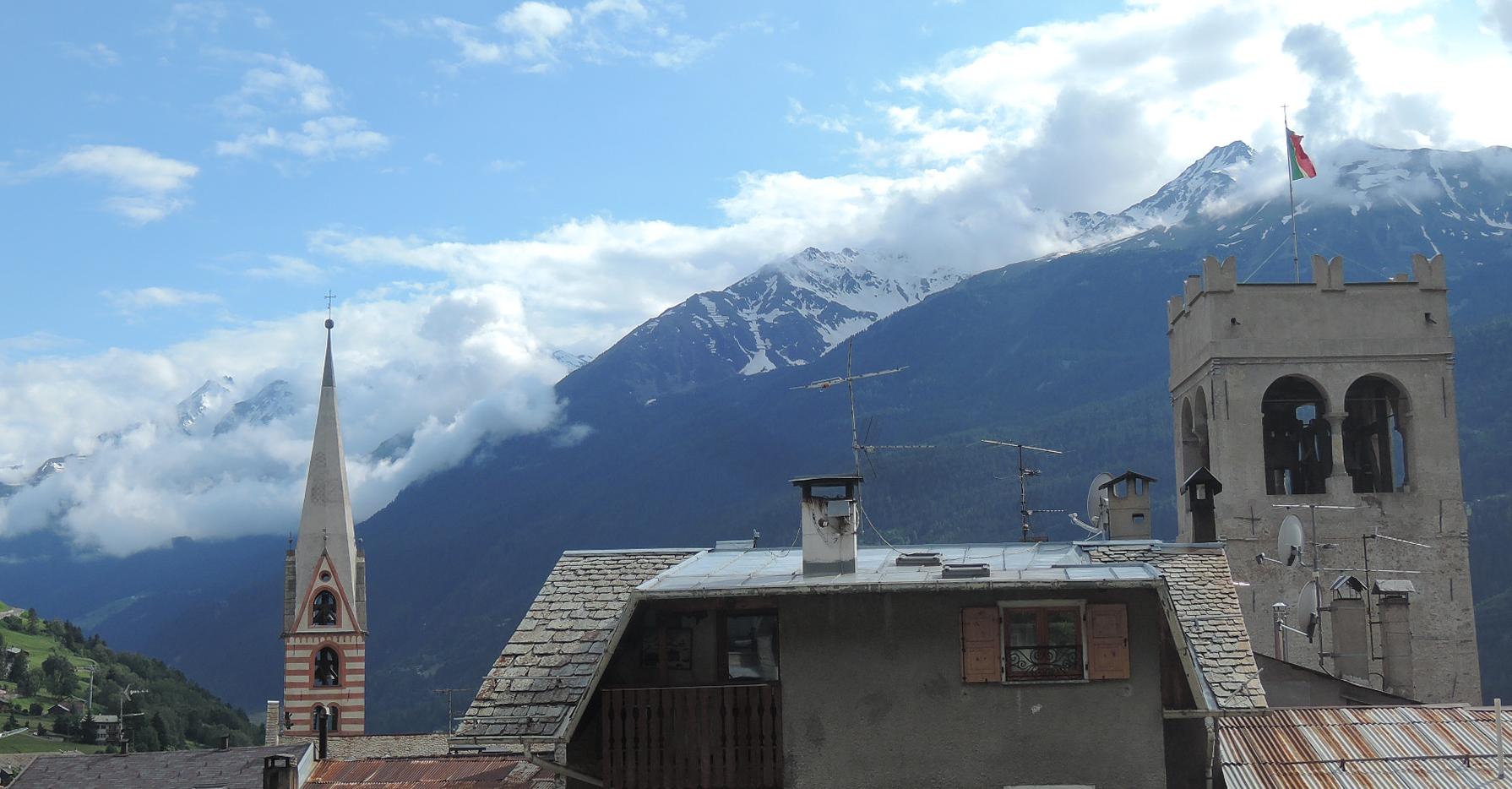 De hecho, lo encuentro tan agradable que, en el acto, decido quedarme dos noches en lugar de una y aprovechar la estancia para visitar con espacio el pueblo y hacer algún circuito no muy largo, con la moto, al día siguiente por los alrededores.
Así es como, preguntando a los lugareños, me entero de la existencia del puerto Stelvio y otros cercanos por donde salvar las cumbes más altas hacia la vertiente norte alpina. Mas, por hoy, 160 km de carretera han sido suficientes. El resto del día es para mí, para mover las piernas y adentrarme en las pinas calles de Bormio, fotografiar los bellos y antiguos frescos de sus fachadas -tan típicos en Italia-, pasar bajo los arcos de sus callejones, asombrarme con la imponente proximidad de las nevadas montañas y, cómo no, tomarme por ahí una cerveza.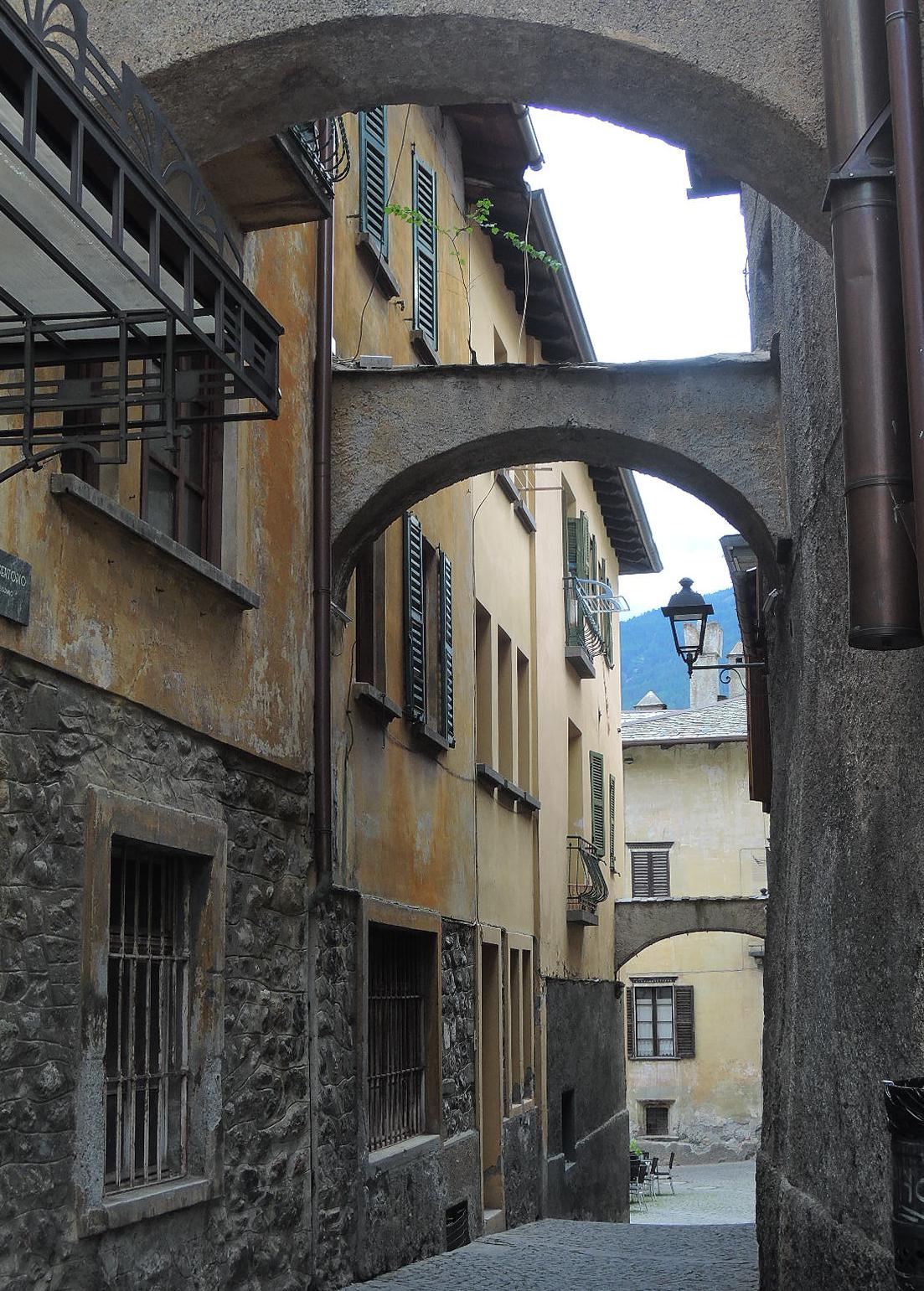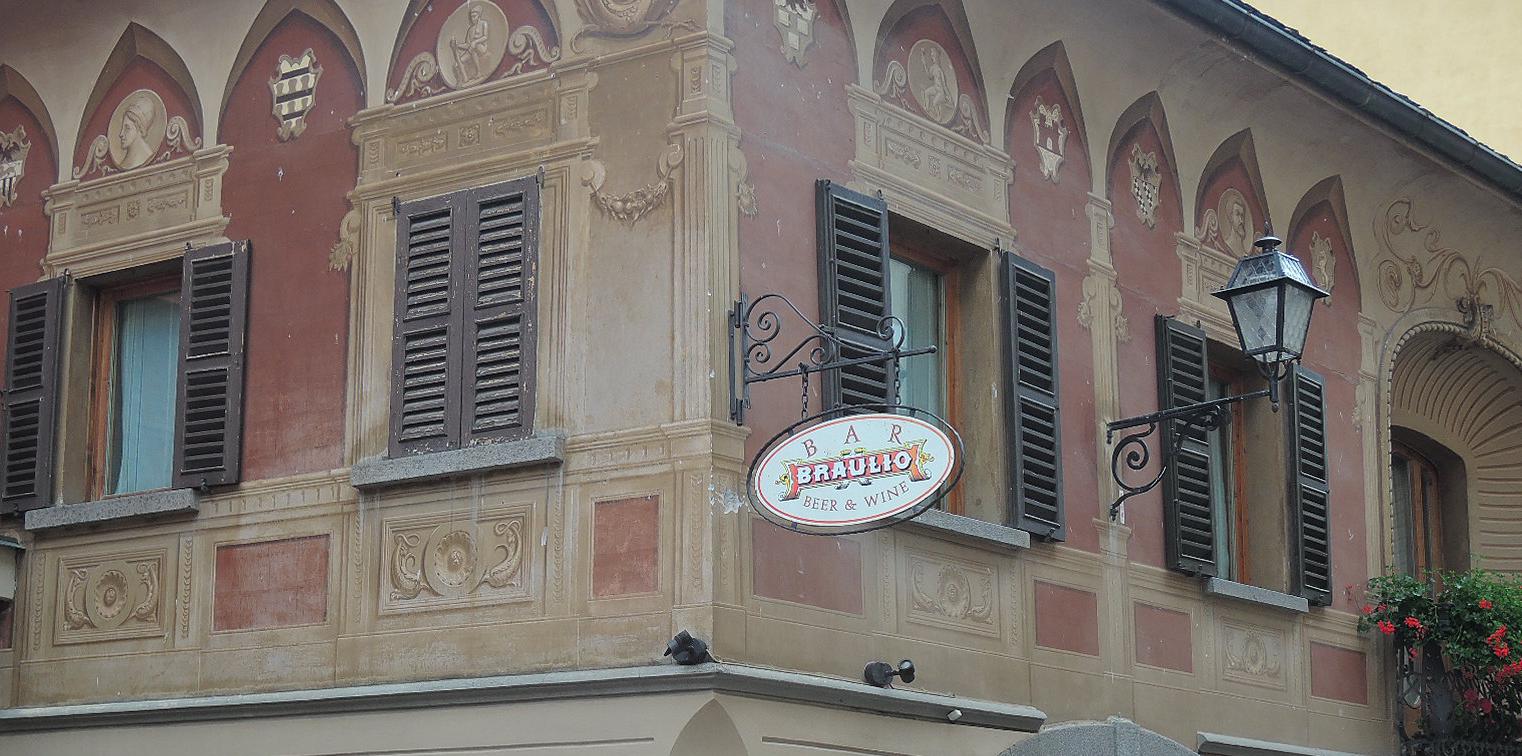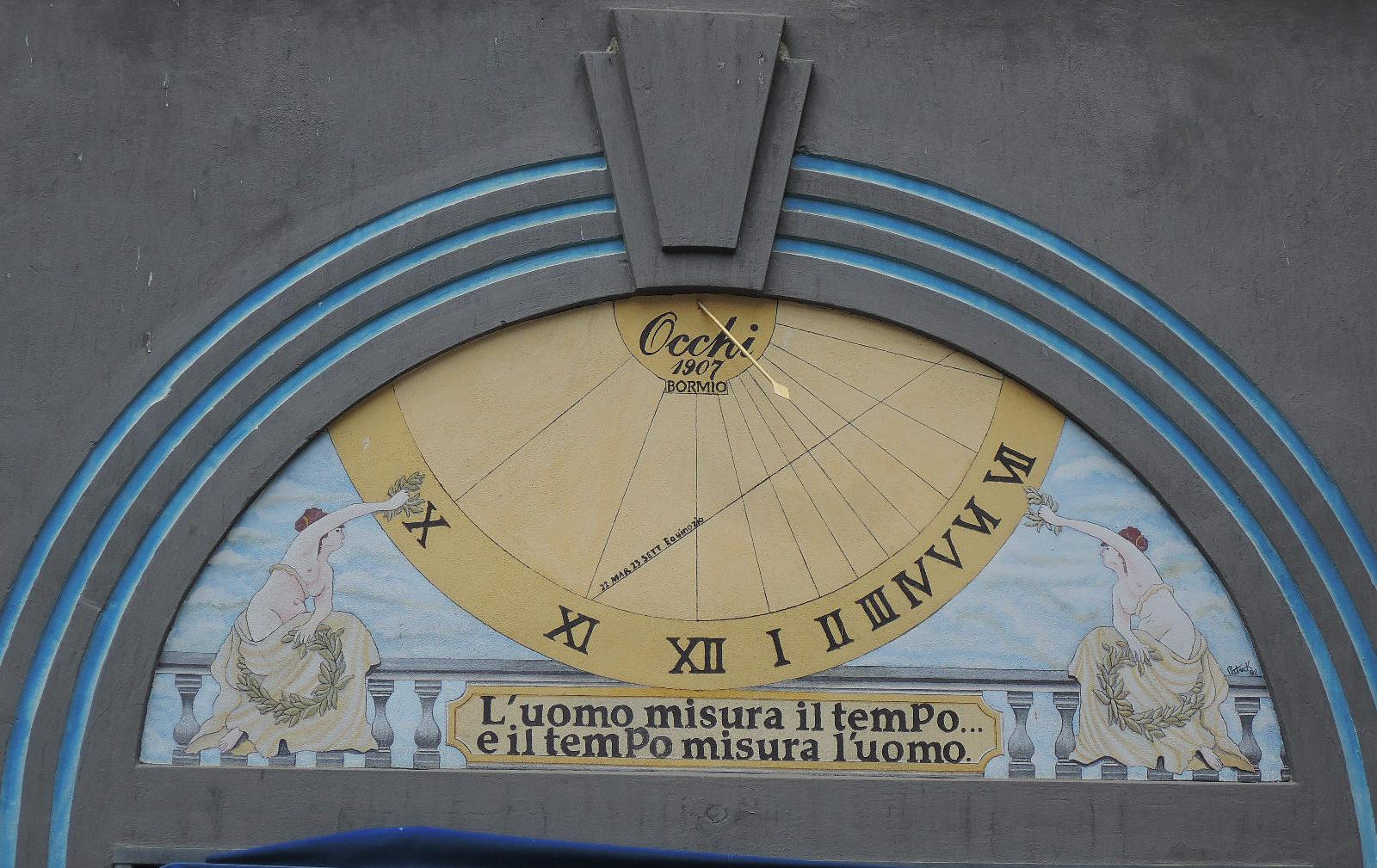 Ahora, eso sí: esta gente a las nueve y media de la noche ya tienen todo cerrado, pese a que no falta el turismo. Más aún: como aquí no hay tiendas de los chinos ni nada que haga las veces, a partir de las cinco o seis, hora en que cierran los comercios, no hay forma de comprar nada; y si se descuida uno es fácil quedarse sin cenar. Como, de hecho, ha sido el caso.
La regenta del hotel me ha dicho que, para cruzar las montañas hacia Austria, es más bonito ir por Stelvio (el paso italiano) que por Santa Maria (el suizo), pero yo, atribuyendo esta opinión a un natural sentido patrio, he preferido comprobarlo por mí mismo. Así que a la mañana siguiente cojo a Rosaura (¡sin maletas!) y hago una ruta circular que disfruto como un crío. Desde Bormio a Prato Alto Stelvio, luego a Sluderno y, desde allí, regresar por Suiza, donde en Santa Maria Val Mustair sale a la izquierda una carretera estrecha y poco frecuentada que viene a desembocar, de nuevo, cerca de Bormio.
Pues bien: he de decir que, con patriotismo o sin él, la mujer tenía razón. No sólo Stelvio es bastante más bonito sino que, además, la carretera italiana está en mejor estado que la suiza. Se conoce que la riqueza que políticos, evasores de impuestos y otros estafadores del resto de Europa traen a Suiza en forma de depósitos bancarios no la emplea este gobierno para mejorar el pavimento.
El ambiente en Passo dello Stelvio ha quedado ya descrito: una verdadera exposición de motos y pirados de todas clases. Quizá la nota más curiosa del día la puso un grupo de cinco alemanes que conducían viejas Vespas con equipaje y todo.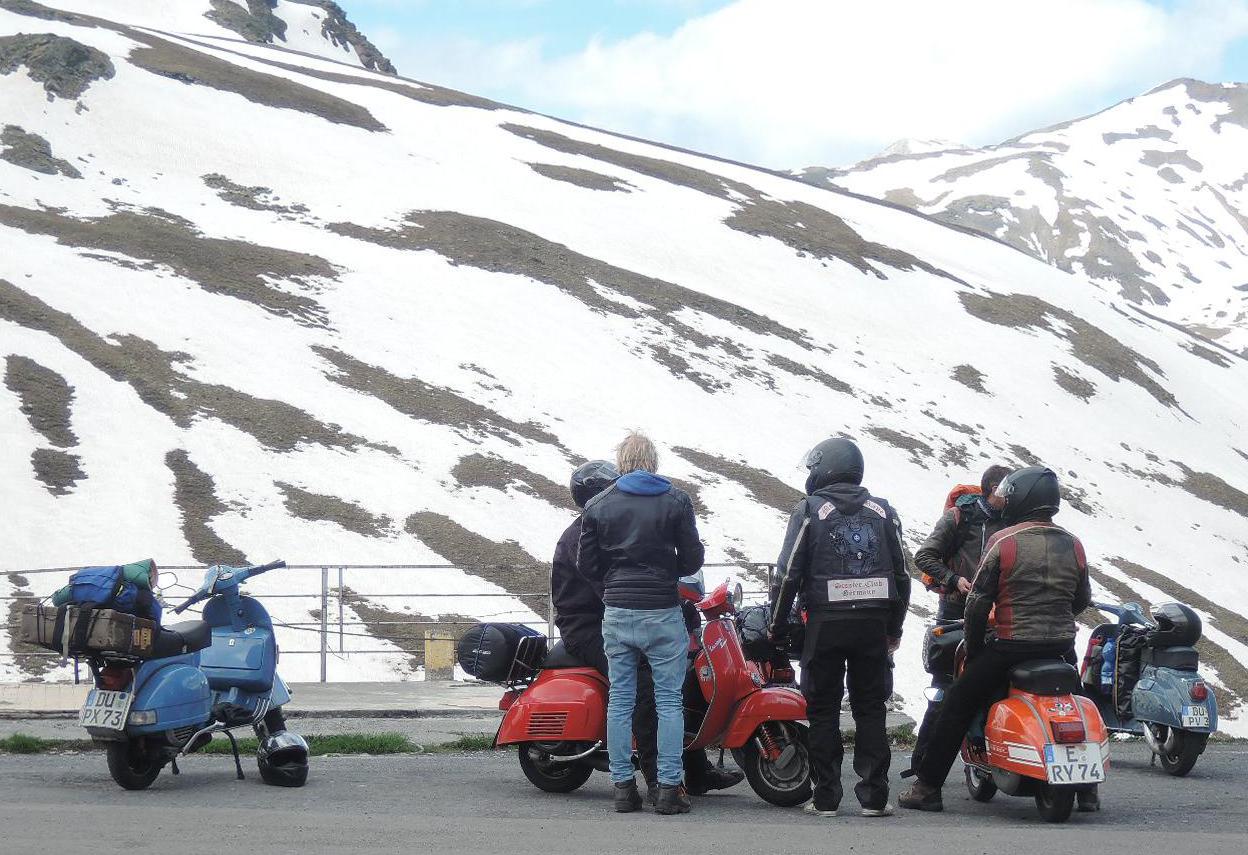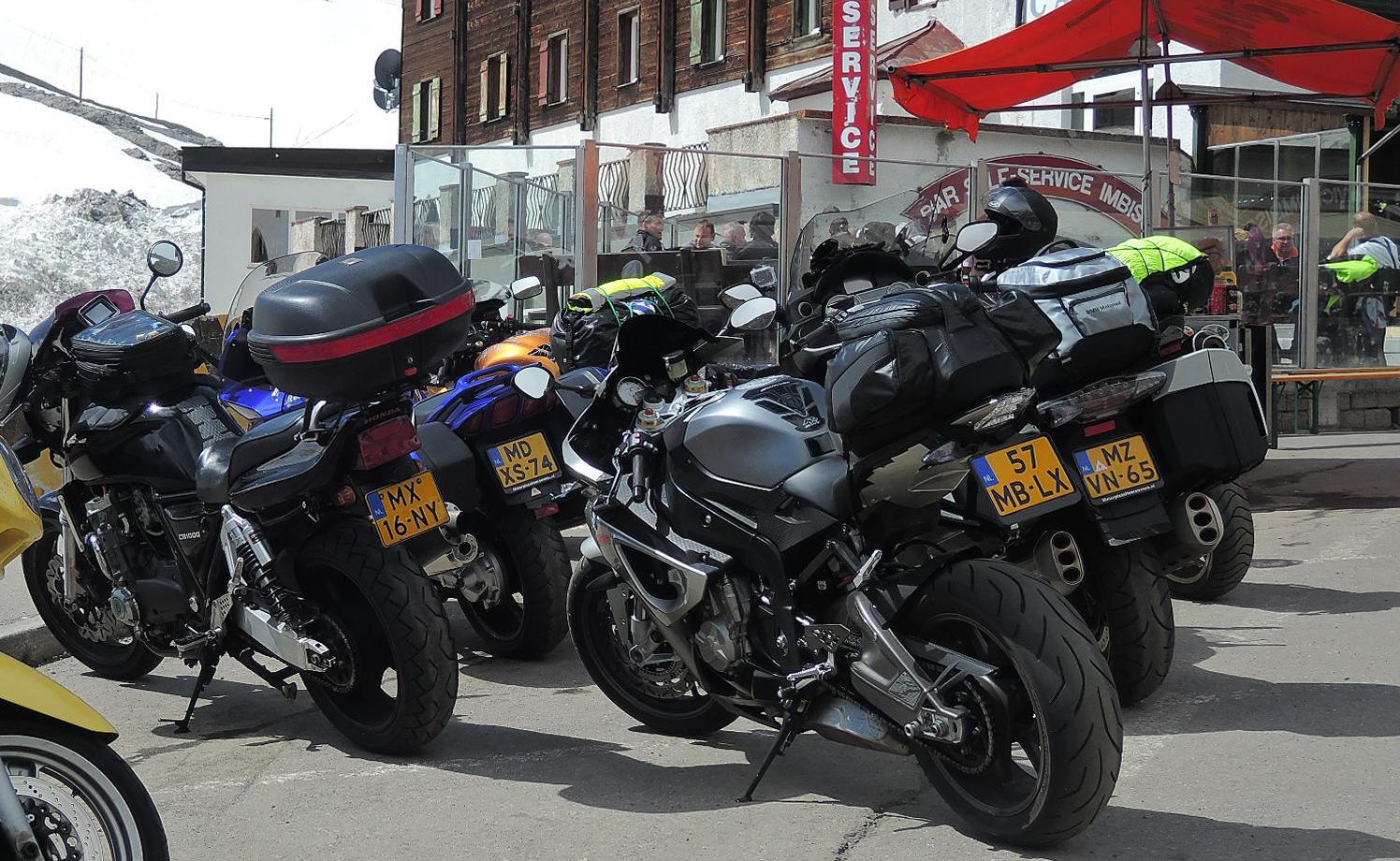 Contadas cuidadosamente una a una, para salvar el puerto de valle a valle hay que tomar -como ya he dicho- nada más y nada menos que ochenta y seis curvas de horquilla, una tras otra, casi ininterrumpidas. Según he entendido, algunos grupitos de moteros van cronometrándose tiempos, pero con el tráfico que hay no veo cómo los resultados puedan ser significativos.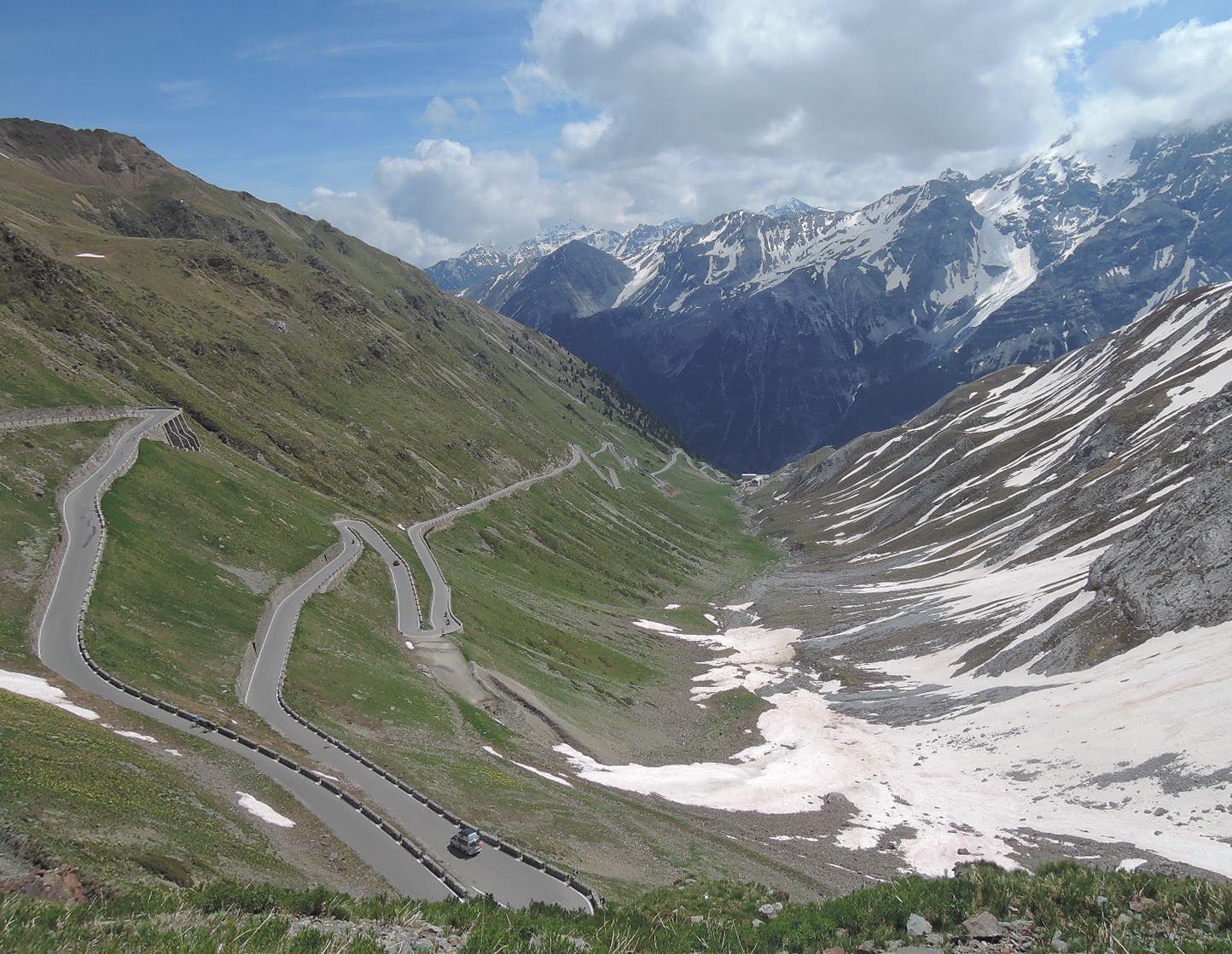 ¡Y hace rasca en estas alturas! Son cumbres de nieves perpetuas y, pese a ser pleno mes de julio y brillar un sol magnífico, el frío hace mella y es cosa de abrigarse bien.
El otro puerto, cruzando por Suiza, es bastante menos popular e innegablemente más soso. Me ha llamado la atención, por cierto, que pese a no pertenecer Suiza a la UE las fronteras estén por aquí tan poco vigiladas. La que he cruzado por el norte, junto a Tubre, tiene un puesto de control desierto; pero la del sur (la que viene a desembocar cerca de Bormio) no tiene ni una mala garita; tan sólo una olvidada y roñosa barrera levadiza, más testimonial que otra cosa.
Y esto ha sido Italia, de momento. Una experiencia única y sorprendente. Una mezcla de lo moderno con lo antiguo, de lugares anclados en el pasado con otros de vanguardia, de anacronismos con futurismos, de valores tradicionales con otros contemporáneos. Un país artística, cultural y socialmente muy rico.
capítulo anterior | capítulo siguiente
[:en]
Just by chance, not knowing anything about the region nor having ever heard about Stelvio, this has turned out to be a true "biker" stage in my trip, along a route -from Cernobbio to Bormio- frequented by thousands of motorcyclers every day; at least during the summer season.
These Alpine roads are of course quite inviting for riding a bike, for having fun and getting the best of our machines. That's why the two-wheeled traffic is non-stop around here, shattering, almost excessive. Bikers of all kinds (sport, touring, off-road, custom, naked, scooters and even "mopeders") converge in the Alps, from all four directions in Europe, for a meeting in -among others- the much frequented Stelvio Pass.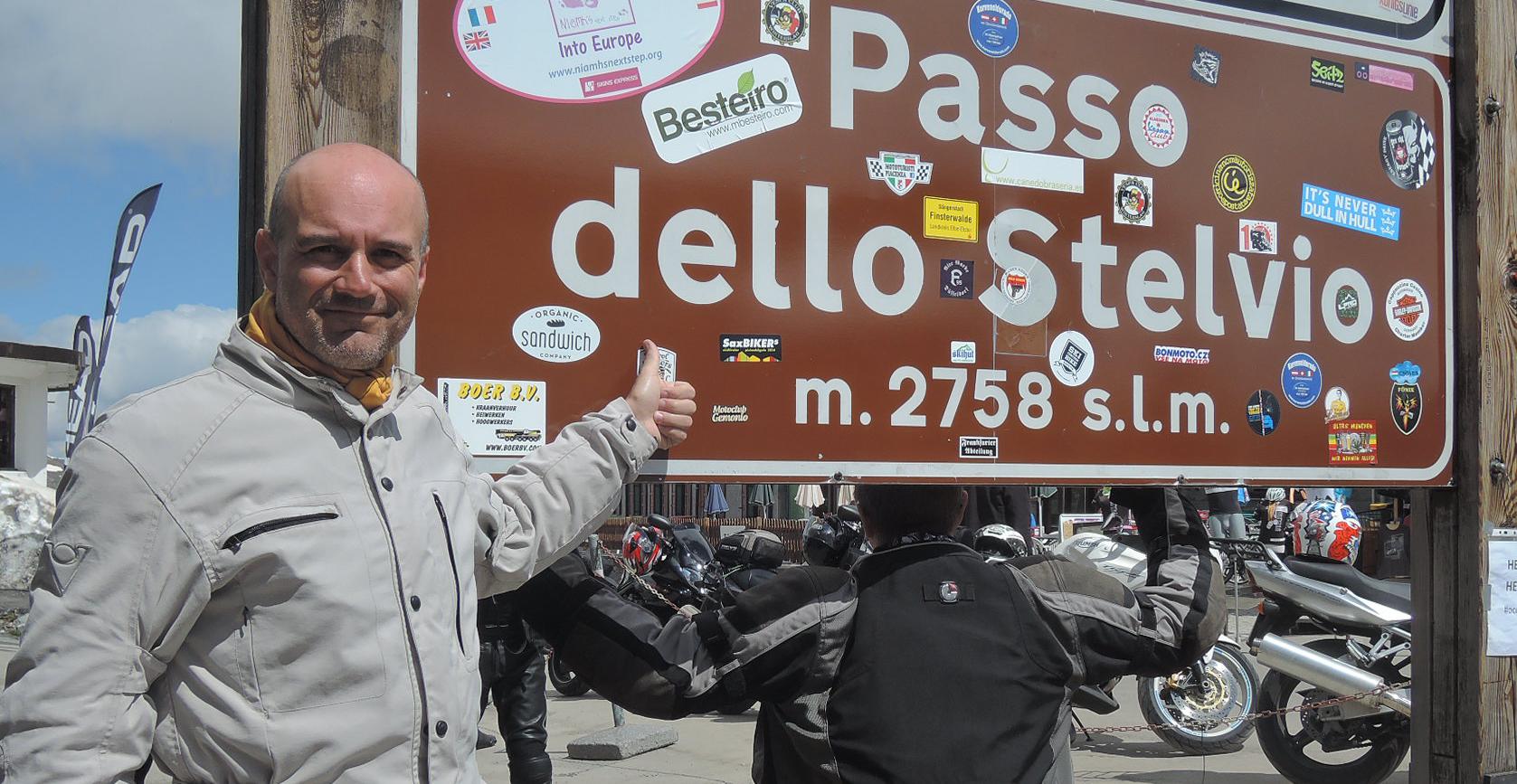 But not only them come here; also fancy drivers at the wheel of old collector's cars, exclusively designed sports cars and even formula two's. Quite a bunch of rubber and engine weirdos meet in these Alpine heights, over 9000 feet, for doing the eighty six sharp corners along the road of this -now I know- famous pass and thus deserve the Stelvio sticker; also, naturally, for spending the day, taking the typical picture by the road sign, having lunch in some of the bistros or eating a hot dog over at the popular stand by the road's shoulder.
As to me, as I said, I arrive here without knowing a word about bkers' routes nor popular places, deciding almost upon every crossing which direction to take next. Actually, what rather brought me here was the search of a way for getting to the South of Germany without crossing Switzerland, as I don't feel like exchanging currency nor paying tolls. The thing is, in this senseless roaming of mine, in this pilgrimage to Nowhere, yet there is some course, however uncertain, and a few -very few- ports I want to reach. One of them is Bamberg, in Babaria, where a friend awaits me with open arms.
From Cernobbio I skirt lake Como along its west shore and, then turning east, I pass by Sondrio and Tirano to Bormio, where I arrive in the afternoon. And, as I like the town, I decide to stay overnight. I find -not without surprise- that some of the albergos and guest houses are closed by mid-day. Do Italians take siesta time as seriously as Spaniards do? In the more expensive hotels there is, sure, someone at the reception 24/7, but I'd rather stick to my moderate budget; so, after going around for a while, I find a hostage to my full satisfaction (Meublè Dante): the landlady is kind, the price affordable and the room, comfy and cute, has a splendid view over a square and to the mountains.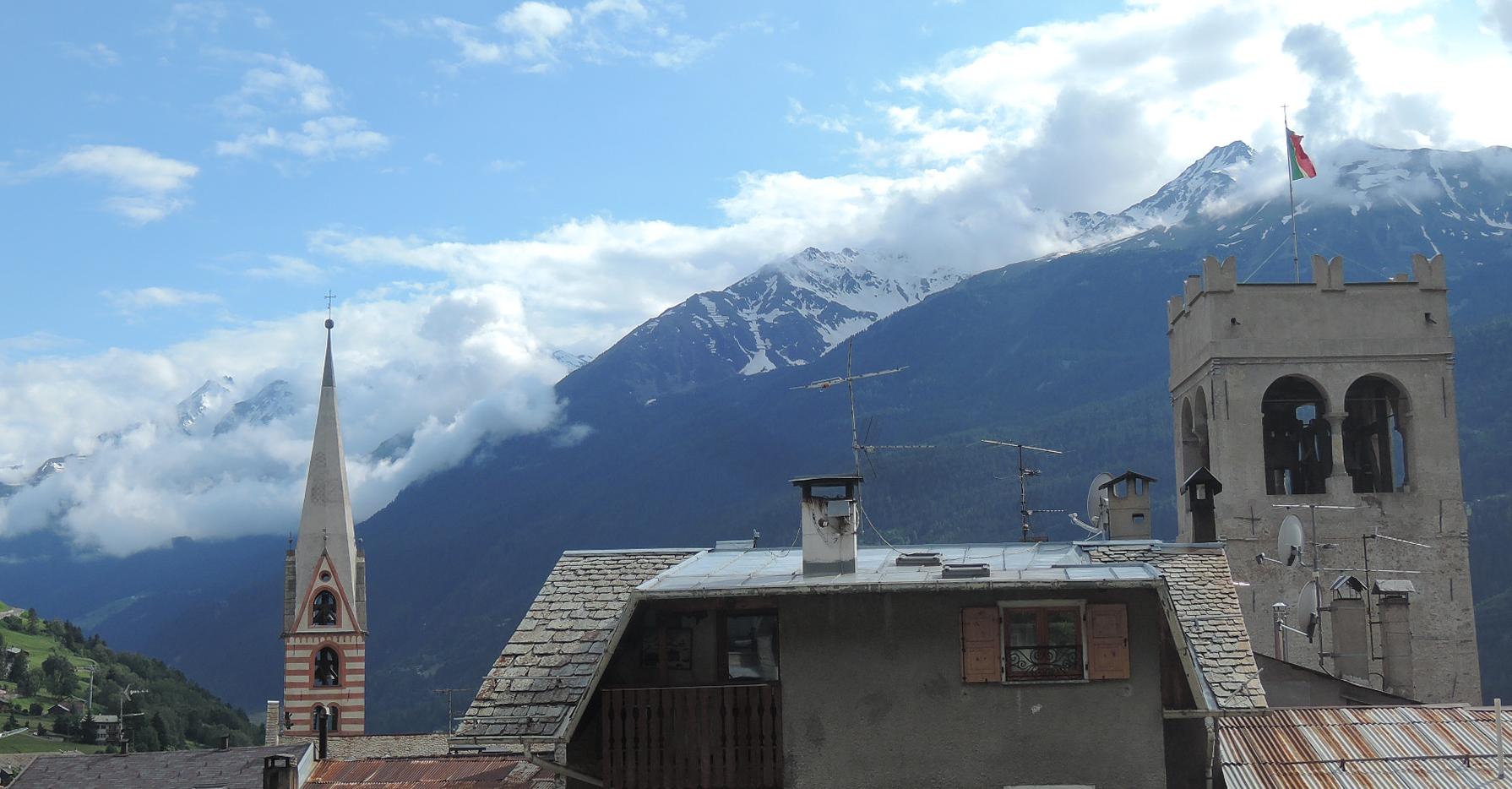 Actually I find it so nice that, right away, I decide to stay two nights instead of just one, and seize the opportunity for thoroughly exploring the town and maybe doing some short bike route around.
And that's how, asking to the locals, I learn about the existence of the Stelvio pass and other nearby ones where to cross the highest peaks to the north side of the Alps. But for today, 100 miles of asfalt has been enough. The rest of the day is for myself, for moving my legs and exploring the steep streets of Bormio, photographing the fine and old frescos on the houses' facades -so typically Italian-, passing under the many arches of its passagewayss, getting astonished by the imposing proximity of the now capped peaks, and grabbing a beer somewhere.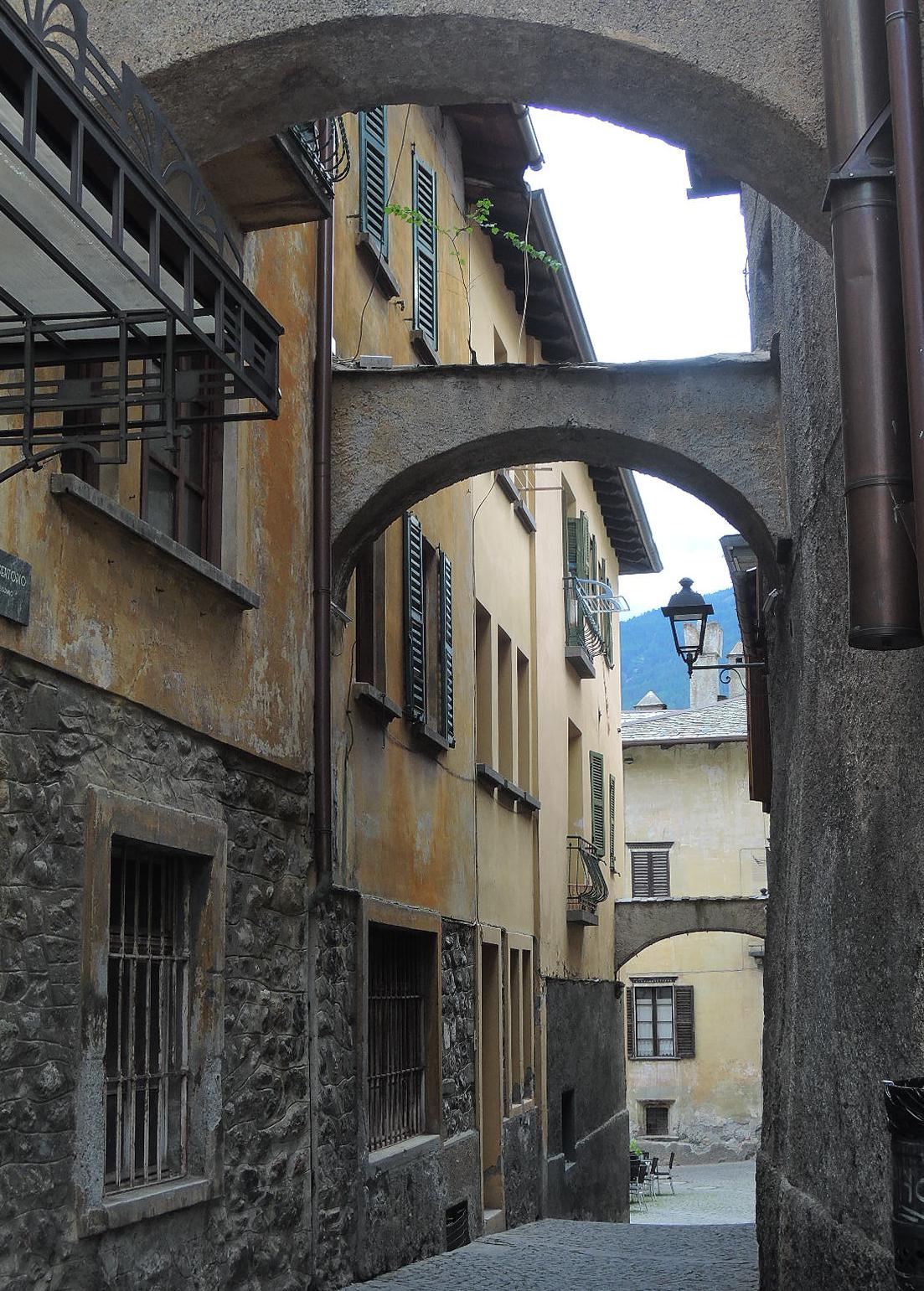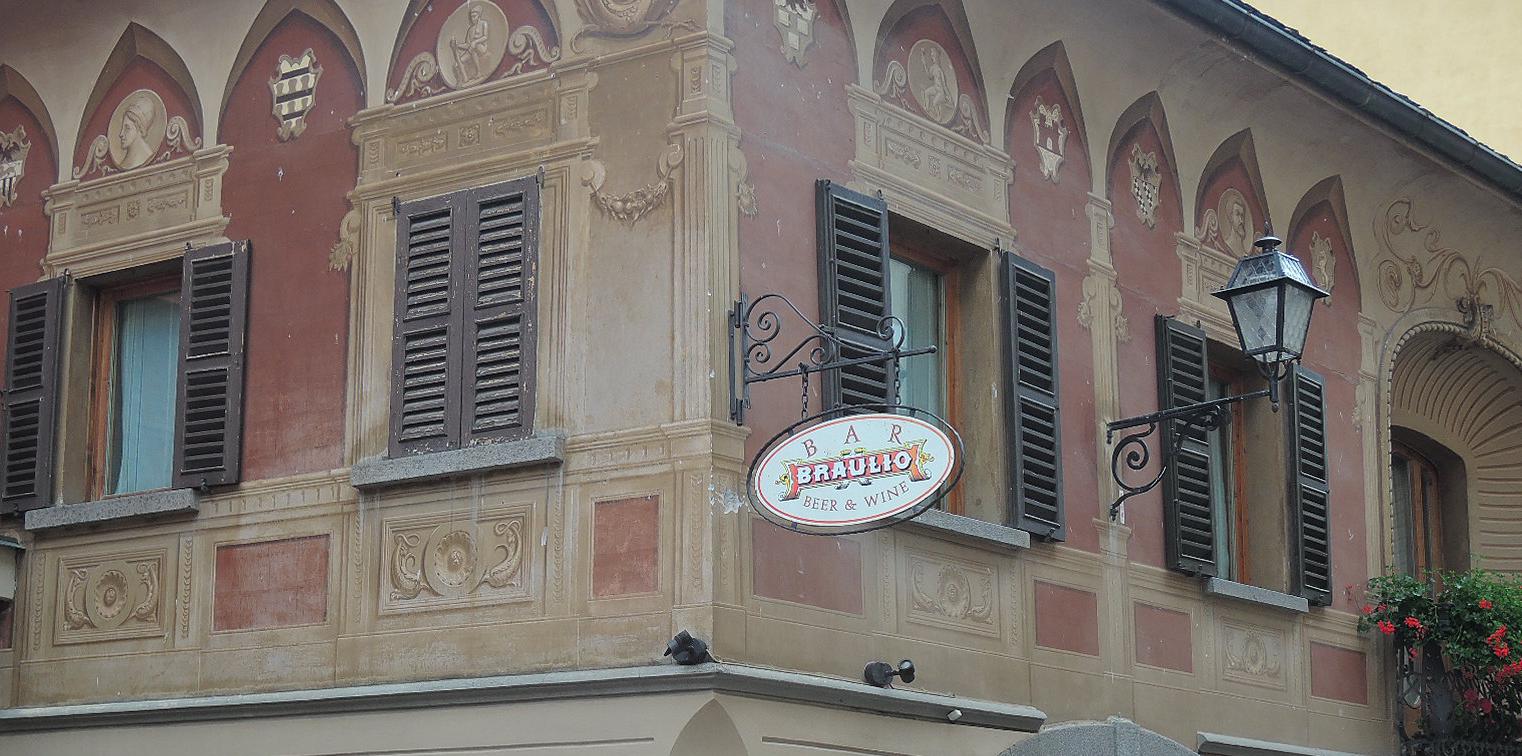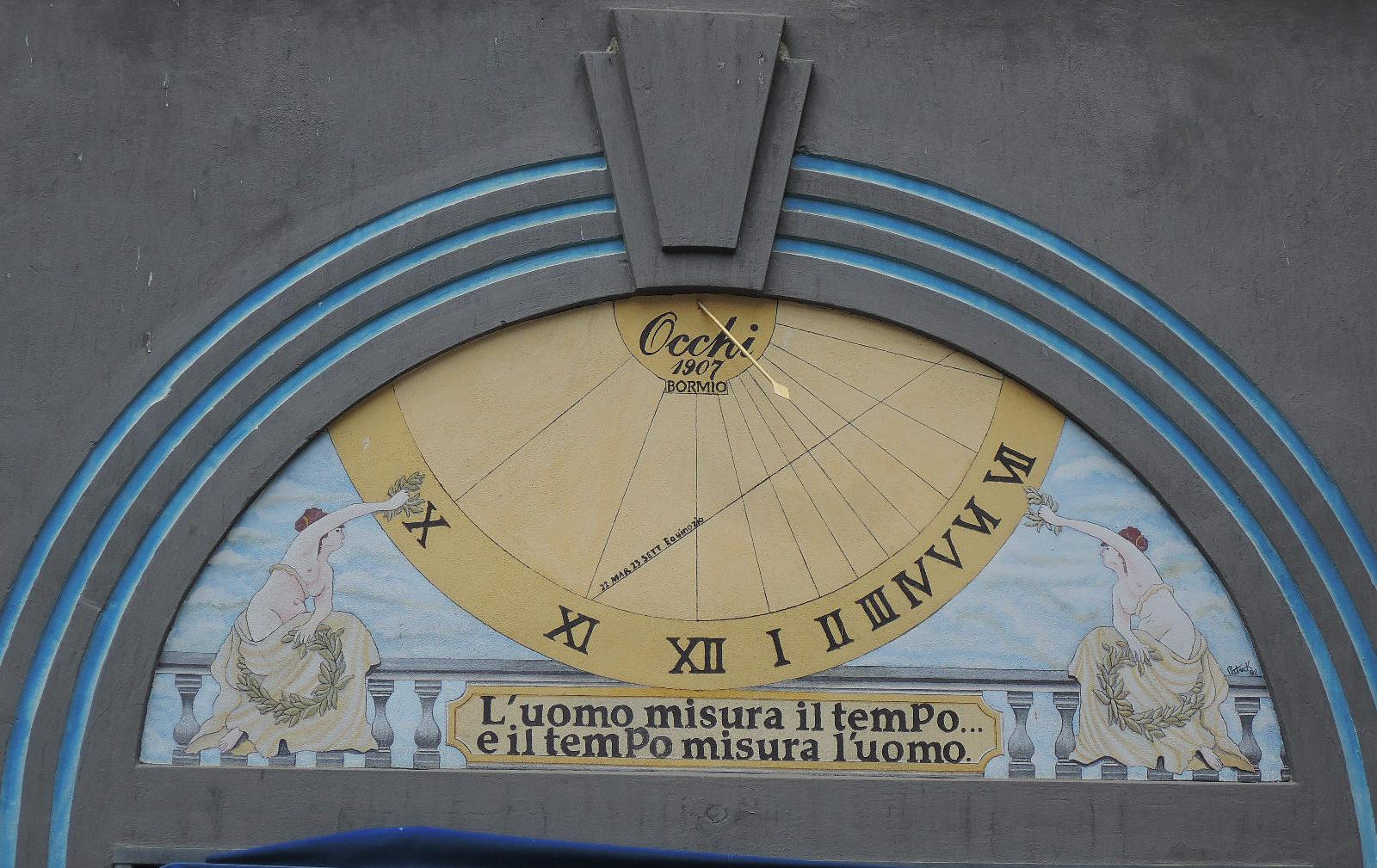 But! These people close everything down by 9:30 pm the latest, despite the tourism. More yet: there not being convenience stores, starting from 5-6 pm, time when shops close, there's no way of buying anything; therefore, if you're a bit forgetful, you may well end up your day without a dinner – which has been the case.
My hotel's landlady tells me that, for crossing the mountains over towards Austria, Stelvio pass (in Italy) is more beautiful than the neighbouring Santa Maria pass (in Switzerland); but, putting this opinion to her -presumed- Italian patriotism, I'd rather check it by myself. So, next morning I take Rosaura -without cases!- and take a tour that I happen to enjoy like if I was a happy person. From Bormio I ride to Prato Alto Stelvio, then to Sluderno and, thence, I come back through Switzerland, taking to the left, in Santa Maria Val Mustair junction, a narrow, deserted and neglected road, finally leading cloase to Bormio.
Now, I have to admit that, patriotic or not, the lady was right. Not only Stelvio is sensibly nicer, but also the Italian roads are in a better shape than the Swiss. It seems that the wealth brought to Switzerland by European politicians, tax evaders and other fraudsters is not used by the Swiss government for improving their roads.
The atmosphere at Passo dello Stelvio has already been described. A real motorcycle exhibition and a gathering of weirdos of all kinds. Perhaps the funniest I saw was a group of Germans riding on old Vespas, luggage and all.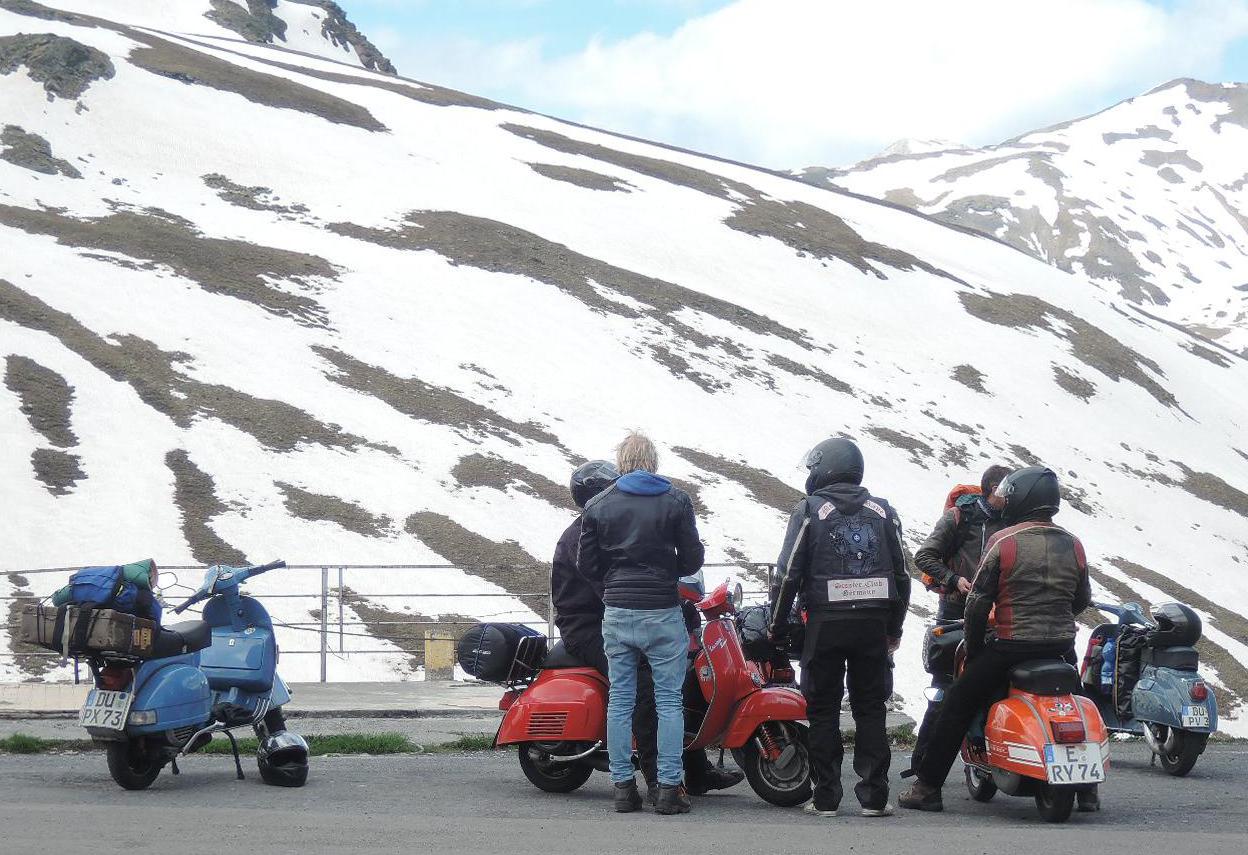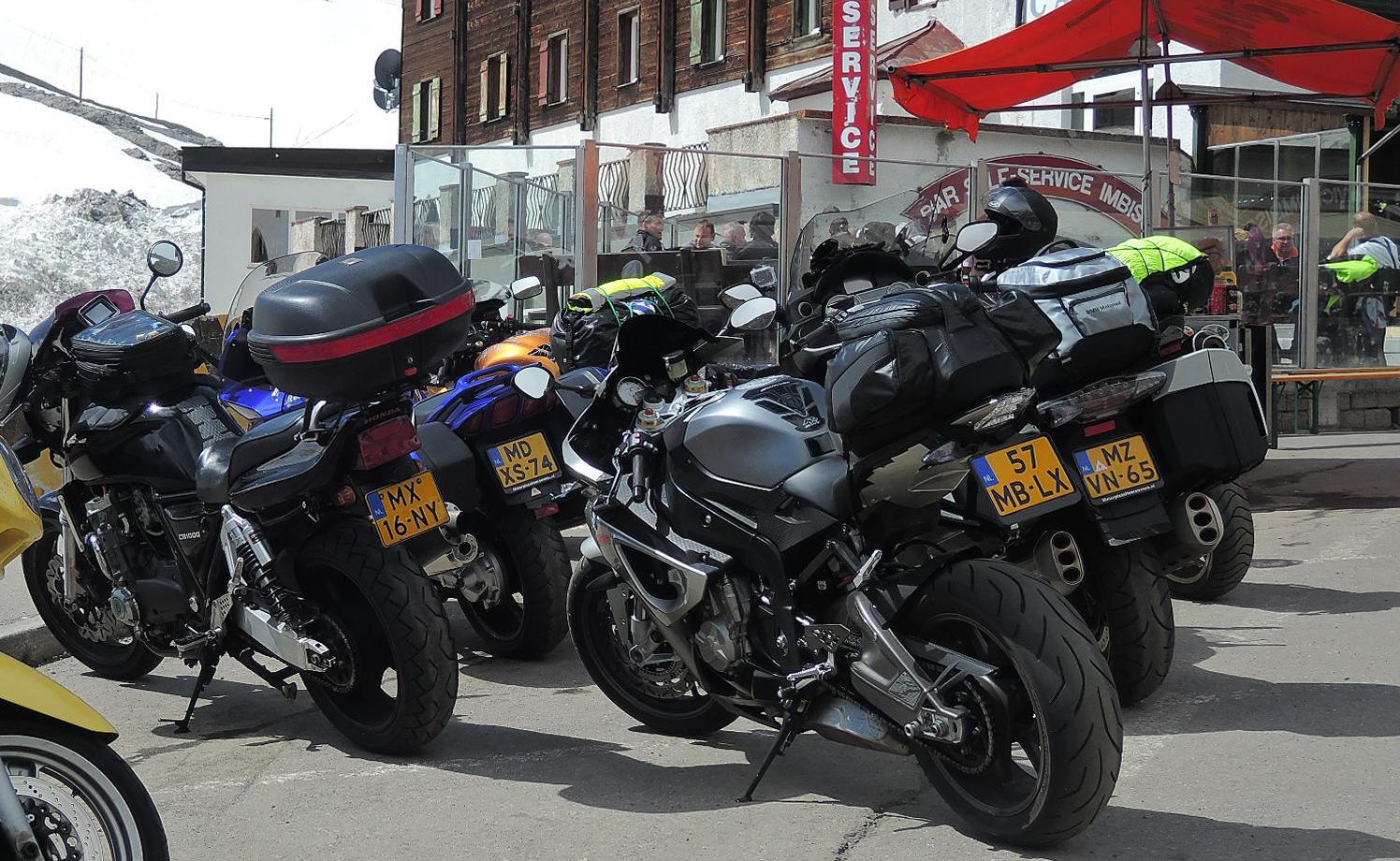 For crossing over Stelvio from South to North sides (or vice-versa, obviously) a driver needs to take no less and no more than eighty six hairpin bends. I counted them carefully one by one. As I've been told, some biker groups time their times, though with all that much traffic on this road I can hardly understand how the results can be meaningful.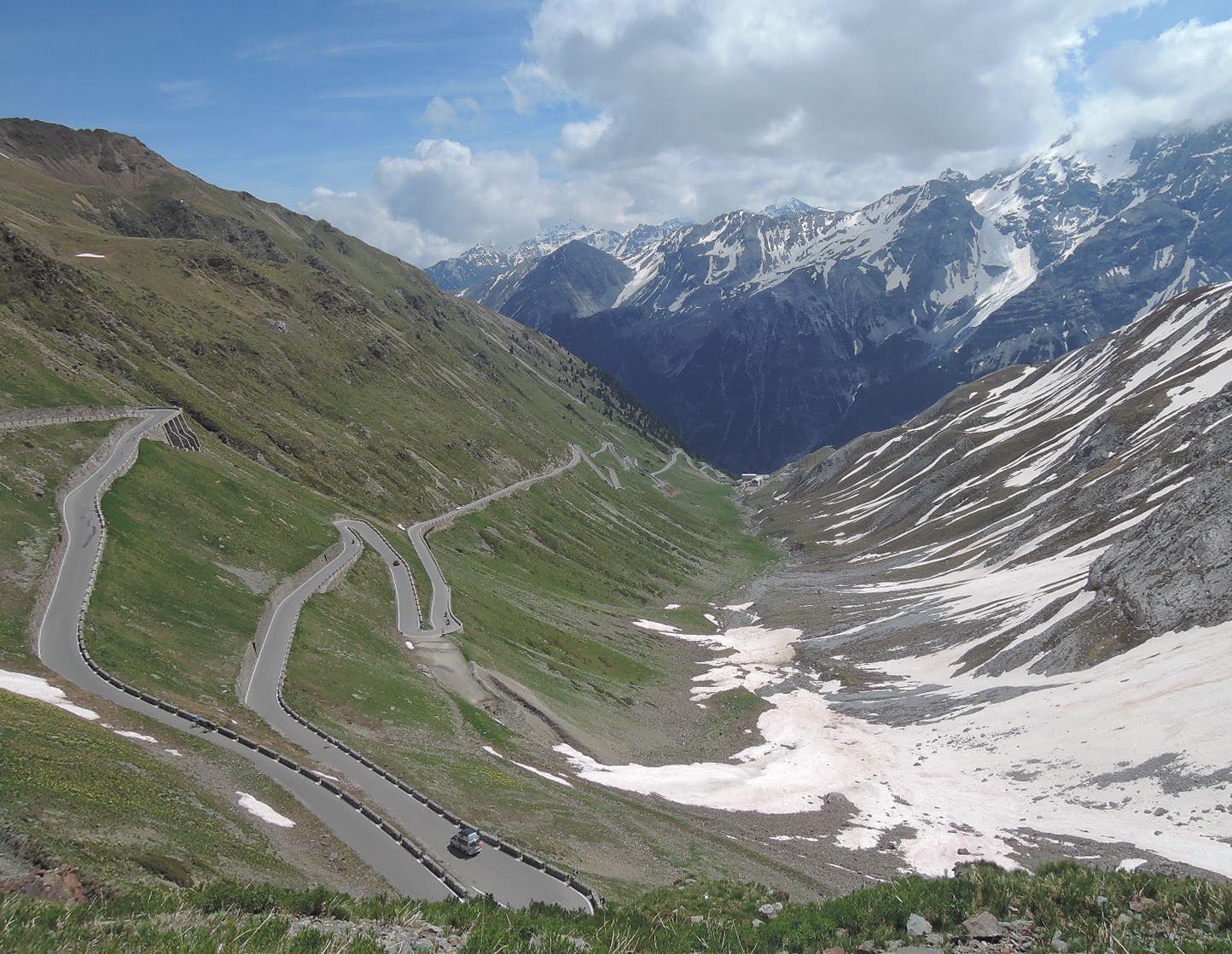 And it's cold up here! Despite being full July and having a bright sun, the chill air bites, and you can't go around just on a T-shirt. A good coat is necessary.
The other pass, via Switzerland, is fair less popular and sensibly duller. It has called my attention, by the way, the fact that, despite this country not beloonging to the EU, the borders are not surveyed around here. The one to the north, by Tubre, has a deserted control booth; but the one to the south (close to Bormio) has just nothing in the way of a police check; just a neglected and rusty crossing gate, barely for the records.
And thus far Italy, for the moment being. A unique and surprising experience. A blend of modern and old, of anchored-in-the-past places with cutting-edge ones, of anachronism and futurism, of traditional values with contemporary ones. An artistically, culturally and socially rich country.
previous chapter | next chapter
[:]