[:es]Vaison-la-Romaine, donde he pasado la última noche, pone fin al tramo de tierras bajas que he tenido que atravesar: el lado más oriental del Rosellón. A partir de ahí, y siguiendo hacia el sol naciente, la carretera va ganando altitud poco a poco, el terreno se ondula de nuevo y el paisaje se torna otra vez interesante. Estamos en la región que los franceses denominan Altos Alpes.
¡Y qué cordillera tan joven, esta de los Alpes! Bien se ve en la pronunciada V que hacen los valles y en la no menos pronunciada A de las cumbres, formando entre ambas escarpadísimas laderas, como se aprecia en esta foto.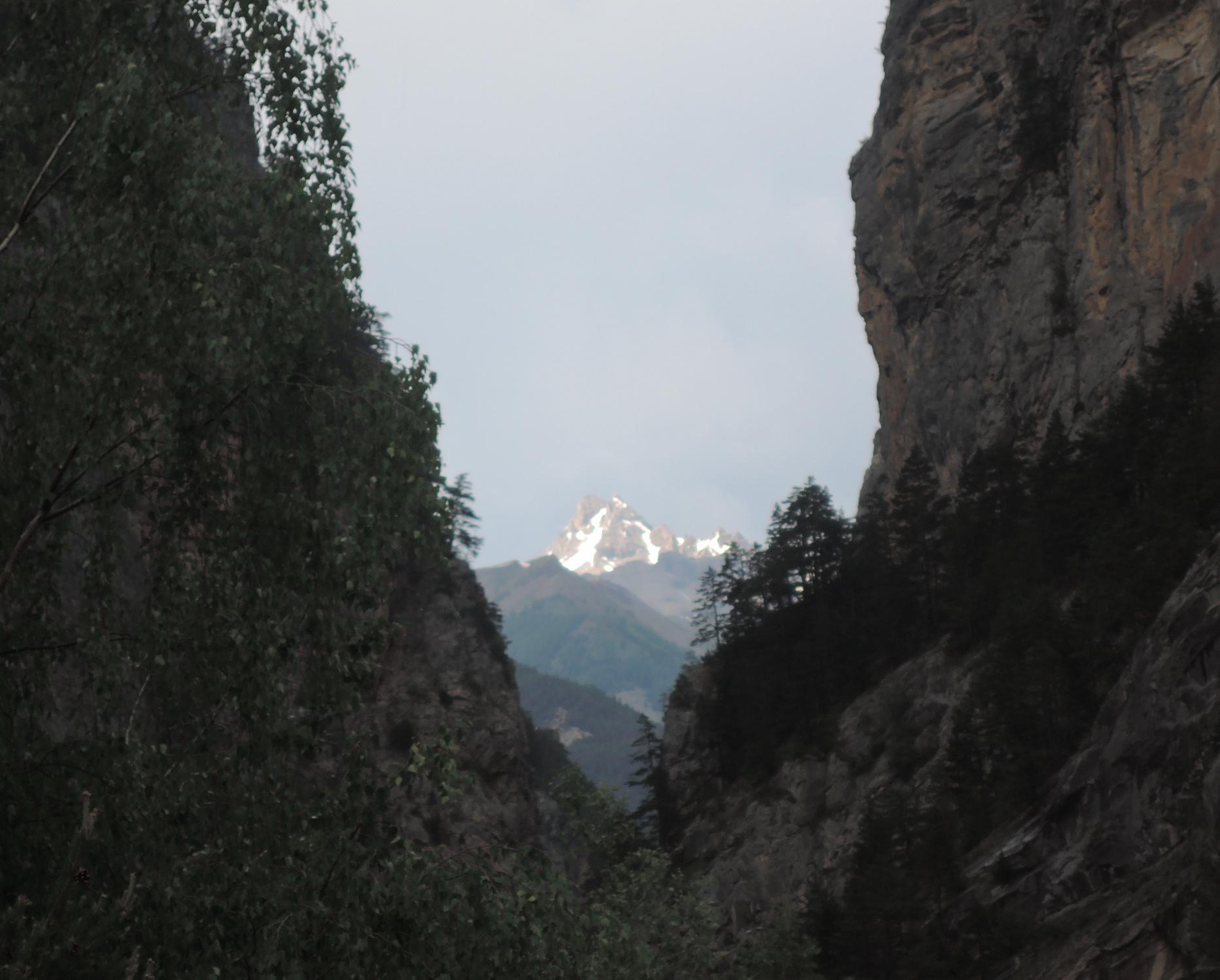 Pero no sólo en eso: también se nota en la acelerada erosión, que está en pleno proceso de limar los desniveles e igualar las diferencias de altitud, quitándole los elementos, inclementes, el suelo a la arboleda para arrojarlo a las cuencas de los tumultuosos arroyos. Poca vida les queda, por ejemplo, a estos árboles de la foto, que quizá en una o dos décadas -un pestañeo geológico- no tengan ya donde sostener sus raíces.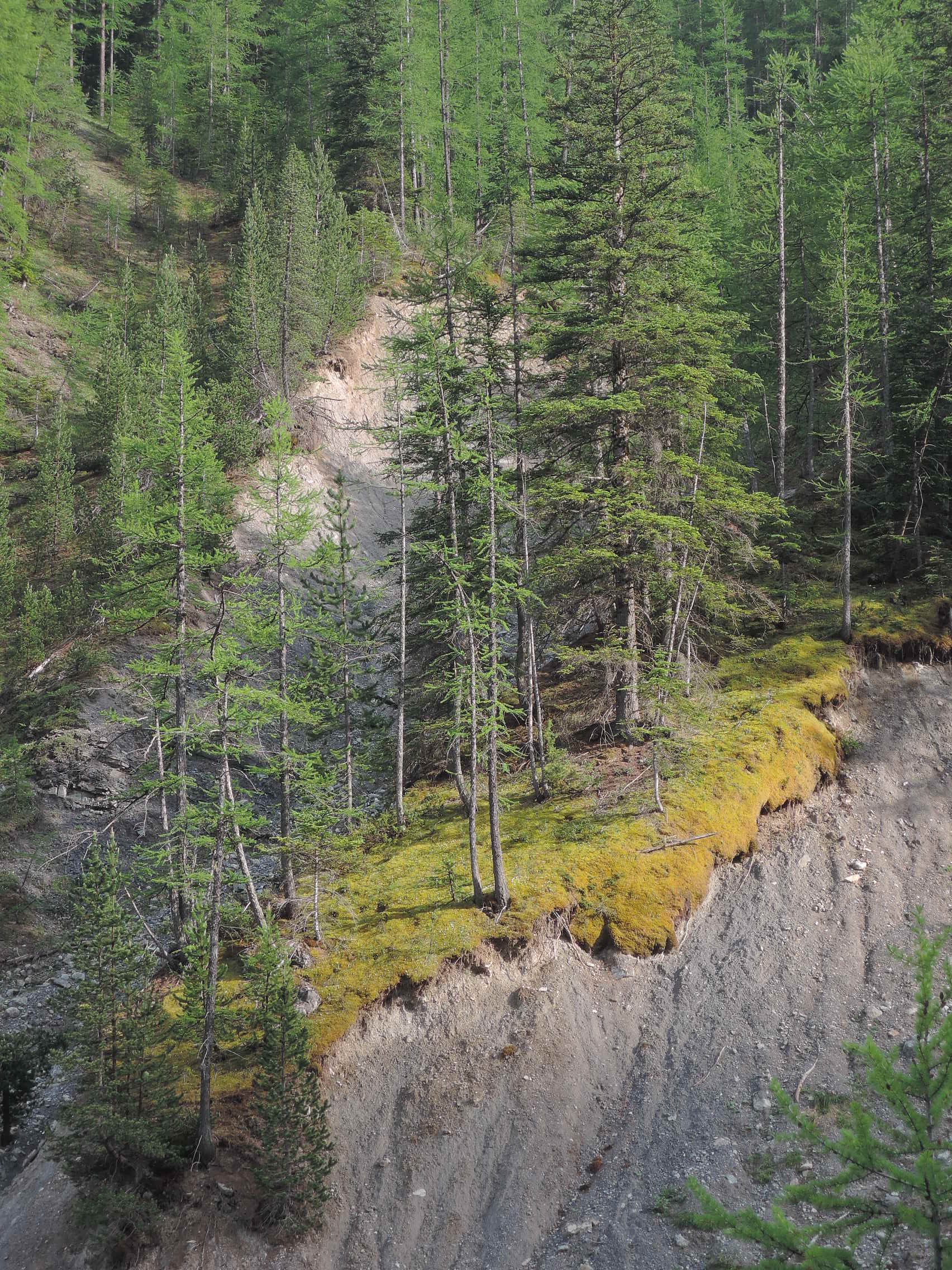 Los ojos del viajero no se cansan, en los Alpes, de mirar con curiosidad a su alrededor. Puede el cuerpo estar fatigado y la mente -o quizá el espíritu- perdida en tinieblas existenciales, pero la vista siempre está despierta, atenta, engullendo insaciable los paisajes.
Llega la tarde y refresca el ambiente. Abajo quedaron los calores del Rhône; aquí el aire se respira ya frío, y de alguna chimenea aún sale humo, pese a estar a las puertas mismas del verano. La frontera italiana queda muy cerca, pero quiero esta noche dormir aún en Francia y dejar las sorpresas -buenas o malas, no lo sé- para la mañana, con los sentidos bien despiertos.
Hay que buscar alojamiento, pero con mi afición por las carreteras de tercer orden no tengo claro que vaya a encontrar ningún hotel por este desvío perdido que he cogido hacia Briançon. ¡Espera!, sí: casi cuando ya he pasado el diminuto pueblo de Arvieux me doy cuenta de que he visto un letrero a la derecha, Chambres d'hôte. Pego un frenazo y doy la vuelta. "¿Tienen habitaciones?" Sí, son compartidas, pero están todas vacías. La mujer, muy simpática, me pregunta a qué hora quiero cenar. Da por sentado que cenaré allí. ¿Dónde, si no? Es el único lugar en treinta quilómetros a la redonda. Quedamos en que a las siete y, mientras tanto, me doy un largo paseo por la montaña. Desde lo alto del camino echo la vista atrás y veo el pueblo a mis pies, apenas un puñado de casas.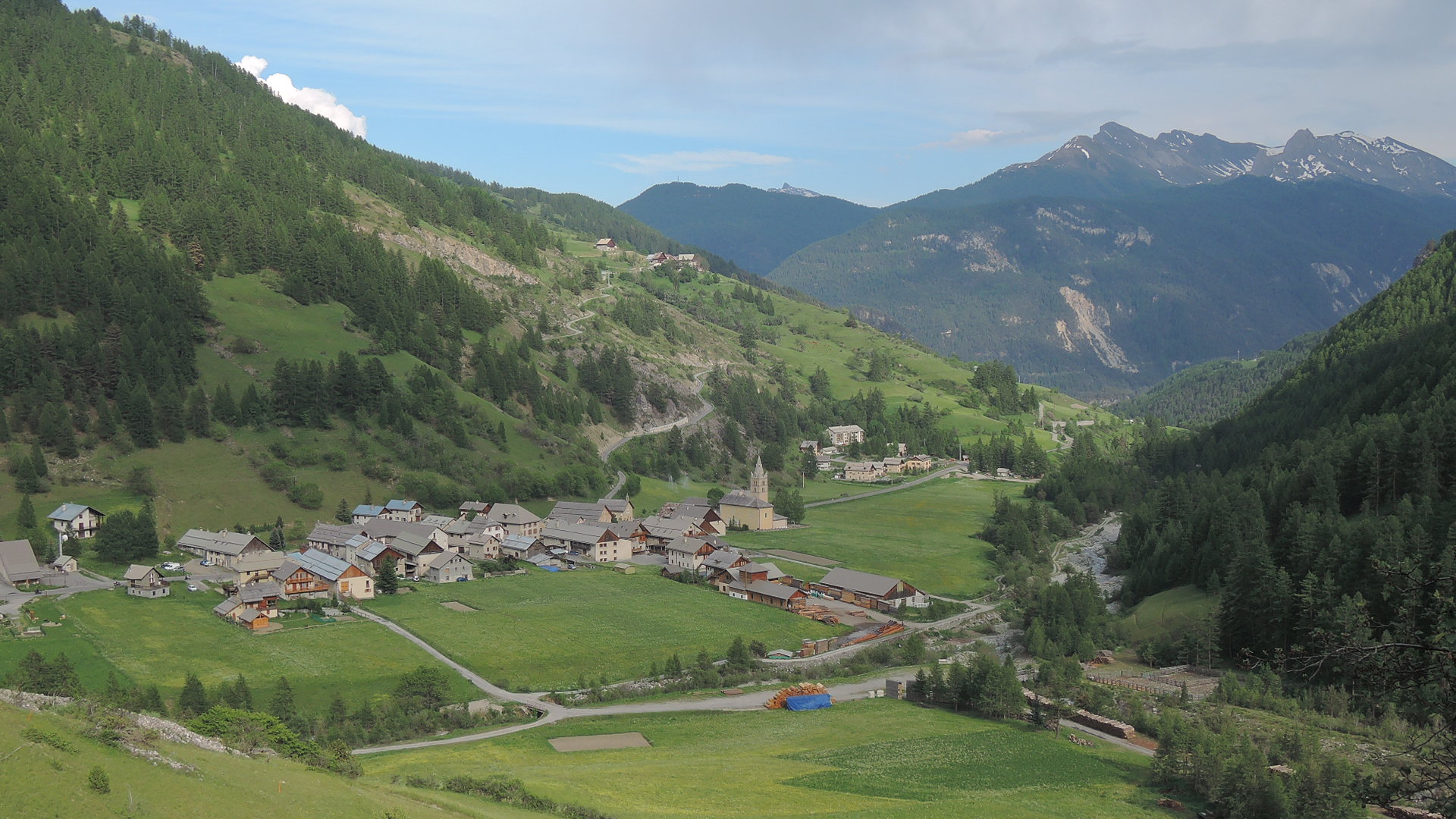 Cuando regreso me están esperando ya, ella y el marido. Me lo presenta; es un hombre grande, fuerte y feo, como deben ser los hombres. Él me sonríe tendiéndome su manaza para estrecharla. Va a ser quien cocine porque la mujer se marcha para casa. Atardece, y en unos minutos morirá el último rayo de sol sobre las mesas de la terraza, pero decido cenar fuera de todos modos, con la cazadora puesta. No es un buen cocinero este hombretón solícito y risueño, pero me prepara un postre exquisito, una especie de tarta de moras caliente en un cuenquito de barro.
Hablamos un poco mientras tanto. "¿Caen muchos clientes por aquí?", le pregunto. Me dice que a esa hora ya no. Así que cuando acabo de cenar cierra el quiosco y se marcha. Me quedo solo por completo en la casona. Tarda aún largo rato en caer la noche, porque estamos en los días más largos del año, pero el silencio es ya absoluto en esa aldea perdida de los Alpes franceses.
capítulo anterior | capítulo siguiente
[:en]Vaison-la-Romaine, where I spent the last night, puts an end to the lowlands I've had to cross: the easternmost side of the Roussilion. Thence, and heading to the rising sun, the ground gets slowly higher in altitude, starts rippling again in hills, and the landscape becomes once more interesting. We're in the region French call the High Alps.
And what a young mountain chain this is!, the Alps. It tells in the pronounced V of the valleys and the no less pronounced A of the peaks, both forming sheer slopes (as you can see in this below photograph).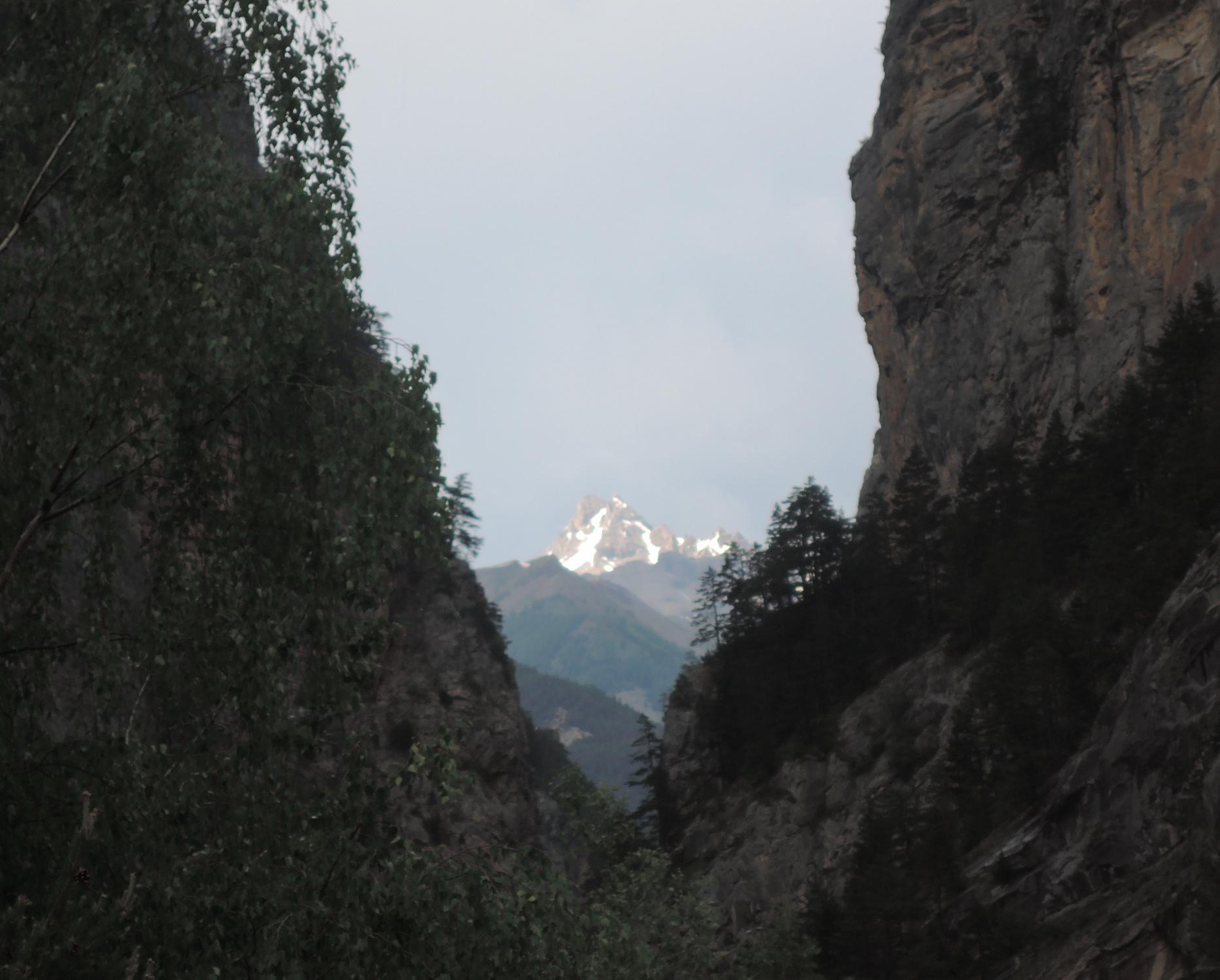 But not only there; it also shows in the rapid erosion, which is presently in full process of filing off the drops and levelling the inclines, the mercyless elements removing the ground off the forest for dumping it onto the rushing creeks. For instance, no further than one or two more decades (a geological blink) will longer live the trees in this picture, when they won't have ground where to put their roots.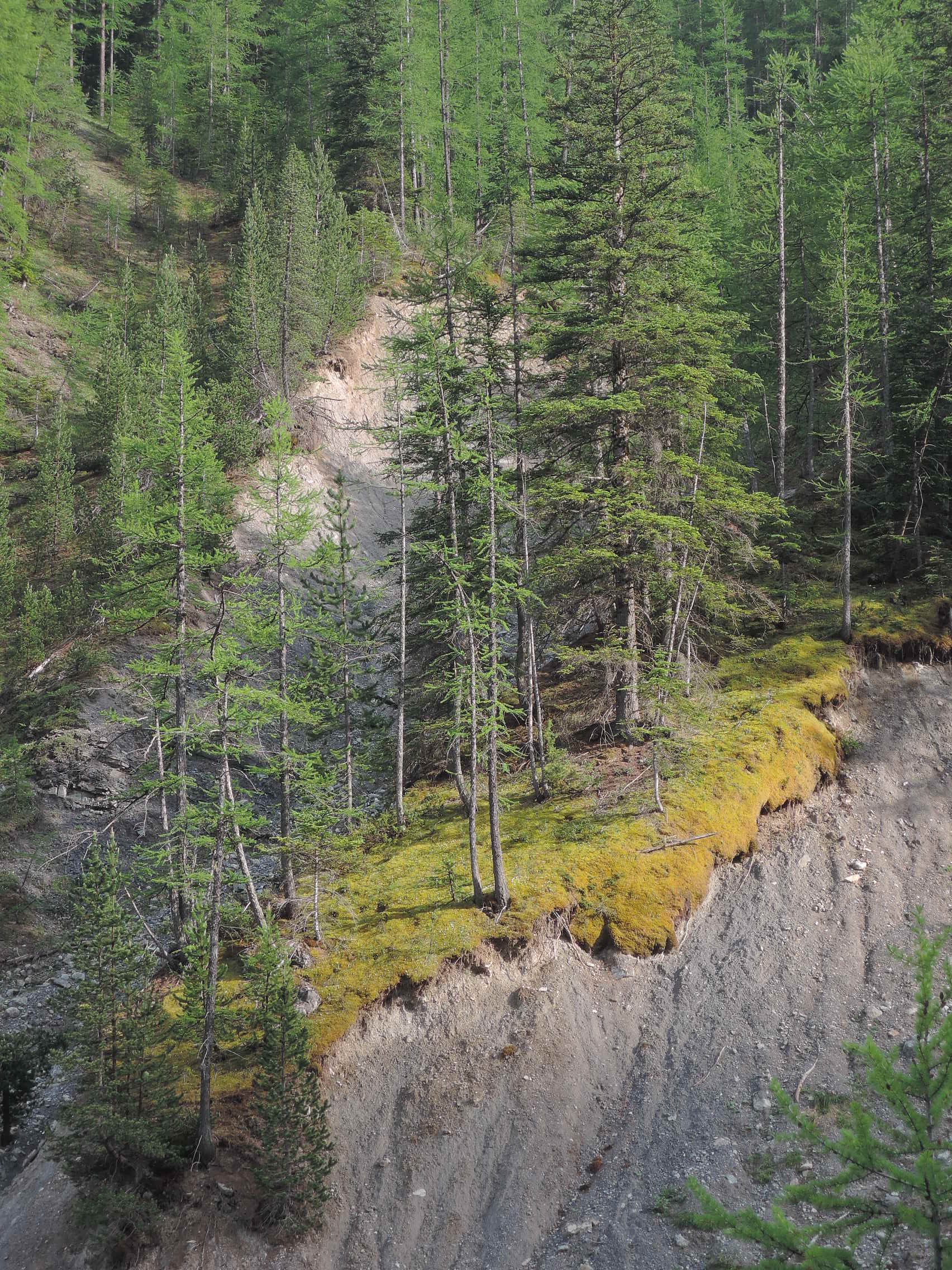 In the Alps the traveler's eyes don't get tired of intently watching around. The body may be fatigued and the mind -or perhaps the spirit- lost in existential gloom, but the sight is always awaken, attentive, insatiably swallowing the landscapes.
The evening has come and the atmosphere gets cooler. Down below I left the heat of the Rhône; here the air is fresh and cold, and even some chimeney is still smoking, despite being at the very gate of summer. The border with Itally is nigh, but I want to sleep tonight in France yet, leaving the surprises -good or bad- for the morrow, with my senses fully awaken.
So, I need to look for accomodation; but -being so fond of by-roads- I'm not sure if I'll find any lodgings along this lost detour I've taken to Briançon. Wait!, yes: almost after I've gone by the tiny village of Arvieux I realize I've seen a notice to my right, Chambres d'hôte. I jam on the brakes and turn around. "Do you have rooms?" Yes, they have. They're actually dormitories, but there's no one else today. The landlady, very nice, asks me what time do I want my dinner? We set it at seven and, meanwhile, I take a long walk in the mountain. From above I look back and see the village at my feet, barely a fistful of houses.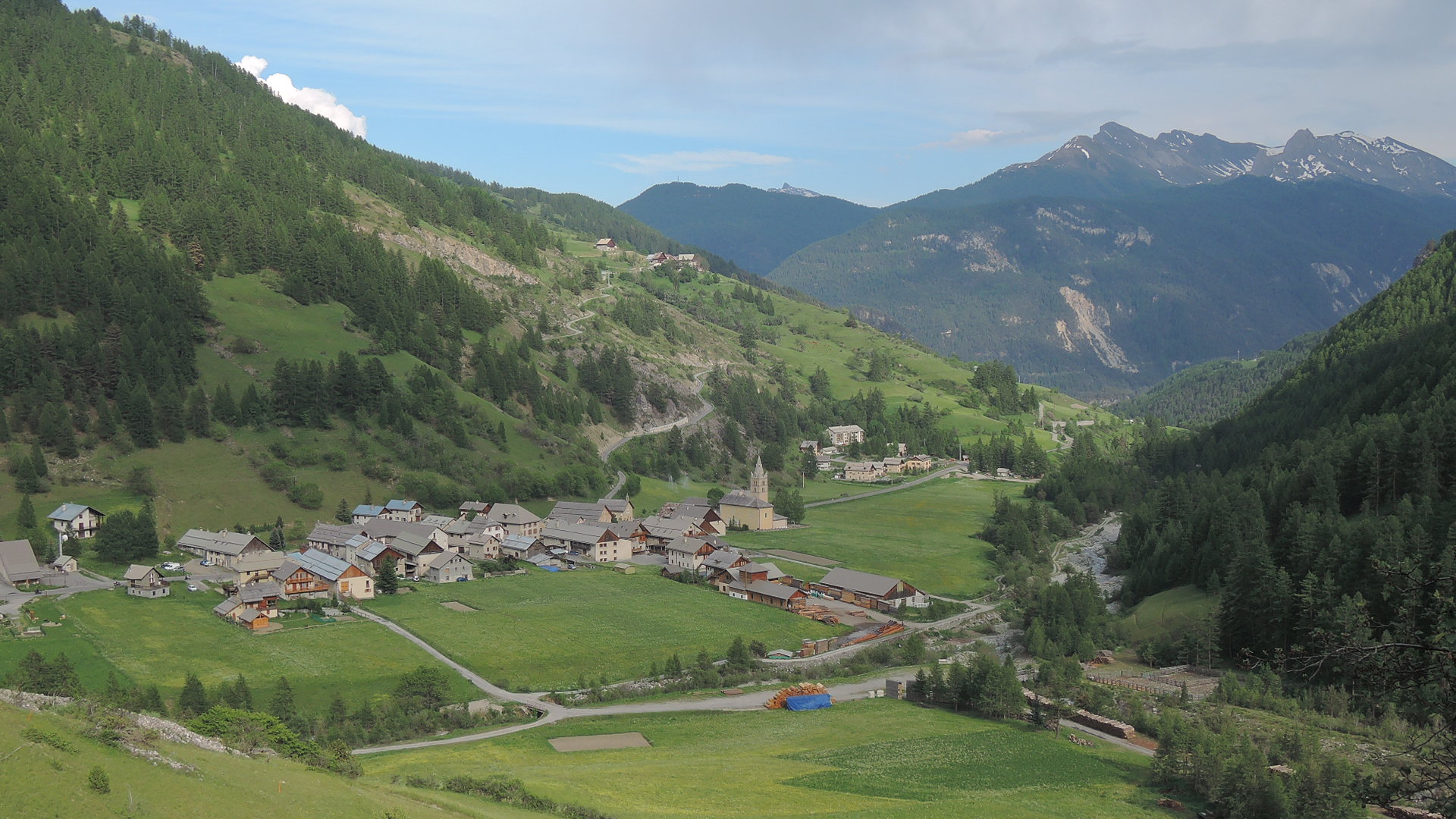 When I come back they're already waiting for me, she and her husband. The fellow is a big, strong and ugly guy, as men ought to be. He smiles at me and stretches his large hand. He'll be cooking dinner because she's leaving for home. In a few minutes the last sunrays will die that hit onto the terrace's tables, yet I choose to have dinner outside, with my jacket on. He's not a good cook, this cheerful and attentive big boy, but he manages to bake a delicious dessert for me, a kind of blackberry cake in a hot clay cup.
We talk a little. "Do you get many customers around here?", I ask. He says not this time of the day. So, when I finish eating he closes down and leaves the place. I'm totally alone in the house. Darkness takes yet a long while in falling on me -as we're in the longest days of the year- but silence is already complete in this lost village of the French Alps.
previous chapter | next chapter
[:]