[:en]
The tamed sun of late August, a few summer clouds and a Northwestern breeze entice me to take the moborbike for a day tour. I don't know where the wheels will take me: I just pick a road and let Rosaura guide me. Astride on her saddle, I ride on the road that runs along the once camino real towards Campezo and Estella over the Azaceta mountain pass.
The fast road bends trigger my adrenaline while I check, risking a skid, the holding of the tyres. I'm writing this, therefore I had some scope yet for leaning.
Once on the south slope, after a few connected bends, behold a Renaissance scenery: to the left, bouncing to the sky the oblique sunrays of noon, the ancient roofs and walls of Antoñana stand out against the green background of a grove. At once I understand that this was my today's destination.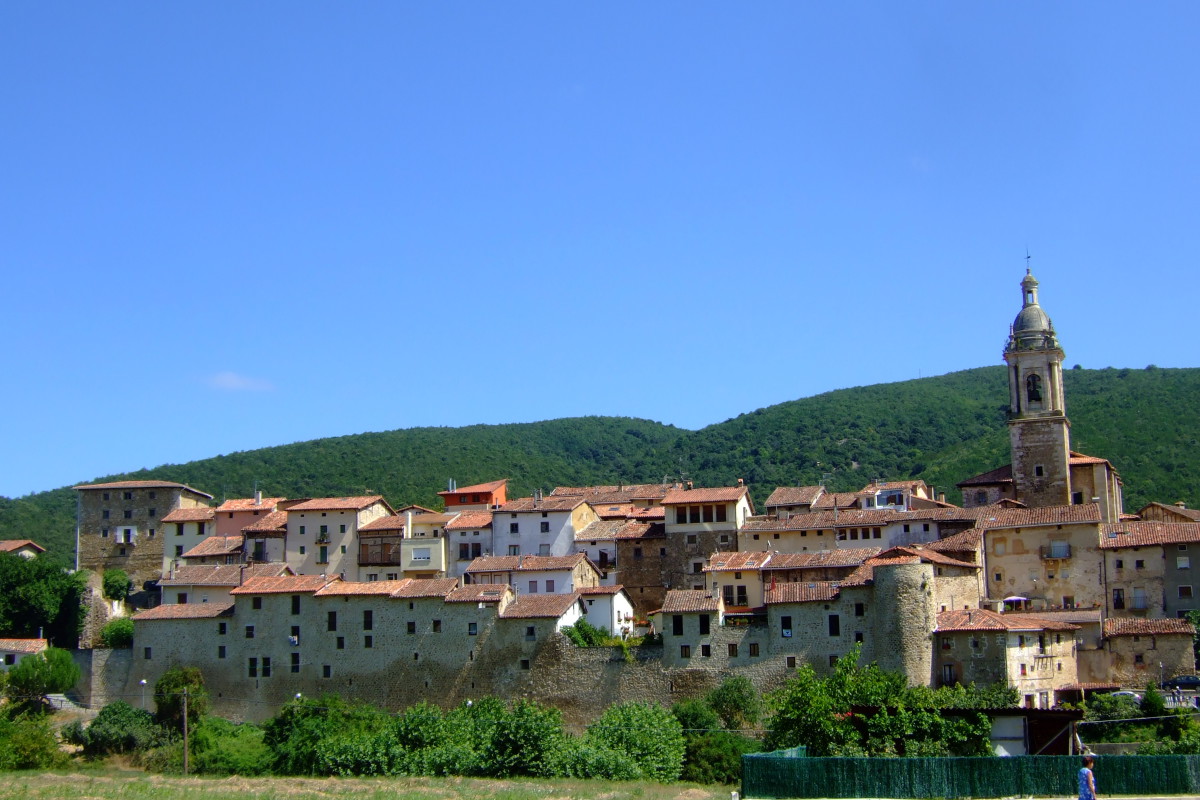 To my right, some government has erected a museum to the old vasco-navarro railroad; but I don't care much and I get my bearings to the slope climbing to the knoll whereupon the village settles: on a strategic enclave within the borderlands between Navarra and Castilla, upon the meeting of two main tracks, Antoñana was founded during the deep Midel Ages as a fortified borough, on top of an ancient fortress about whose origins not much is known, except through its name, Antoñana: during the Roman times, some Antonius must have had his country estate there.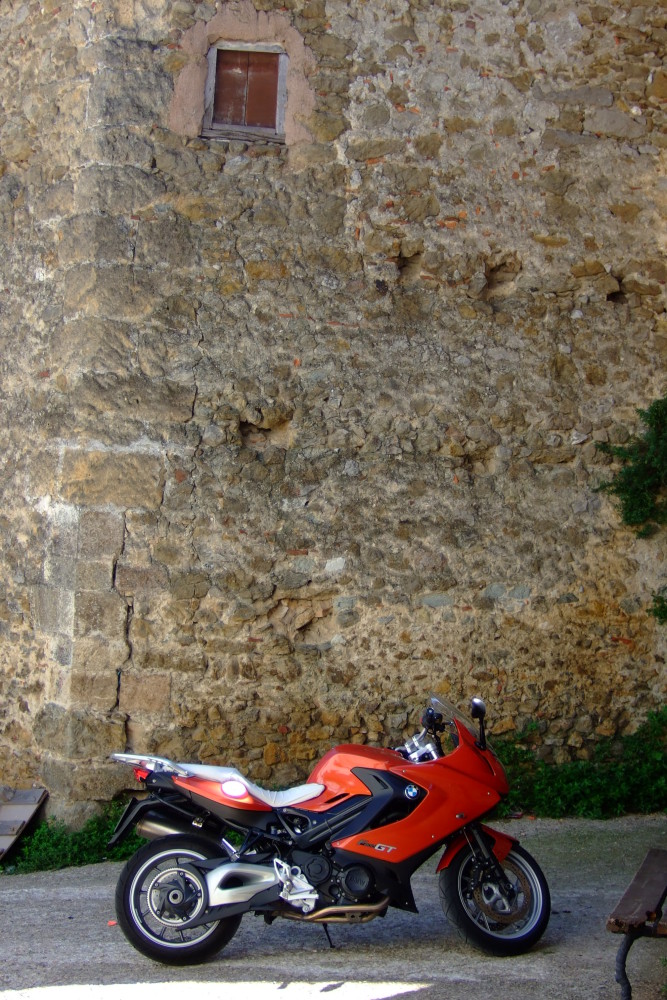 I park Rosaura by a wall, walk under the lancet arch gate and begin to go round the borough's archaic layout. Today there's some weekend atmosphere: the pub is full of people, some kids are playing a ball by the frontón while some others seek and hide throughout the passages, lanes and dark winding alleys, which give them endless ground for their rushabouts. A truck's lundspeaker sells juicy Calanda peaches.
Because of the struggles between both kingdoms, Navarra and Castille, since XIst century these lands used to shift hands from crown to crown. On 1182, the king of Navarra Sancho "the wise" fortifies Antoñana and grants it the Privilege. Only twenty years later, the garrison becomes once more Castillian, this time for good, under the rule of Alfonso VIIIth. Since then, and to our era, it has belonged to Castilla.
In those times, the province of Álava was a battleground where, overlapping the wars between both kingdoms, the local feudal families settled their fights over and over for generations. The lordly families of Ayala, Orozco and Velasco split their blood and paid some lives in episodes ranging from night ambushes to plain pitched battle. Alike Capulets and Montagues, the Mendozas and Guevaras fought among themselves for over a century. These slaughters came to an end when the Mendoza lineage, of Navarra, passed to serve Castilla in XIVth century. In that atmosphere of internecine struggles, Antoñana was unattached to any lord until in 1367 was subjected to Rui Díaz de Rojas by gift from Enrique Trastámara the IInd; and one century later the borough passed to serve the lineage of Hurtado de Mendoza, whose jurisdiction was argued by its residents for decades, until, eventually, they paid to the Crown for buying the end of their serfdom.


Upon stepping across its south gate, I come across the church of San Vicente Mártir, built on top of a former fortress-church. The ashlars make a contrast with the wall's masonry whereto it leans. Some girls, oblivious to history, play along wrought-iron gate's bars, under the shady and secluded XVIIIth century portico, filling with childlike echoes, merry and everlasting, the place's vaults.

Then I scout with fascination and awe the ancient streets with their matchless and authentic medieval flavour, shared with other near towns like Salvatierra; the period's features remain present, giving the village a classic warlike look; and, but for the inevitable signs of contemporary life, I'd thought I went back nine centuries: the three main parallel streets, connected through passages, lanes and alleys; the castle-houses, the tower-strongholds, the coats of arms, stone all over…

Nowadays, contrasting with the grim and severe masonry of its old walls, there are also some colourful corners. Who knows? Maybe ten centuries ago women also decorated their houses with flower pots, whenever they could…

While scouting the borough, noon gave way to afternoon, people sought their homes and children faded away behind the mysterious corners or under the shadows of the arcades. I'm back to the main plaza. Some cars are gone, and there's noone sitting at the pub's tables. The waiter is clearing away. The sun pours a golden light upon the neighbouring hillside, at whose bottom lies the graveyard and the chapel. Rosaura is waiting for me at the walls foot, unshaded.


Before saying farewell to Antoñana I take the customary drink and tapa of my tours. One per village. The pub's waiter showes the typical Basque sullenness. I get served a chilled zurito (small beer) and a pincho of homemade tortilla (potatoes from the garden, countryside eggs). I enjoy it as if it was the first time in my life. Rather unexpensive, too.
It's time to go. Jacket, helmet and gloves. I go down the street on a dead engine to the bridge over the creek and look back for the last time at the medieval borough. Now the sun is warming up its western wall, made useful and quaint by the houses. I start the motorcycle and, in a few seconds, the roar of the exhaust and the whistle of the wind in my helmet bring me back to XXIst century. The road is mine.[:es]
El sol ya domesticado de finales de agosto, unas pocas nubes veraniegas y un vientecillo del noroeste invitan a coger la moto para una ruta local. No sé dónde me llevarán las dos ruedas: me basta escoger una carretera y dejarme guiar por Rosaura. A horcajadas sobre su asiento, recorro la calzada que cubre, con su negra cinta de asfalto, lo que fuera un camino real que buscaba Campezo y Estella por el collado de Azaceta.
Los rápidos giros del puerto me elevan la adrenalina mientras busco, a riesgo de un resbalón, el límite de adherencia de los neumáticos Continental. Si estoy escribiendo esto es porque aún me quedaba margen en la tumbada.
Ya en la vertiente sur, tras unas curvas enlazadas y al final de una breve pendiente se llena mi vista de un paisaje renacentista: a la izquierda de la carretera, reflejando al cielo el oblicuo sol del mediodía, destacan, contra el fondo verde de los prados y la arboleda, los centenarios tejados y las seculares murallas de Antoñana. Enseguida comprendo que este era mi destino para hoy.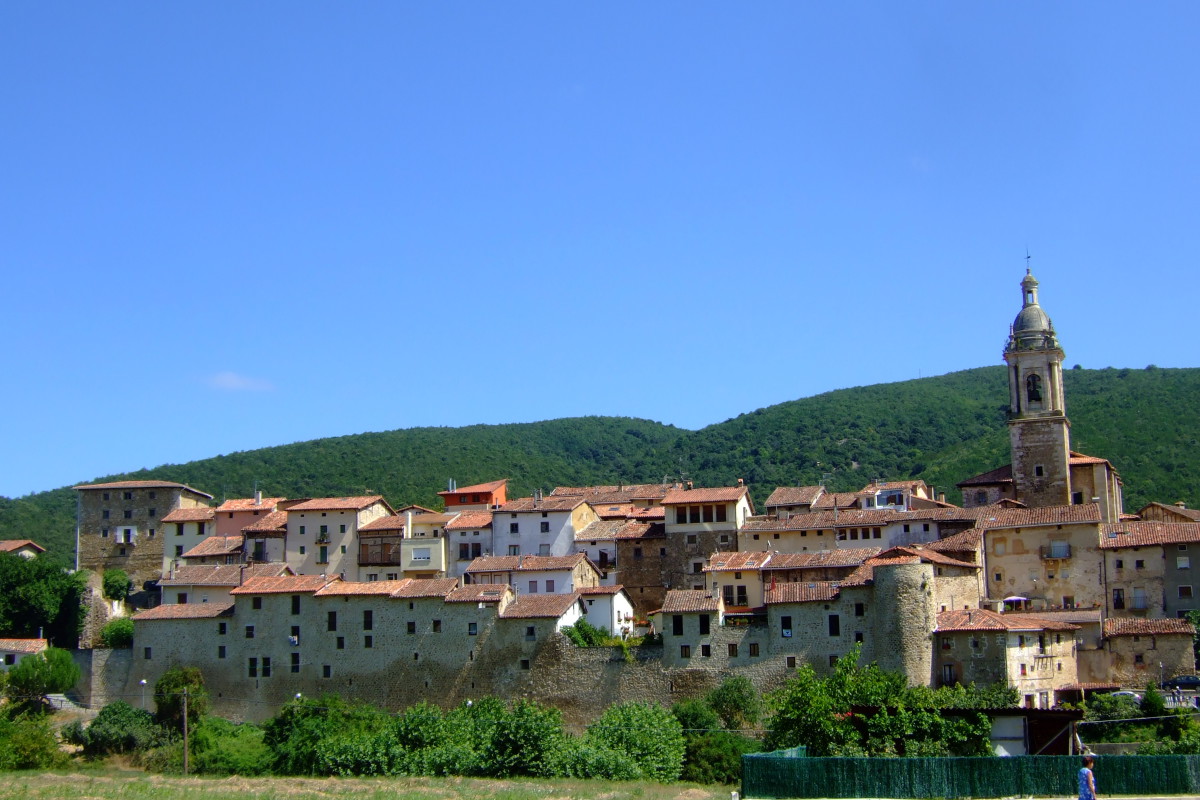 Al otro lado de la vía, alguna Administración ha dedicado un museo al viejo ferrocarril vasco-navarro; pero me ofrece poco interés, así que dirigo el manillar de la BMW a la cuesta que remonta hasta el otero donde se asienta la villa: en un enclave estratégico de la región alavesa fronteriza con Castilla, confluencia de los caminos que comunicaban Logroño con el Cantábrico y la Llanada alavesa con Pamplona, fundóse Antoñana en el corazón del medievo, como villa fortificada, sobre una primitiva fortaleza cuyos antecedentes pueden apenas inferirse por su nombre, Antoñana: durante la romanización, debió existir allí la finca de algún Antonius.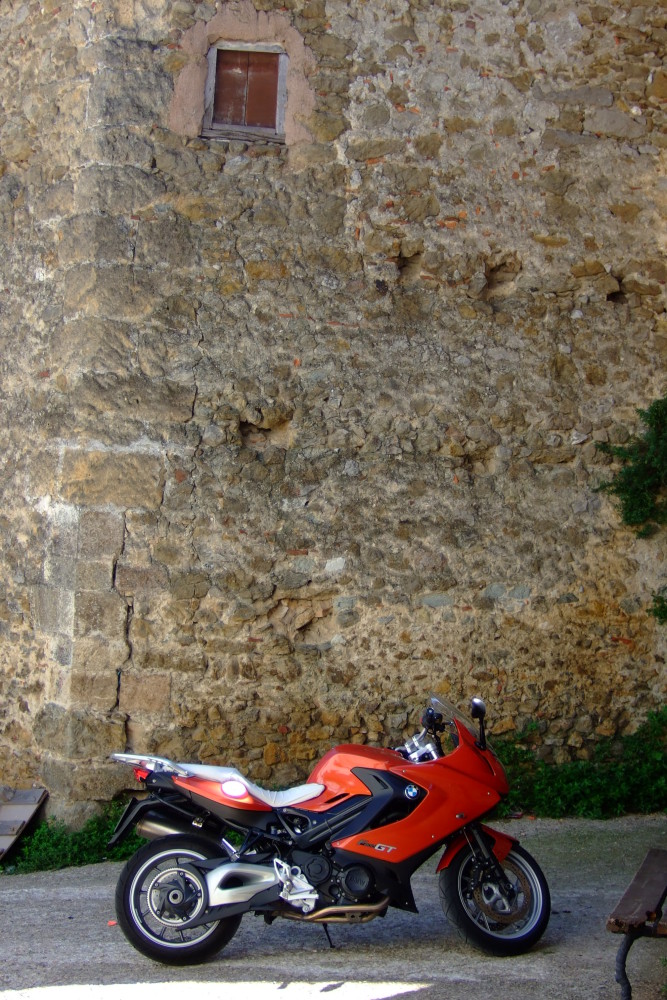 Aparco la moto al pie de un muro, traspaso la puerta de arco apuntado y empiezo a recorrer el arcaico trazado de esta villa. Hay hoy, en ella, ambiente de fin de semana: el club social lleno de gente, unos niños jugando a la pelota junto al frontón y otros persiguiéndose por las callejas, pasadizos y oscuros vericuetos, que ofrecen a sus correrías un sinfín de escondites. Una fragoneta vocifera, a paso de peatón, melocotones de Calanda.
Desde el s XI, debido a las pugnas entre ambos reinos, estas tierras venían pasando de una a otra corona. En el año de 1182, perteneciendo a Navarra, Sancho el sabio fortifica la plaza y le otorga la "Carta puebla" o fuero de población; y tan sólo veinte años más tarde pasa de nuevo, esta vez definitivamente, a la corona de Castilla, siendo rey Alfonso VIII; y castellana permaneció hasta nuestra era.
Por aquella época y hasta que, en el s XIV y bajo el reinado de Alfonso XI, el linaje navarro de los Mendoza pasara al servicio de Castilla, Álava fue un campo de batalla donde, superponiéndose a las luchas entre ambos reinos, las familias señoriales dirimieron sus contiendas durante generaciones: Ayalas, Orozcos y Velascos derramaron sangre y perdieron vidas en escabechinas que podían ser simples emboscadas nocturnas o verdaderas batallas campales. Como en la leyenda hicieran Capuletos y Montescos, los Mendoza y los Guevara batallaron entre sí durante más de un siglo. En esa atmósfera de luchas intestinas, Antoñana permaneció de carácter realengo hasta que en 1367 pasó, por merced de Enrique II de Trastámara, a Ruy Díaz de Rojas; y un siglo más tarde pasaría al linaje de los Hurtado de Mendoza (herederos del afamado almirante de Castilla), cuya jurisdicción sobre la villa fue pleiteada durante largas décadas por sus habitantes, hasta que en 1635 compraron a la Corona el fin de su vasallaje.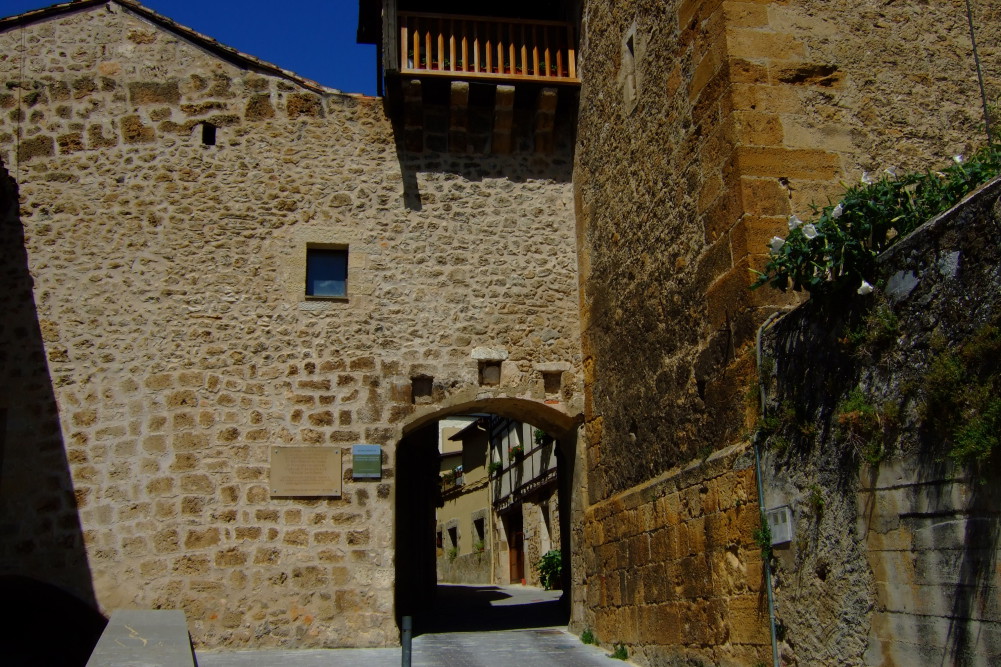 Nada más cruzar bajo el arco de su puerta sur, me encuentro con su iglesia, dedicada a San Vicente Mártir. Está edificada sobre la que había sido iglesia-fortaleza, y contrastan sus sillares con la mampostería de la muralla, a la que está adosada. Las niñas juegan, ajenas a la historia, entre los barrotes de la cancela, bajo los arcos del recogido y umbrío pórtico del s XVIII, llenando de ecos infantiles, alegres y eternos, los muros del ámbito.

Luego exploro con fascinación, casi con reverencia, las vetustas calles de la villa, de inigualable y genuino sabor medieval que comparte con otras localidades de la zona, como Salvatierra; sus rasgos de aquella época permanecen presentes, dotándola del clásico aspecto guerrero; y de no ser por las inevitables manifestaciones de la vida contemporánea creería haber retrocedido nueve siglos: sus tres calles principales, paralelas, comunicadas por callejones, pasadizos y cantones; sus casas-fortaleza, como la casa-torre del s XIII que, se cree, habitaron los Hurtado de Mendoza, o la torre-fortaleza del s XVI erigida por los Elorza; sus otras casas, blasonadas o populares, pero casi todas de piedra…

Mas también hay hogaño, en bello contraste con la adusta y fiera mampostería de sus antiguos muros, algunos detalles de color. ¿Y quién sabe si diez siglos atrás las mujeres también adornaban, cuando podían, sus casas con flores y macetas?

Mientras tanto, el mediodía solar da paso a la tarde, las gentes buscan sus hogares y los niños desaparecen tras las misteriosas esquinas de los pasadizos o bajo las sombras de los soportales. Regreso a la plaza principal. Varios vehículos se han marchado y las mesas del club social están ya vacías. El camarero recoge. El sol ilumina con luz dorada la ladera del monte vecino, a cuyo pie se ubican el cementerio y la ermita. Rosaura me espera al pie del muro; ya no hay sombra que la proteja.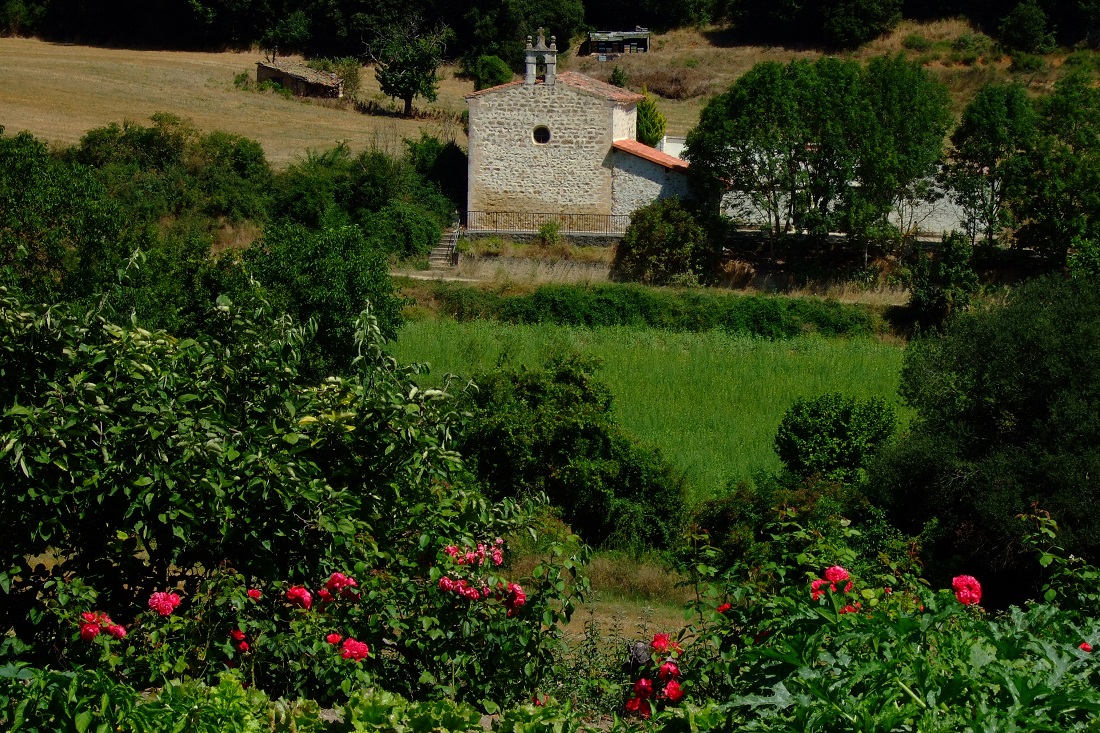 Antes de despedirme de Antoñana llevo a cabo el ritual de mis rutas turísticas: un trago y un pincho en cada pueblo. El camarero del club social me recibe con la característica sobriedad vascuence. Me pone un zurito bien frío y un pincho de tortilla casera hecha con patatas de la huerta y huevos del campo. La disfruto como si la comiese por primera vez en mi vida. El precio me sorprende por lo barato.
Es hora de partir. Cazadora, casco y guantes. Bajo a motor parado hasta el puente sobre el arroyo y echo un último vistazo a la villa medieval. Ahora el sol calienta ya su muralla oeste, que las casas han hecho útil y pintoresca. Arranco y, en unos segundos, el rumor del escape y el silbido del aire en el casco me devuelven al siglo XXI. La carretera es mía.[:]