Aquella mañana de nuestra quinta y última jornada de viaje estaba radiante: el sol brillaba sobre el manto de nieve que cubría el campo y acentuaba, por contraste, los demás colores del paisaje: el intenso azul de un lago cercano, la oscura línea gris del mar hacia el sudeste y el neblinoso azur del glaciar en las alturas del oeste. Probablemente tan buena ubicación y entorno fue lo que inspiró a los granjeros del albergue Hvoll para abrir un negocio que se les daba tan mal. Un buen lugar es, con frecuencia, el único recurso de un oportunista.
Gracias a Dios la nieve en la carretera estaba compacta y pudimos alejarnos de Hvoll sin preocupaciones. Y aún nos dio tiempo a hacer dos o tres paradas para sacar algunas fotos, y otra para almorzar algo, antes de que, ya en Vik (el último pueblo del solitario sur), el cielo se encapotara y empezasen los chubascos, ahora de agua, ahora de nieve.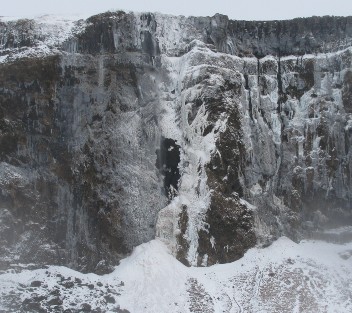 Cuenta la leyenda que había en Vik tres trolls llamados Skessudrangur, Laddrangur y Langhamar, los cuales, habiendo encontrado en el mar un navío de tres mástiles, intentaron arrastrarlo hacia tierra firme durante la noche, pero antes de llegar asomó la aurora y un rayo de sol sorprendió a los trolls, convirtiéndolos en piedra; y allí permanecen hasta nuestros días, petrificados frente a las costas de Vik: son el grupo de peñascos llamado Reynisdrangur, y es la principal atracción turística que tiene el pueblo. Por cierto que esos peñascos ofrecen una vista muy llamativa desde la desolada playa: en primer término la nieve recién caída, de un blanco purísimo, luego la chocante franja de negra arena volcánica, más allá la espuma blanquecino-azulada que forman las precipitadas olas al romper, y por último la oscura silueta de Reynisdrangur recortándose contra el cielo gris.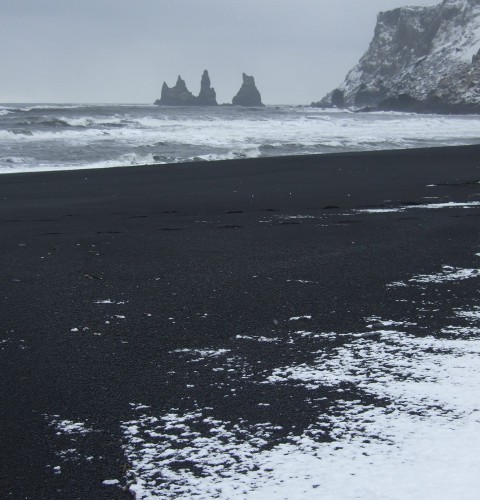 No fue tan sencillo como suponíamos encontrar una wifi abierta en Vik, para mirar el tiempo. En la tienda–uno de esos acogedores lugares, frecuentes en las regiones poco poblacas, que hacen de todo: centro social, gasolinera, bar de carretera, cafetería, souvenirs, sopa casera, trato cercano, ambiente relajado–en la tienda, digo, no había internet, y nos remitieron a la estafeta de correos; pero ahí cobraban caro por el servicio, así que fuimos al youth hostel, donde suponía que no tendrían inconveniente en ayudarnos. Y no me equivoqué: la recepcionista nos dejó muy amablemente que usáramos su wifi.
El pronóstico para el resto del día era de cielo nublado con chubascos de nieve ocasionales, y temperaturas algo más altas que la víspera. Nada que temer, salvo quizá hallar tramos de nieve húmeda en la carretera. De hecho, había una marcada como "intransitable" por el eficaz equipo de información vial islandés, pero no nos preocupó mucho, porque se trataba de una carretera en pleno Círculo Dorado –o Triángulo Dorado–, que como es muy turístico los quitanieves pasan con frecuencia.
Unas pocas leguas al oeste de Vik está la catarata Skógafoss, que con veinticinco metros de anchura y sesenta de altura (como un edificio de veinte pisos) resulta una de las mayores de Islandia, y a causa de la espuma que levanta, siempre que brilla el sol puede verse un arco iris frente a ella. Hace decenas de millones de años, el agua de esta cascada caía directamente sobre el océano, pero el fondo marino se ha elevado desde entonces en lo que ahora son las tierras bajas del sur de Islandia.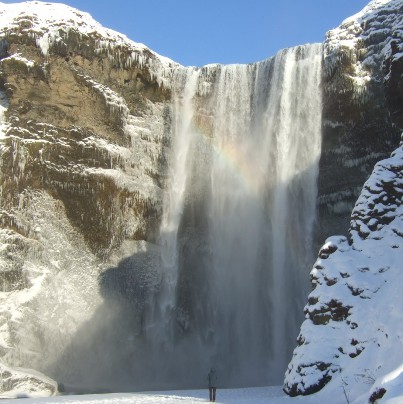 Dice otra leyenda (el folclore islandés está lleno de ellas) que el primer colono vikingo de esa región ocultó un tesoro en una cueva tras la cascada, y que años después los habitantes encontraron el baúl que lo contenía, pero que apenas alcanzaron a agarrar su asa lateral, éste desapareció. El asa fue entonces engastada en la puerta de su iglesia, como picaporte. Una leyenda bastante sosa, la verdad. Yo creo que podría haberla inventado mejor.
Las últimas horas de nuestra vuelta a Islandia las empleamos en turistear el renombrado Círculo dorado, nombre con que llaman al conjunto de varios lugares de interés que, a un par de horas al este de Reykjavik, se agrupan en un perímetro relativamente pequeño. Primero visitamos Gulfoss, un salto de agua en dos etapas sobre el río Hvítá: primero cae en tres escalones longitudinales al eje del río y luego, abruptamente, se hunde en una grieta de veinte metros de anchura. treinta y dos de profundidad, y dos quilómetros de longitud. Cuando se aproxima uno a la catarata, la grieta no se ve, y da la sensación de que las caudalosas aguas del río son limpiamente tragadas por la tierra.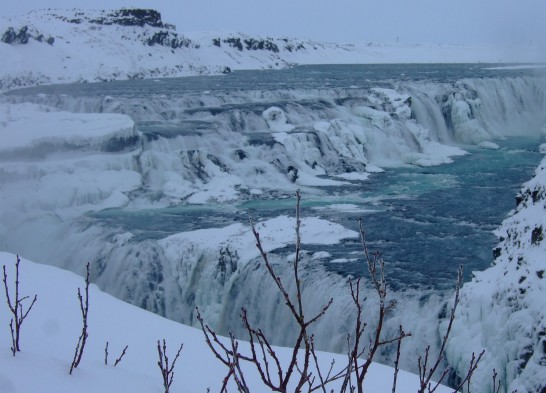 Junto al mirador de Gulfoss hay un pabellón que contiene, entre otros, una tienda de souvenirs y un espacioso restaurante donde se puede tomar la mejor sopa de cordero del país. Todo un clásico, muy recomendable, sobre todo teniendo en cuenta que, en el precio, va incluido repetir cuantas veces se quiera, así que por poco dinero se puede disfrutar de un almuerzo nutritivo, reconstituyente y sabroso.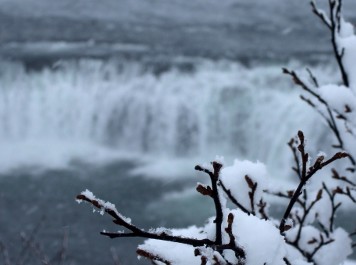 Después le tocó el turno al géiser, palabra que viene de Geysir, que es el nombre propio de uno de ellos, ya que hay varios en la zona, cada uno bautizado con un nombre por la tradición; pero como Geysir fue el primero que apareció dibujado e impreso, y por tanto el que primero conocieron los europeos, adoptaron la palabra para denominarlos a todos en un claro ejemplo de metonimia, o acaso de sinécdoque, ¡vaya usted a saber! A su vez, Geysir quiere decir "borbotar, manar a chorros". La mayor parte de los géiseres que hay en el Círculo dorado brotan sólo una vez cada varios años, cuando no décadas, y el único que lo hace cada pocos minutos es Strokkur, y por tal razón es, claro, el más fotografiado. Pero como es bastante doloroso tener que esperar, con las manos congeladas y la cámara aprestada, a que Strokkur suelte uno de sus borbotones y se le pueda sacar una buena foto, no nos tomamos muchas molestias al respecto. Pero creáme el lector: es todo un espectáculo.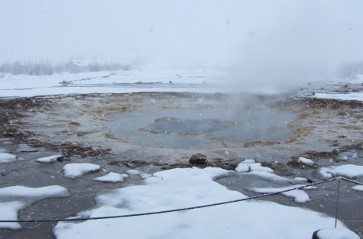 Lo que sí encontré, en cambio, muy interesante y más retributivo fue lo de asomarme al interior de estos agujeros, hacia lo profundo de estos calderos sin fondo, pozos que son de agua cristalina, humeante y azufrosa. Y al mirar hacia dentro de uno no pude evitar un escalofrío de vértigo al pensar que estaba, en realidad, viendo el borde de una sima a través de una lupa acuática, como si fuera un ojo de buey por el que el magma mostrase sus tripas. O acaso es el magma quien nos mira a nosotros a través de estos ojos. ¿Hasta qué profundidades llegará ese agua? ¿Alcanzará a besar los labios de la lava? ¿Cómo sería sumergirse por ahí hacia el corazón del volcán que hay debajo? Y aun otra pregunta me hice algo más metafísica: ¿cómo puede tanta vida caminar por esta frágil y delgada corteza que es la superficie terrestre, inconscientes u olvidados de la pavorosa bola de fuego sobre la que existimos? La propia Islandia no es sino una grieta en dicha corteza por la que el planeta nos muestra sus ígneas e incandescentes entrañas. Y es éste un pensamiento en verdad desconcertante.
Por último, visitamos el Thingvellir, el viejo parlamento, donde los primeros pobladores hacían sus consejos legislativos, o más bien reguladores, hasta que siglos después se sometieron, ya islandeses, voluntariamente a la Corona de Noruega; y aún antes de que se fuera del todo la luz pudimos bordear el escénico Thingvallavatn, el lago más grande del país, aunque para entonces ya los objetos nevados habían perdido su relieve.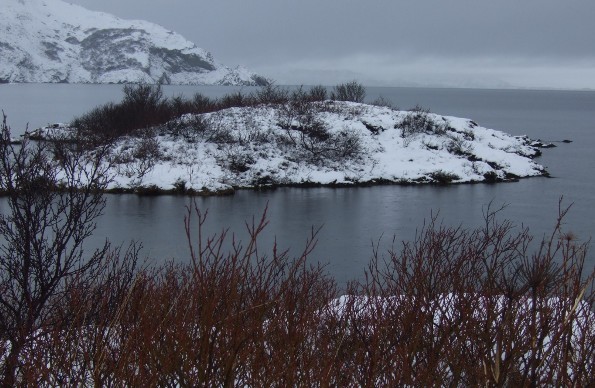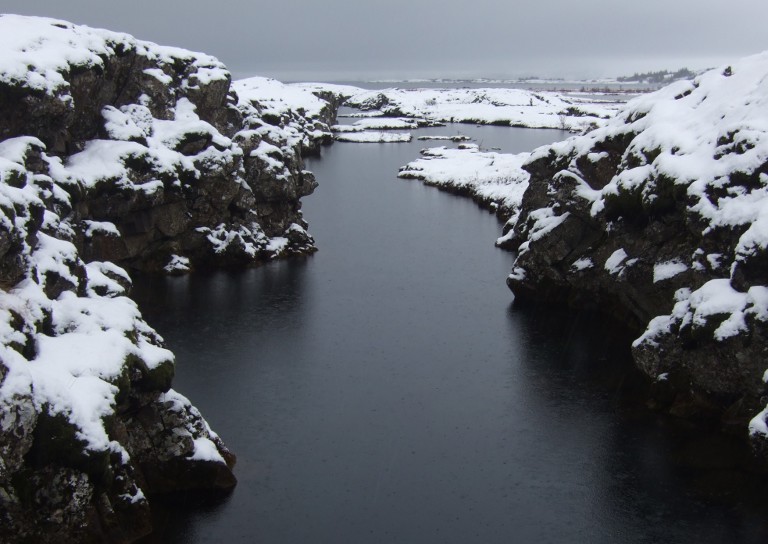 Y este fue el circular colofón de nuestro circular tour por Islandia, por su única y famosa carretera anular, Hring Vegur. Pero antes de terminar este capítulo contaré sobre un mandado que teníamos que hacer. Resulta que a Benito le habían confiado en España una botella de vino con el encargo de entregársela a una señora en un pueblo no lejos de Reykjavik, en el distrito de Selfoss; pero no le habían dado ninguna dirección, sólo el nombre de la mujer y el del pueblo, que en Islandia, al parecer, es información suficiente. El problema fue que el nombre del pueblo debía de estar mal escrito, porque no fuimos capaces de encontrarlo en los mapas ni en internet, y ni siquiera la gente a quien preguntamos supieron darnos razón. Lo más parecido que vimos sobre el mapa fue un sitio llamado Skálholt, y como era el único candidado, allí nos fuimos con la botella. Era un pueblecillo minúsculo, y las luces de todas las casas estaban apagadas, como si la gente se hubiera ido a misa; todas menos una, y a su puerta llamamos. Nos abrió una señora mayor que no hablaba inglés (cosa rarísima en Islandia), pero que no era, como es de suponer–la destinataria del paquete ni parecía conocer el pueblo que buscábamos; de manera que, no teniendo ya tiempo para nuevas averiguaciones, nos dimos por vencidos y nos bebimos el vino aquella noche.
Tengo que decir que, en el trecho desde el Círculo dorado hasta Reykjavik, aún nos topamos con algunos montículos de nieve en la carretera, casi invisibles en la oscuridad, y de hecho estuvimos de nuevo a punto de quedarnos atascados. Pero a estas alturas de la historia el lector se habrá familiarizado con esos impertinentes obstáculos tanto como nosotros lo estábamos entonces, y leer una vez más sobre eso tendrá ya tan poco interés para él como lo tiene para mí el escribirlo. Bástele, pues, como colofón saber que, una vez en Reykjavik, sanos y salvos tras este accidentado viaje, nos dimos el lujo de invitarnos a la original y auténtica, la única e inimitable sopa de langosta de Saegreifinn.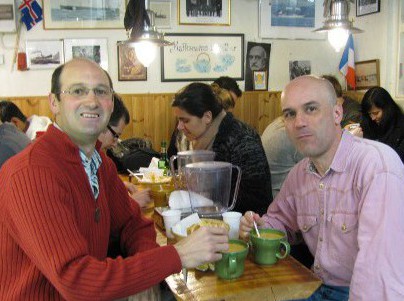 That morning of our fifth and last day's journey was radiant: the sun shone on the white blanket covering the land, emphasizing, by contrast, all the colours around: the deep blue of a nearby lake, the dark grey line of the sea to the southeast and the hazy azur of the glacier peaks to the west. Probably such a good location and nice environment was what inspired the farmers at Hvoll hostel to open that business they were so unfit for. Good locations are, quite often, the only resource of opportunists.
Thanks God the snow on the road was friendly packed down, and we merrily drove away from Hvoll, stopping two or three times for taking pictures or having a quick lunch. But by the time we arrived to Vik–the last town in the lonely south–the weather was already overcast with scatterd, moderate snow showers.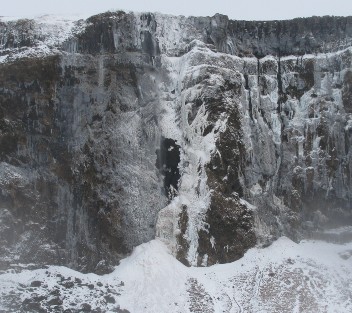 The legend goes that there were in Vik three trolls named Skessudrangur, Laddrangur and Langhamar, who found a masted ship on the sea and tried to pull it during the night into the shore, but before they managed to the beach, dawn came and they were stricken by sunrays, thus turned into rocks where they still can be seen today: the group of rock stacks called Reynisdrangur, which is the worthiest highlight around Vik. From the desolate beach the view is astounding: in the foreground, a stripe of pure white snow; secondly, the strikingly black volcanic sand; farther, the whitish foam formed by the raging waves; and lastly, in the background, the black Reynisdrangur contrasting against the grey sky.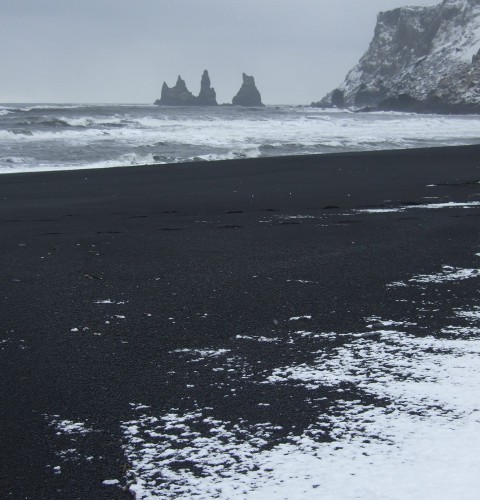 It wasn't so straightforward to find a open wifi spot in Vik to check the weather forecast. At the store–one of those places I like so much, quite common in scarcely populated regions, often the centre of local life, gas station, stopover, cup of coffee, homemade soup, friendly staff, laid back atmosphere–but there was no internet, and they sent us to the post office; but this was expensive, so we went to the youth hostel, where I knew they would be pleased to help us. And indeed they were: the friendly receptionist welcomed us to sit at the lounge and use their wifi.
The forecast for the rest of the day was: overcast with occasional and light snow/rain showers, temperatures a bit warmer. Nothing to be afraid of, except if we got wet snow on the pavement. Actually, a road in the Golden Circle was tagged "impassable", but we didn't worry too much because the Circle is very touristic and roads get constantly cleaned by snowploughs.
A few leagues to the west of Vik there is Skógafoss waterfall. With its 25 m width and 60 m height (like a 20-storied building) it is one of the largest in Iceland, and the spray it constantly produces creates a permanent rainbow when in sunny weather. Millions of years ago, its edge was a cliff of the coastline and the water fell right onto the ocean, but since then the sea bottom has raised and now constitutes the island's southern lowlands.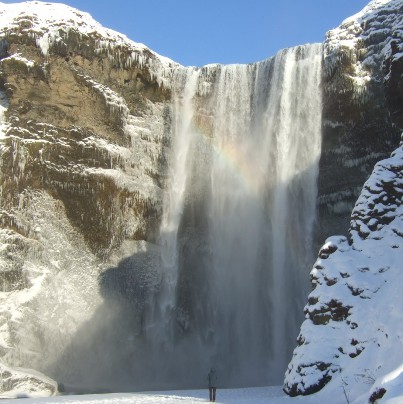 There is another legend (Icelandic folklore is full of them), that the first viking settler in the area buried a treasure in a cave behind the waterfall. Years later, locals found the chest with the treasure, but they were only able to grasp the ring on the side of the chest before it disappeared again. The ring was then used for the church door. Which is a boring legend, I'm sorry.
The last hours of our Icelandic tour were devoted to the well known Golden Circle (or Golden Triangle), which consists of a few tourist attractions some one hundred kilometres east of Reykjavik. First we visited Gulfoss, a cascadel in the course of the river Hvítá which has two stages: first it falls down in three steps arranged along the river axis, and then abruptly plunges into a crevice 32 m deep, 20 m wide and 2.5 km long. When approaching the fall, the crevice is hidden from the view, and it looks like if the mighty river were simply swallowed by the ground.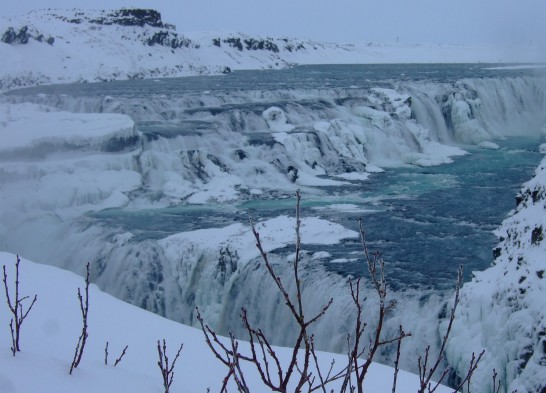 Right by the view point there is a large hall featuring a souvernir shop and a restaurant, where the best lamb soup in the country can be ordered. Quite a classic, absolutely recommended. Besides, as you can have seconds for the same (unexpensive) price, it makes for a filling and delicious meal.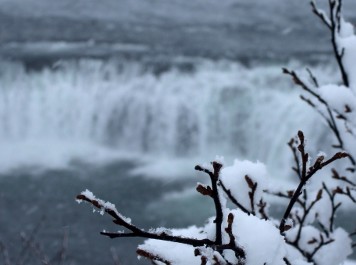 Next we went to the geysers. The word geyser comes from Geysir, which is actually the proper name of one of these natural, geothermal sprouts of water in Iceland. There are several of them around the area, each with a different name of its own; but Geysir was the first ever appearing in print and therefore the earliest known to Europeans, who took the word for the phenomenon. In turn, Geysir means "to gush". Most of the others in the Golden Circle sprout only once every several years (or decades!) The only one coming every few minutes is Strokkur, therefore the most photographed. Unfortunately, it was painful to wait frozen handed, camera ready, for Strokkur to sprout, and difficult to take a nice shot; so, we didn't take much pains for a decent photograph. But believe me, it's quite a spectacle.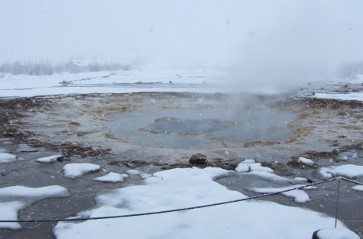 But what I found extremely interesting was to peep down inside the depths of their bottomless cauldrons, which are like pots of crystal clear waters, smoking and smelling sulfur. When I leant onto the brim of a well, I couldn't help the dizzy feeling of being at the edge of an abyss through which it might be possible to see the lava–or is the lava watching us through these watery eyes? And my fantasy rockets to Jules Verne when I try to think to which depths this water goes? Does it kiss the magma lips down there? How would it be to dive in one of these holes? It's amazing how can so much life exist and tread the extremely fragile crust of earth, forgetful of the colossal ball of fire we're sitting on. Iceland itself isn't but a crevice in this crust, where the earth shows its igneous, incandescent entrails; which is a bewildering thought.
We also visited the Thingvellir, the old parliament, which was the ruling council of the first settlers before they submitted themselves to the Crown of Norway; and also the scenic Thingvallavatn, the largest lake in the country, though by that time daylight had become so dim that every object covered by snow was reliefless.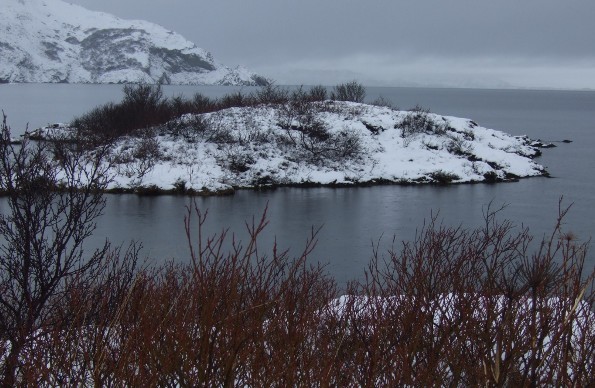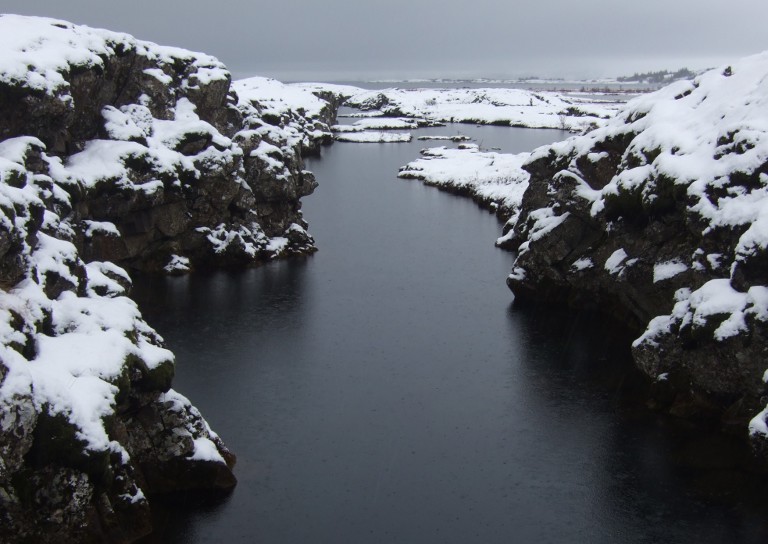 This was our tour along the Ring road, around Iceland. But before finishing this last chapter let me tell the short story of one errand we had to do: Benito had been entrusted in Madrid with delivering a bottle of Spanish wine to a lady in a village not far from Reykjavik, in Selfoss district; but he had been given no address: just the lady's name and her village, which in Iceland should be enough, he was told. Unfortunately, some letter in the village's name must have been misspelled by the remitent, because we weren't able to find it on maps or the internet: we scanned the whole Selfoss area for names similar to the one we wanted, but the closest we got was Skálholt, and even locals had never heard of the place we asked. So, being our only candidate, to Skálholt we went with the bottle. It is a tiny little village and all lights in the houses were off, like if everyone had gone to mass; but for one home, and this doorbell we rang. A lady opened the door (the only Icelandic person I've known to speak no English), but she was obviously not the addressee of the gift. So, having no time for further inquiries, we had to give up and drink the wine ourselves. Which is a boring story, sorry.
On our way back to Reykjavik we still bumped into some snow heaps on the road, almost invisible in the dusk; as a matter of fact, we were very close to getting stuck again. But by this time the reader will be as familiar with such things as we were, and this new story would be of as little interest for you to read as it would be for me to write, so I'll spare it. Suffice to say that, once in Reykjavik, sound safe after this eventful trip, we indulged ourselves to the one and only, the unique, the inimitable lobster soup in Saegreifinn.