Si alguna vez has visto las aguas del océano apresurándose corriente arriba para expoliar, como criaturas vivientes, como soldados al pillaje de una ciudad vencida, como saqueadores tras el naufragio de un barco, para rapiñar los restos del extremo de un glaciar, no habrá ya muchas maravillas de la madre Naturaleza que puedan dejarte atónito.
Cuando pudimos recobrarnos de las impresionantes escenas que acabábmos de contemplar, retomamos la marcha, excitados por la experiencia pero conscientes ya de que nada de lo que fuéramos a encontrar en el resto del viaje podría compararse a esto. Y en cualquier caso las atracciones para ese día se habían acabado, porque en cuanto nos marchamos de Jökulsarlón empezó a nevar y pronto a oscurecer.
Enseguida se hizo de noche, y aunque la nevada al principio no era muy densa teníamos que conducir con mucho cuidado, pues había momentos en que no veíamos más allá de unos pocos metros en la carretera. Los paisajes se habían acabado ya para esa jornada; ahora nos limitábamos a conducir hacia el albergue más cercano, Hvoll, cuya situación no estaba demasiado clara. Habíamos telefoneado previamente para pedir indicaciones de cómo llegar, pero el hombre que nos cogió la llamada era un poco huevón, parecía que no le importaba tener clientes o no, y sus explicaciones no fueron ni detalladas ni claras: cuarenta y cuatro quilómetros después de Skaftafell (un parque nacional) habíamos de coger la carretera 204 a la izquierda; pero con la nevada los carteles apenas podían leerse, de hecho casi ni se veían, y eso nos obligaba a una marcha incluso más lenta, y a ir por completo pendientes de la señalización.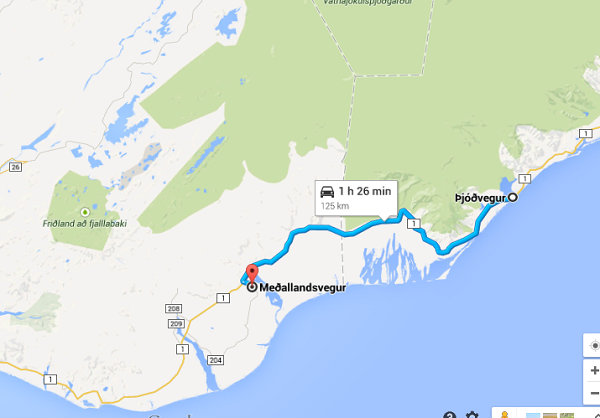 Hay que decir, en elogio del servicio meteorológico islandés, que el tiempo se comportó según lo pronosticado: primero una nevada ligera, luego un rato sin meteoros y después una segunda, más intensa. Por eso tuvimos suerte de ver el letrero de la 204, que estaba más o menos donde esperábamos encontrarlo. Pero lo que no esperábamos, ni el hombre nos había dicho, era que fuese un camino sin pavimentar; de hecho, un camino rural para tractores o todo terrenos, lleno de nieve y en muy mal estado; en cualquier caso, pésimo para un pequeño utilitario como el nuestro. Bien podían habernos advertido esto. Además, nada podía verse en la noche bajo la nevada: no había el menor signo que delatara una población; sólo dos débiles lucecitas, aisladas y bastante separadas, se vislumbraban en la distancia, como de sendas granjas en mitad del campo. ¿A dónde llevaba ese camino? El mar no podía quedar muy lejos. ¿Estábamos sobre la pista correcta?
Telefoneamos otra vez al hotel para que nos lo confirmasen. Sí, tienen que recorrer unos tres quilómetros de camino. Verán alguna luz, fue su lacónica respuesta. Así que continuamos aproximadamente otro quilómetro, hasta que llegamos a una bifurcación. ¿Y ahora adónde? Ya podía haber sido el hombre un poco más explícito, decirnos que había que coger a la derecha o a la izquierda llegados a este punto… Tuvimos que llamar una tercera vez para que nos dijera: en la bifurcación a la derecha. No era un conversador, desde luego. El camino tenía un montón de baches, y como estaba cubierto de nieve no podíamos saber su profundidad. Rezamos para no quedarnos atascados. Incluso en un par de ocasiones pensamos en volver grupas y tratar de llegar al siguiente albergue, en Vik, antes de que cerrase recepción. Yo conocía aquel sitio por haber estado años atrás, y me constaba que era bastante agradable y no había dificultad para encontrarlo. Pero estábamos cansados y no nos apetecía conducir otra hora o dos más aquella noche. De modo que continuamos.
Por último vimos un letrero: Hvoll, y un poco más allá estaba la casa. Tocamos el timbre y, cuando se abrió la puerta, nos recibió una señora con la sonrisa más arisca y fría que me han dirigido nunca en Islandia, y enseguida nos espetó, con la misma sonrisa hostil, que nos descalzáramos las botas. Desde ese mismo instante nos disgustó. Luego, al registrarnos, se limitó a pasarnos un papel con el total a pagar, y como era bastante más de lo que habíamos esperado le pedimos que nos hiciera una factura desglosada. Intentó hacerse la sueca un par de veces, pretendiendo no comprender el inglés, mientras su marido, que lo hablaba medianamente bien, como nos constaba por las conversaciones telefónicas, se hacía también el loco fingiendo como que veía un partido en la tele. Pero como insistí, a regañadientes cedió y extendió la factura, donde pudimos ver que lo que tanto hacía subir el importe era el alquiler de la ropa de cama: 900 coronas por cabeza, o sea un tercio del precio de cada cama; y ni siquiera iba incluida una toalla. Nos pareció comparativamente muy caro, aunque días después supimos que era un precio normal en Islandia.
Pagado que hubimos –que era su única preocupación– nos enseñó el albergue: estaba en otro edificio a unos cien metros, bastante feo, que parecía un hangar o un granero. Por dentro, en cambio, estaba muy limpio y ordenado. Demasiado limpio y ordenado –pensé para mí–; tanto, que resultaba extremadamente inhóspito: nada más franquear la entrada había un amplio comedor como el de un colegio, amueblado con tres largas filas de mesas juntas, cada una con cuatro banquetas encima, boca abajo. En la pared opuesta había una larga encimera con toda clase de pequeños electrodomésticos y abundancia de cajas de plástico en las que los huéspedes debían etiquetar su comida; y a través de otra puerta junto a la encimera había dos cocinas, llenas de utensilios, vajilla y cubertería. A mano izquierda del comedor, otra puerta daba acceso a las habitaciones, cada una con dos literas y un radiador eléctrico ridículo, por supuesto apagado. Nuestra habitación estaba helada y no se calentó hasta cuatro o cinco horas más tarde. Por último, había cuatro aseos, tres de los cuales estaban cerrados con llave y no podían usarse.
Así que todo estaba tan ordenado como era poco acogedor: la disposición de estancias y mobiliario era fría e inconveniente (claramente diseñada por alguien que no sabía una palabra sobre albergues), la mayoría de aseos cerrados, pero lo peor era que estaba todo lleno de impertinentes letreritos imponiendo a los huéspedes todo tipo de obligaciones, estableciendo un montón de prohibiciones y relacionando largas listas de reglas a obedecer; la más inaceptable de las cuales era la prohibición de permanecer en el albergue entre 10 am y 4 pm. ¡Qué ridículo! Se exigía a los huéspedes que se ausentaran del albergue durante seis horas seguidas, supuestamente para que pudiera hacerse la limpieza; una limpieza que, de hecho, se encomendaba en otro letrero a los propios huéspedes. Increíble.
De todas formas, el más grave inconveniente que encontramos en el albergue Hvoll fue que no había internet. No es que no funcionase: es que no existía el menor medio para conectarse online. En mis muchos años como viajer después de la popularización de internet nunca me había encontrado con un albergue que no lo tuviese; ni siquiera en países dudosamente civilizados. Por eso nos pareció absolutamente inaceptable, y desde luego muy inconveniente, porque nos impedía consultar el pronóstico del tiempo para el día siguiente, un elemento esencial en una gira de invierno por Islandia.
Aparte de nosotros sólo había otro grupo de huéspedes: una excursión de asiáticos que viajaban en un todo terreno de alquiler y que no se mostraron muy sociables. De este modo, totalmente privados de cualquier posible entretenimiento físico o virtual, lo único que pudimos hacer esa noche fue comernos el resto de nuestros víveres e irnos pronto a la cama, con idea de levantarnos temprano a la mañana siguiente y prepararnos para la última etapa de nuestro viaje: el círculo de oro. Nos acostamos persuadidos de que ese decepcionante albergue estaba fuera de los estándares de Hostelling International, y preguntándonos cómo era posible que la organización lo hubieran aceptado como socio.
capítulo previo | último capítulo

If you've ever seen the ocean waters hurrying upstream for ransacking–as if living creatures, as if soldiers for the plunder of a defeated city, as if looters after the wreckage of a vessel–the spoils of a glacier's end, there aren't many more scenes left in Nature capable to stun you too much.
When we managed to pull ourselves after the outlandish sights we had witnessed, we carried on our driving, quite excited by the experience but knowing that nothing else would be close as amazing as what we had just seen. And certainly for that day, our enjoyment had finished, because soon after we left Jökulsarlón it started snowing and getting dark.
Despite the snowfall wasn't too heavy, we had to drive quite moderately, and there were some moments when we wouldn't see further than ten metres ahead. Of course our sightseeing had ended for that day's journey; we were simply heading for the next hostel, Hvoll, whose location wasn't so obvious. We had phonecalled previously and asked for directions, but the guy who replied was somewhat slack, like if he didn't care about guests; his explanations weren't neither detailed nor clear: fourty four kilometres after Skaftafell (a national park) we should take road 204 to our left. But, with the snowfall, the highway notices weren't easy to read–nay: not easy to see, and we were forced to an even slower speed and a closer watch.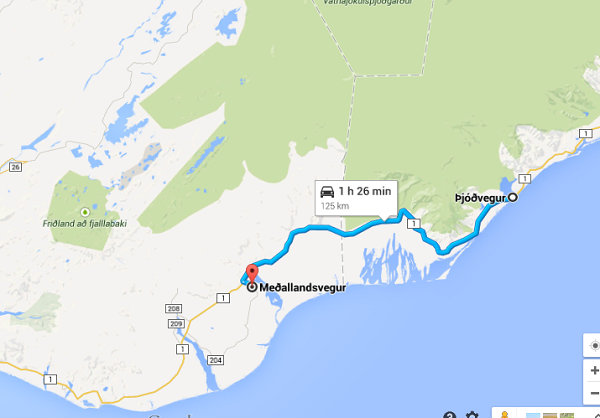 It must be said, for the praise of the Icelandic meteorological service, that the snow came just as forecasted: firs a light snowfall at dusk, then clear for a while, then a second snowfall, moderate. Se we were lucky to see the sign to road 204 more or less where it was expected. Unfortunately it wasn't a paved road, but just a track, very snowy and quite rough, as if for a tractor or a four wheeler; certainly not suitable for a small Polo. Our landlord should have warned us about it. Besides, nothing could be seen there in the dark; no trace of an inhabited place except for two separate faint lights in the distance, like farms in the middle of nowhere. Where did that path lead? Were we on the right way?
We called the hostel again for confirmation. Yes, it's about three kilometres far; you'll see some lights was the laconic answer. So, we proceeded for around one more kilometre until we came to a fork. Now what? Shit! That damn guy could have been more explicit. We had to call him a third time just to hear: fork to the right. He wasn't a talker, you can bet. The track had many potholes and was covered by snow, so we prayed we wouldn't get stuck. A couple of times considered turning back and trying to reach the next hostel, in Vik, before reception closed. I knew that youth hostel from a previous trip and I knew exactly where it was, and their friendly staff. But we were tired and didn't feel like driving one or two more hours that evening. So we went on.
Finally we saw a notice: Hvoll, and just a bit further was the place. We rang the bell, the door opened and we were 'welcomed' by the unfriendliest smile I've ever got in Iceland; and right away we were requested by the landlady, with the same unkind smile, to remove our boots. At once we didn't like her. Then, when checking in and asking the money, she just gave us a piece of paper with the total amount, which was much higher than we expected. We asked for a detailed invoice, and then she played the fool a couple of times pretending she didn't speak English, while her husband–who did speak it fairly well, as we knew from our phone calls–played also the fool pretending he watched a football match from his easy chair. But we insisted and she reluctantly gave in, writing the invoice. Hence we could learn that what so much increased the total price was the linen rent: 900 crowns per person, one third of a bed's price, and not a towel included. We regarded it as very expensive, but days later we learnt that it was normal in Iceland.
Once the transaction finished, she showed us the actual hostel: it was another–rather ugly–building, some one hundred metres away, which looked like a hangar or a barn. Inside, though, it was very new and neat. Too new and neat–I thought to myself–and not cozy: right after the entrance door there was a large dining-hall like the one you'd find in a school, furnished with three long rows of adjoining tables, each having four chairs upside down on top. In the opposite wall there was a long worktop with all kinds of electric kitchenware and abundance of plastic baskets to label and store the guests' food, and through a door by the worktop there were two kitchens, full of cutlery, dishes, saucepans and other utensils. Through another door in the left hand wall of the dining hall there were the rooms, each of them having four beds and just a ridiculously small electric heater, switched off, so our room was freezing until it got heated up a few hours later; and the four toilets, three of which were locked down and couldn't be used.
All of it was as tidy as it was unwelcoming, not only because of the locked toilets and the cold inner architecture (evidently designed by someone who knows nothing about youth hostels), but mostly because the whole place was full of notices requesting the guests all kinds of duties, stating lots of bannings and with long lists of rules to obey, the most ridiculous of which was the prohibition of staying in the premises from 10 am to 4 pm. Guests were asked to keep out of the hostel during six full hours! Supposedly because of cleaning. Unbelievable.
Anyhow, the most annoying of all the issues about Hvoll hostel was the total absence of internet. No possibility of getting online. In all my years of travelling, since the popularization of the internet I had never known of a youth hostel without it. Not even in poorly civilized countries. Therefore we considered this fact utterly unacceptable, and particularly bothersome since it deprived us from the possibility of checking the weather for the next day, an essential task on an Icelandic winter tour.
Besides us, there were only another group of guests: an excursion of Asians that had rented a 4×4, which didn't look too sociable. So, being away from any physical or virtual amusement, the only thing we could do for the evening was to eat up the rest of our supplies and go to bed, with the idea of waking up early the next morning and getting ready for the last stage of our trip: the golden circle. We went to sleep persuaded that this disappointing hostel was not up to the standards of Hostelling International, and wondering how the organization could have associated it.