Cuando me desperté la mañana de nuestra cuarta jornada, al ver que el sol brillaba tras los cristales y al enterarme de las buenas noticias, el mundo parecía bastante más hospitalario de lo que se me había antojado la víspera: Benito estaba levantado rato ha y había llevado el Polo al taller, a la vuelta de la esquina, donde le dijeron que tenían el repuesto necesario y que tendríamos el coche listo en media hora.
Entre tanto, disfrutamos de un desayuno lleno de optimismo en la luminosa sala del hostal, mirando la predicción del tiempo, planificando la ruta para el día y solazándonos con los rayos solares que entraban a raudales por la ventana y llenaban la estancia de radiante luz. La parte más dura de la carretera había quedado atrás, aquellos doscientos quilómetros de yerma y hermosa nada, las tierras altas del norte, y salvo por los primeros cincuenta quilómetros que nos tocaba hacer a continuación, el resto de nuestra pequeña odisea iba a discurrir casi por completo al nivel del mar y al alcance de los no tan fríos vientos del suroeste; factores ambos que minimizaban la posibilidad de encontrarnos con lo que, para entonces, habíamos aprendido a identificar como el peor enemigo: las dunas de nieve en la calzada. El pronóstico meteorológico era de nubes y claros hasta el atardecer y luego dos nevadas, ligera la primera y moderada la segunda; pero no nos preocuparon mucho porque en el litoral sur de la isla (hacia el que nos dirigíamos) había más vida, pueblos y lugares donde alojarnos; como que habíamos identificado ya sobre el mapa tres albergues alternativos (cualquier otro tipo de alojamiento le estaba vedado a nuestro presupuesto) en los que pasar la noche, dependiendo de a qué ritmo avanzásemos.
Así que, empacado que hubimos nuestras cosas, recogimos el coche del taller y nos pusimos en marcha, dejándole la factura al dueño del coche. En Islandia la gente es tan benditamente confiada que basta una conversación por teléfono para zanjar un acuerdo. De modo que la cosas, después de todo, no habían salido tan mal; es decir que podrían haber salido mucho peor si la chatarra que habíamos alquilado se nos hubiese averiado cuando cruzábamos las montañas, en mitad de una ventisca o, simplemente, una víspera de festivo, sin talleres abiertos el día siguiente. Entonces sí que se nos habría chafado el viaje irremisiblemente y por completo. Fueron estas razones las que –soslayando la imposible evaluación del daño emocional y psicológico ya causado– nos llevaron a tomar la decisión de no pagar el alquiler del coche al término de nuestro viaje, aprovechando que no nos habían exigido aval de tarjeta de crédito. Hasta qué punto era o no una decisión justa sería cosa a debatir; pero aquello de lo que no cabía duda era que, si le pusiéramos una demanda a la empresa por alquilar un coche en tan mal estado, la broma les saldría bastante más cara.
Confortándonos y conformándonos con estas consideraciones le dimos la espalda a Egilsstadir, e inconscientes de nuevo peligro alguno, osadamente confiados en la lógica de las cosas, retomamos nuestro itinerario por la ruta 1 dando por supuesto que, al ser la principal y más importante carretera del país, tenía forzosamente que ser objeto de minucioso y diario mantenimiento.
¡Y qué ruta más bonita, además! Según empezábamos a subir las primeras cuestas hacia nuevas regiones montañosas, en concreto hacia un puerto que sería ya el último de todo el viaje, nos cautivaron las espectaculares vistas de aquellos páramos desnudos, el poderío en blanco y negro de esa región perdida de la mano de Dios, las cien tonalidades de los helados paisajes lunares y la inquietante soledad del yermo con el que, en la distancia, la carretera parecía fundirse, o más bien que parecía tragársela, incorporarla a sí mismo.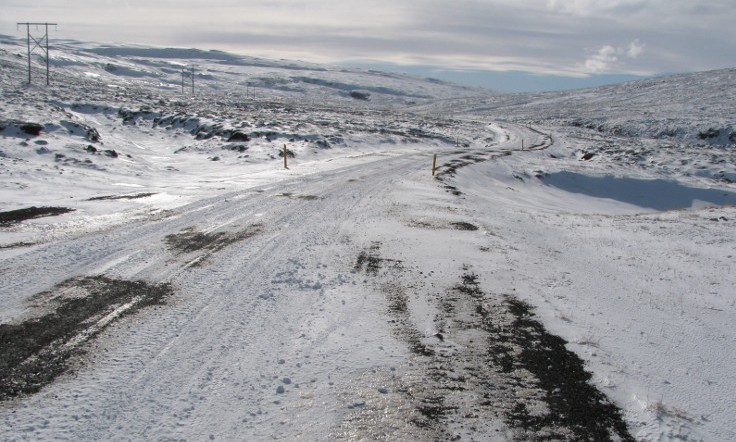 Ahora bien, eso de la inquietante soledad de la carretera no era sólo lirismo expresivo, sino que nos dio qué comentar; nos resultaba chocante que estuviera tan extrañamente vacía. Desde que, cuatro días atrás, empezamos el viaje siempre habíamos ido encontrándonos con algo de tráfico en ella, e incluso durante el día en que atravesamos la hermosa pero desierta Nada, que además era domingo, no habíamos dejado de cruzarnos con algún que otro vehículo; pero… ¿ahora?; ahora llevábamos un largo rato al volante sin haber visto un alma, de cerca ni de lejos. ¿Acaso se nos había pasado algún letrero y nos habíamos confundido de carretera? Pero según decíamos esto vimos uno junto a un camino (¿y a qué clase de infierno helado podía conducir ese camino?) que vino a responder tal pregunta: no, no nos habíamos perdido; estábamos donde creíamos estar: sobre la ruta 1. Y sin embargo no se veía un sólo vehículo en todo el horizonte. Eso merecía detenerse un momento y salir para mejor considerar el asunto.
Estudiando las rodadas sobre la nieve de la calzada nos dimos cuenta de que no había ningunas, salvo las nuestras, que fuesen recientes. Las otras databan como mínimo de dos días atrás, y desde entonces no había pasado nadie. ¿Qué clase de carretera era aquella que no veía un coche en dos días seguidos? Sonará fantástico, pero parecía como si hubiésemos cruzado inadvertidamente hacia otra dimensión del universo a través de algún hueco en la sustancia del espacio-tiempo o por algún engaño de la materia; como si estuviésemos contemplando un escenario, como si el paisaje que nos rodeaba, con aquella apariencia tan irreal, no fuese más que un decorado. Incluso el aire estaba absolutamente inmóvil; pese a la proximidad de las montañas no soplaba ni una brizna de viento…
Pero dejando las fantasías aparte, ¿cómo era posible que nadie condujese a lo largo de esa parte del emblemático anillo islandés? ¿Dónde estaban los camiones con mercancías para los habitantes de Egilsstadir? Alguien tenía que suministrar las cocacolas y los condones al supermercado, ¿no? –razonábamos Benito y yo–. Y el correo, ¿es que nadie lo llevaba a los pueblos y granjas de la zona? Mas en este punto nos interrumpimos. Espera un momento –le dije–: ¿cuáles pueblos y granjas? Entonces escudriñamos el mapa que teníamos extendido sobre el capó y nos miramos el uno al otro; no hizo falta que nos dijésemos ni una palabra: en los pasados cuarenta quilómetros y los próximos cincuenta no había lugar habitado alguno. Los únicos puntitos indicando vida por aquel cuadrante de la isla estaban sobre la línea de costa, a lo largo de la cual discurría una carretera secundaria. Esto nos hizo comprender que cualquier tráfico que pudiese haber por aquella parte de la isla no tomaría por la ruta 1 que tan lógicamente creíamos haber escogido nosotros, sino por aquella otra carretera secundaria, que es donde había seres humanos, supermercados que aprovisionar, estafetas de correo donde hacer entregas y gasolineras a las que proveer. Así, pues, ¡nadie circulaba por aquí! ¿Era seguro continuar?
Por desgracia, ya habíamos perdido mucho tiempo a causa de la ventisca del primer día y los problemas del coche; llevábamos retraso con respecto a nuestro programa inicial y no podíamos permitirnos –salvo que no hubiera otro remedio– dar la vuelta, desandar lo andado esa mañana y coger la otra carretera, que además era bastante más larga porque trazaba el contorno de la costa con sus fiordos. Por otra parte, insistíamos en creer que las autoridades no podían dejar de limpiar y dar mantenimiento a la ruta 1 por muy inhabitada que estuviese en aquel tramo. De hecho, hasta entonces la nieve que habíamos encontrado era compacta sobre el asfalto (muy castigado por los fríos) y se dejaba transitar francamente bien. De manera que subimos al coche y decidimos continuar en la misma dirección que traíamos. Si más adelante la cosa se ponía demasiado fea –dijimos– estábamos a tiempo de regresar, que desde luego sería mejor que quedarnos atascados en una carretera donde no se esperaba el paso de ningún ser humano quizá en varios días.
Y no habríamos avanzado otros quinientos metros cuando, ¡plof!, sin darnos tiempo siquiera a reaccionar pasamos por sobre una de aquellas fatídicas dunas, tan indiscernibles (cegador blanco sobre blanco) de la nieve compacta. Ni muy extensa ni muy profunda, por suerte no había llegado a atraparnos, pero frenó al coche casi hasta detenerlo y eso fue suficiente para ponernos en alerta. Aunque sin confesárnoslo, ambos retrocedimos mentalmente a la ventisca del primer día y se nos vinieron a la memoria las desagradables emociones: la angustia, el viento, el frío y el miedo…
Continuamos la marcha, pero ya mucho más despacio. Estábamos cada vez a mayor altura y eso significaba que era probable encontrar más y mayores dunas, pero pensamos que si conducíamos con el cuidado suficiente y no cometíamos ningún error, ningún problema serio nos amenazaba. Además, el puerto que habíamos de salvar no estaba mucho más adelante; tan sólo unos pocos quilómetros; y una vez pasado ya sería todo más fácil, pues las dunas no son tan temibles cuando se cogen cuesta abajo.
Y tal como habíamos supuesto, pronto nos encontramos con la siguiente. Como íbamos muy despacio nos dio tiempo a detener el coche a un par de metros de distancia, y salimos a estudiar el terreno. Al contrario que otros parches de nieve, éste cubría toda la anchura de la carretera, así que no era posible rodearlo; tenía un espesor de medio metro y una longitud de aproximadamente ocho. Pequeño obstáculo, en apariencia, pero grande para nuestro minúsculo cochecillo. Si no conseguíamos superarlo, nos obligaría a abandonar nuestras expectativas para ese día y rehacer por completo nuestros planes de viaje. Pero la mañana era joven, aún teníamos la moral en buena forma y parecíanos que unos pocos metros cúbicos de nieve no podían ser un problema demasiado serio, de modo que nos pusimos a trabajar.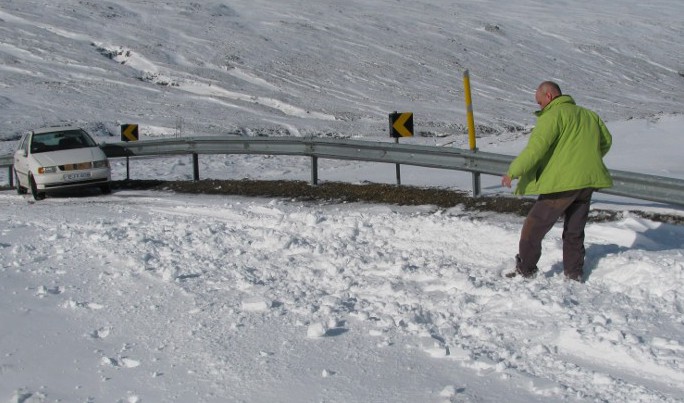 Con los pies apartamos la nieve a ambos lados hasta despejar un camino por el que pensamos podía pasar el coche. Después salté al volante y lo dejé caer unos sesenta metros, con objeto de ganar una inercia que sería esencial cooperadora para salvar el obstáculo. Era el momento de la verdad. Entonces metí primera, pisé el acelerador a fondo y me lancé hacia delante a todo lo que daba el coche. Al entrar en la duna, y aunque había ganado una buena velocidad, la nieve deceleró mi marcha como si estuviese conduciendo sobre arena, y por un momento, donde el espesor que había quedado era mayor y los neumáticos perdían apoyo, parecía que el íbamos a quedarnos atascados; pero por suerte el impulso que llevábamos fue justo lo necesario para rebasarla, y finalmente me vi al otro lado sobre terreno firme.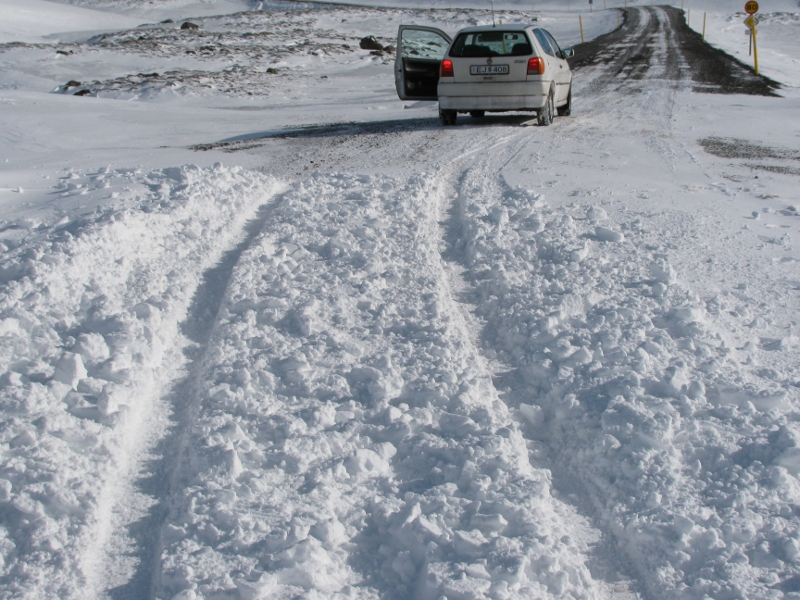 ¡Habíamos superado la prueba! Gritos de júbilo. Ahora bien, si cada una de estas dunas iba a costarnos quince minutos de tiempo no llegaríamos a lo alto del puerto antes de que se echara la noche encima, de modo que aún no era prudente cantar victoria. Hacía falta que no encontrásemos muchas más como ésa, y ninguna mayor. Pero tuvimos suerte y se cumplió dicha esperanza, porque hasta lo alto del puerto ningún otro túmulo vino a estorbar nuestro progreso; el resto de la cuesta fue asfalto firme o nieve compacta. Justo arriba había una estación meteorológica al borde de la carretera, y paramos a hacernos algunas fotos junto a ella. Se nos ocurrió pensar que, muy probablemente, el técnico encargado de su mantenimiento sería la única persona que, como mucho una vez por semana, pasaba por aquel tramo de la Ruta 1.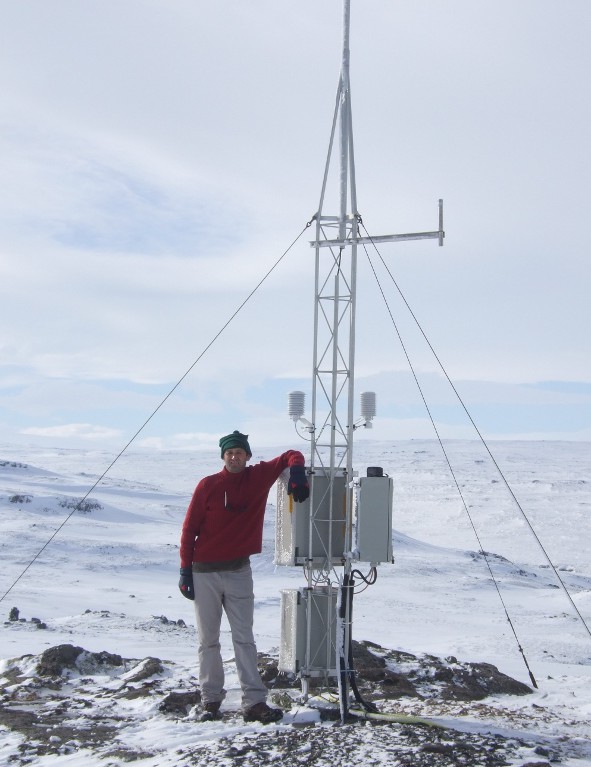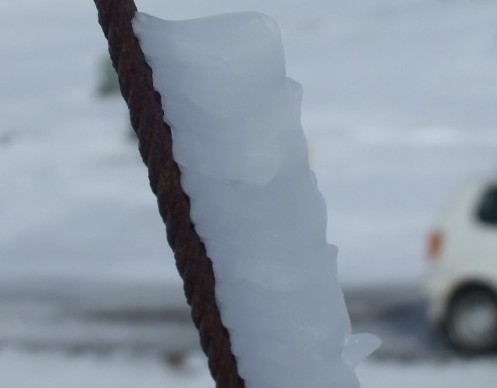 Pese a la mañana soleada, en lo alto del puerto hacía viento y mucho frío, así que en cuanto nos fotografiamos nos metimos al coche y emprendimos la bajada. Pero sólo cien metros más adelante, tras doblar la primera curva, tuvimos que parar de nuevo, aguantando la respiración y boquiabiertos ante la vista espectacular, sobrecogedora, que se abría bajo nuestros pies. Dudo que un astronauta, ante la cercana contemplación de un planeta nuevo y extraño, pudiera sentirse más desconcerdado y perplejo, más estupefacto que nosotros frente aquella escena, el inmenso valle glaciar que se extendía a nuestros pies hasta el lejano océano, un paisaje de aspecto irreal, inmerso en una atmósfera azulada y tan densa que parecía poder tocarse.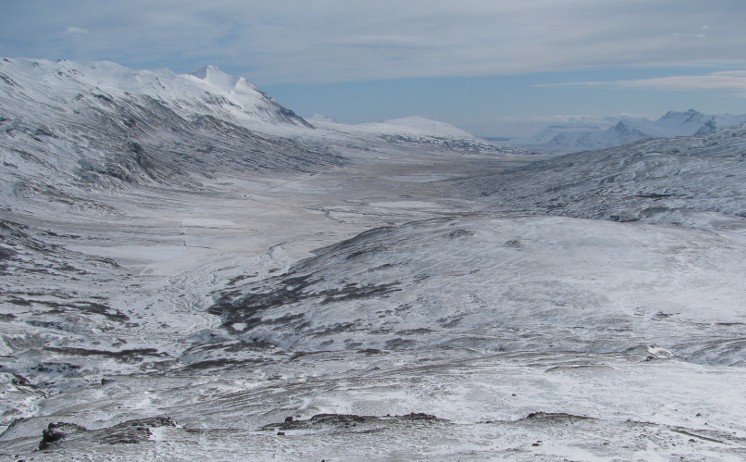 Era una imagen casi de ciencia-ficción, y nos impresionó vivamente. Alargamos el momento contemplándola, conscientes de que muy pocas veces en lo porvenir, o quizá nunca más, volveríamos a presenciar algo semejante. Éste era ese tipo de viaje que, como mucho, se hace una vez en la vida. Cuando, al cabo, recobramos el tono, continuamos el descenso hacia el interior de aquel inmenso y desnudo valle glaciar con el ánimo ligero, a sabiendas de que el puerto que acabábamos de remontar era el último de todo el viaje, y por tanto ya no quedaríamos atrapados en ningún fatídico túmulo de nieve. Cualesquiera que fuesen los nuevos peligros que nos aguardasen, al menos ya sería cuesta abajo y al nivel del mar.
Pero poco nos duró este ánimo jubiloso, porque el próximo problema nos acechaba a la vuelta de la esquina. Desde hacía un rato veníamos notando un ligero olor a quemado en el coche, aunque yo no le había dado mucha importancia pensando que acaso se debía al momentáneo sobrecalentamiento del motor cuando, rato atrás, habíamos acelerado para sobrepasar aquella duna; pero como el olor persistía no pudimos seguir ignorándolo y se hacía necesario comentarlo, pues hasta ese momento ninguno habíamos dicho nada para no empañar al otro su optimismo. Así que estudiamos las posibilidades. Desde luego no podían ser los frenos, porque apenas habíamos tenido ocasión de usarlos. ¿Quizá el embrague? Plausible, pero el olor no era el típico del kevlar quemado; se trataba de algo un poco más familiar; algo que puede uno oler en la vida cotidiana de vez en cuando…
¡El cartón!, exclamamos a un tiempo; el cartón que habíamos colocado en la parrilla para paliar la ausencia de termostado en el circuito del agua. Pero ¿cómo era posible que se hubiera calentado tanto como para chamuscarse? No tenía lógica; pero, en fin, no era momento de andarse con cuestiones teóricas; algo podía estar quemándose bajo el capó y había que averiguarlo sin dilación, de modo que paramos nuevamente y echamos un vistazo. ¿Cuántos contratiempos no habríamos de sufrir en aquel viaje?
En efecto, un débil hilillo de humo salía de algún lugar junto al radiador; pero en seguida vimos que no era el cartón lo que humeaba, sino el electroventilador. Se conoce que, con el traqueteo, aquél había ido desplazándose hasta que se metió entre las aspas de éste, inmovilizándolas; y al no poder girar, la corriente estaba sobrecalentando el bobinado del ventilador y quemando la laca que recubre al cobre. Eso era lo que olía: el barniz quemado. Había que actuar deprisa si no queríamos tener una avería mayor… en el supuesto de que estuviésemos a tiempo de evitarla. Teníamos que soltar los contactos del electro o bien liberar el giro de las aspas, pero ninguna de las dos maniobras era fácil sin herramientas, de las que –huelga decirlo– el Polo carecía. Los contactos estaban demsaiado apretados y poco accesibles; y por su parte el cartón, que era bastante resistente, se encontraba arrugado y medio roto, difícil de sacar de aquel lugar tan estrecho; de modo la operación nos llevó más de cinco minutos, pero cuando acabamos el ventilador seguía sin girar. ¿Habíamos actuado demasiado tarde?, ¿o es que durante aquel rato el agua ya se había enfriado y no requería el concurso del electro? No había forma de saberlo por ahora, pero era probable que a partir de ese momento estuviésemos en presencia de un nuevo problema mecánico: insuficiente refrigeración del motor.
Con cada día de viaje las cosas habían ido poniéndose más interesantes y difíciles. ¿Qué nos esperaba aún?
capítulo anterior | capítulo siguiente

When I woke up in the morning of our fourth day's journey, the world seemed rather more hospitable a place than in the eve: there was a bright sun to cheer us up and news were good: Benito was already awakened and had taken the car to the workshop — right around the corner in the same block as the guesthouse. The mechanic had the spare part in stock and the Polo would be ready in half an hour.
Meanwhile, we had a jolly breakfast in the luminous lounge of the house, checking the weather forecast, planning our route for the day and basking in the sunrays that came in through the big window panes fiercely litting the premises. The worst part of the road was already past, we guessed. The highlands of the north were left behind and, but for around the first fifty kilometres that morning, the rest of our little odyssey was to run almost entirely at sea level and to windward of the not-so-cold southwesternly weather; and both factors strongly minimized the possibility of coming across what we had, by then, already identified as our worst enemy: the snow dunes on the road. The meteorological service predicted partly cloudy skies until before dusk, and then two snowfalls: a light first one and a heavier second one. But we weren't much worried about them: in the south of the country — where we would be driving to — there was more life, villages and choice of accomodation; we had already spotted three alternative youth hostels in the map (the only affordable lodgings for us) where we could spend the night, depending on the weather and our progress on the road.
So, once our things were packed, we picked the car from the mechanic and set off, leaving the bill to the rental company. After all — we chatted — it hadn't been that bad, meaning it could have been much worse if that crappy vehicle had broken down in the highlands, the middle of a blizzard or simply on a holiday's eve, when no mechanic would be available the next day. Reasoning this way, and though psychological or emotional damage is impossible to evaluate, we decided to not pay a damn crown for the car rent. Whether or not this was fair might be discussed, but no doubt if we sued the rental company we'd win the case and that would be much more expensive for them.
Thus comforting ourselves we turned our backs to Egilsstadir and, boldly confident in the logic of things, retook our itinerary: Road #1, to which we should trustily stick, as we deemed it to be the main route–if only one–that had to be serviced, cleaned and maintained in Iceland.
In any case, it was undoubtedly an awesome road. As we started driving up the hills and into the mountains, we were fully captivated by the scenic views and bare wilderness, the black & white puissance of this God-forgotten region and the many hues of those icy moonscapes. There was a disquieting something in the solitude of that gravel road that, in the distance, seemed to merge into the surrounding terrain, swallowed up by it.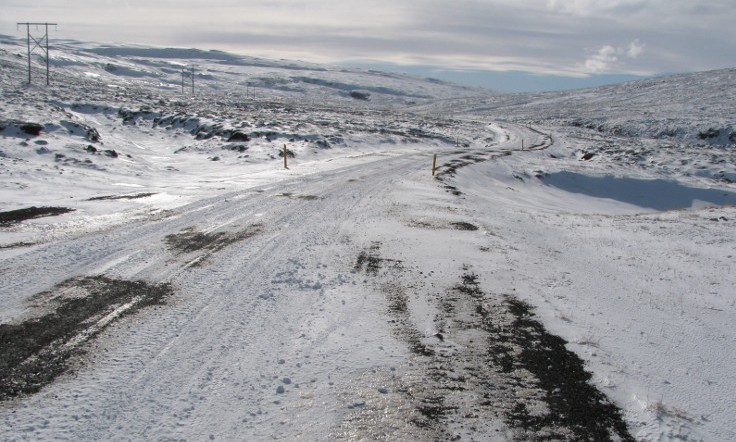 But wait a second… did I say solitude? Hmm… Certainly the road was strangely solitary for being the main Icelandic route. Since the beginning of our trip–and that was four days ago–we'd always been seeing some traffic, and even during a Sunday along the beautiful Nothing we'd come across a car once in a while; but now? For half an hour after leaving Egilsstadir we hadn't seen a living soul. Maybe we'd skipped some sign and mistaken the road? But no: soon after this thought a notice by a detour (to what kind of winter hell could that trail go?) confirmed us that there had been no mistake; this was road #1. Yet not a vehicle could be seen as far as our sight reached.
We stopped and stepped off the car for a moment: examining the road we realized there weren't even recent wheel tracks on the snow; probably nobody had come this way for the past couple of days. Fantastic as it seems, it was as if, by some trick of the matter or through a gap in the time-space substance, we had unnoticedly crossed to another dimension of the universe. Even the air didn't stir: despite being close to the mountains, there wasn't the slightest blow of the wind… Of course it's a fantasy, but otherwise, how was it possible that in this region no one would drive along the popular Icelandic ring road? Where were the supply trucks? Somebody had to carry the cocacolas and the condoms to Egilsstadir's supermarket, right? Or what about the postman? Somebody had to deliver the mail to the villages and farms on the way, true?
But then… which villages and farms? We checked the map, then stared at each other without saying a word: there was not a single black dot in around seventy kilometres, the only ones being on the shoreline, along a secondary road. Only then we understood: any possible traffic between Egilsstadir and the south would necessarily take that road–no matter how secondary–along which humans live; there, and not here, are the supermarkets, post offices and petrol stations. Nobody drove through here! So, was it safe, after all?
We pondered about it for a few minutes thus: we had lost much time the first day with the car problems and bad weather; we were behind our projected schedule and couldn't afford–unless strictly necessary–to turn round, drive back and take the coast road, much longer as it traced the contour of all the fjords. Besides–what the hell?–after all this was Route Nr. 1 and it had to be cleaned by the snowploughs. Actually, despite its loneliness, thus far the snow was packed down and easily drivable. So we decided to carry on, still optimistic and light hearted. If worse came to the worst, we could always turn back. But we hadn't gotten five hundred meters far when, zouf!, without even realizing it we passed over one of those dreadful snow heaps, blended into the terrain; it was not too large or too deep, but enough to check our speed to almost a halt, and certainly more than enough to put us instantly on the watch. Though we didn't admit it to each other, both our minds instinctively went back to that blizzard the first day: the anguish, the wind, the cold and the fear…
We drove on, yet much more slowly. Because the car was going uphill we were quite likely to come across more and bigger mounds, so extreme care was to be taken and no mistakes, unless we wanted to get stuck in a road where not a man was probably coming in days. Fortunately the mountain pass was only a few kilometres ahead, and once beyond that point driving downhill would be easier, at least as to the snow.
As predicted, we soon came to another snow mound. Halting before it we jumped off the car to consider our chances. It covered the full road's width (so there was no circling it), was about half a metre deep and eight metres long. This meant, if we couldn't cross it we'd have to give up on our expectations for that day and totally redo our plans. But the morning was fine and our spirits high, so a few cubic metres of snow didn't seem a big problem. We set to work, kicking it to the sides with our feet until we made a way through wich the car might pass; then I jumped in and backed around sixty metres, because momentum would be essential to overcome the dune. Then I put first gear and sped up towards it.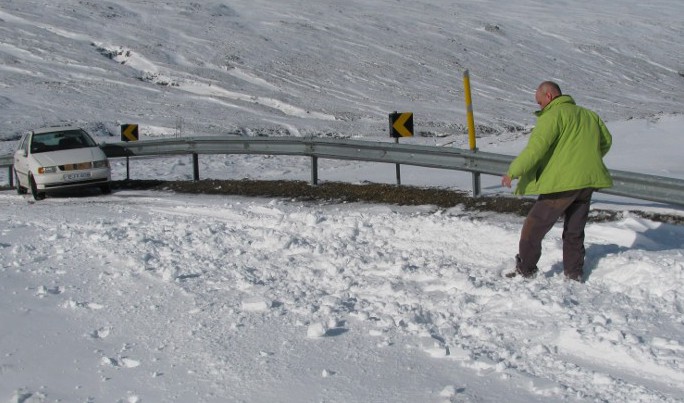 Despite the car had gained a good speed, upon hitting the mound's remaining snow we were checked as if driving on sand — and for a moment, where the layer was deeper, as the tyres lost grip of solid ground it seemed we'd came to a halt. But the car's momentum was about just enough to surmount the dune, and finally I saw myself at the other end of it. Wow!!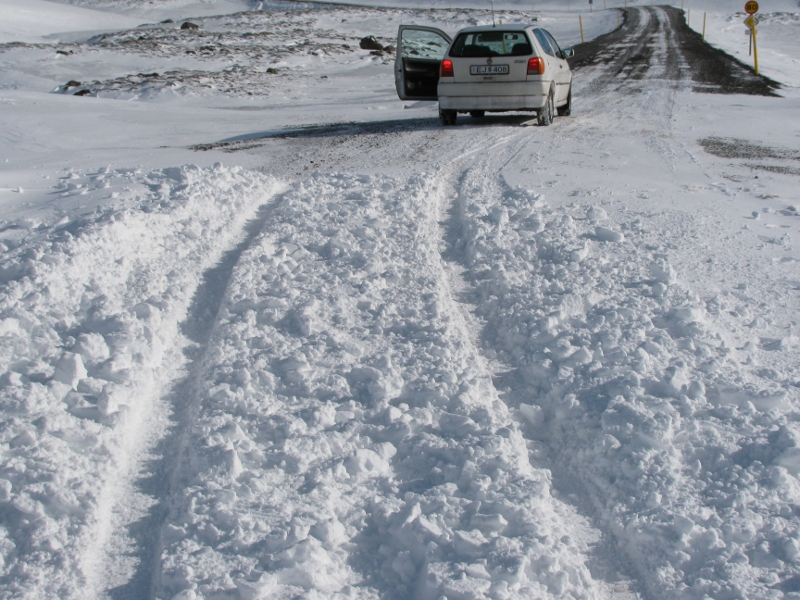 Now we only hoped not to find another one like this, leave aside any larger, because, though the whole thing hadn't take us longer than twelve minutes, if we were to get over several other snow heaps dusk would come before we got to the pass. And we were lucky!, our hopes were carried out and we saw no more of those. We kept going uphill on a firm road and, at its highest, we stopped for taking a few shots by a meteorological post that was placed there. Probably–we thought–the maintenance guy was the only person who, perhaps once a week, ever drove that road.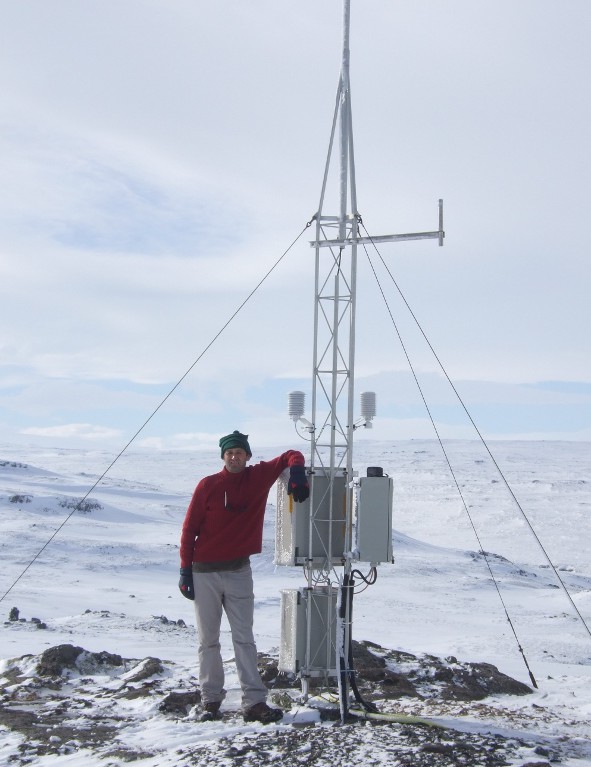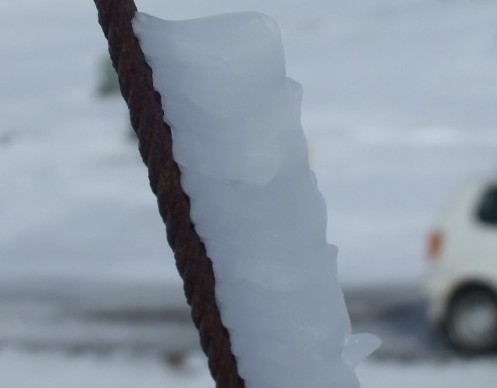 And only one hundred metres further, after the first turn of the road, we stopped again holding our breath at the spectacular sight that was offered to our sight. I believe no astronaut who'd set foot on some new and strange planet would feel more bewildered and astonished than we did while beholding that unreal scene–the inmense glacier valley that stretched at our feet to the distant ocean–submerged in an bizarre, blueish atmosphere so dense it might be touched, as if it were a theatre set.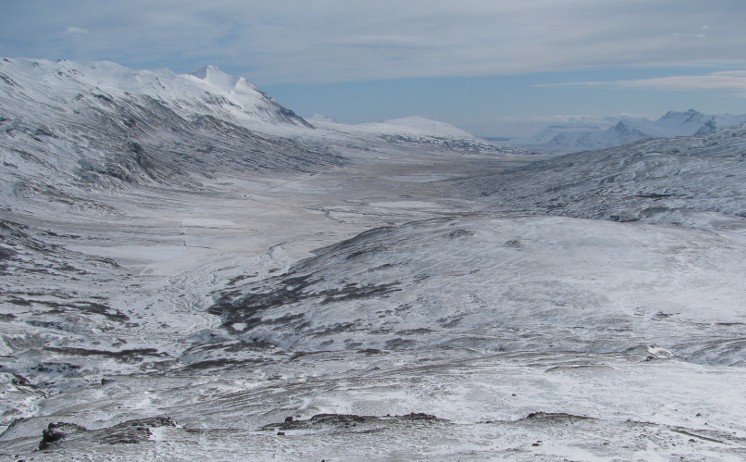 When we collected our breath again and were able to close our mouths (so strong was the impression this science-fiction scene made on us), we returned to the car and drove on. That mountain pass had made us happy not only for its beauty, but also because, being the very last we had to cross, it meant a practical end to the snow dunes, our main apprehension. From then on everything would be downhill or sea level.
Our merryment, however, didn't last long. For the past while inside the car we had been smelling something like burnt, though at first we didn't pay heed thinking that maybe the engine had got a bit overheated when revving it a while ago; but as it didn't go away, it had to be something else. Not be the brakes, for sure, which we hadn't almost used. Rather the clutch, but… that wasn't the typical smell of burnt kevlar. It was something more familiar; something you could scent at home every once in a while, like… like burnt paper. The cardboard!, we both shouted at the same time. The piece of cardboard we had put on the grille three days before for minimizing the heating system problem. But how could it possibly have got so hot?Well, it was no moment for theoretical questions; something was burning under the hood and we had to see to it inmediately.
We stopped for taking a look: a feeble smoke was coming from the radiator, but it wasn't the cardboard as we had thought; it was the fan. As we found out, with the joltings the cardboard had shifted between its blades preventing it from spinning, and the current had heated up too much the stator's copper winding, burning its lacker. It was essential to remove the cardboard as soon as possible, but as it was crumpled and half broken we wasted five minutes, and by the time the fan was set free it wouldn't move any more. Had we been too late? Or the engine had cooled down during those five minutes and didn't need the fan any longer? It was hard to know, but probably now we had to deal with a new problem: no cooling. Things were certainly getting more and more interesting.