.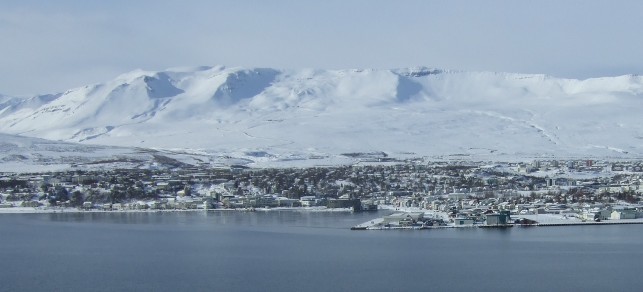 Al fondo del Eyjafjördur, en la costa norte de Islandia, Akureyri es una encantadora y tranquila pequeña ciudad, que con sus diecisiete mil habitantes resulta la segunda más "grande" del país, después de Reikjavik, diez veces mayor.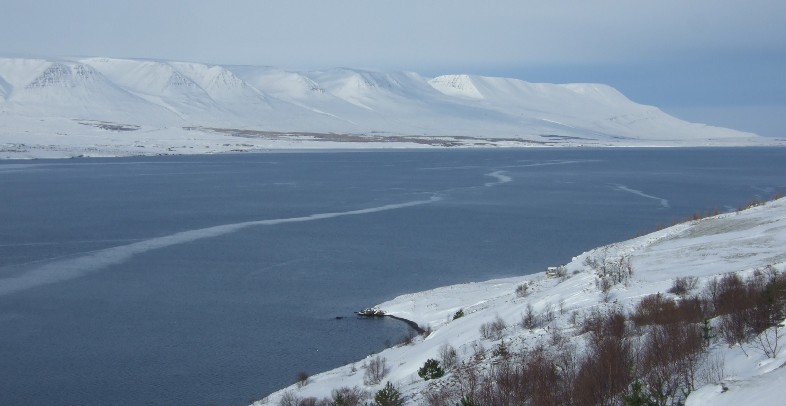 Tras la penosa aventura que pasamos en nuestra primera jornada de viaje, dedicamos la segunda a reponer fuerzas, hacer fotos, relajarnos en la piscina, buscar alguna solución para los problemas del coche (intentando de paso sacar una rebaja en el precio del alquiler), replanificar nuestro viaje, encargarnos de alguna que otra cuestión menor y salir a por una merecida cerveza.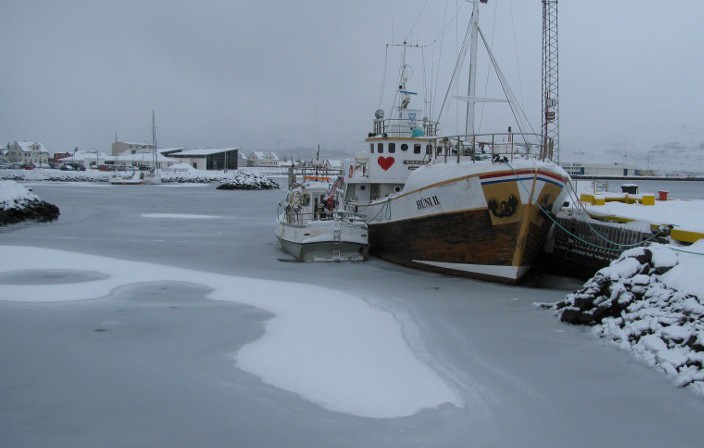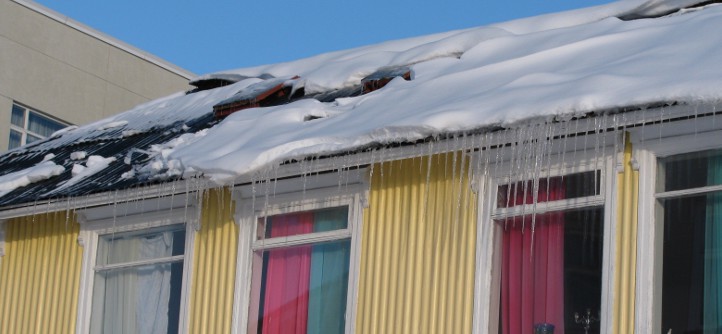 Tradicionalmente, los caballos han sido animales muy importantes en Islandia, pues han jugado un papel esencial en su historia. Con una gran fortaleza y resistencia a climas muy fríos, la recia, pequeña y peluda variedad equina de esta isla ha ayudado a sus habitantes durante siglos a sobrevivir, bien como fueraza para trabajar la tierra, como único medio de transporte o como último recurso contra el hambre durante los años o inviernos más duros. Por eso no debería asombrarnos el respeto, casi veneración, que esta gente siente por ellos. Sin embargo, con el advenimiento de la maquinaria y con la creciente mecanización del campo, hoy en día no puede dársele mucho uso a tantísimo caballo como aún se cría aquí, excepto como recurso turístico y medio de esparcimiento en el campo de la equitación durante los cortos meses del verano subártico. Pero hay muchísimos más caballos que los que para esto se requieren. ¿Qué hace Islandia con el resto de su cabaña?
Cuando pregunto a los lugareños, lo primero que me dice es que los usan para montar, pero cuando les señalo que, pese a ser la equitación aquí tan popular, la cifra de caballos es muy superior a las necesidades de monta, me dicen que también se los usa a veces para trabajos de granja; y sólo tras insistir un poco más en que setenta y cinco mil caballos en un país de trescientas mil personas son muuuuchos caballos incluso teniendo en cuenta los dos usos mencionados, mis interlocutores admiten a regañadientes que… bueno… los que no sirven para una u otra función son enviados a los mataderos de la industria cárnica. ¡Acabáramos! Es decir, que se los comen. Pero resulta evidente que a los islandeses no les gusta admitirlo, y que prefieren incluso ignorarlo, quizá porque –como ellos dicen– "uno no se come a sus amigos", que es como el sentir popular, muy justificadamente a causa del legado histórico, considera a estos fieles compañeros de isla.
Pero Benito y yo no tenemos amigos que sean caballos, así que probamos su carne en un restaurante y he de decir que la encontramos bastante buena: tierna, con un sabor suave, casi algo dulce, y además muy barata, seguramente porque aún muchos islandeses rehúsen comer caballo.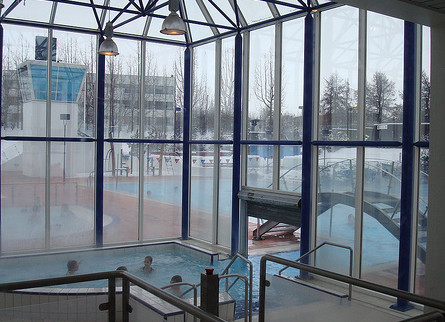 Con dos piscinas descubiertas climatizadas (una para bañarse o jugar, otra para nadar como Dios manda), dos toboganes de agua, cuatro piletas calientes exteriores y una sala con baño de vapor, las modernas instalaciones acuáticas de Akureyri son un verdadero privilegio; pero apuesto a que, en cualquier otro país, si hubiese algo similar se consideraría una extravagancia de máximo lujo y sería diez o veinte veces más caro. Pero incluso, caso de haberlo, uno nunca podría experimentar las mismas sensaciones que en Islandia: nadar bajo una nevada en una piscina exterior con el agua a 28 ºC, bañarse en una pileta a 42 ºC mientras los copos de nieve se te posan en la cabeza, la cara y los hombros, o alternar baños de vapor a 65 ºC con unos minutos "tomando el fresco" a –8 ºC en la nieve, son experiencias únicas; y te dejan el cuerpo tan relajado que luego puedes dormir doce horas de un tirón.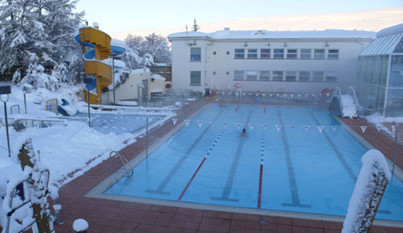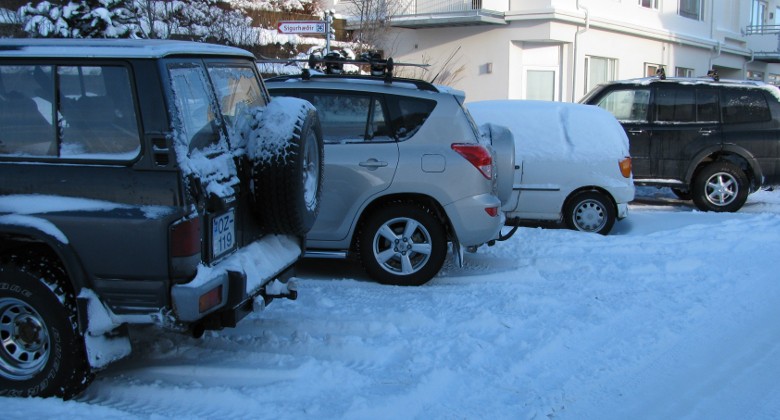 En cuanto al coche… hablamos por teléfono con el hombre del alquiler para pedirle explicaciones y nos dijo que lo disculpásemos por haber "olvidado" mencionar que el motor no llevaba termostato (razón por la cual no funcionaba la calefacción interior, ya que el agua de refrigeración del motor nunca llegaba a calentarse lo suficiente); un pequeño detalle sin importancia; es decir, un descuido muy negligente, de lo cual el tipo ni siquiera parecía darse cuenta. En resumidas cuentas, y descartada la posibilidad de llevarlo a un taller por el tiempo que nos haría perder, la situación era la siguiente: o bien teníamos que abandonar nuestro proyectado viaje, ya que no es buena idea cruzar el invierno islandés sin calefacción en el coche, o que improvisar alguna chapuza; y esto último es lo que hicimos, estrangulando con un alambre fuerte el manguito del agua hacia el radiador y, al mismo tiempo, colocando cartones en la parrilla para evitar el efecto refrigerante del aire.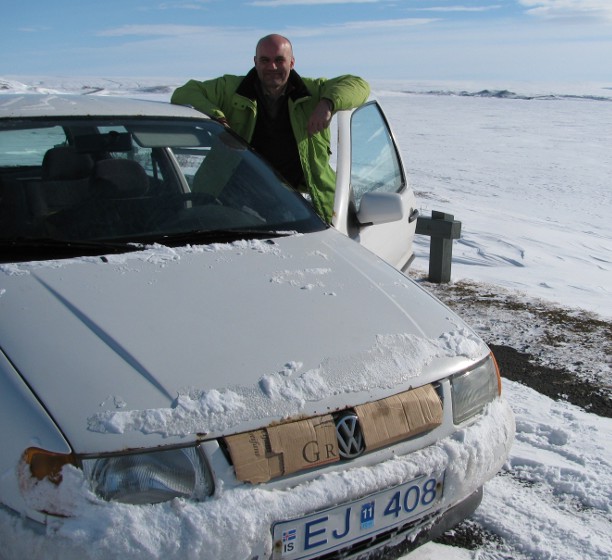 Para completar esa jornada de ocio y descanso, por la noche tuvimos la suerte de ver la luna llena más grande y brillante de los últimos años –a decir de los noticiarios– reflejada sobre el mar en calma, y las luces de Akureyri espejadas en las aguas del fiordo.


capítulo anterior | capítulo siguiente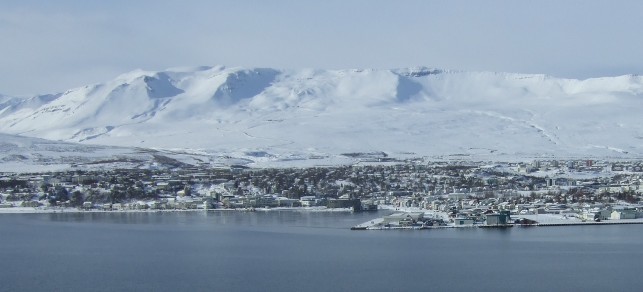 Located on the shoreline at the bottom of Eyjafördur in the north of Iceland, Akureyri is a lovely, small and rather quiet town; although with 17,000 inhabitants is the second largest in the country, after Reikjavik, ten times bigger.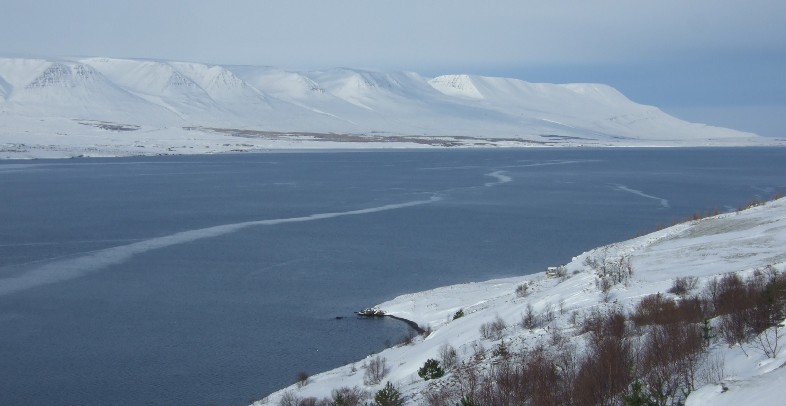 After the pitiable adventure passed during our first day's journey, we devoted the second one to get our strength back: take pictures, relax in the swimming pool, find some solution to the car problem (trying by the way to get a good discount off the rent), reschedule our trip, sort out some other little issues, do some errands we deemed necessary and go out for a well deserved beer.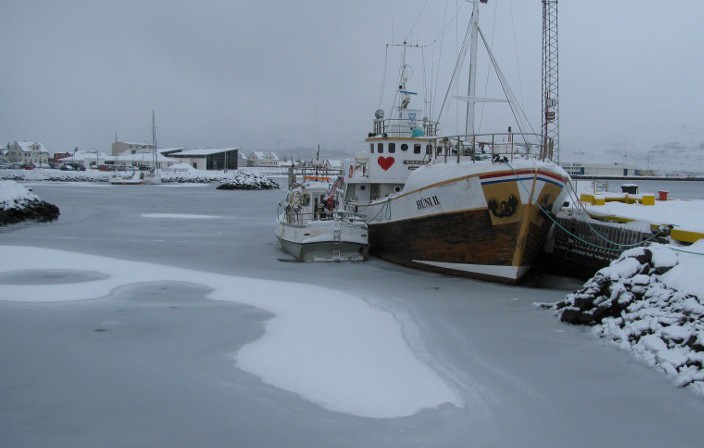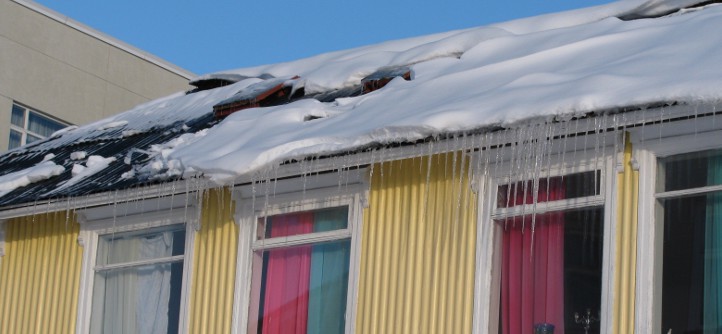 Traditionally, horses have been very important animals in Iceland, having played an essential role in the history of this country. With their stamina and particular endurance for very cold climate, this sturdy, short and hairy breed of equines have helped the inhabitants of the island stay afloat for over centuries, either as workforce for labouring the land, as the only means of transportation or even as a last resource against starvation during the really hard times. Therefore, we shouldn't be amazed at the veneration–or at least respect–these people have for their horses. However, with the advent of the engines and the increasing farming mechanization, nowadays there's not much use for them except for leisure or tourist riding. What do Icelandic do with the rest? Because there are too many…
Upon asking some locals, the first thing they told me was that they use them for riding; and when I pointed out that, despite this being such a popular activity here, the horse livestock is yet larger than the demand for riding, I was informed that they're sometimes also used for farm work; but only after once more suggesting that still 75,000 horses in a country of 300,000 people are way too many horses for just riding and farm work, my interlocutors said that–well–those ones not good for other uses are sent to slaughtering houses and the meat industry. By then, I had clearly understood that Icelanders don't like to admit that they eat horses, perhaps because–as they say–you don't eat your friend.
But Benito and I don't have any horse friends, so there we went for some horse meat, which we found to be quite tender, very soft tasted–and ridiculously cheap. Probably there are still many Icelanders that refuse to eat their traditional good friends.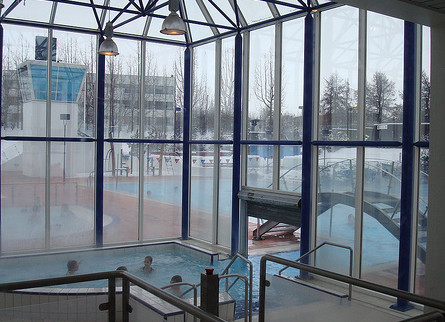 With its two outdoor warmed-up swimming-pools (one for sport, one for fun), two water chutes, four outdoor hot tubs, plus a steam bath, the brand new Akureyrar sundlaug is luxurious, and I bet that such spa-like installations in my own country (in case they exist) would be considered top-notch, and probably ten times as expensive. But even so, one could never experience the same sensations as in Iceland: swimming under a snowfall in an outdoor pool at 28 ºC, or bathing in a 42 ºC hottub getting the snowflakes on your head, face and shoulders, are unique feelings. Then, alternating 65 ºC steambath rounds with some minutes of chilling out (and I really mean: chill out!) at –8 ºC in the snow, leaves your body so relaxed that you can then go sleep twelve hours in a row without budging.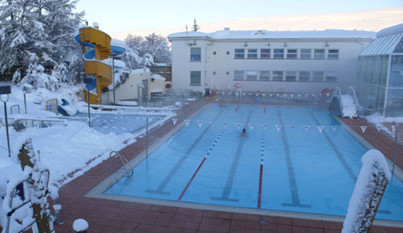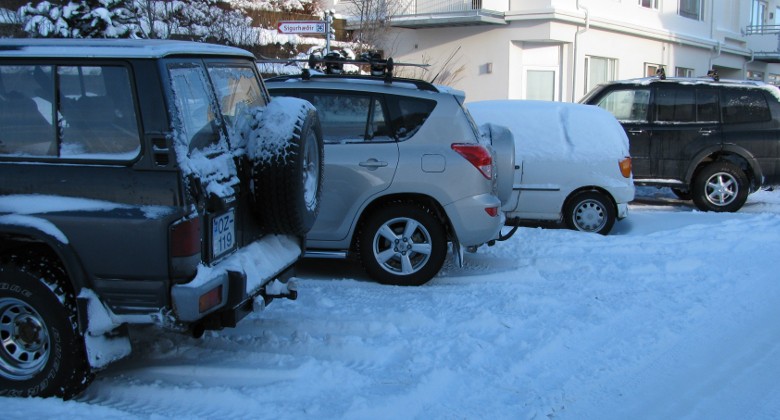 As to the car, when we phoned the rental guy he told us that, sorry, he had forgotten to inform us that the engine thermostat was missing (which is why the inside heating was very feeble, as the engine got never hot enough). Quite a negligent oversight, of which he didn't even seem to be aware. So, we had to either give up our trip, because you don't want to drive through the Icelandic winter without heating in the car, or improvise some botched job; which is what we did, by choking the water hose with a strong piece of wire and then attaching some cardboard to the radiator grille.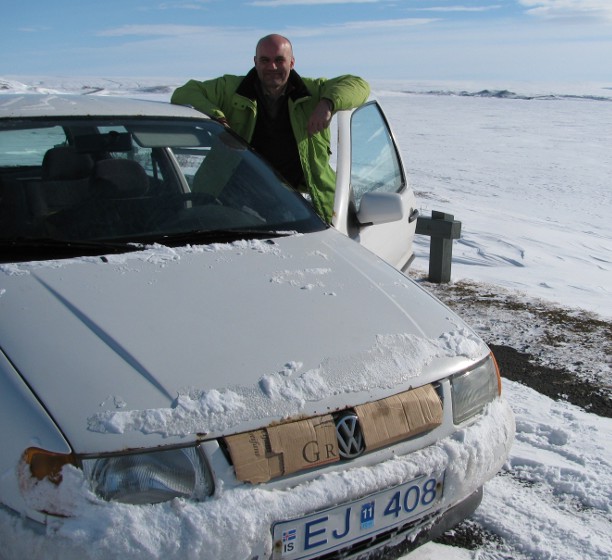 For completing the day's journey, that night we had the chance of gazing at the brightest full moon of the past years (according to the news) reflected upon the calm sea, and the city lights of Akureyri mirrored on the waters of the fjord.